Specializing in the strange and unusual, The Dark Art Emporium veers into the shadowy realms of fantasy where darkness volunteers itself to patrons. Through unknown corridors, all that bewitch the night beckons us with intrigue and curiosity. Located in Long Beach, CA,  The Dark Art Emporium houses a variety of unique art pieces, including taxidermy, oddities, and strange photography.
I had the pleasure of talking to, owner, Jeremy Schott to learn more about The Dark Art Emporium, his interests, and what it takes to operate an art gallery. Plus keep your eyes peeled for their upcoming exhibition, Tiny Terrors – A Massive Show of Miniaturized Phobias, curated by Jeremy Cross, opening June 9th!
The Dark Art Emporium
256 Elm Avenue
Long Beach, CA 90802

Website | Facebook | Instagram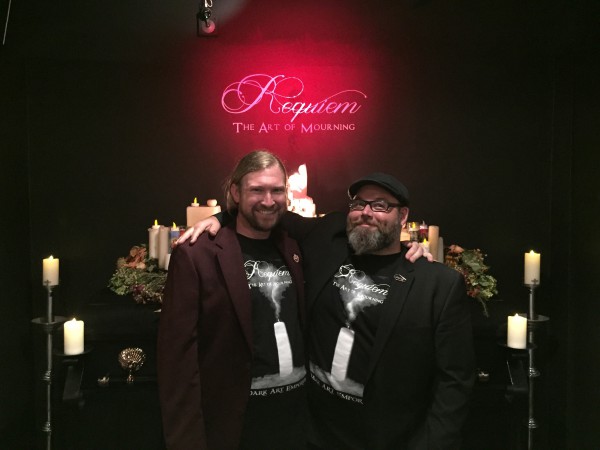 Jeremy Schott and Jeremy Cross
I want to jump right in and talk about owning your own business… how and why The Dark Art Emporium began. Will you share its conception and background with us?
I was a video producer for Pro Wrestling and Heavy Metal bands and toured the world making documentaries and live music videos. Every time we stopped at a new location, I would always look for the weird art gallery, museum or oddities shop. The bizarre and dark stuff has fascinated me since I was a kid. Weird music, Horror Movies, Roadside Attractions have been a staple of my interests. When I got a little older, the road started to hurt. Waking up in Moscow hungover is a lot of fun in your twenties but as you get older, not so much. So, I had to jump off the traveling party. I tried my hand at corporate videos but they were soulless. I just couldn't do it. So, I talked to my friend, Bill Shafer at Hyaena Gallery (www.Hyaenagallery.com) where I would frequently buy art and told him I wanted to do what he did. He has become somewhat of a mentor to me and has showed me the ropes of running an art gallery. I've never worked in retail or art galleries so this is all new to me. His guidance, along with my Assistant Director, Jeremy Cross, have really taught me a lot when it comes having a successful art gallery. On the same note, operating a gallery is no small task.
What joys and challenges do you face?
The greatest part of owning an art gallery is giving artists a forum to show their work and helping their creations find homes. Getting to know the artists is also awesome. I have become very close to many of the artists we exhibit. The biggest challenge for me is saying no to artists when they submit their work. I know they have poured their heart and soul into their pieces and if the piece doesn't fit here or I don't really think there is an audience for it, I have to say no and I know rejection has to hurt. Another challenge is finding my own audience. We specialize in Dark Art and Lowbrow Art. I know it's not for everyone that walks through the doors or goes to our website. Appreciation is growing rapidly for the type of work we carry; you can see it in the mainstream. In movies and music. The darker side, the surreal side of things, it's growing. Art reflects the atmosphere in which it is created and dark times need dark art. I think people are often surprised at how much some of this art appeals to them. Now we just need to get them in here to be affected
Describe a typical day….
I pretty much run the day-to-day operations by myself with help from Cross when I need it. When you walk in the doors, you will see me sitting behind the desk hunched over a computer. I'm constantly working on promotion, seeking new artists, going through submissions, and working on the next show (we have a new show every month).
The ambiance of your gallery seems to reflect this almost "horror-esque" potential with its wonderfully eerie character. What experience do you hope customers and artists alike will have when visiting The Dark Art Emporium?
I spent a lot of time carefully curating that atmosphere. I want you to feel like you are stepping into a new world full of mystery and wonder. So, majority my time is really focused on that pursuit.
I want artists and customers to feel at home at The Dark Art Emporium. It might not look like your home but it should feel like home. I think the Dark Art Community is some of the most open and welcoming people that I've ever met. When I opened this place, I was completely new to the entire movement but I feel like the artists have embraced me with open arms and hearts and I want to reciprocate that. This is a safe place with no judgments.
You get to work with so many artists. Do you have a favorite exhibition or opening night that springs to mind? And please tell us what set it apart from the others.
I have a new opening once a month and picking my favorite is like picking my favorite child. No favorites just different.
When I first opened, I had a show called "Creepy Christmas" that one was a lot of fun since we had Krampus and Evil Elves running around taking photos and scaring the neighborhood children. "Requiem- The Art of Mourning" was another stand out. This was the first show that Jeremy Cross curated here. He was able to get some of my favorite artists to contribute to the show. We had converted the gallery to a funeral home complete with a casket. What really made it special is that it spoke to a lot of the people that came through the doors. I talked to customers that had recently lost a loved one and they thanked me for the show as it helped them cope with their loss. And of course, Reverend Steven Johnson Leyba was a big opening. If you aren't familiar with him, look him up. The opening of the art was paired with a Blood & Water Ritual. Not for the faint of heart but we only had one person faint. I would like to think that what sets us apart is our willingness to take these risks. Whether it be on a new artist or an artist who pushes the boundaries of what we think is acceptable, or even ART at all. We want them in here, challenging our patrons and us. We don't just want people thinking outside the box, we want them to smash it, rebuild it and come away with something new from the journey.
How difficult or easy is the submission process in terms of what you feel is best suited for the gallery's overall aesthetic?
Our submission process is pretty standard for the industry. We are specific about what we want, how we want it presented to us and what you need to do to get it in front of us. All the details are plainly laid out on the website. But in speaking to how that relates to our aesthetic, we don't want people to think that their art has to have skulls, or demons, or blood for it to work here. But not everything is going to work. That's the hard truth. The best thing any artist who wants to submit to any gallery can do is to pour over the work the gallery has shown before. And be open to self-criticism. Ask themselves "Does my work fit with this gallery?". And maybe more importantly "Is my work ready to show?" one of the most common mistakes a fledgling artist makes is to send work that hasn't yet found its voice, or that doesn't have the skillset needed to present that vision. If I could encourage young artists to do one thing, it's ask for critiques when they get rejected and be truly open to the feedback.
 What draws you most to this identifiable dark side of the art community?
I think that the world is going through some pretty dark times and I feel like art is reflecting that and really thriving right now. I think with great pain comes great paintings. I feel that it is cathartic to get the darkness out. However, I don't really feel that dark art has to always be doom and gloom; it can be fun and silly at the same time. I feel like embracing your fears or pain and putting them on a piece of canvas or wood or whatever the medium, you take control and ownership of your emotions. You purge those feelings and they no longer have control over you. The emotions behind dark art are universal.
We all have those hidden demons. Those carefully guarded fears. Being open to that emotional exchange is what connects people to the work.
Outside of The Dark Art Emporium, what else do you do? And how do you balance these interests with your business?
I play the bass in a couple of local bands. I play an upright in a dark folk band and a 5 string in a metal band. Both sides of the spectrum. It's fun and since I don't paint, it's my way of getting my creative juices out. Occasionally, I get pulled to do more video work, as well. But I now pick and choose and really only do the fun or interesting stuff now. Other than that, I love watching Horror movies with my girlfriend and cats. It's pretty time consuming to run the gallery, play in bands and have a little bit of a social life. Somehow, I'm pulling it off. I'm just very, very tired.
Thank you so much for taking time out of your busy schedule to share with our loyal readers. Before we go, tell us what's on the horizon for The Dark Art Emporium.
We have so much planned for The Dark Art Emporium this year and we've already started planning for 2019. There's a new art show every month. Look out for "Tiny Terrors" in June. It's a big group show of miniaturized fears. A bunch of solo shows that include Mike Bell, Mr. Sam Shearon and D.W. Frydendall. We hold monthly art classes that range from figure drawing to hands on Taxidermy. We also do a Sideshow Revival called "Church of the Freaks" at Alex's Bar on occasion. The next one is in July. Follow us, there's always something going on around here!