Brian M Viveros is not just a brilliant artist, but a fabulous human being. From my first contact with him in working on beautiful.bizarre Issue 002 Brian embraced our new friendship and engaged himself fully in the process.  He saw merit in beautiful.bizarre's mission and the unique beauty in our at the time fledgling publication.  As one of our earliest featured artists and 2nd cover artist Brian helped beautiful.bizarre cement its place in the new contemporary art scene.  During this we forged a mutually beneficial and giving friendship which continues to this day. I am very grateful for Brian's continued offerings of advice, his support of beautiful.bizarre, his ability to stay engaged and in contact in this busy world with his hectic schedule, and his honest and passionate nature.
Another that loves Brian's work is my friend and beautiful.bizarre gallery partner Leon Krasenstein, curator and owner of Sydney's Friends of Leon Gallery. Together we put together some insightful questions to reveal to our readership what makes Brian M Viveros tick, and why he does what he does.  We hope you enjoy the following interview along with some exclusive sneak peeks of Brian's unreleased work.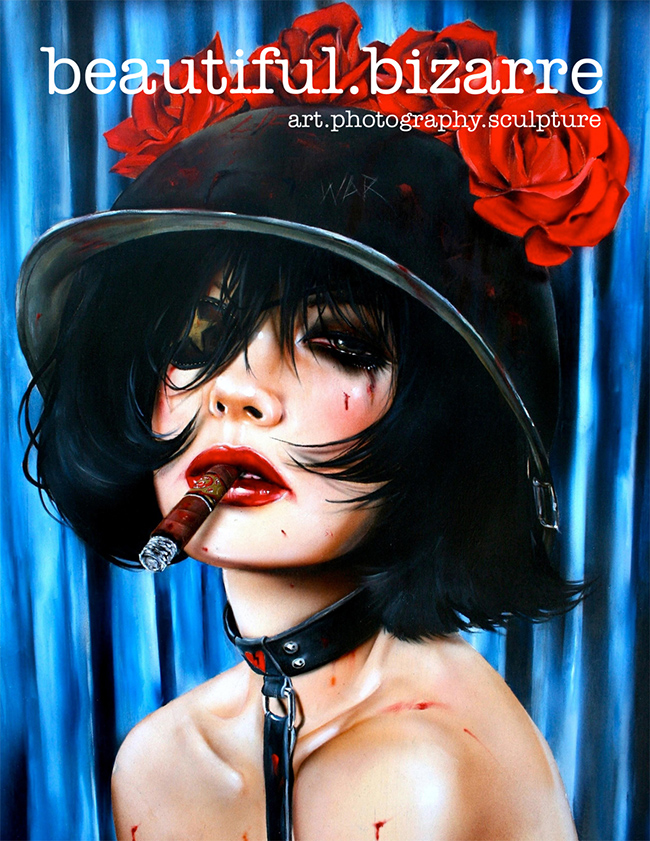 Danijela: Your style is very distinctive, how did you develop your niche – why the cigi smoking chicks?
It took some time and patience to really find my niche. You have to be patient and let things unfold. For all your readers here's a little trip down memory lane… my early works were much more in the erotic hardcore surreal realms. I didn't even know how to paint then. My pieces were charcoal, ink and airbrush. I was just starting out and I didn't know much about the fine art scene. My first show came in 1997 when I was just a little baby, it was a group show in Switzerland where I exhibited along side H.R.Giger and many other great artists that I look up to. Prior to this group show I was doing underground comics for years which was fun and a great learning experience but always in the back of my mind there was that little voice in my head that would say "this is not what you are meant to do".
I wanted to be a well known fine artist with a distinctive signature style, one where you looked at my work and immediately knew it is a Viveros piece.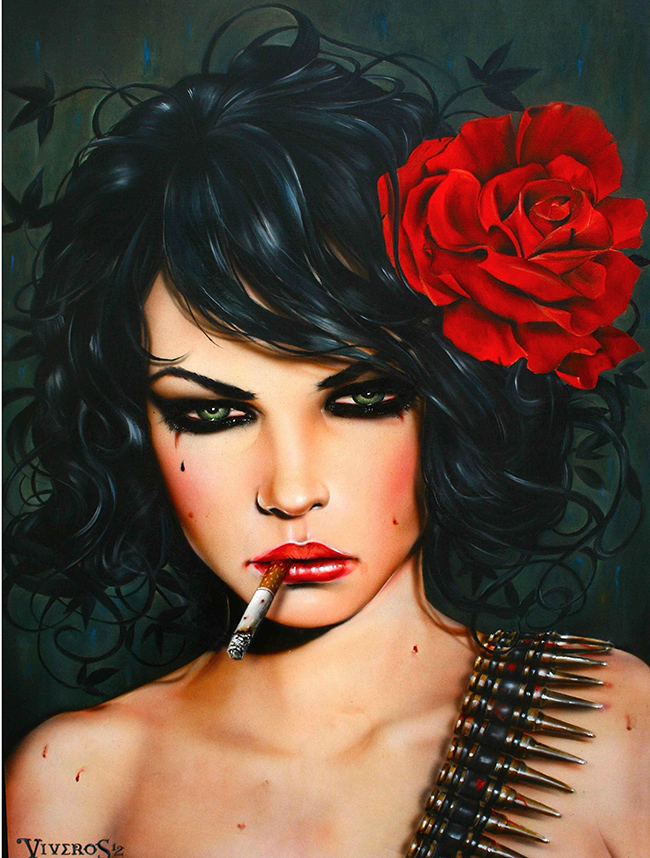 Things really started to click for me was when I taught myself to paint in 2004. I was kind of over the erotic dark hardcore faze and knew that wasn't my calling in life. With no formal training at all, I became a possessed smoking madman driven to teach myself to paint – to take a chance and see what happens. I was gonna paint what I love, which was the female figure portrait style, using the elements and everything I loved from my childhood and Hispanic upbringing. My pallet was gonna be strong, bold and simple because that's all I knew, and all my paintings would have there own signature look with a red rose and cigarette which became the Viveros trademark.
When I painted my first 'DirtyLand' painting in 2006, this was when I saw the light. The DirtyLand gates had opened and I found my niche. The painting was for my solo exhibition in Switzerland. She was the leader of this DirtyLand world I was about to create. I was building this army that I couldn't paint fast enough. I had created a signature style that was me showing you what I love and who I am as an artist. I kind of knew something was going to happen, I could feel this rush of energy and wave of ideas hitting me from all angles. This was the beginning.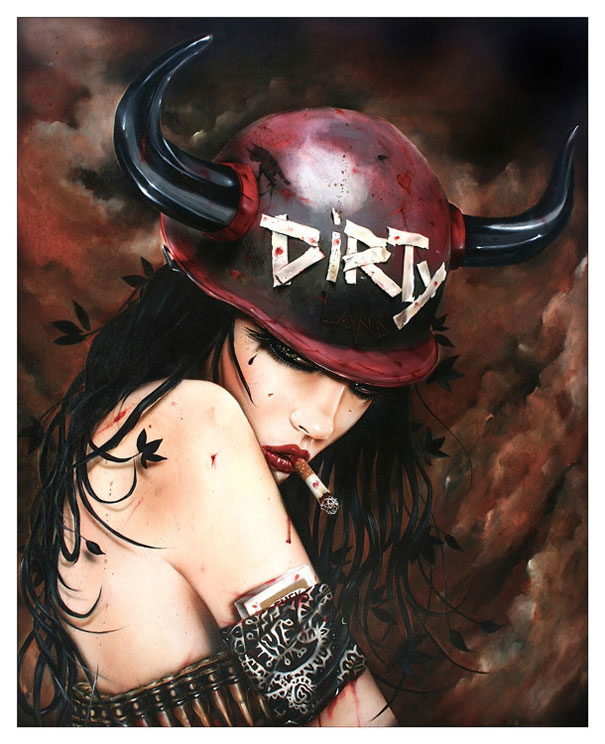 Danijela: I strongly relate to the powerful determined woman you portray in your work, what do these strong women mean to you?
They mean some serious business so I wouldn't fuck with them ha ha! They've been threw it all and have seen it all. They are what you see. They are the stories you want to tell. They are the heroes! They are the strength and the power…. they are women.
Danijela: Do you intentionally put your female characters into positions that would traditionally be seen as male roles? What are you trying to portray about gender roles/equality in modern society?
I wouldn't say that I do that intentionally, it just kind of ends up that way. It's exciting to me to take these roles and paint a strong powerful woman that becomes the boxer, the wrestler, the bullfighter. These women I paint are all part of my DirtyLand world that I've created and I do believe that in this day and time we should all be treated equal.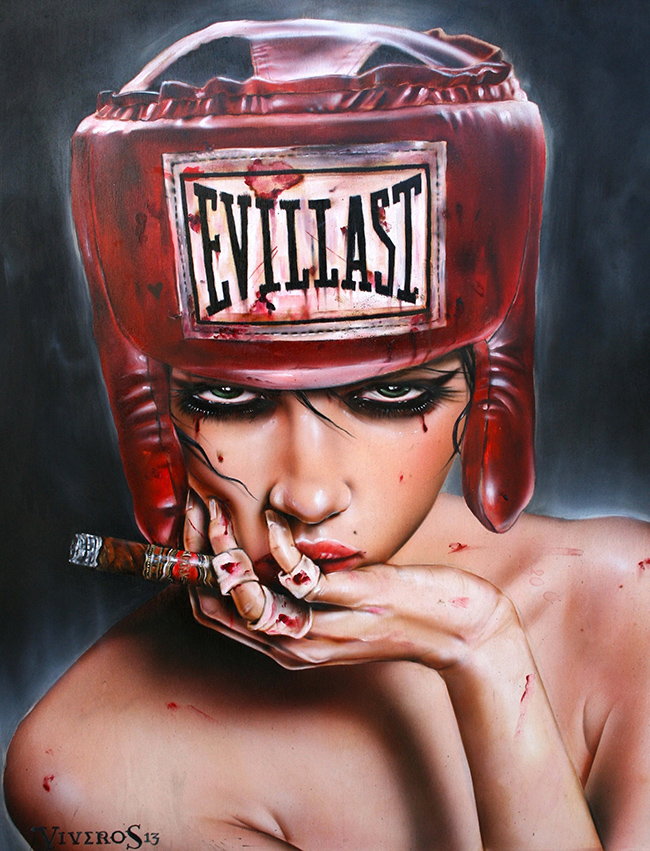 Danijela: If you could BE "any" artist throughout history, live their life, experience their joys, successes, sorrows, who would it be and why?
There are many artists that I admire and look up to, but the only joys, successes and even sorrows that I want to experience are my own. That is how you learn and grow as a person.
Danijela: I believe you also make surreal underground art films! Are you working on anything new in this space? Are you able to share a link to some of your work.
Yes and yes. We just filmed a ten year anniversary documentary about my first film 'Dislandia' it's one of my favorite and most important pieces of my career, so I'm excited to share this with you sometime next year when it's ready. Here's the secret website to some of my films you can watch for free www.dislandia.com
Danijela: You seem fascinated with head gear, do tell…
I'm a collector of helmets and unique head gear. As you can see in my paintings many of my girls wear my signature DirtyLand helmets and head gear. I also collect human skulls and unique Dia De Los Muertos items and toys. A lot of weird but cool stuff that means a lot to me, that I need to be surrounded by.
Danijela: So tell us, what projects have you got coming up in December and into 2015 so we can mark out calendars!
Lets see, coming up next month December 2 – 7th I'll be returning to SCOPE Miami Beach 2014 as part of Art Basel week. I'm so excited to be part of this amazing art fair again. For those of you in the Miami area feel free to come out to the show and enjoy an amazing week of art! I'll have three NEW works exhibited at the Thinkspace Gallery booth, so please stop by and say hello. I'll be in attendance and hanging out so spread the word to all the DirtyTroops out there.
For 2015, some exciting news, I'm working on my first art book which should be released next year sometime with a BIG exhibition. More details to be announced next year, but I'm also working on a new film that will premiere with my opening.
Also… for you the  beautiful.bizarre readers here are some behind the scenes teaser pics of my new works that will be showcased at SCOPE Art Fair Miami at the ThinkSpace Gallery booth this December. For all inquiries about my new paintings at SCOPE please email: contact@thinkspacegallery.com
Leon: Do you find that you dream about your art? Do your artworks come to life in your dreams?
Yes, I do dream about my art. When it's a painting I can't stop thinking about I'm obsessed and possessed by it. I've had dreams where I can feel myself painting a particular part of the piece. There had been moments I'm painting the neck and it feels so real I can almost taste it. The piece itself is never fully completed in my dreams which probably means it's never really finished. My artwork has come to life in my dreams as a film. Certain characters I've painted for example the Bull-Fight-Her I've played out scenes in my head that I've dreamt about with this particular character. One day I will put that dream to film.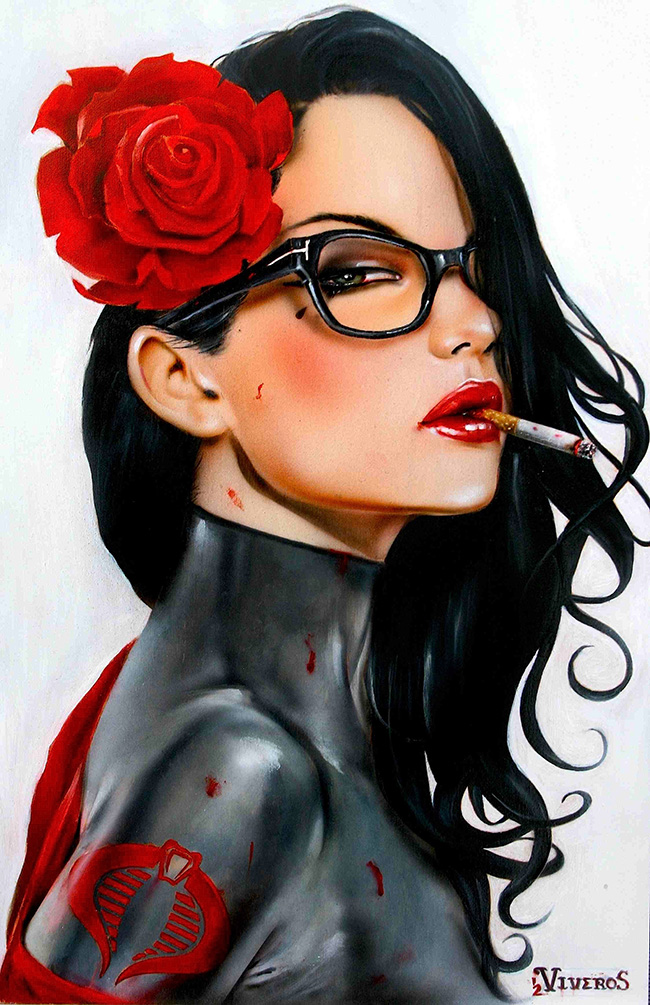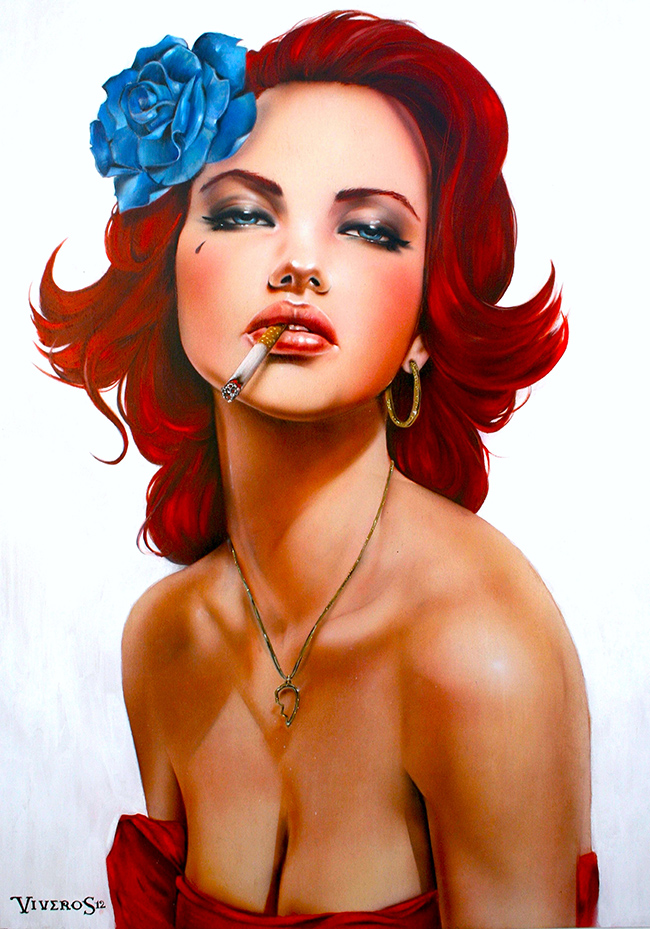 Leon: You do find it stressful being an artist? Are you stressed in the lead up to big solo shows?
It can be stressful at times but I think that depends on how much pressure you put on yourself. I tend to put a lot of pressure on myself because I'm very passionate about everything I do. I don't get stressed about the show itself I get more anxious about getting to everything that I have in my head for the show. I always want to make sure that I accomplish all that I envisioned. I try to give the fans everything and more.
Leon: Do you find it difficult to look at your early works or do these inspire you to keep improving?
Looking at my early work makes me think 'Damn! I had a lot of dirty thoughts to get out!' It actually makes me smile to see how much I've grown but also it's a reminder of how hard I've worked to get to where I'm at.
Leon: Do you take extended breaks away from painting to keep yourself motivated, interested and inspired?
No, I don't really take breaks. My mind never seems to shut off. I think it's part of my sickness – ha ha! I'm a workaholic who's machine gun mind is always loaded. If it's not painting, it's planning the next show or film or project of some sort. I feel kind of guilty when I'm away from my table too long, it haunts me and calls me to come back when I've been gone too long
Leon: Are your most liked artworks on Instagram your favourites as well? Do you find that your favourite artworks are not your most popular?
The @viveros_brand Instagram posts are what I'm currently working on, or upcoming events, or sometimes we just post classics from years ago. Im always posting visual art for the fans, no selfie's allowed. Some of my favorite pieces actually are my most popular. The first 'Bull-Fight-Her' is one of my favorites and the fans seem to love it as much as I do.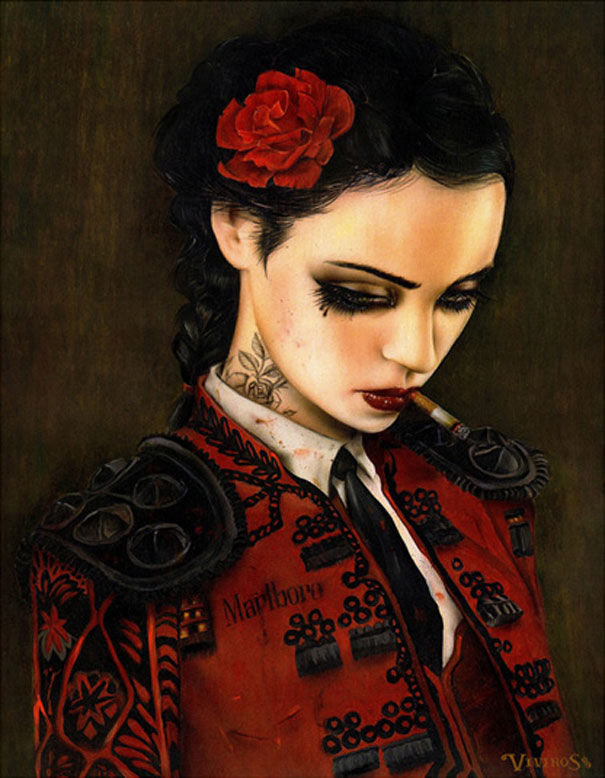 Leon: Is caffeine or nictone an essential part of your daily ritual?
Yes & Yes & Yes, oh that's too many Yes's, but yes. Wish I had one more arm so I could drink coffee, smoke a cigar and paint at the same time. Wouldn't that be a site to see.
Leon: Where is the craziest places that ideas come to you?
Hmmm, well I spend the majority of my time in my studio or LA when I have to meet with people but the ideas are always floating around, it's just about grabbing them and holding onto them. I find inspiration in everything. Could be a song I hear, people I see on the streets or just living in the moment of the day watching things unfold. I get a lot of ideas when I drink with my friend who I make films with. We love to drink and shoot the shit on a Sunday right after church… just kidding. I usually start plotting a film and from there I begin thinking of ideas for paintings.
Just want to thank you Leon & Danijela for this opportunity & to all the beautiful.bizarre readers out there… Stay Beautiful, Stay Bizarre and always Stay Dirty My Friends – Brian M. Viveros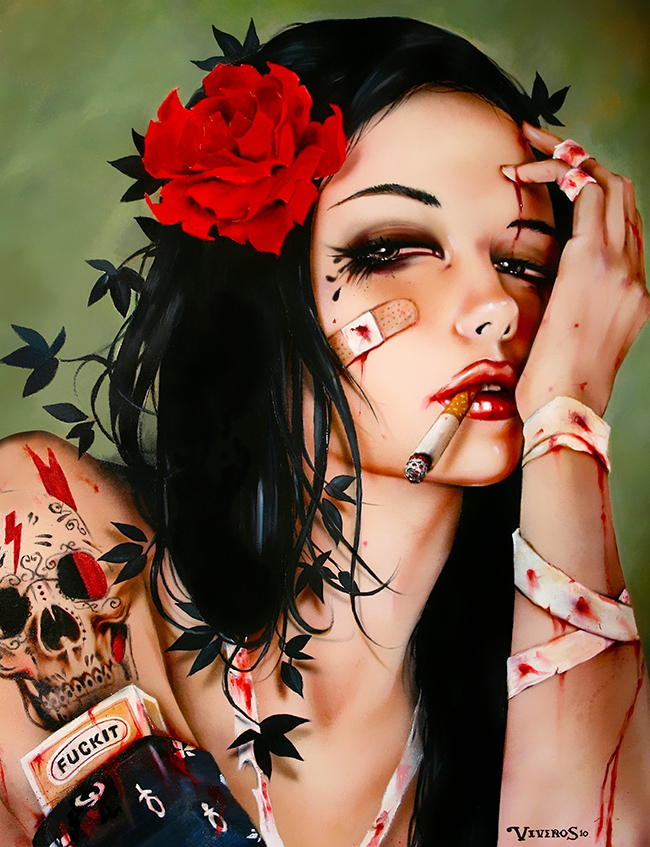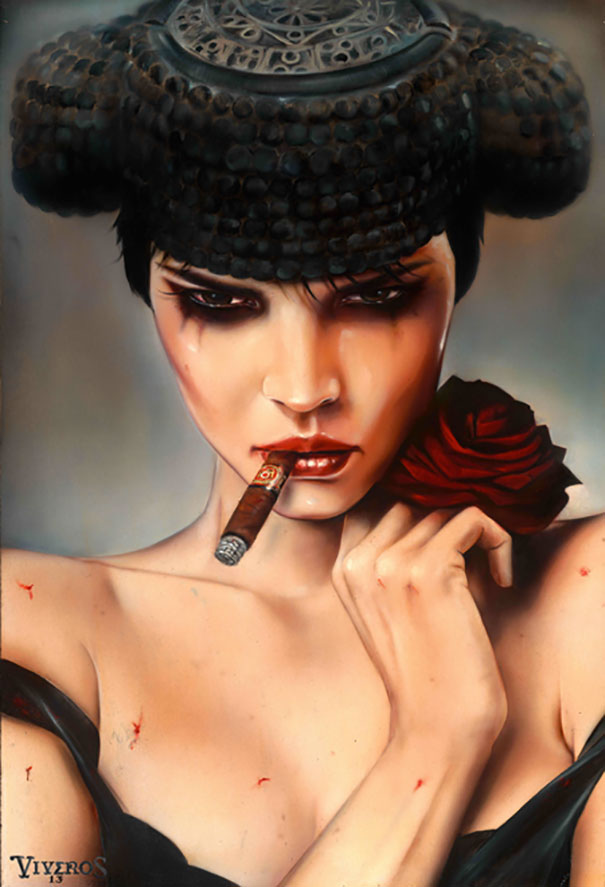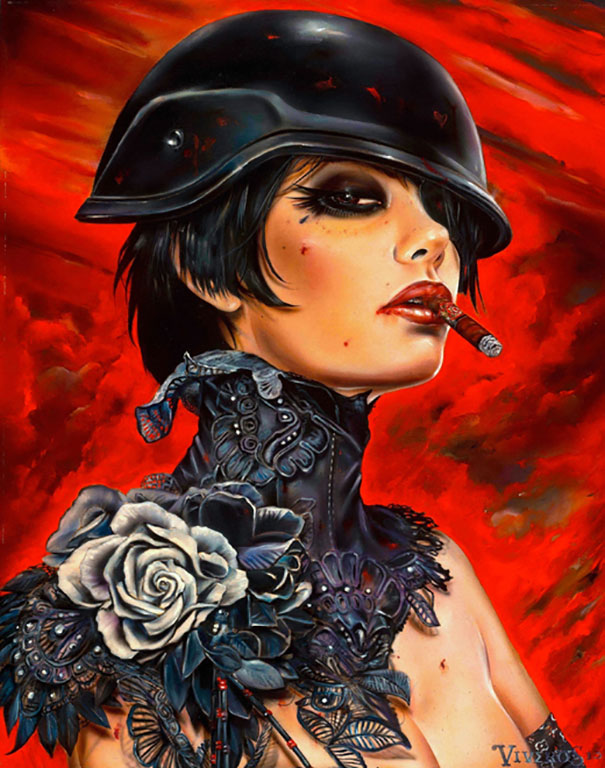 Join the Viveros preview/mailing list for news, prints and originals, sign
up at www.brianMviveros.com under 'contact'.  Follow Brian on Facebook here.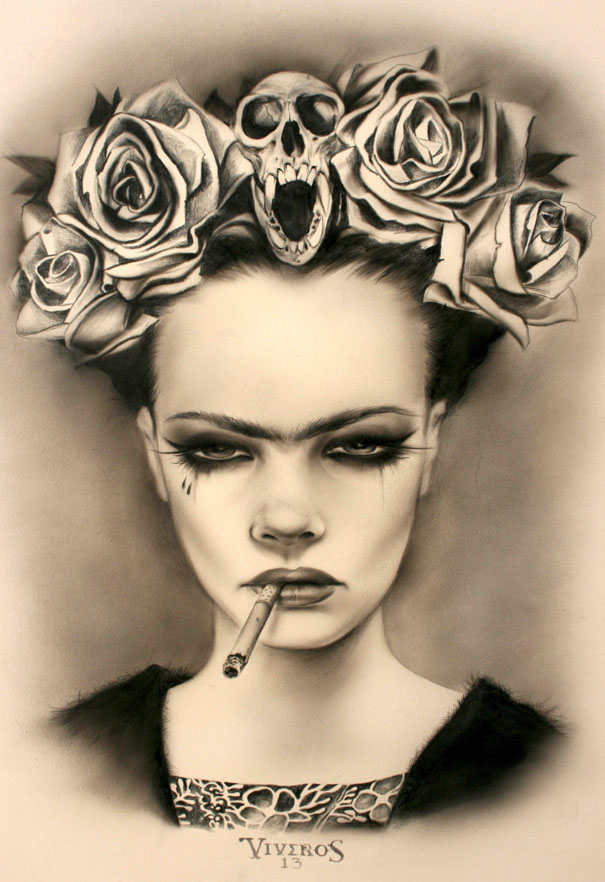 The short 'Tercio De Muerte' below is from Brian's DirtyLand exhibition 2010 which was played inside the cut out stomach of the DirtyTroop Mannequin Installation: Tercio de Muerte: a 6.3 minute thrill ride of charged symbolism and cool sexuality.