The holiday season is upon us and now is a time of magic. Discover the innate craft of Valency Genis and the mystical dispositions of her wildly curious sculpture work. Join Distinction Gallery and ArtHatch this weekend as they send off the year with a wonderful new exhibition, "Visceral Varmints".
Steeped in a genuine wanderlust for joy, this collection of dreamy-eyed creatures ignite the creative spirit in all of us. View Valency Genis' entire exhibition by visiting Distinction Gallery or pop over to their website for further details and purchase availability.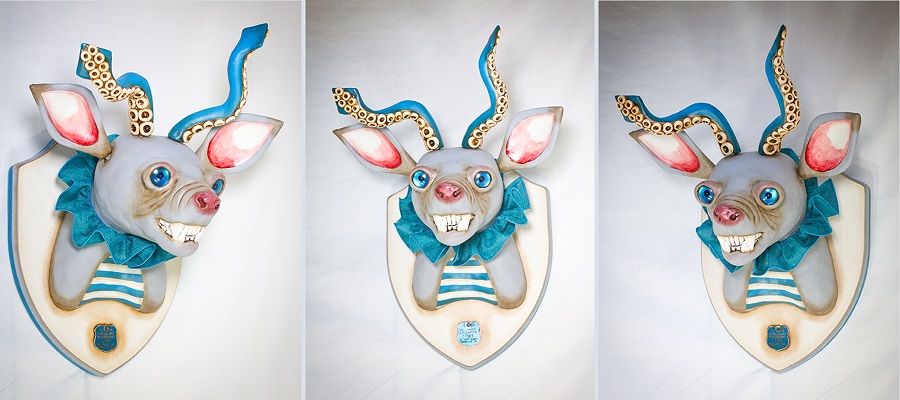 Press Statement // Valency Genis is an amazing sculpture artist that creates hybrid creatures of fancy. She hails from the Republic of Cascadia; she entered the world as a 12-pound baby born in Portland, Oregon, and was then raised in Seattle, Washington. She was utterly obsessed with television and video games for most of her life, so it is ironic that a summer spent on Flathead Lake, Montana in an electronics-free log cabin when she was 10 years old would change her life forever. Searching for diversions to alleviate her interminable boredom, she happened upon an old taxidermy shop. A dusty pair of "unborn beavers" caught her eye in the window display, and it forever imprinted on her naïve adolescent mind. The stunning array of animals presented in the rustic store drew her in with their beauty, but she was bereaved by their demise…
Valency Genis, "Visceral Varmints"
Opening Reception: Saturday, December 11, 2021 | 6-10pm
Exhibition Dates: December 11, 2021- January 2, 2022
Opening reception with live music, open studios, and drinks for sale at Last Spot.

Distinction Gallery
317 E Grand Ave Escondido | CA 92025
Distinction Gallery was created in 2004 to give beginning and established collectors a venue to purchase high-quality, cutting edge artwork. Distinction has hosted over 120 exhibitions since its inception featuring emerging, mid-career and veteran professional artists. The primary genres forwarded at Distinction are Contemporary Realism, Surrealism and Urban art with a focus on the figure. Our primary media focus is original oil and acrylic paintings; however, we occasionally display drawings and mixed media. Distinction's artwork is available for purchase online to clients around the world, and most of our artists are available for commissions. Please feel free to contact us with questions.

In order to further expand our offerings to our community, we converted part of our location to ArtHatch, a non profit organization. Distinction donates a generous amount to ArtHatch annually. We host opening receptions on the Second Saturday of every month featuring open studios, Stone Beer, BK Cellars Wine, live music from San Diego and Los Angeles musicians, and plenty of engaging artwork.
Distinction Gallery Social Media Accounts
Website | Facebook | Twitter | Instagram
Valency Genis Social Media Accounts