Wrangle your artistic senses and set your sights high on Gabe Leonard's new solo exhibition, "Totally Under Control", opening this weekend at Distinction Gallery. Musing from the saddle, the rustic nature, bold narratives and rich cinematic atmosphere are sure to entice your creative spirit.
From dry desert landscapes to The Overlook Hotel and wild stallion renegades alongside notorious bandit queens, join Distinction Gallery in celebration and experience the rugged outlaws and rebellious western flair of Gabe Leonard's inspiring work. Don't miss the gallery reception with Gabe in attendance, live music by Amanda Portela and Kenny Hill, open studios, and drinks for sale from Last Spot Art Bar, held Oct 9th from 6-10pm.
We have been representing Gabe Leonard since 2005 and his show is always one of the most well-attended events we host each year. After skipping the reception last year, I am so happy to welcome him back to paint live during the reception for one lucky visitor!

Melissa Walker- owner of Distinction Gallery
Gabe Leonard, "Totally Under Control"
Opening Reception: Saturday, October 9, 2021 | 6-10pm
Exhibition Dates: October 9 – November 6, 2021
Distinction Gallery
317 E Grand Ave, Suite B | Escondido CA 92025
phone # 760.781.5779
Press Release // Distinction Gallery is pleased to present a solo exhibition by our best selling artist Gabe Leonard. The exhibition titled "Totally Under Control" will include several new oil paintings, many inspired by the ongoing pandemic.

About the Gallery // Distinction Gallery was created in 2004 to give beginning and established collectors a venue to purchase high-quality, cutting edge artwork. Distinction has hosted over 185 exhibitions since its inception featuring emerging, mid-career and veteran professional artists. Distinction's artwork is available for purchase online to clients around the world, and most of our artists are available for commissions. In order to further expand offerings to the community, Distinction converted part of their location to ArtHatch, a non profit organization.

ArtHatch is a 7,000 square foot building which houses Distinction Gallery: exhibitions changing monthly, "The Alley", featuring 15 local artist, the teen room featuring artwork by 15+ teen artists, 16 artist studios, ranging in size from 150 to 500 sq ft, ArtHatch Escape Rooms, and Last Spot Art Bar.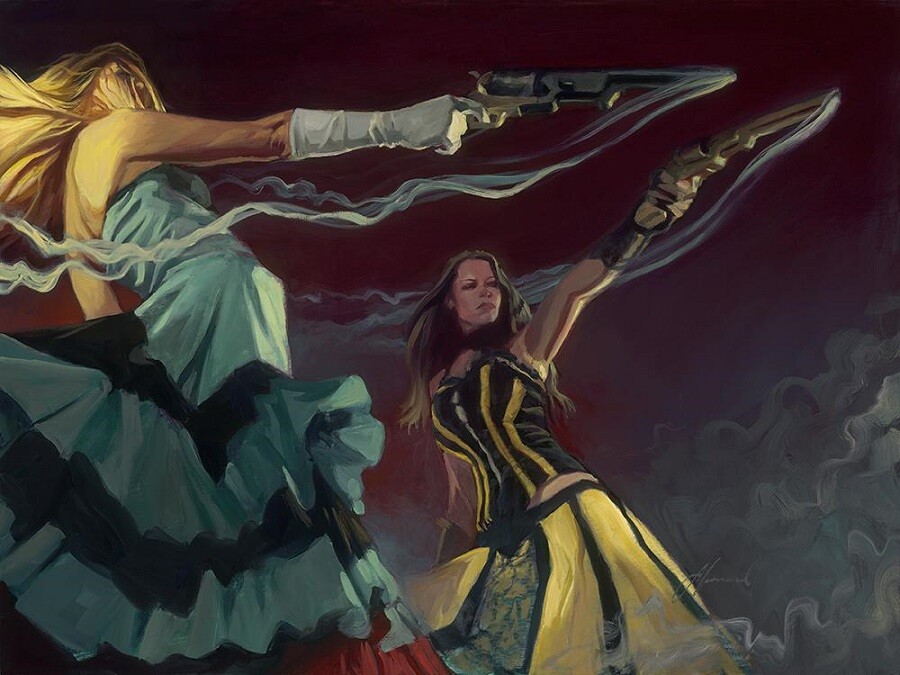 About the Artist // Gabe Leonard spent his early years in rural Wyoming, sketching wildlife and selling his drawings for one dollar. After earning his BFA from Columbus College in Ohio, Leonard honed his talents on the ultra-competitive Venice Beach boardwalk. Described as "Johnny Cash meets Quentin Tarantino," Gabe Leonard's original art and prints possess an intense cinematic quality combining the gestural brushwork of expressionism with the expert lighting and framing of a Hollywood cinematographer. His oils are cinematic, atmospheric and moody, revolving around outlaws, rugged noir characters to create narratives full of dramatic possibility.
While his subjects and compositions belie a heavy influence of modern and contemporary cinema, Leonard's artistic style is rooted firmly in a European tradition. While he often breaks from academic restrictions with his loose brushwork and characteristic drips, he counts Rembrandt, Mucha, Klimt and Schiele as amongst his influences. Following a string of sell-out shows and acquisitions by high-profile collectors, Leonard has quickly become one of the most sought-after artists in the world. Whenever his work is up for sale, galleries, art enthusiasts and high-profile celebrities rush to buy his admirable art and paintings. Recent celebrity collectors include Quentin Tarantino, Charlie Sheen, and Rueben Fleischer. Leonard currently resides in Los Angeles.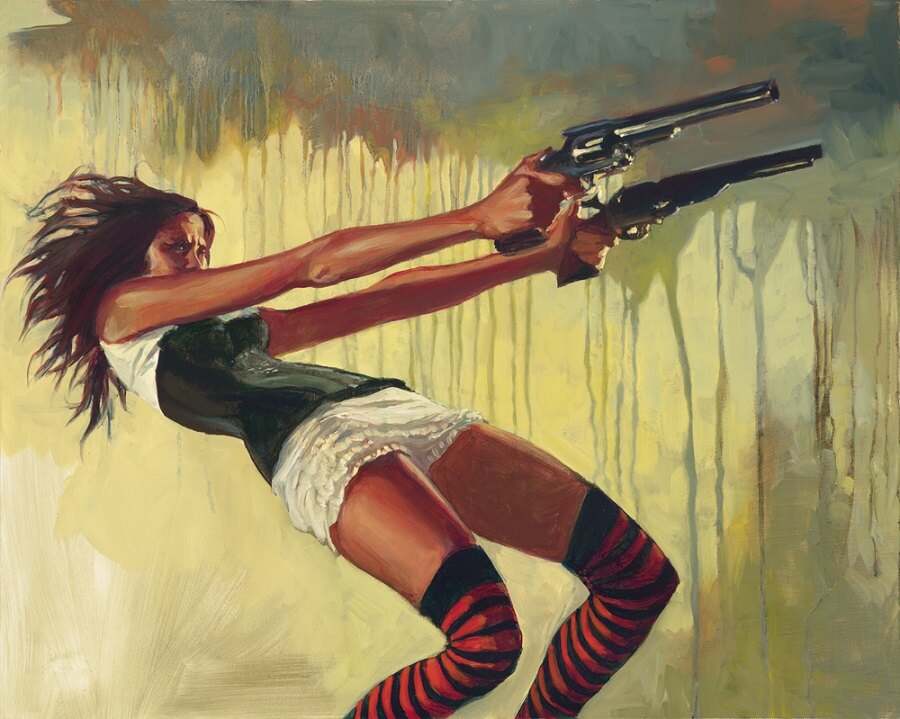 Distinction Gallery Social Media Accounts
Website | Facebook | Twitter | Instagram
Gabe Leonard Social Media Accounts