Have you ever wondered how many worlds could fit into a body? The subjects in Meagan "Magpie" Rogers' paintings seem to have no limit. Though a body may be inescapable, they also conceal a multitude of stories, conflicts, and emotions. Meagan has a talent for giving space and shape to the unseen. Her imagery provides a striking perception of both the paranormal and psychological aspects of a being; like finding a truth too ambiguous for words through a world surreal fantasy.
Landscapes of a Dream
There may not be a name for the world Meagan "Magpie" Rodgers has created, but it certainly stays with you. Like many surrealist artists, the imagery in her paintings, etchings, and sculptures come from a highly conceptual and ambiguous place. These trance-like depictions certainly have a dark edge, but are also familiar and consistent enough to draw you into their substance. Transitive, though that subject may be.
Living in rural Tennessee, Meagan has an abundance of rugged and lush landscapes to inspire her. The atmosphere in her pieces seems to brood, blending beautifully into her many dark and bewildering characters. Her paintings are rife with dark forests, bright skylines, ambiguous mountains, and other dreamlike landscapes. One has a sense of peering into a mad but truly magical fantasy.
Demons, Humans, and Other Creatures of the Mind
Though often transfigured, and undoubtedly morose, the characters in Meagan's work are also undoubtedly human. Through them, we experience both the more sinister and more sublime sides of the human condition. These personages are often directly inspired by the artist's bipolar disorder, paranormal experiences, and other acutely personal concepts.
Once you're familiar with her work, you'll notice a host of familiar characters. One, a thin dark-eyed girl, often appears wounded or with peculiar bodily abscesses. These depictions may appear to be obvious self-portraits, but the artist has hinted that they can represent different characters too, depending on the story being told.
Two other characters also make frequent appearances, these being the frog and the demon. Meagan has been drawing frogs for a long time but has since come to give them meaning. The frog is an expression of the elated and positive side of her bipolar. Whereas the demon often represents the darker, negative side. This dualism is blended spectacularly across much of her work, cropping up in all kinds of unexpected places. Knowing this, a dead frog here and a sinister silhouette there can offer an intimate and relatable perception of this strange and surreal fantasy world.
Meagan has several pieces for sale and seems to have much more to offer for the future. Fans of dark surrealism with a paranormal or psychological bent will fall deep into her work. Especially those who look for both the light and dark within their psyche.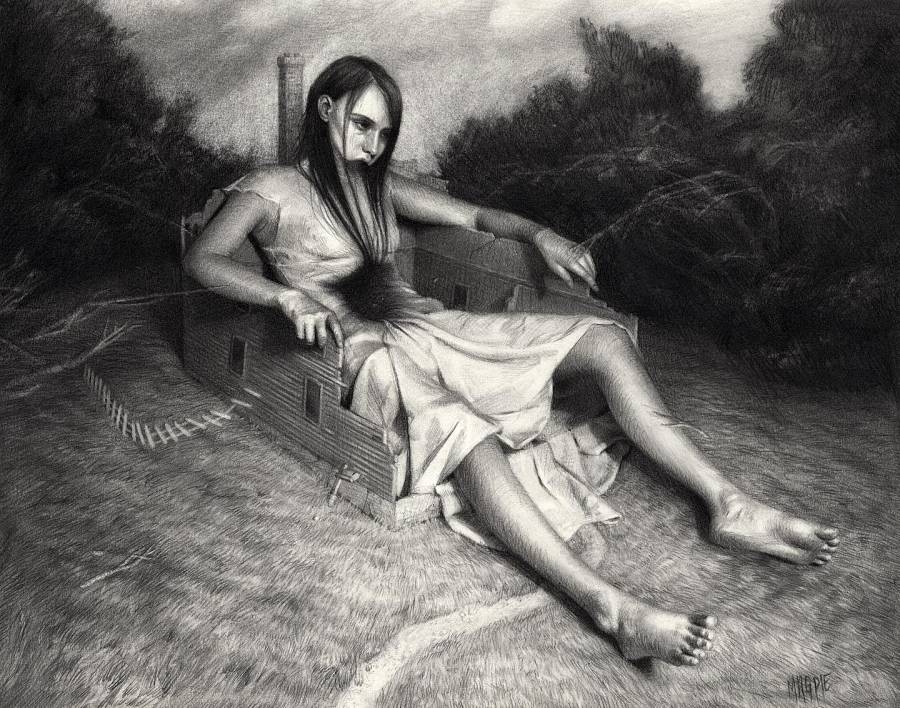 Meagan "Magpie" Rodgers Social Media Accounts