On October 24th, Haven Gallery catapults us into the neverland of imagination and inquiry, where flights of fancy heighten and we discover the symbiotic relationship between soul counterparts, art and artist. Join them in celebration of Gina Matarazzo, Daria Aksenova, Meagan "Magpie" Rodgers, and Kathie Olivas' exciting new solo exhibitions.
Also opening at Haven Gallery is Neoclassicism, a group exhibition featuring the work of June Leeloo, Mao Hamaguchi, Lori Earley, Crystal Morey, Matt Dangler, Raul Guerra, Daria Theodora, Howard Lyon, Phoenix Chan, Illaria del Monte, Lily Seika Jones, Rebecca Yanovskaya, Nikolas Tower, Kristin Kwan, Kseniia Boko, Steeven Salvat, Calvin Laituri, Yousake Kawashima, Julien Delval, Victoria Steel, Sui Yumeshima, Lesley Thiel, Carlos Fdez, Valentina Toma, John Lally & Jesus Aguado.
Neoclassicism Haven Gallery Press // A survey and reinterpretation of the movements in art focused on reviving inspiration from antiquity. Inspiration for work may be derived from all forms of the arts including but not limited to painting, drawing, sculpture, theatre, architecture, music and literature.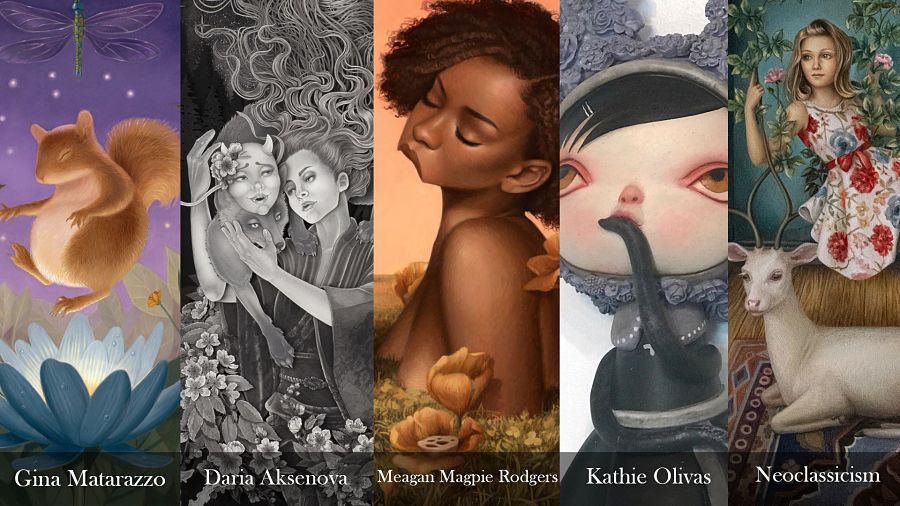 Gina Matarazzo | Daria Aksenova | Meagan "Magpie" Rodgers | Kathie Olivas
Exhibition Dates: October 24 – November 28, 2020
Haven Gallery
155 Main St., | The Carriage House Square | Northport, NY 11768
For additional information and images, please contact Erica Berkowitz at [email protected]
Haven Gallery is pleased to present "Enchantment", a solo exhibition from New Jersey based artist Gina Matarazzo. "Enchantment" is Matarazzo's first solo show at the gallery and will consist of fifteen new oil paintings. This collection will feature the artists signature animal portraits steeped in vivid color palettes and floral adornments. While certain animals are portrayed in their natural habitats among the trees and flowers, others are depicted surrealistically as they take on human qualities. Cloaked in regalia as they elegantly pose in lush interiors, each animal takes on a unique and individualized personality that evoke both humor and splendor. Taking the narrative one step further, Matarazzo's animal sitters embrace magical musings as they dance mid air and levitate tranquilly. "Enchantment" playfully intermingles these two worlds into a harmonious and welcoming soirée.
"I have always been more of an observer to this world, and what I have a difficult time saying in words, I try to express through my work. The world can be a very somber place, but we don't have to dwell on that. I like to depict animals in my work, because they are free from ego and live a more sincere life than we do, truly knowing how to "be." When we look at animals, we pick up on that sincerity and it opens up our emotions of joy, love and compassion. If we allow those feelings to flow freely within each of us, it can change our perception or point of view, and help make the world a better place. I hope that "Enchantment" reminds you that there is still time to be open to moments of wonder, feel joy, experience peace, believe in hope and see the beauty that exists around you. Tap into the essence of you, where magic and hope reside, and let the enchantment of what could be fill your heart." – Gina Matarazzo
Artist Statement // I paint pictures, design books, hide chocolate like a squirrel (meaning, I don't always remember where I put it), love to cook, own and operate 22 hula hoops (not all at once), sometimes lose paintbrushes in my hair, get caught on doorknobs frequently, work too much (because I love it!), look for creative opportunities with EVERYTHING, love looking at academic paintings in person and spending time with my cats and husband. I love COLOR and DETAILS and SECRETS and STORIES and EVERYTHING about the creative process, especially the challenge and the hard work.
I believe there are hidden secrets, wonders and joys of the world right under our noses every day. I enjoy creating art that celebrates the things that are often overlooked and taken for granted. When is the last time you really looked at the sky or the sprightly little rabbit in your yard? What does that dog of yours dream about? I think everyone needs to slow down and pay more attention to what's going on around them. With a little creative license, I aim to show you a magical way of looking at ordinary things.
In the past, my primary focus was designing and illustrating album covers for a wide variety of recording artists across a great spectrum of music genres. My client list has included Paul McCartney, Billy Joel, Glen Phillips, Peter Tork, Woody Allen, 88.5 WXPN and Austin Music. I have also done freelance work on books, toys, and textiles for clients including Houghton Mifflin Harcourt, McGraw Hill, and Running Press Books. Currently, I design books for Bookbaby in any and every genre and style that comes across my desk.
I live with my illustrator husband, Matt Stewart and cats Gwendolyn, Cecily and Georgie in southern New Jersey where at certain spot between trees, you can catch a glimpse of the beautiful Philadelphia skyline in the distance.
Haven Gallery is pleased to present Houston based artist, Daria Aksenova for her second solo show at the gallery. Aksenova's latest body of shadowboxes utilizes her affection for narrative as a link between animals and humans through various branches of folklore. Both visual and thematic elements of these stories can be found in the presence of clothing, masks and characters. Mythologies stemming from Russia, Japan and the Chinese zodiac are noted in the artists surreal characters and garb, while the her own personal narrative find itself woven throughout each shadowbox.
About Daria's Process // Daria's works are known as shadowboxes. The artist inks (both fine line and ink washes) her imagery before she meticulously cuts it out to layer and suspend in a deep set, framed shadowbox built by her own hands. Each artwork is comprised of multiple layers that allow her to create immense depth and movement. It is through her multiple layers and masterful line work that a cinematic dimension of imagination and story are brought to life.
Artist Statement // I have always been fascinated with storytelling, starting with childhood bedside fables and mythology. Two years ago, seeking a new challenge, I undertook creating a narrative arc within a static medium, using principles I learned from my previous industries: fashion and film.
My mission is to bring back our childhood imaginations that are drowned out by the everyday bustle in our ever-busy lives. I choose my settings and subject material to draw the viewer back to the folk lore and myths of their youth, hoping to create artwork that inspires the dreamer within.
About the Artist // Daria Aksenova is best known for her suspended paper narrative compositions in ink. In the heart of Houston's newly renovated creative studios, she displays a unique treasure of imagination. The current focus of her work takes on the creation of dynamic movement in a static medium, drawing from her past experience with the fashion and film industries. It is her intent that cinematographic storytelling arises from the layers and complexity of the composition. These pull in both the eye and mind, presenting a space and opportunity for the imagination to wander into a deep narrative that can only be experienced first hand. Daria Aksenova uses ink as it is an unforgiving medium that precludes editing and demands precision. Individual elements are then hand-cut with a scalpel and suspended against each other until the desired depth is achieved. Her technique demands a steady hand and unfailing commitment, often requiring over a hundred hours of dedication and intimacy with each piece.
The subject matter is chosen by a fascination with mythology and folklore. Her pieces evoke a dreamscape-like narrative to serve as a vehicle to transport the viewer back to past, more carefree times, outside the limitations of the everyday world
Meagan "Magpie" Rodgers is from Riverside, California. She was born into an artistic family and was always encouraged and inspired to create by them, especially by her older brother. At 15, Meagan met her now- husband in her first art class who has also helped and inspired her over the years with his artistic abilities. For as long as she can remember, she's wanted to be an "artist". Meagan continued her art training throughout high school and took a few courses at Riverside Community College. While studying at RCC, Meagan's art professor Jeff Soto made the most impact having taught her many of the lessons and techniques she still uses today. She's dabbled in many mediums throughout her life, but found her niche in surrealism with acrylic paint and graphite. Since high school, Meagan's work has been geared in a dark direction and was usually inspired by objects and animals. After the loss of her older brother, Meagan's life and artwork changed drastically. Her work went into a more serious/heartfelt direction, and she moved with her family to Chattanooga, TN for a new chapter. Meagan continues to create out of her home studio where she resides with her husband and Chihuahua, Papi.
Artist Statement // In my work, I try to materialize nonphysical concepts such as paranormal entities, mental illness, love and loss. I usually paint and draw women because I find them to be interesting subjects and typically the best vessel for communicating what I'm trying to get across in my work. I often use my likeness not only for convenience sake, but also because it seems the most authentic when it comes to putting what I feel on paper or canvas. I find myself inspired by moody and/or desolate settings and I often portray subjects nude or in underwear/sleepwear to express vulnerability and make the viewer feel as if they're looking into a private or intimate moment. I love vintage clothes and try to incorporate those into my work as well. The lack of jaw on my subjects was originally a style choice, but I now feel it accurately reflects the shy person that I am, and how I have an easier time expressing myself through art than I do verbally.
Artist Statement on "Solace" // This body of work has been well over a year in the making, and has allowed me to create through a multitude of seasons in my life. It embodies the feelings and the challenges I faced mentally, especially after COVID began. In this show you'll see repeating western imagery and golden poppies, which are inspired by my home place of Southern California. I've been feeling very homesick having not been able to visit for a long time, which really came through in these pieces. I think the desert and other desolate settings portrayed also capture the loneliness that I, like so many others have felt this year. I thought "Solace" was a fitting name for this show, since I express both dark times and healing in all of the work I've created for it. I believe that word also envelopes the year well for the same reasons, and I hope those who view these pieces can find solace in doing so.
Haven Gallery is honored to present New Mexico based artist Kathie Olivas for her first solo show at the gallery. This new exhibition will showcase the multi-media artist's oil paintings and sculptural work. Olivas's art focuses on fictional characters that act as narrators guiding us through imaginative worlds. These personas are inspired by her childhood and seek to awaken sentimentality in the viewer. However, this sense of nostalgia is meant to be contrasted with uncertainty as she describes her work to be a satirical in nature. Oliva's artwork serves as a representation of the polarity that exist in all our minds. Her artwork asks us to explore our own imaginations.
About the Artist // Kathie Olivas is an internationally exhibited multi-media artist from New Mexico. Through her current body of work, the Misery Children, she explores society's insatiable desire to assign 'cuteness' and our discomfort with the unknown. A dark blend of early American portraiture set in post apocalyptic times, Kathie's paintings and custom toys are a satirical look at how fear affects our sense of reality. One of the central questions raised in Kathie's work is that of 'what if': what if these 'cute' creatures had their own agenda? Are they attune to something beyond our understanding, or are we simply too cowardly to acknowledge it? Are their misshapen limbs and plated mouths a deformation from living in a desolate wasteland, or perhaps an adaptation for protection? The Misery Children are meant to evoke a nostalgic reaction that reflects isolation, fear and an uncertainty, yet they also act as empowered alter egos. While these characters explore their new lonely worlds, they double as our narrators. They guide us through their reality as they experience it and yet, even in their company, we are granted no reassurance.
Neoclassicism Group Exhibition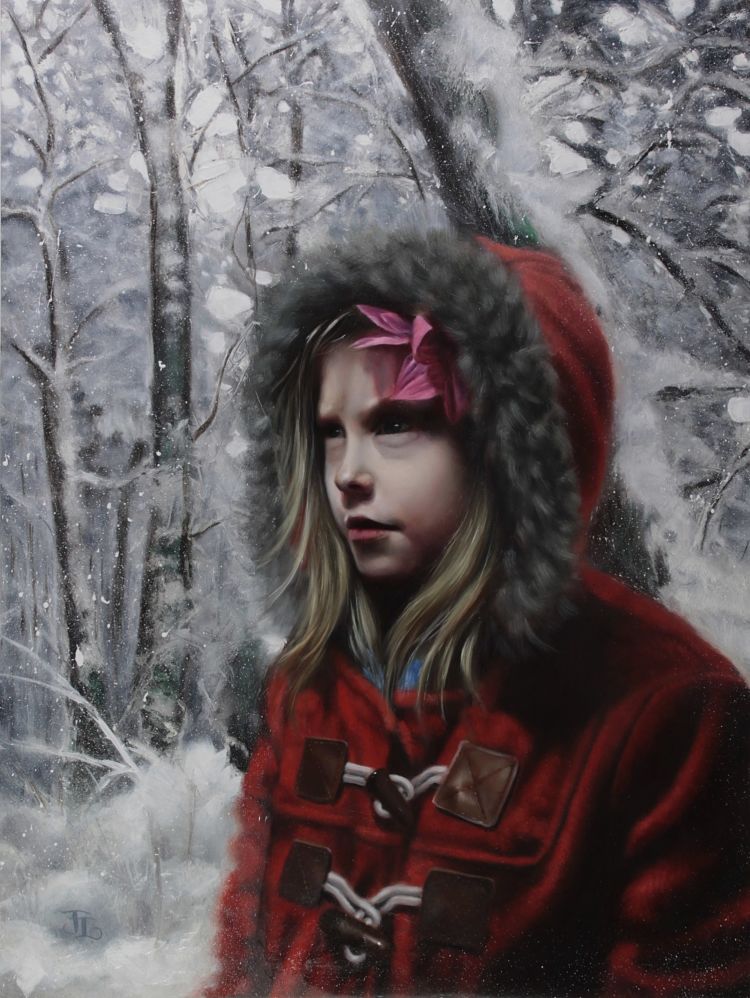 Haven Gallery Social Media Accounts