Giorgiko (pronounced jee-or-jee-koh) is not a person, it is a universe created by husband-and-wife duo artists, Darren and Trisha Inouye. The pair met in Pasadena, California, during their studies. Trisha hails from a Korean immigrant family in the San Francisco Bay area and was noticed at an early age for her talent in drawing. Meanwhile, Darren is a 4th generation Japanese-American from Los Angeles who fell in love with graffiti in his youth. Their artistic universe mixes Trisha's cute, cartoonish characters (wayfaring girls, lost boys and fancy wolves) with the underground influences of Darren, which inject the darkness of apocalyptic urban landscapes.
Their exhibition at Thinkspace Projects, set at the same time of James Bullough's own show, is called "Horizon Light". Giorgiko's 11 oil paintings are storytelling and mysterious. They are telling us about a world that is changing with its share of fear and hope. The decayed cities are now the playground of nature and animals, who seem to protect the bold innocence of childlike figures. There is a smell of possibility in the dim air, and a better future is within easy reach, just like a comforting light at the horizon…
"Horizon Light" is exhibited in Thinkspace's Project Room until March 21, so don't miss a trip to Giorgiko's fascinating universe… and in the meantime, get to know its creators with this interview.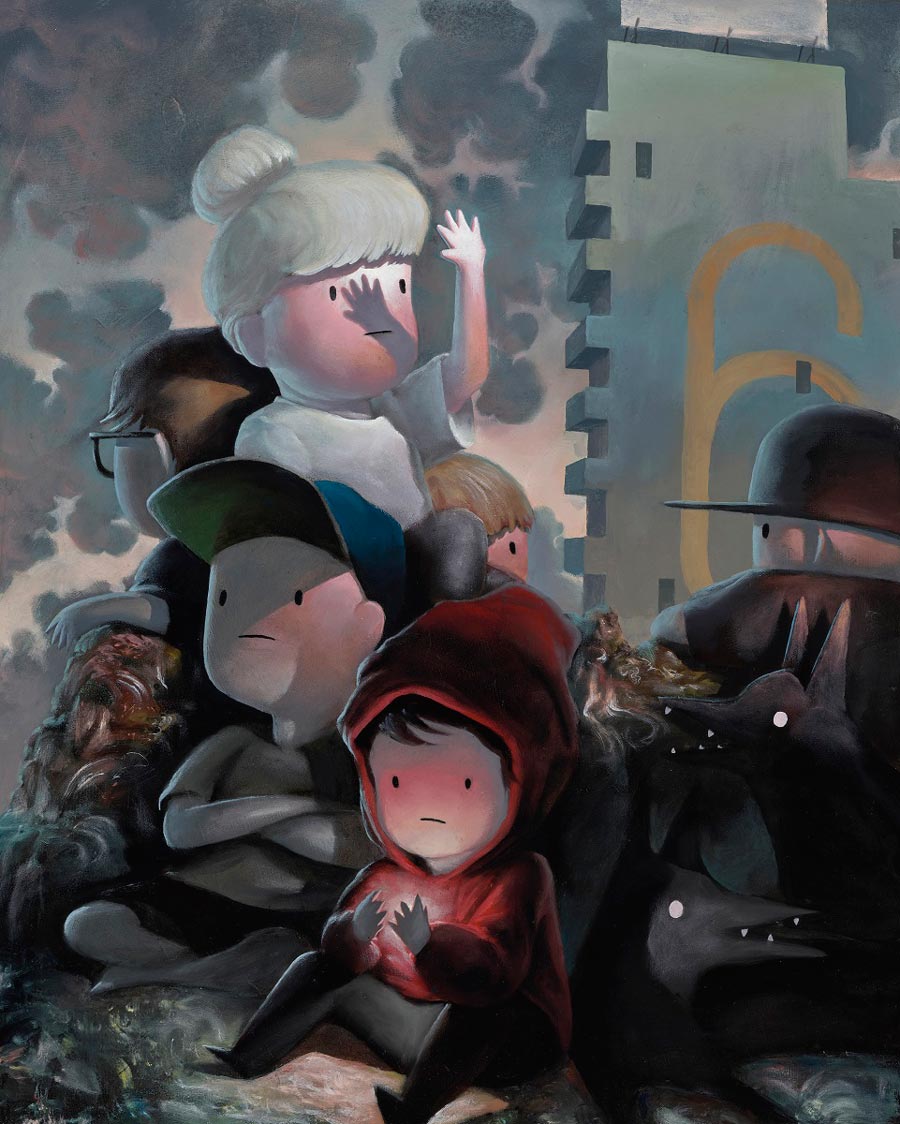 Giorgiko "Horizon Light"
Exhibition Dates: February 29 – March 21, 2020
Thinkspace Projects
6009 Washington Blvd. | Culver City, CA 90232 | (310) 558-3375
For additional information, please contact [email protected]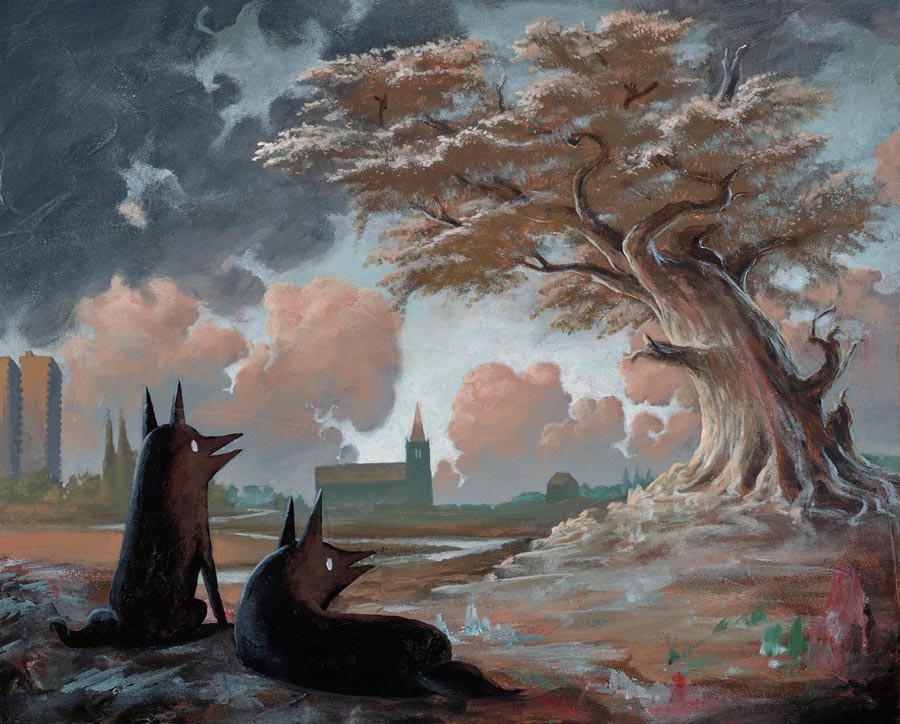 Who are you both individually and as a couple? How did you meet and how did you decide to become an artistic duo?
Darren: Giorgiko is a creative partnership between me and my wife Trisha. We are both alumni of ArtCenter College of Design, which is where we met and started dating. Post-grad, we worked separately and did small commissions, shows, and freelance jobs. We collaborated on a few post-it note paintings for GR2's "Post-it Show 10" in 2014, just for fun. We loved it so much that we decided to continue experimenting together. In 2018 we officially branded ourselves as "Giorgiko."
We also co-own and co-direct an art studio called Rainbow Art in Monterey Park, California, and we are proud parents to twin toddler boys.
How are you working together and how does one influence the other in terms of composition, style, evolution, etc?
Trisha: I am the character designer and drawer, and Darren is the painter. Our first collaborative experiments started as Darren just painting over my drawings. Now, we work so much more organically and play to our strengths.
We bounce ideas for story and composition off each other. Darren is a shower-idea person and I will often sketch out his shower ideas. Then, he'll think about my sketches in the shower and shout out more ideas to me from the bathroom. Other times, he will flip through my sketchbook and find something interesting to paint.
I focus on character creation and gravitate towards childlike sweetness and lightness in my work. Darren enjoys painting landscapes and creating atmosphere, and his painting style tends to be more moody. We give each other feedback and make adjustments to the different stages of each piece until completion. Oftentimes, we find that a piece doesn't quite turn out how either of us originally envisioned, but it becomes a pleasant surprise that both of us are satisfied with nonetheless.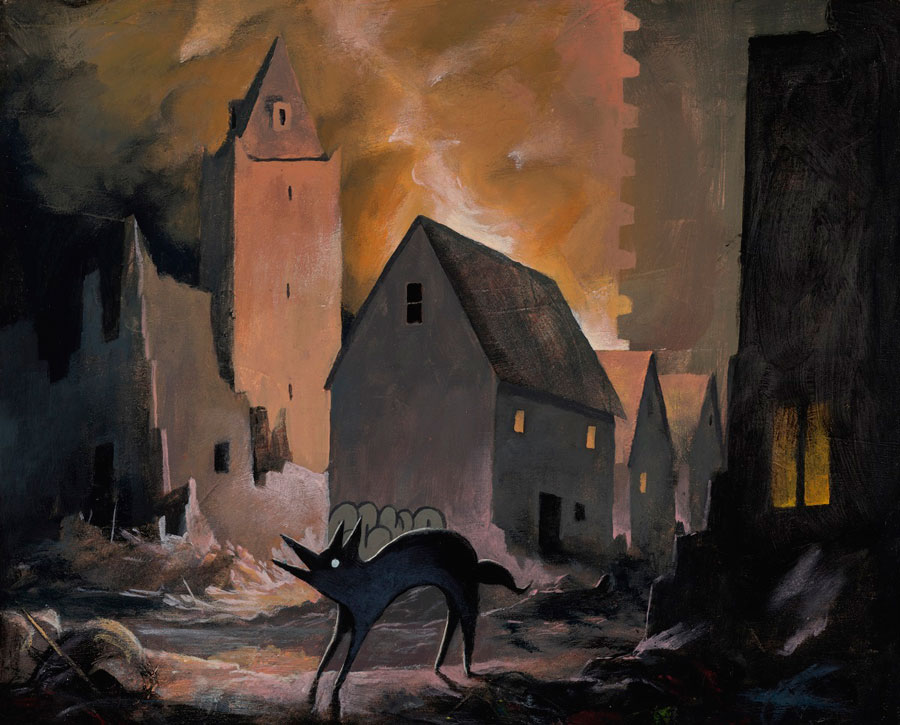 How would you describe your style? What are your influences?
We'd describe our work as narrative illustrations that place endearing characters in painterly environments. Our work is a true combination of our different interests and personalities, and our influences come from various places. Thematically, we draw from history, personal experiences, common struggles in humanity, and stories of hope and faith. Visually, we are influenced by vintage children's book illustrations, classical paintings, street art, and graffiti.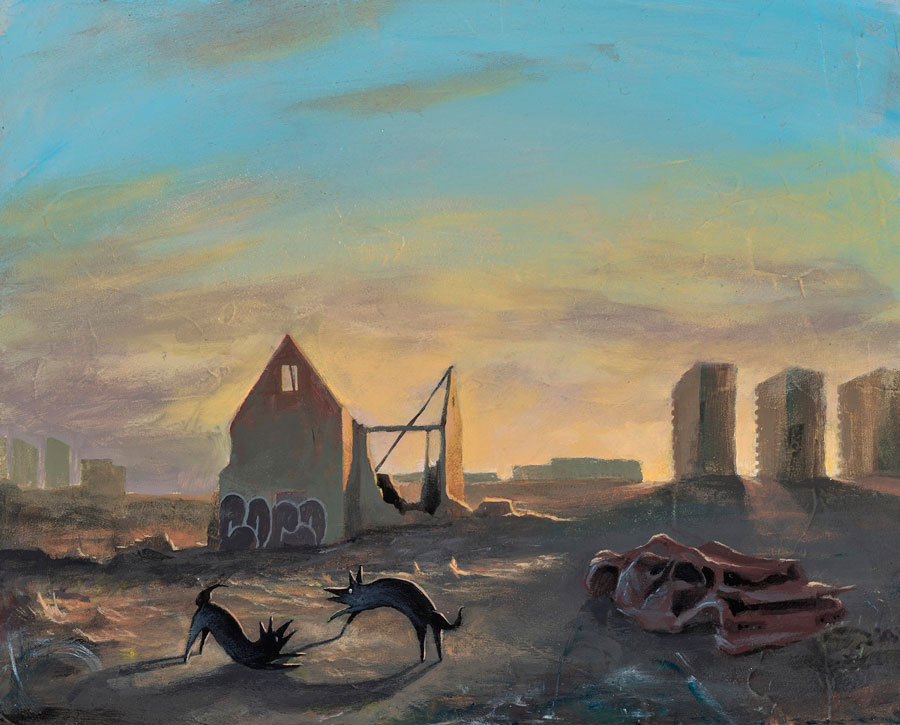 Could you tell us more about your show Horizon Light? Is there a story common to the artworks exhibited at Thinkspace?
We love this show because we are getting to dive deeper into the heart of our ever-expanding Giorgiko universe by showing previously unseen environments and more complex character interactions. There isn't a specific narrative that we are trying to tell in this body of work, but all the pieces share the same themes: transitions in life and the feelings of fear and hope associated with them.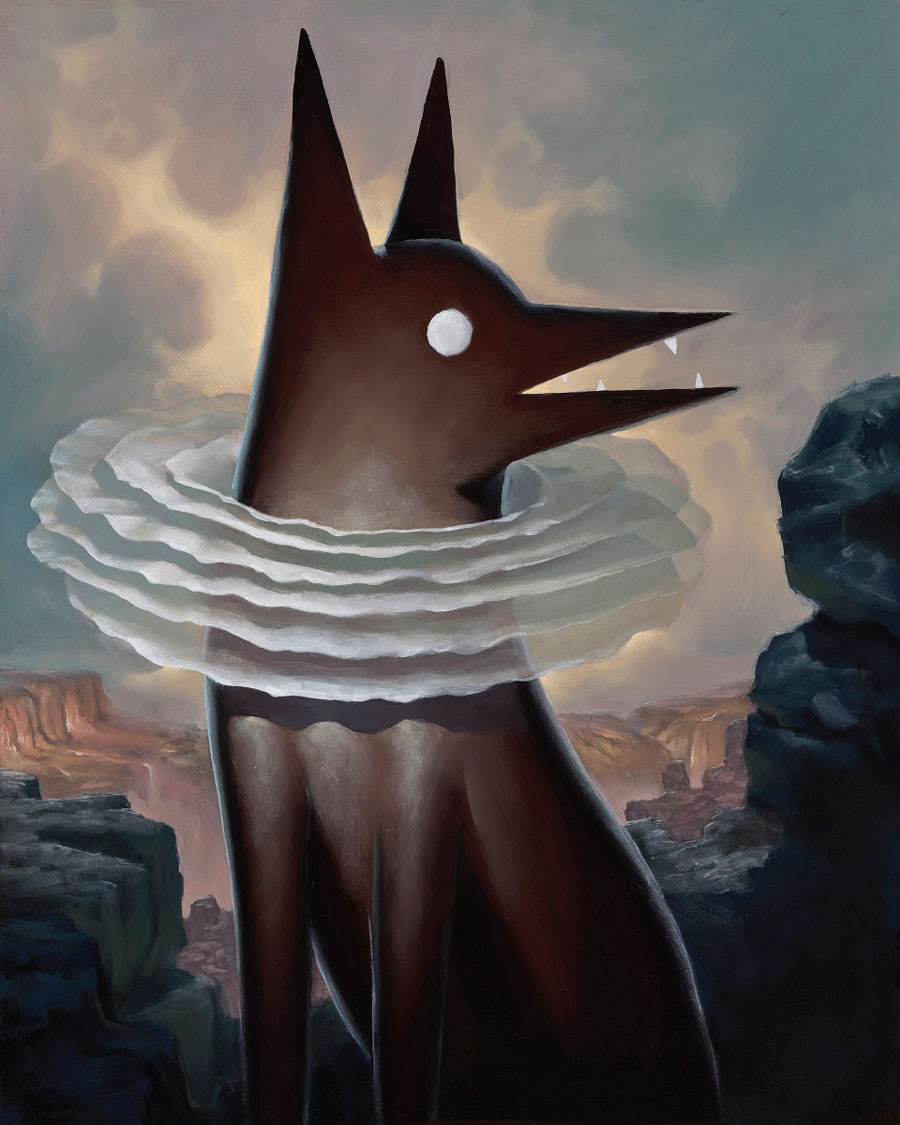 Introduce us to the many characters featured in your paintings: who are they? What are their struggles and strengths?
Many of our characters seem to be lost in both time and space and are wandering the world searching for home. One character in particular, our beloved pink-haired "Wonder", represents to us the childlike purity and innocence that we all have somewhere in our hearts or in our memories. Though she and our other characters feel displaced and even endangered at times, they seem to still retain their childlike sweetness. Also featured prominently in our artwork are the dogs that sometimes play with, and other times antagonize, our human characters. To us, they represent the wildness and unpredictability of human nature. We feel like we have only shown the tip of the iceberg of the Giorgiko Universe, and we are excited to reveal more of our characters at the proper time.
What message would you like to send with this show?
We'd like to think of this show as posing a question to our viewers. Seasons of life come and go, sunny days turn to dark nights, dark nights turn to sunny days, and we often don't know what is over the horizon, or even how far it is. When those uncertainties arise, then what faith, what hope, and what love will comfort us in our fears, guide us when we can't see, and bring us to our destination?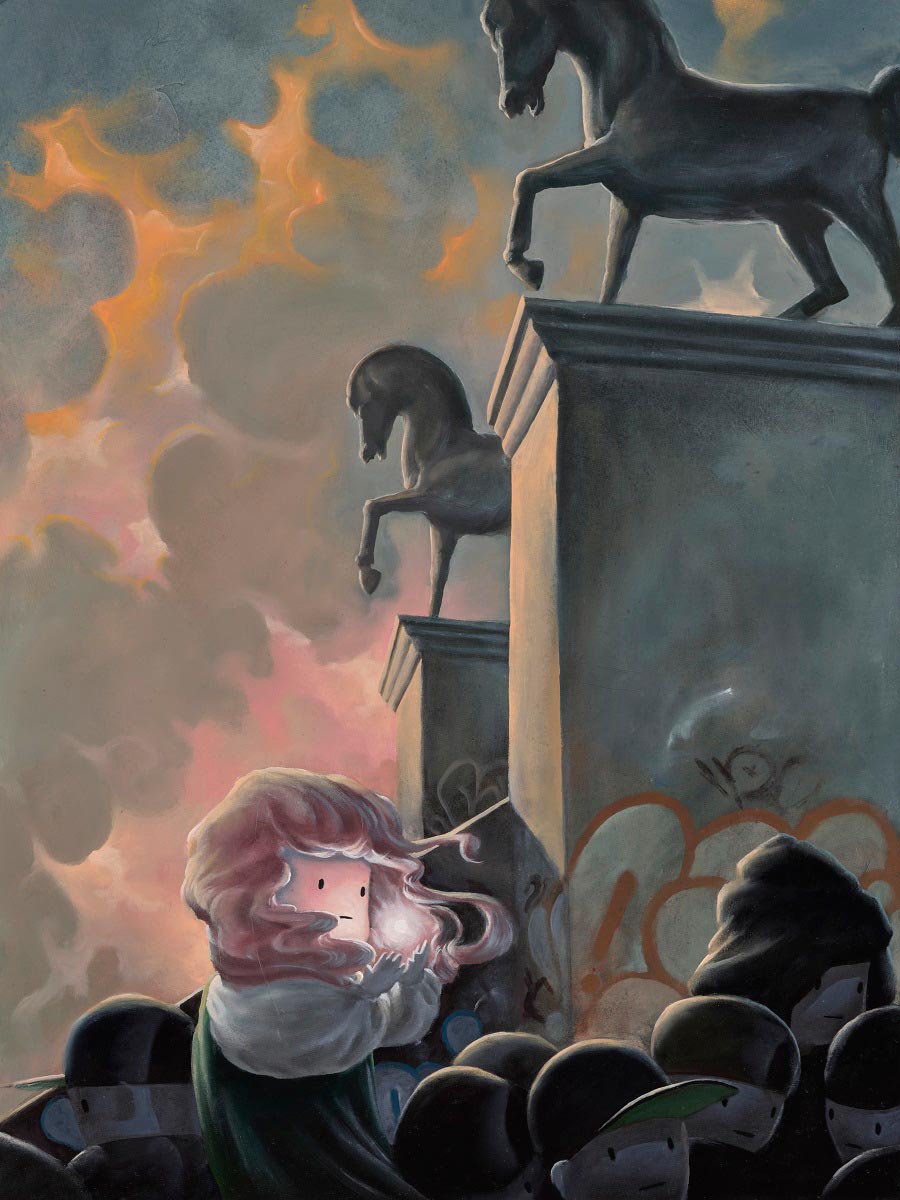 Do you have upcoming projects with Thinkspace in the future?
We have a solo show with them in April 2021 and may be participating in a few group shows with them later this year.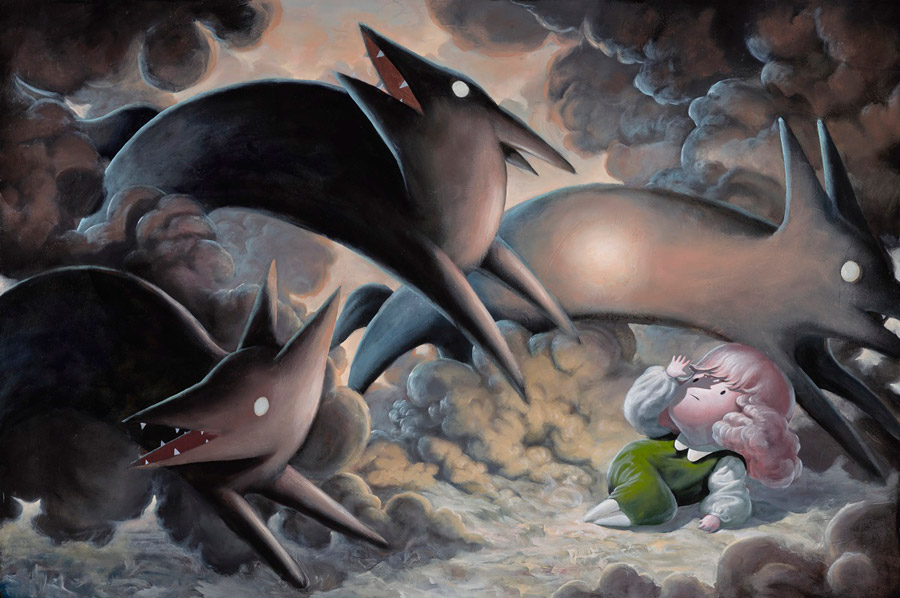 Thinkspace Projects Social Media Accounts