On Saturday, October 29, 2016 at Haven Gallery (Northport, NY) – art, charity, and Halloween celebration are going to intermix. Come in fancy dress costume and attend the opening reception of the gallery's simultaneous and well-balanced exhibitions. As always, the exhibitions feature diverse arrays of artworks depicting various subject matters in different styles and medium. Alongside Camilla d'Errico's solo exhibition, the gallery also presents a group show – curated by Christina Ridgeway (Plantiebee) – in support of Sylvia Earle Alliance's Mission Blue organization by sharing the organization's objective visually through art and by donating a percentage of all art sales to the organization.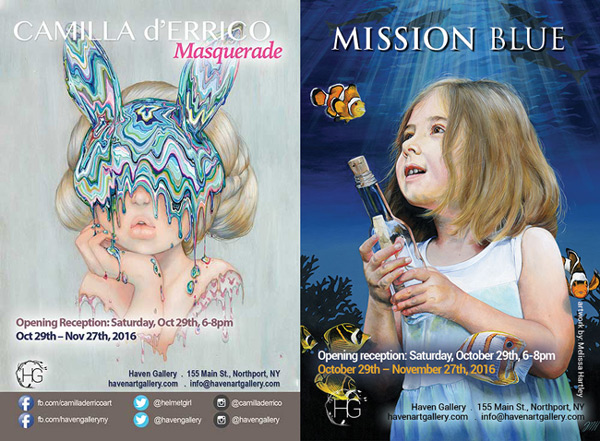 Opening Reception:
Saturday, October 29, 2016 | 6-8PM

Exhibition Dates:
October 29 – November 27, 2016
155 Main St., Suite 4
(The Carriage House Square)
Northport, NY 11768
Hours of Operation:
Wednesday – Sunday | 12PM – 6PM
For additional information and preview images, please contact Erica at [email protected]
Camilla d'Errico: "Masquerade"
Press Release:
Haven Gallery is honored to present "Masquerade" a solo exhibition of new paintings and drawings by Canadian artist Camilla d'Errico. "Masquerade" is d'Errico's first solo show with the gallery and will include eight paintings and eight drawings and 3 framed palettes. "Masquerade" is a distinctively exciting body of work featuring the artist's quintessentially expressive, anime inspired gamines playfully hiding behind a series of animal and fantasy inspired disguises. The portraits featured in "Masquerade" are surrealistically rendered yet sensibly calculated to reveal the emotional complexities and idiosyncrasies of both d'Errico and the soul present in each and every one of us.
Appearing jovial and lighthearted upon first glance, d'Errico's archetypally endearing girls may hark back to the nostalgia of our childhood and to our grand sense of imagination as minors. Yet in contrast, looking closer, the many masks and identities we must take on as adults in various aspects of our lives echoes strongly through d'Errico's use of suggestive facial expressions and gesticulations. A predominant emotion of pensive contemplation can be noted through prolifically parted lips and reflective hand gestures capturing a brief moment of vulnerability and inquisition we so often encounter through our psychological and physiological evolutions.
"Masquerade" plays with the viewer through a paradoxical juxtaposition of reality and fantasy. By combining elements of emotion, pattern and pop culture, d'Errico subtly comments on the amalgamation of influences and personalities unique to each of us as individuals. Despite this masquerade, our many layers and individuality may not be sequestered entirely. d'Errico's eponymous kaleidoscopic pools of color and drips may attest to the complexity and uniqueness that make up our person. These specific striations and patterns brilliantly capture our attention just as quickly as the visual acumen of each mask which in this case, may echo d'Errico's own wellsprings of inspiration. Homages to anime and manga, American comics, mythology and folklore are readily apparent through the use of tongue-in-cheek titles and notable influences commonly referenced through d'Errico's seasoned career as a fine artist. "Masquerade" plays with our personal stimuli as they shape our discrete souls. Who we wish to be may already be a part of who we are or who we will be one day.
About Camilla d'Errico:
Camilla d'Errico is an Italo-Canadian artist who has been making waves in the fine art and comic industries with her manga-influenced style. Ever the prolific artist, Camilla is comic artist/creator and Pop Surrealist painter, while also contributing to the vinyl art toy movement, and expanding her style into fashion, accessories, toys and other merchandise.
Camilla resides in Vancouver, BC, where she paints and draws comics, and more recently has been working with entertainment companies on feature films and video games. She has distinguished herself through her ability to seamlessly weave comic art and manga with surrealist elements, wrapping it all together with an extensive emotional palette. Thanks to her relentless energy, dedication, and creativity, she has followed her dream of successfully working creatively for a living.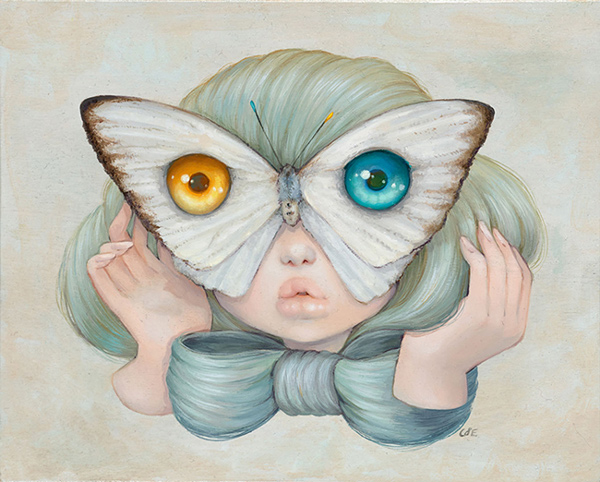 (Above) "Mothra", oil on wood, 8 x 10 inches, 14 x 12 inches framed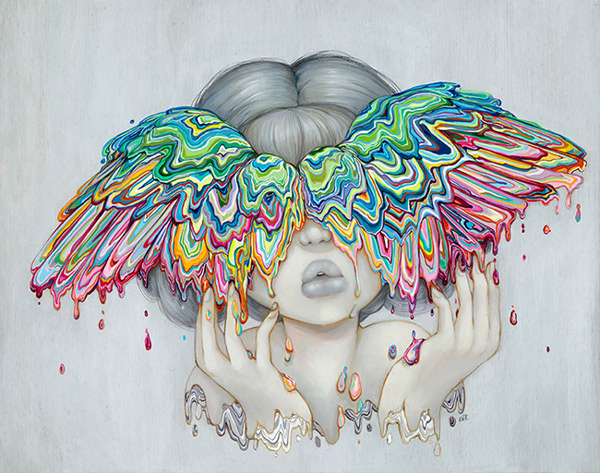 (Above) "Icarus", oil on wood, 11 x 14 inches, 17.25 x 14.25 inches framed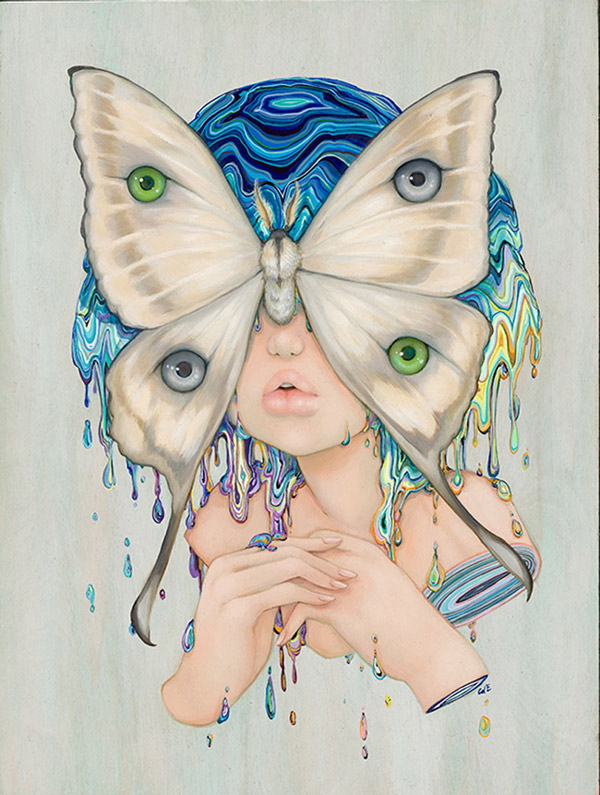 (Above) "The Soul Seeker", oil on wood, 12 x 16 inches, 20.25 x 24.5 inches framed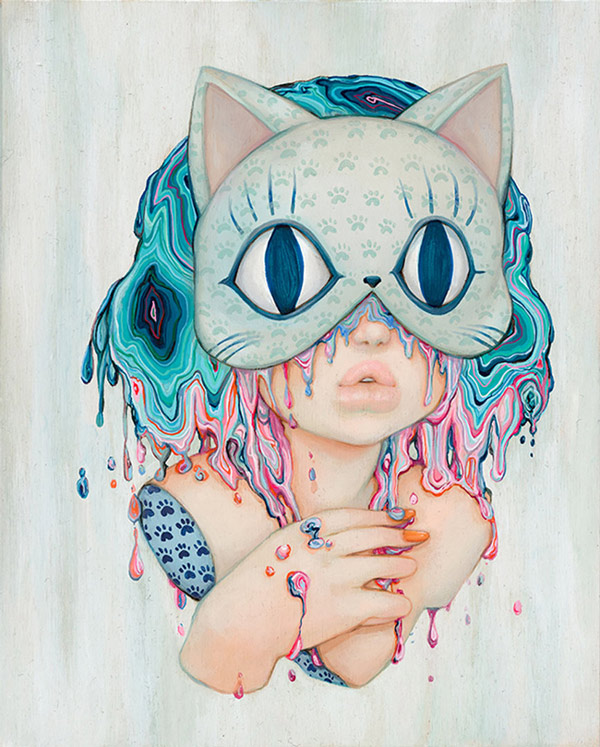 (Above) "Neko-chan", oil on wood, 8 x 10 inches, 11.5 x 13.5 inches framed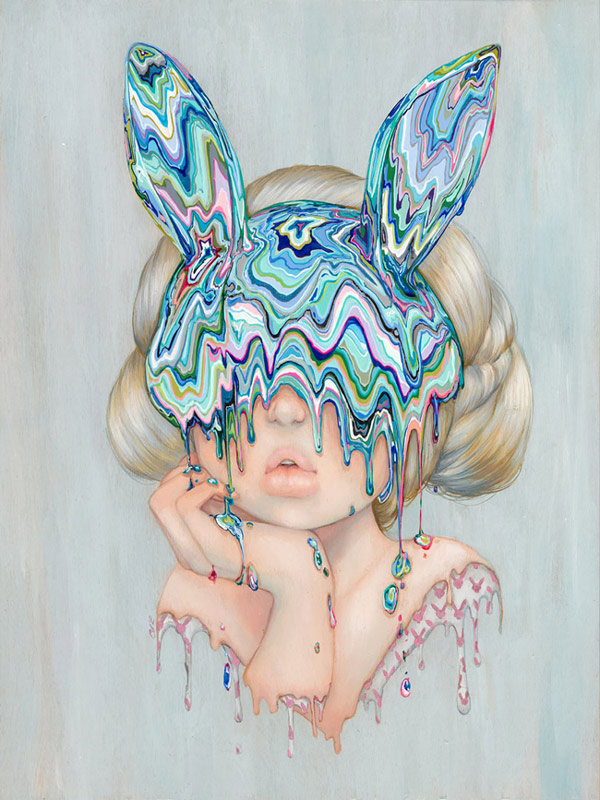 (Above) "Harietta", oil on wood, 12 x 16 inches, 20.25 x 24.5 inches framed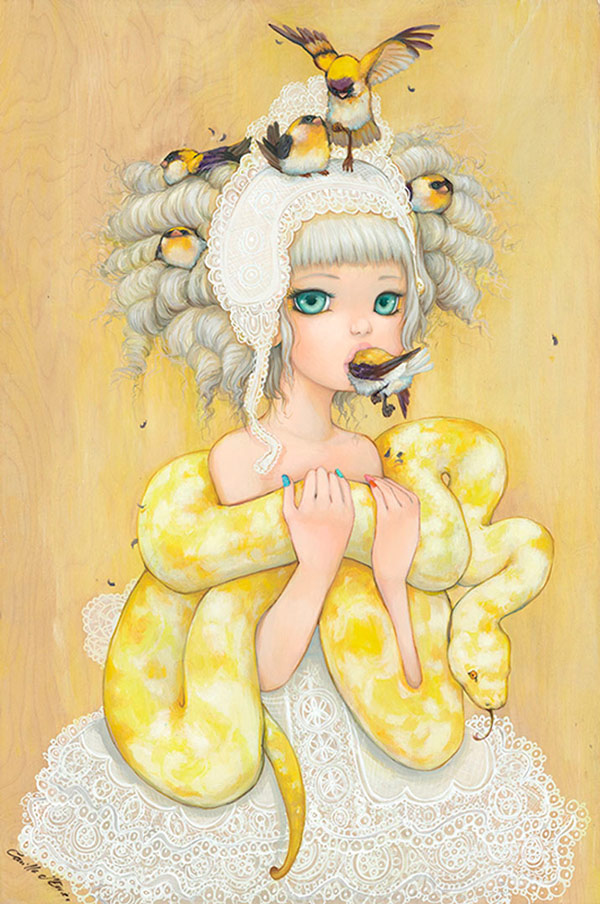 (Above) "Ferme la Bouche" oil on wood, 24 x 36 inches, 23 x 33 inches framed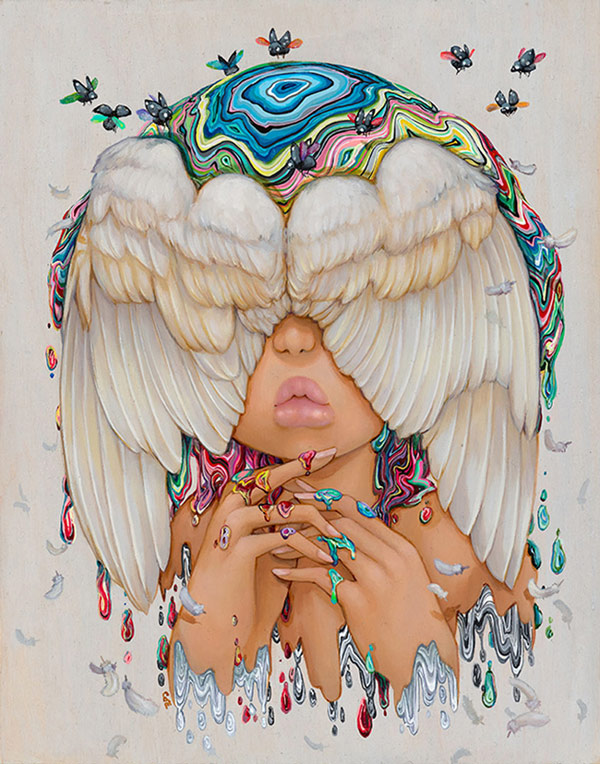 (Above) "Angelica", oil on wood, 11 x 14 inches,14.25 x 17.25 inches framed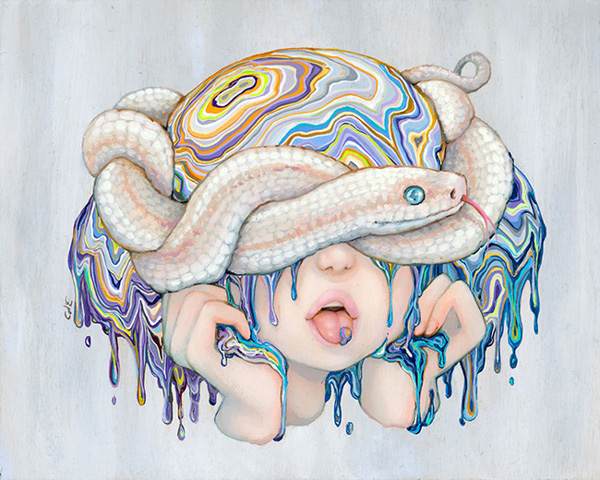 (Above) "Mamba Mia", oil on wood, 8 x 10 inches, 14 x 12 inches framed
"Mission Blue" Group Show
Haven Gallery is pleased to present "Mission Blue", a group exhibition of paintings and drawings curated by Christina Ridgeway in support of Sylvia Earle Alliance's Mission Blue organization. Mission Blue is dedicated to raising awareness and garnering public support towards our planet's oceans through means of education and the creation of "Hope Spots". "Hope Spots" are areas in the ocean that become protected by the organization to help the ocean alleviate the negative impacts of humanity on the indigenous species and ecological systems of all residing aquatic life. In addition to sharing the organization's objective visually through art, the "Mission Blue" exhibition will also be contributing towards the creation of a Hope Spot by donating a percentage of all art sales to the organization.
Participating artists in the "Mission Blue" exhibition work with various mediums including oil, acrylic, graphite, photography, digital media, ink and watercolor to create marine themed artwork calling attention to the beauty and significance of our oceans. A harmony between humans, animals and the ocean are often present throughout many of the works. There is a sense of melancholia and hope in the emotive facial expressions and postures acknowledging the apparent destruction and the optimistic intent to remedy this injustice. Recognition of the role humans must play in restoring oceans to their genuine state can be deciphered through this peaceable union.
Curator Christina Ridgeway discusses her personal inspiration in putting together such a pertinent exhibition.
For me this show has let me take personal power back in being able to contribute and heal the world which humanity has broken. It is easy to feel powerless when you see just how bad our eco system has gotten, so I wanted to give back in the way I knew best – through art. Not only will we be able to inspire all of our viewers with stunning pieces of oceanic work but also be able to raise funds to help those who are making a real difference. It's time we take our power back, it's time we heal our Earth.
Exhibiting artists include: Lioba Brückner, Erich J. Moffitt, Jel Ena, Sarah Joncas, Hannah Yata, Erica Calardo, Tom Bagshaw, Jana Brike, Melissa Hartley, Adam Oehlers, Christina Ridgeway, Annie Gerard, Brianna Angelakis, Nom Kinnear King, Tammy Wampler, Ania Tomicka, June Leeloo, Amy Katherine Minchew, Helice Wen, Jasmine Becket-Griffith, Josie Morway, and Lea Barozzi.
For more information about Mission Blue, please visit their website at https://www.mission-blue.org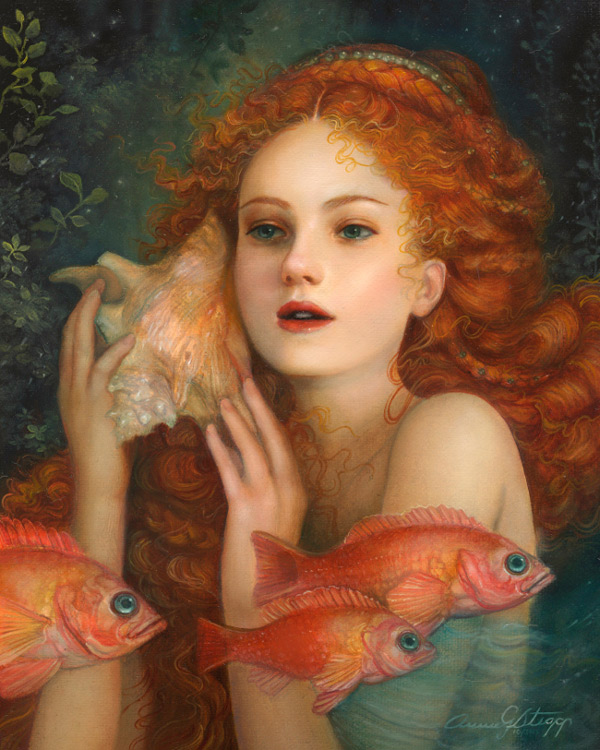 (Above) Annie Stegg Gerard, "Red Deep", oil on canvas, 7.25 x 9.75 inches, 13 x 16 inches framed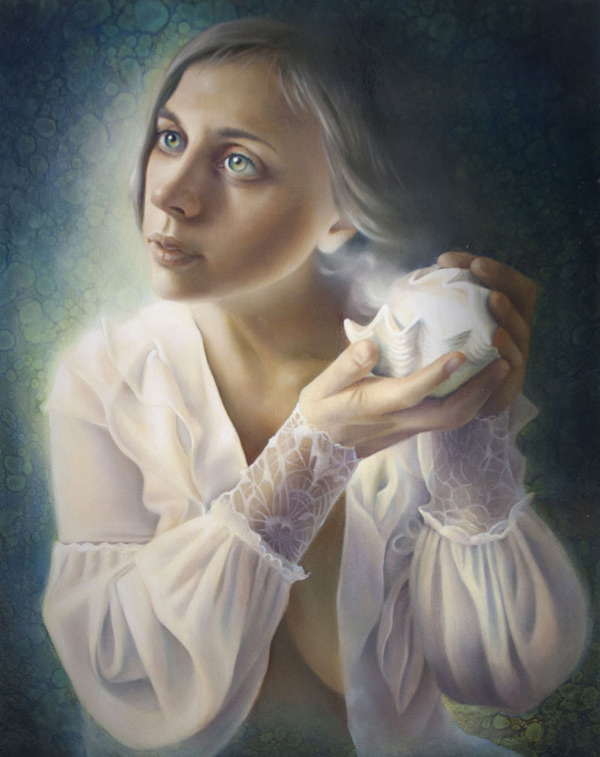 (Above) Erica Calardo, "Song of the Sea", oil on canvas, 15 x 19 inches 20.5 x 25 inches framed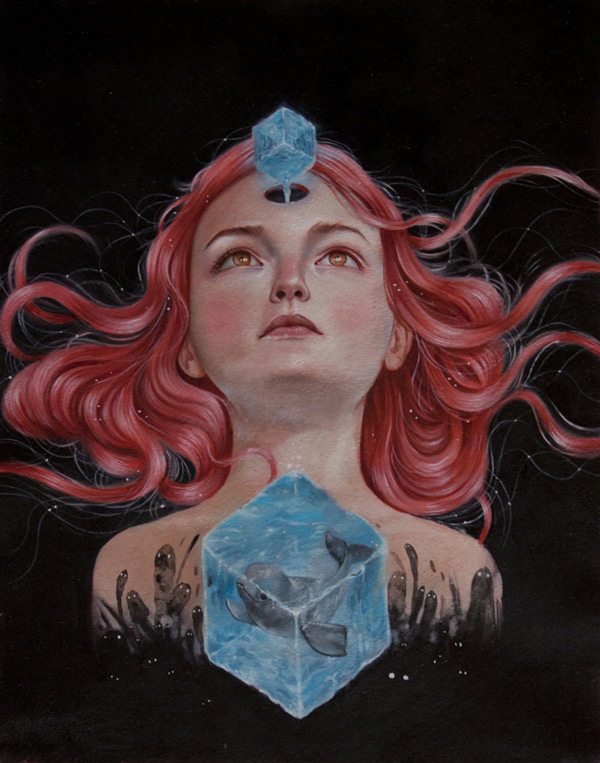 (Above) Ania Tomicka, "Shoreline", oil on paper, 9.5 x 12 inches, 10.25 x 12.75 inches framed
(Above) Hannah Yata, "Mimicry", oil on panel 12 x 12 inches, 14 x 14 inches framed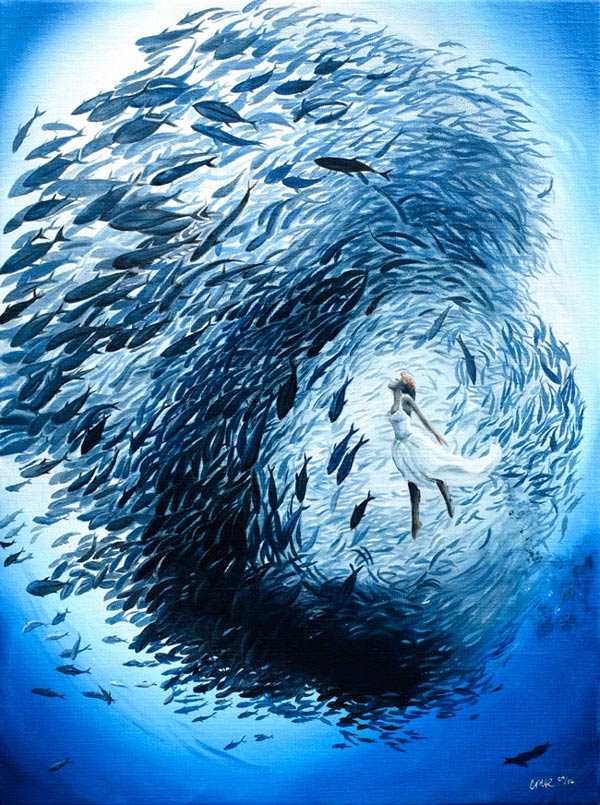 Christina Ridgeway, "Hope", oils on linen, 12 x 16 inches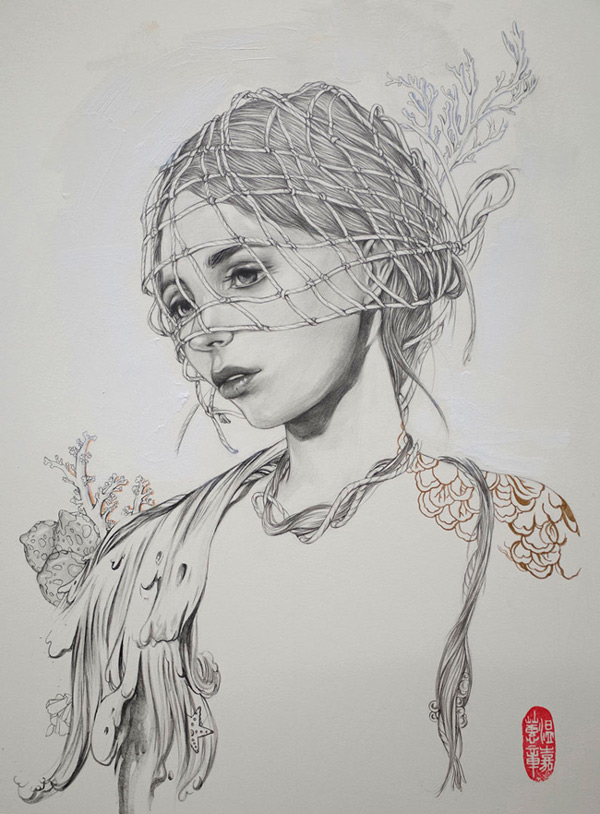 (Above) Helice Wen, "Blue Sight", graphite and acrylic on paper, 12 x 16 inches, 15 x 19 inches framed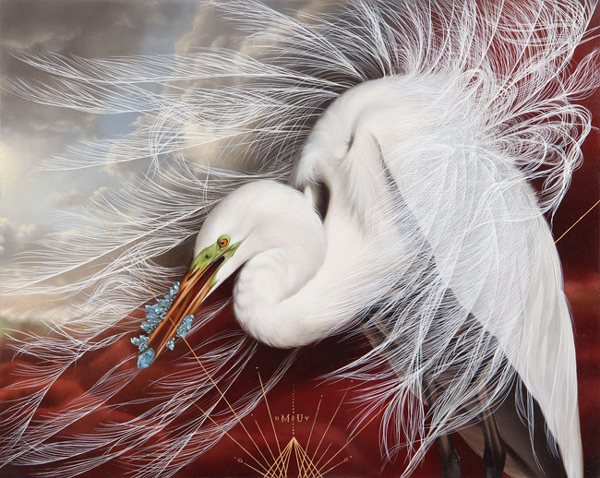 (Above) Josie Morway, "Bioremediators : Precious excess", oil on panel, 16 x 20 x 2 inches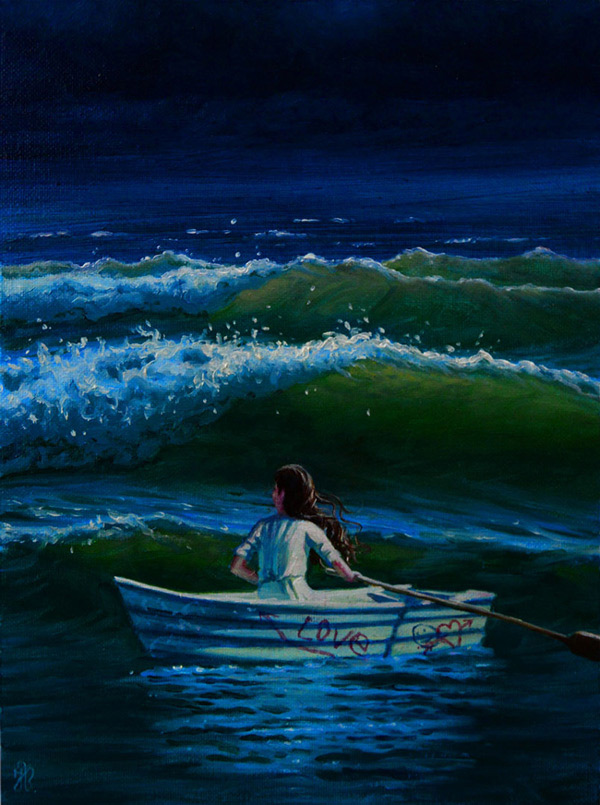 (Above) Jana Brike, "Lover and the Storm", oil on canvas, 6 x 8 inches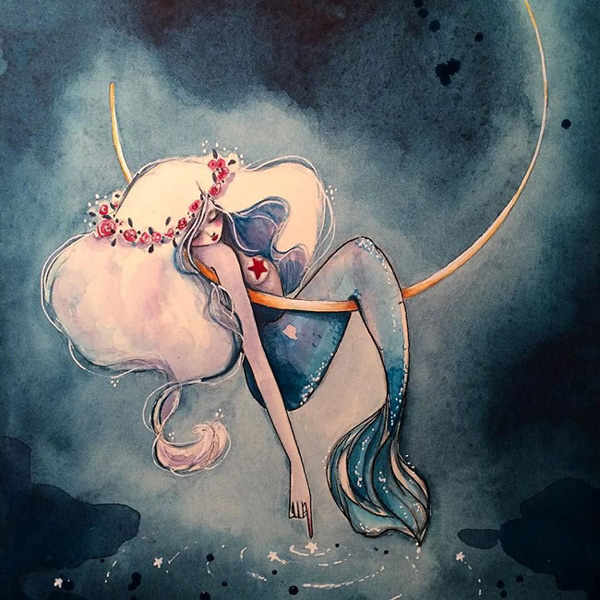 (Above) June Leeloo, "Blue", ink and watercolor on archival paper, 7 x 10 inches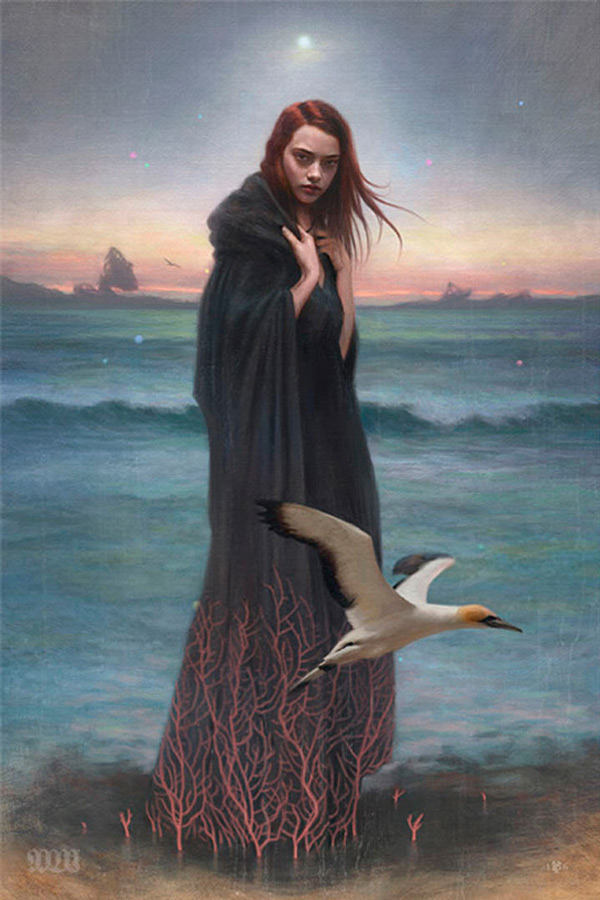 (Above) Tom Bagshaw, "Tabula Rasa", one off hand embellished digital painting on cotton rag stock, mounted on board, varnished and framed, 16.2 x 21.5 inches framed
Save
Save
Save