It is unfortunate that people often tend to avoid seeing the incredible amount of work and technicity in photorealistic paintings, claiming that a photo would do the job much more easily. We're in a world of façade, where nobody wants to go beyond the first layer. Yet, it is precisely what James Bullough is doing. Behind the refined wallpapers and the youthful looks of gorgeous women, the painter is literally seeking something less rational.
A loss of control, a craving for nimbleness; the varnish is crackling, the matter is imploding, revealing something beyond the obvious beauty of photorealism. This truth is that all of this is temporary and not to be taken seriously. Bodies are turning back to atoms, words are appearing in shredded paper. Except that they are all fake, just like this world of appearances.
James Bullough offers you to be contemplative when looking at his paintings. You can comment on the technicity, the originality or you can even see through the canvas and decide that seizing the moment and accepting the beauty is much more important.
Once again, Thinkspace Projects is offering an exhibition infused with Californian light and coolness, but is also giving you the chance to keep in touch with the pulse of new contemporary art, with its self-questioning and many aesthetical facets; Bullough's work is a great illustration of their philosophy…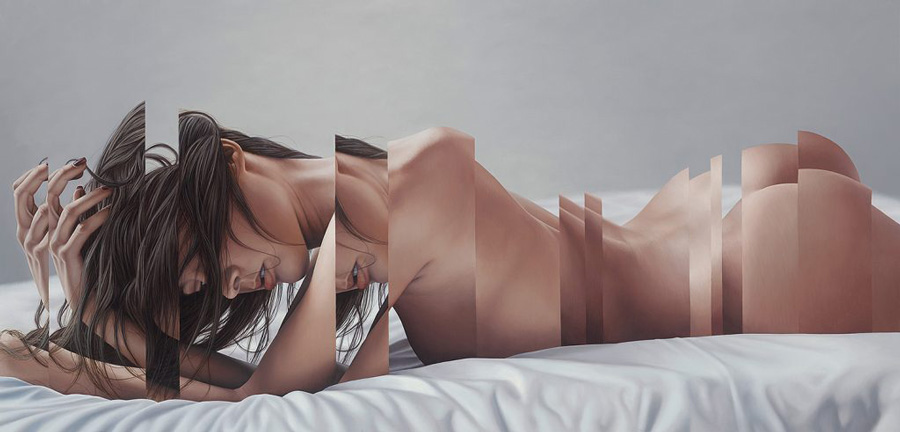 James Bullough "Parallel Truths"
Opening Reception: Saturday, February 29, 2020 | 6-9pm
Exhibition Dates: February 29 – March 21, 2020
Thinkspace Projects
6009 Washington Blvd. | Culver City, CA 90232 | (310) 558-3375
For additional information and images, please contact [email protected]
Press: "Thinkspace is pleased to present new works by American, Berlin-based, artist James Bullough in "Parallel Truths", opening February 29. A technically accomplished painter who creates with a staggering degree of detail, Bullough begins with figurative imagery, disjointing and levitating its fragmented parts impressionistically to build dynamic surfaces that read with startling affective resonance.
His paintings, and huge monumentally scaled site-specific murals, are phenomenal combinations of realist painting technique and graphic punctuation. Inspired by urban graffiti as a young artist growing up in Washington, DC, Bullough harnessed its energy in his work, and perfected a realistic oil painting technique from his study of the Old Masters. Combining the momentum of the one and the technical precision of the other, his work is about staging compelling contrasts and juxtapositions.
Working with dancers from Berlin and elsewhere, Bullough begins with the body in motion, arrested in an expense of negative space, then dissembles it further, splicing, striating, and fragmenting its surfaces and planes. Always working from his own photo reference, his models remain anonymous and faceless throughout, an omission intended to reaffirm the symbolic universality of the emotive physical gesture.
The artist's new works are increasingly dynamic as the bodies' interrupted segments have been shifted and activated, rather than deleted. Areas of the figure are superimposed, vibrating with transitional movement rather than apprehended in static still. In other works, the pieces seem to be deteriorating before the viewer's eyes, with the paint appearing to be flacking off the panel in true trompe l'oeil fashion.
Using oil, spray paint and ink on canvas, Bullough's paintings strike a balance between realistic figurations and stylized interruption. Disjointing the realistic elements with graphic areas and fractured or striated planes, James Bullough intends to challenge the viewer's perception." Don't miss this graceful exhibition in Thinkspace Projects' Main Room!
Thinkspace Projects Social Media Accounts