This Friday, March 4, 2016, Modern Eden Gallery proudly celebrates two distinct exhibitions, each executed with heady layers of imaginative texture and meticulous composition.  With potent presentation cast in symbolism, Leilani Bustamante's 'Diabolica' & Megan Buccere's 'Oil & Dust' will undeniably enchant viewers with a penetrating energy.
Modern Eden Gallery invites you to travel the passageway of self-exploration and the raw emotion of each artist's exceptional interpretation and style.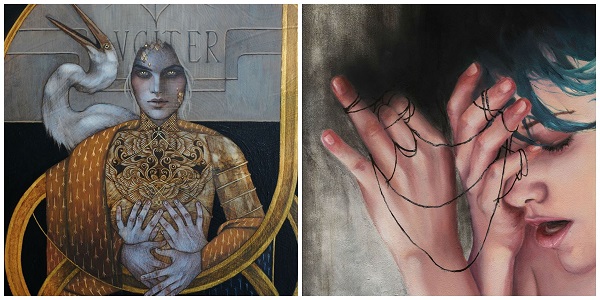 Opening Reception:
Friday, March 4, 2016 | 6–9 PM
*Both artists will attend
Exhibition Dates:
March 4–26, 2016
801 Greenwich Street | San Francisco, CA 94133
For additional information, please contact the gallery directly: [email protected]
Press Release
Modern Eden Gallery is pleased to present 'Diabolica', the latest solo exhibition of new works by gallery artist Leilani Bustamante. The natural and unnatural world requires balance. As in life and death, light and shadow, above and below one cannot exist without the other. The hero is locked in a symbiotic dependency with its nemesis. Whether it is an angel, a soldier of justice where goodness is righteous or a demon, an agent of malice where destruction of morality reigns supreme, both sides are ferociously absolute. These stories of the occult are as old as the theme itself. They are a complex telling of an age-old battle.  Angel and demon lore have long represented a conflict that have been raging since the dawn of man. It is a conflict that continues to rage in all of us today.
About the Artist
Leilani Bustamante was born in Santa Rosa, California, and a graduate of the Academy of Art University. She grew up between the suburban sprawl and rural Fort Bragg, where she draws inspiration from their simultaneous decay and growth. Her work often voices themes of mortality exploring elements of death, rebirth, beauty and spoil, the loveliness of the macabre and the mournful influence of osteological motifs. She currently resides in the San Francisco Bay Area.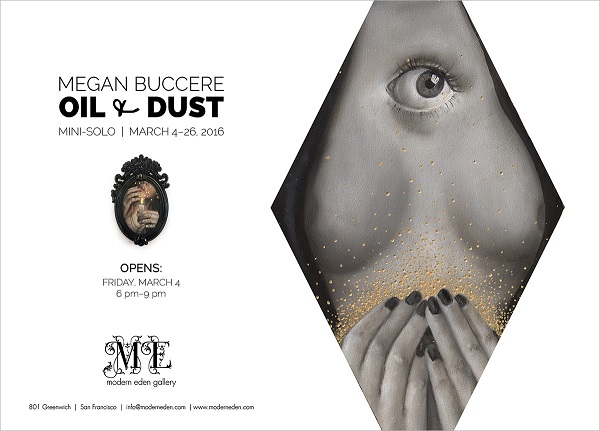 Press Release
Modern Eden Gallery is pleased to present 'Oil & Dust', the debut mini solo exhibition of new works by Megan Buccere. Buccere states, "The concept of the show is two-fold: first, I had an overwhelming need to work with two mediums; second, I wished to chronicle my struggles through severe anxiety.  I have focused on creating works with oil paints and soft pastels.  The title not only references these mediums, but it also is a metaphorical representation of my journey through crippling anxiety. My daily struggle through anxiety has brought me through isolation, melancholy, and eventually the cathartic release of its grip, all of which I seek to express through the details of my work.  The oil paintings' sticky strings represent my sense of understanding of how anxiety appears and its hold of every aspect of my life.  Additionally, the strings connect different facets of my life, seeming to strangle me and other sufferers.  The soft pastels and small bits of dust-like metallic leaf drifting through some of the works represent the lifting of the anxiety and my emergence from its disorienting fog."
About the Artist
Megan Buccere (pronounced bus era) is a narrative painter who works primarily in soft pastels and oils. She attended Louisiana State University, holds a BS in Art Education, and has taught advanced and talented high school art for the past 15 years. Buccere's painting style features soft surreal works that blur the line between beauty and fear, creating stunning pieces with an edge. Her use of coincidental, accidental, and unexpected connections, such as her use of strings, multiple hands, and all knowing eyes, often leaves viewers orphaned with a mix of conflicting feelings and thoughts.
Mini Interview with Megan
Bella:  What has it been like preparing for Oil & Dust? What's been going through your mind?
Megan:  Preparing for this show was incredibly therapeutic. I spent a lot of time soul searching and reflecting over the previous year. I had a tremendous amount of emotion to release and this show really couldn't have come at a more perfect time. In 2013-2014, I suffered from severe medically induced depression and anxiety. I lost a lot that year, including close relationships. The entire show encapsulates the grips of what I was going through at the time, and the eventual equilibrium I was able to attain to get some of myself back.
B:  Did any strange rituals manifest in the process?
M: I actually spent an obnoxious amount of time standing in the middle of my studio looking around. I would just walk in and turn in a slow circle… taking in everything on the walls, my supplies, and works that were in progress. Sometimes my husband would walk by the door and say, "Oh, you are standing and staring again?" I actually came up with a few decent ideas while I was doing this.
B:  Megan, what's on the horizon?
M:  I'm happy to be focusing on where I want to take my work, which is something I have struggled with in the past. I've seen through the process of creating this show that I really do love to work in two mediums, oil paint and pastel. I've been torn, in the past, to make sure my chosen media stays consistent, but this process showed that I have to stay true to myself and create what I need above all else.  I have a few select exhibitions on the calendar for this year and I couldn't be more excited about exploring their themes. I'm also hoping to do some amazing things with my art collective, Copycat Violence.
Copycat Violence Art Collective
"Far from ordinary, the drivers of Copycat Violence are a worldwide collective of efflorescent, elegant, and simultaneously visceral visual artists. Working together to bring the cutting edge in figurative and narrative artworks in the form of group and supporting independent exhibitions, this collective excels in redefining the exquisite and encouraging the extraordinary." – Copycat Violence Art Collective
For more information, contact [email protected]