Are you planning to attend the 16th edition of SCOPE New York this year? If you happen to be in NYC between March 3-6th, you really should come to this global contemporary art fair! Sixty galleries from around the world are going to present the works of noteworthy contemporary artists that will capture the attention of art collectors and art enthusiasts alike.
During this event, Haven Gallery is going to present two not-to-be-missed solo exhibitions: Kukula's "The Huntington Epidemic" and Zoe Byland's "Souvenir". Their works are going to stop you on your tracks. Even without a floor map, you'll know you've arrived at Haven Gallery's "booth" once you lay your eyes on both artists' highly recognizable painting styles. Actually, you might be able to spot Haven Gallery's exhibition space from afar because rather than dividing the area into small booths, SCOPE New York favors an open-plan exhibition design so the diverse array of artworks curated by the exhibiting galleries can flow into one another and create an eclectic-yet-harmonious atmosphere.
Exhibition Dates:
March 3 – 6, 2016
Exhibition Hours:
Thursday: 6 – 10pm; Friday – Sunday: 11am – 8pm
Metropolitan West
639 W 46th St
New York, NY 10036
Press Release
Kukula's presentation focuses on her highly sought after Limoge Girl paintings that center on the transmogrification of the female form with objects of opulence. Her quintessential waifs are ornamented from head to toe with antique accoutrements from the Huntington [Library's] Collection, such as the finest tea cups and decorated clocks. A mastery of color and dedication to the finest detailing captures the eye and only continues through the artist's selection of Rococo style framing.
Read our in-depth interview with Kukula, and visit our online shop for a copy of our collectible art book beautiful.bizarre issue 002.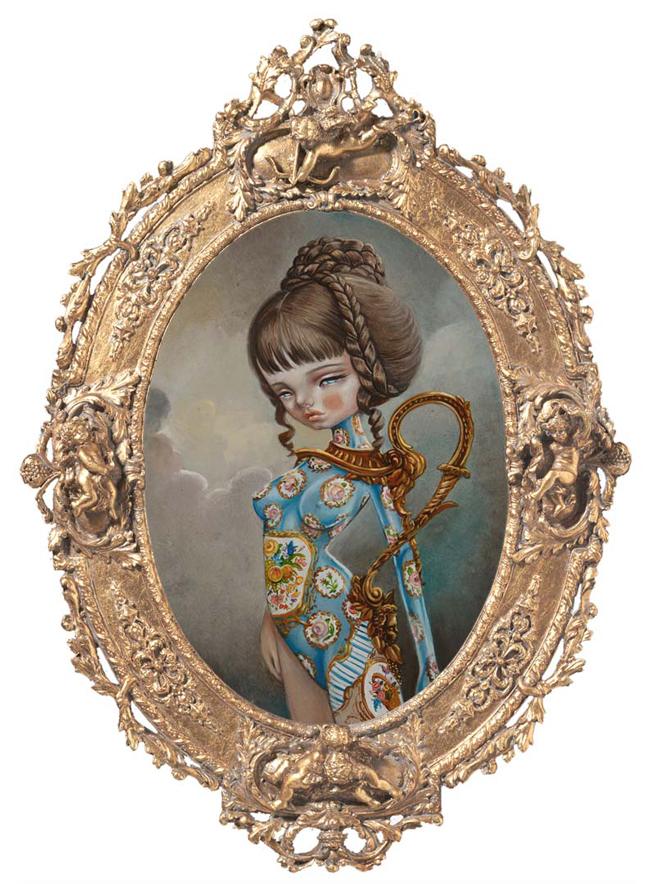 (Above) "Gilded Ewer Fig. 58″, oil on panel, 9″ x 13″, (15″ x 21" framed)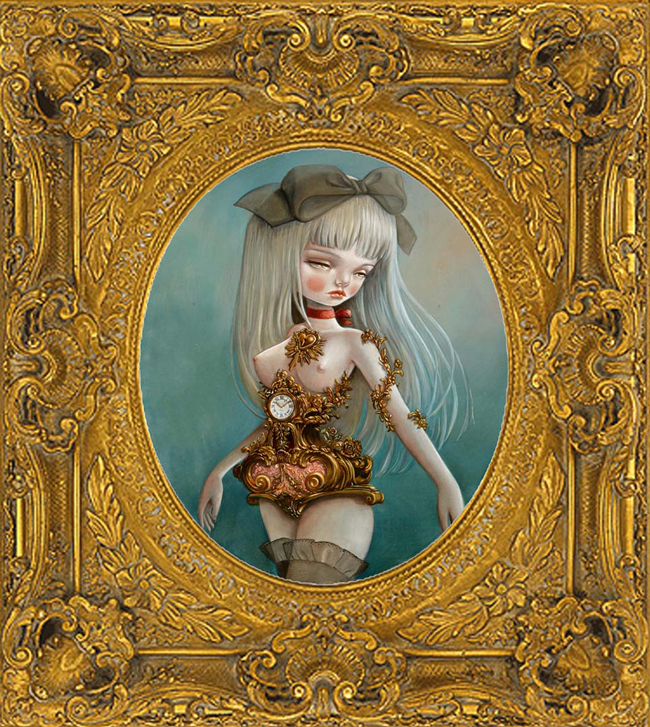 (Above) "Pendule A Musique Fig. 97", oil on panel, 20″ x 22″ (31.5″ x 35″ framed)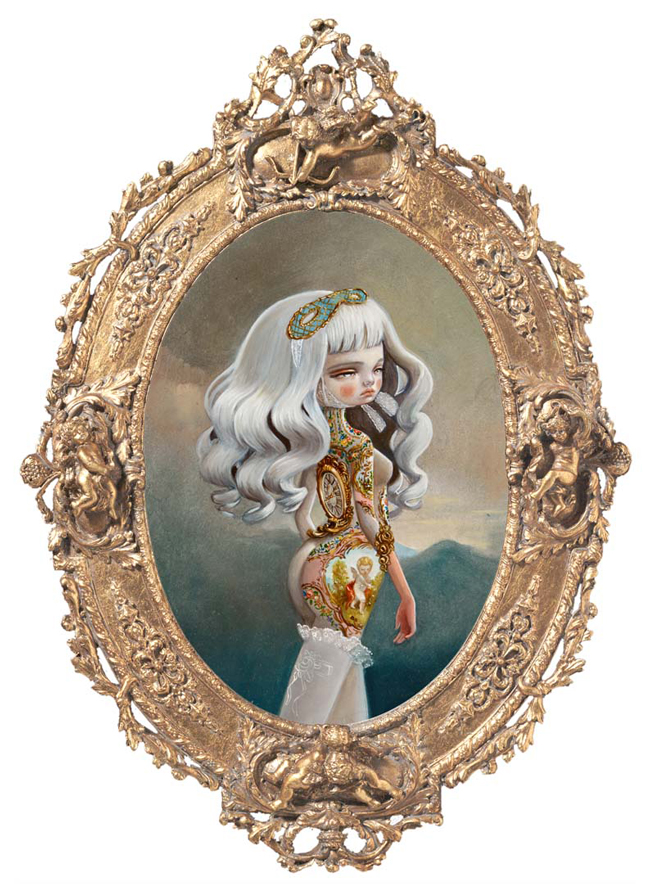 (Above) "Petite Pendule Fig. 53″, oil on panel, 9″ x 13″, (15″ x 21" framed)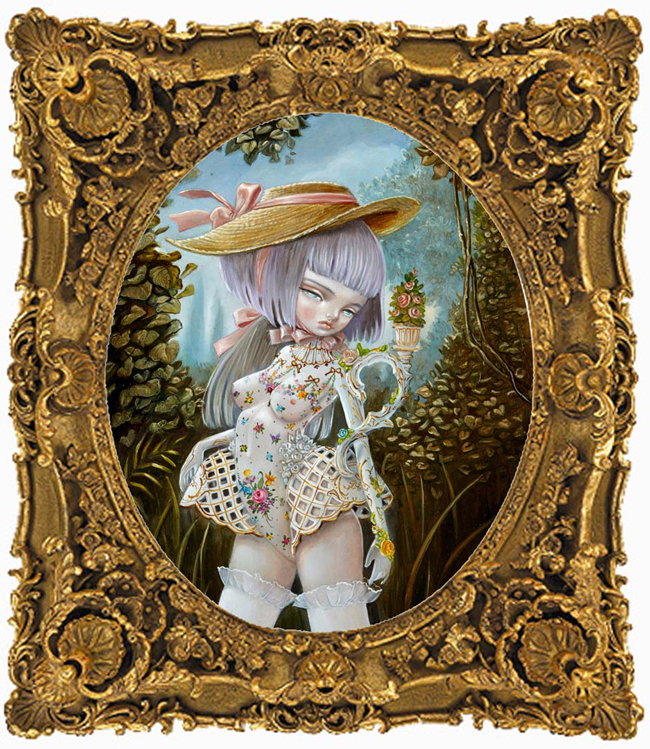 (Above) "English Rose Fruit Bowl Fig. 118″, oil on panel, 11.5″ x 16″ (18.5″ x 20" framed)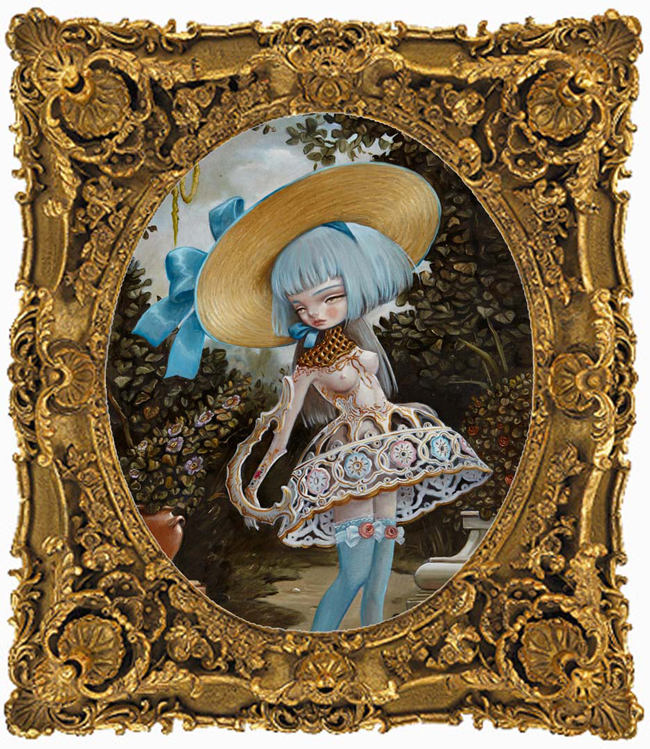 (Above) "Blue Fruit Bowl Fig. 102″, oil on panel, 11.5″ x 16″, (18.5″ x 20" framed)
Press Release
Zoé Byland's monochromatic paintings resemble family photographs from the Victorian era, with the series appropriately titled "Souvenir". Dressed in period garb, the sitter's impassive expressions strike an alluring contrast to their oftentimes jocular and surrealistic accompaniments. Byland's figures can be found adorned with space helmets reflecting the artist's studio à la M.C. Escher or posing placidly in a snowy interior with an owl overhead. Each painting is executed in Byland's stunningly realistic technique creating a highly believable world one would typically find in dreams.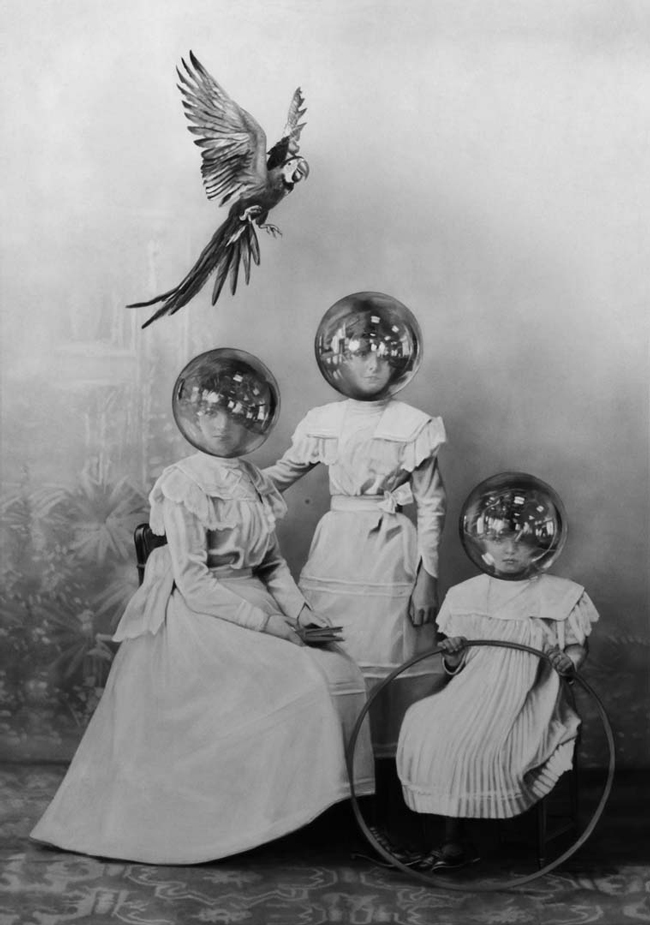 (Above) "Sunday Afternoon", acrylic and airbrush, 29.53″ x 41.34″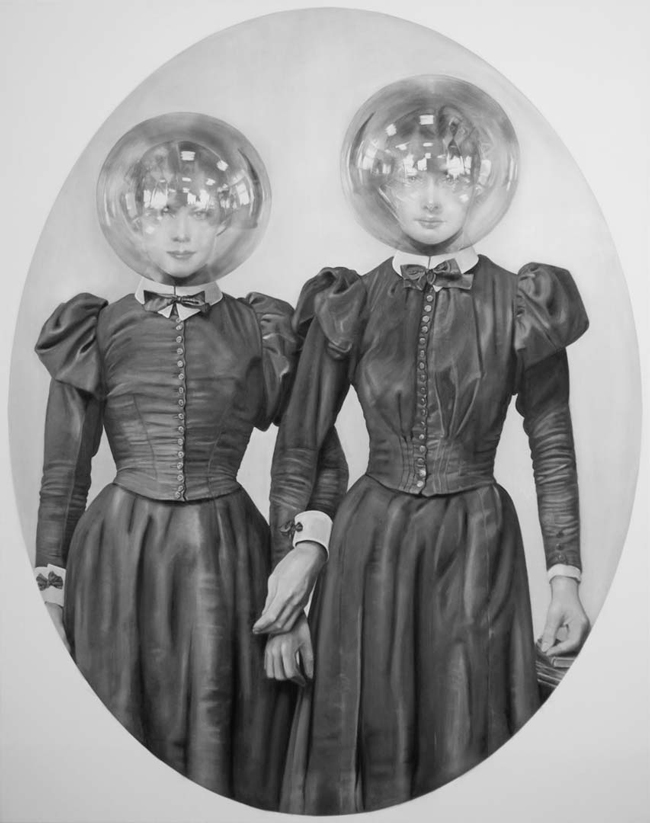 (Above) "Sisters", acrylic and airbrush, 35.43″ x 45.28″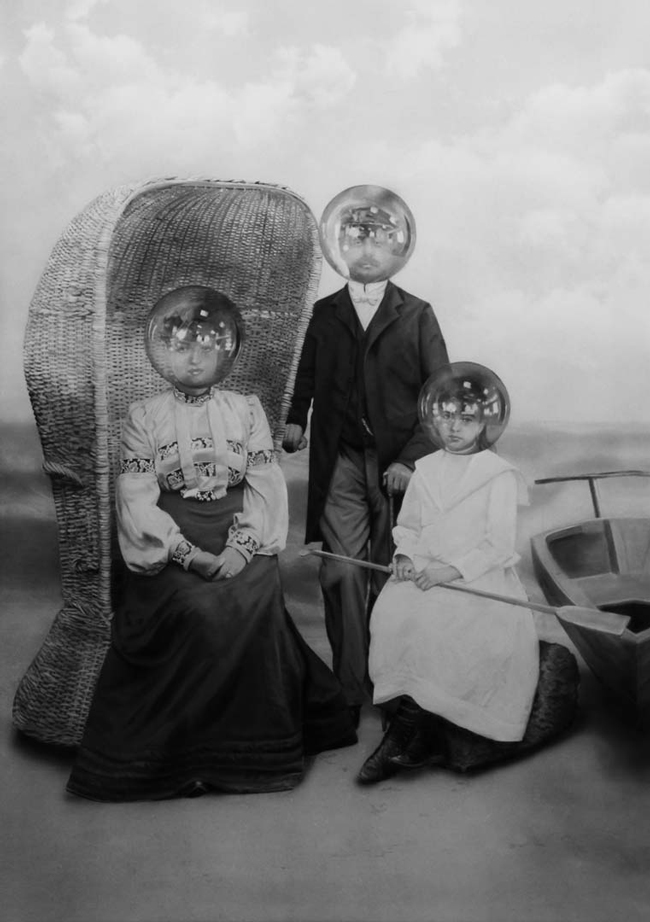 (Above) "Day at sea", acrylic and airbrush, 29.53″ x 41.34″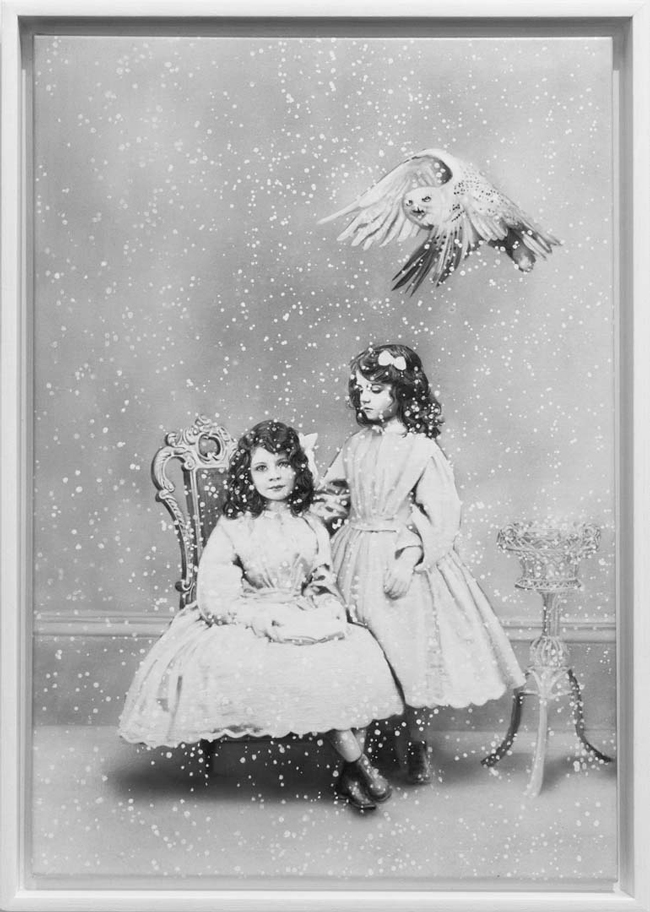 (Above) "Girls and Snowy Owl", acrylic and airbrush, 19.3″ x 27.17″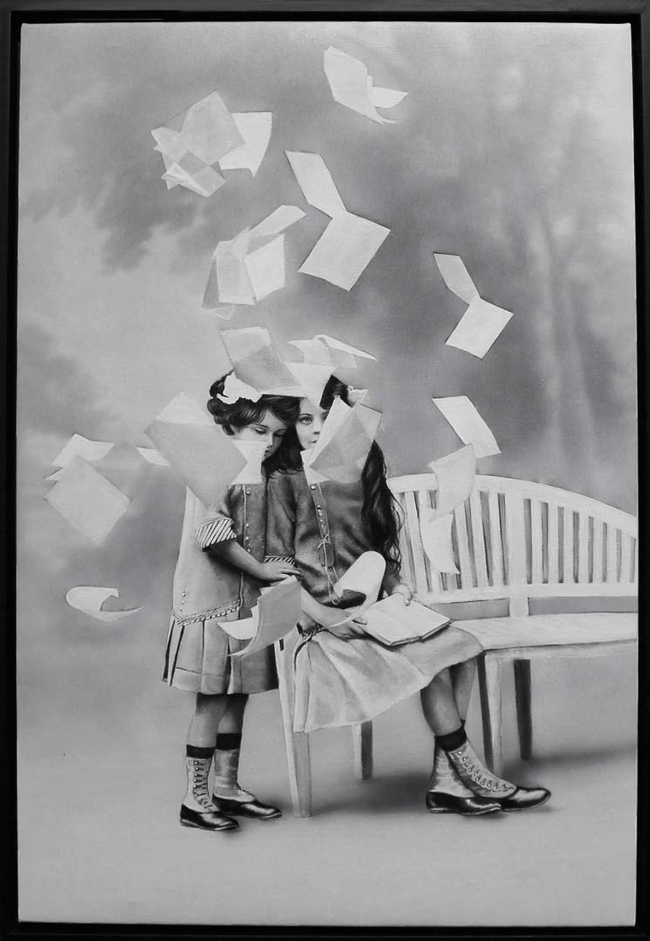 (Above) "Girls and pages", acrylic and airbrush, 23.6″ x 15.75″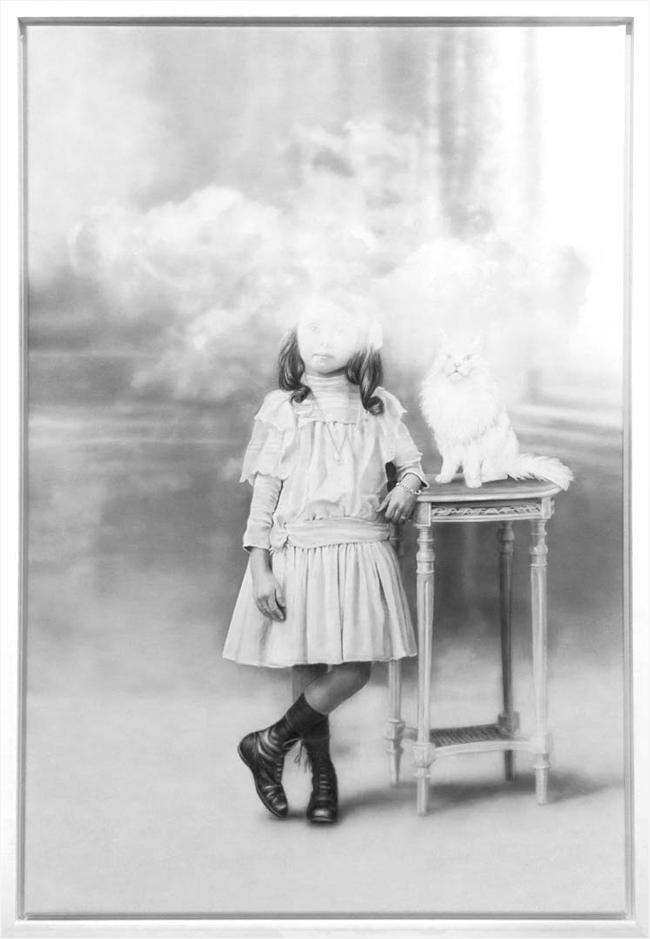 (Above) "Head in the clouds II", acrylic and airbrush, 45.28″ x 31.5″