Opening this weekend, Saturday, February 8th! Join The Dark Art Emporium in celebration as they proudly present the solo exhibitions of Caroline Harrison, Josh Stebbins & Johnny Dismal. Delve into the grim, the strange and unusual… and let each of these new collections envelope your imagination. From intense macabre interpretations to dark contemporary surrealism, each body of work imparts the artist's unique expressions and creative visions for an opening night you don't want to miss.
Let DAE entice your darkest, artistic sensibilities as they present three exciting exhibitions! To view all available artworks, be sure to visit the gallery's website.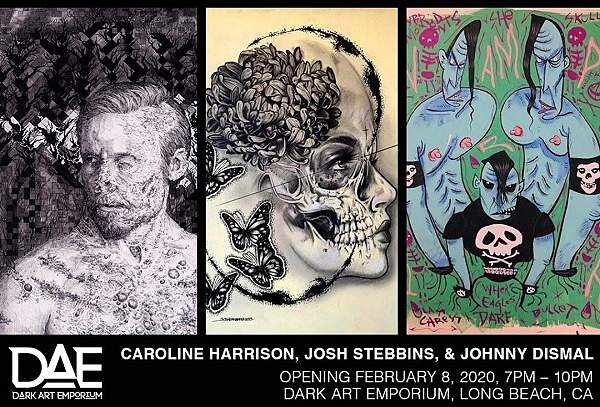 Opening Reception: February 8, 2020 | 7-10pm
After Party following the reception at The 4th Horseman
121 W 4th St, Long Beach, CA 90802
The Dark Art Emporium
256 Elm Ave., Long Beach CA 90802
For additional information and purchase availability please contact: [email protected]
The Dark Art Emporium is located in Long Beach, CA close to Los Angeles and Orange County in Southern California. DAE is host to a variety of unique art pieces which would not normally be seen in an art gallery including taxidermy, oddities, and strange photography.
The Dark Art Emporium Social Media Accounts