Let the intriguing hyper-pointillism of JoKa entice your delicate senses. Enter into his creative (patient) world, and enjoy the myriad of complexities as seduction meets surreal.
Join Distinction Gallery this weekend, February 8th, for the highly anticipated opening of "Censor Art" by JoKa. The reception with the artist includes live music, ArtHatch open studios, Lagunitas beer, and BK Cellars wine. Don't miss it!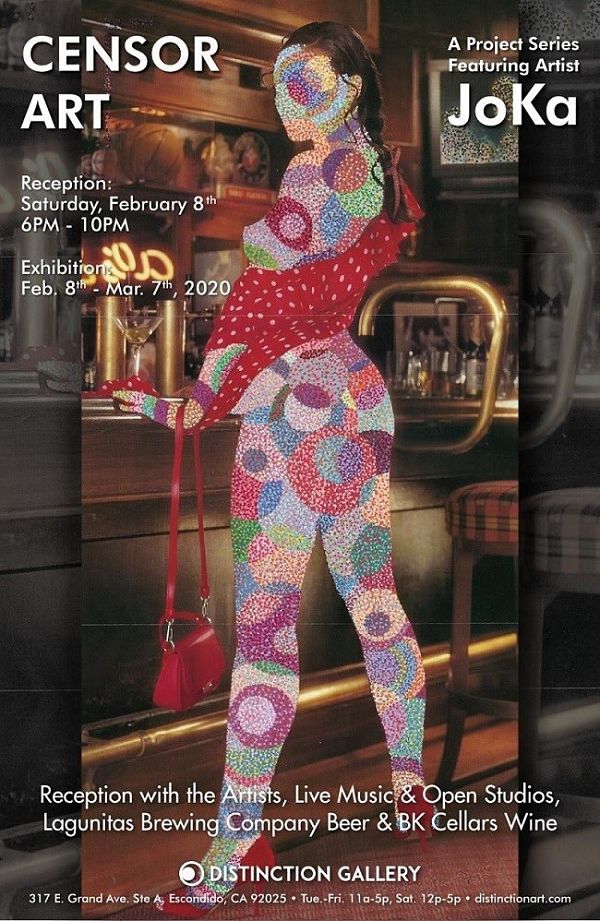 Opening Reception: February 8, 2020 | 6 -10pm
Exhibition Dates: February 8- March 7, 2020
Distinction Gallery
317 E Grand Ave Escondido, CA 92025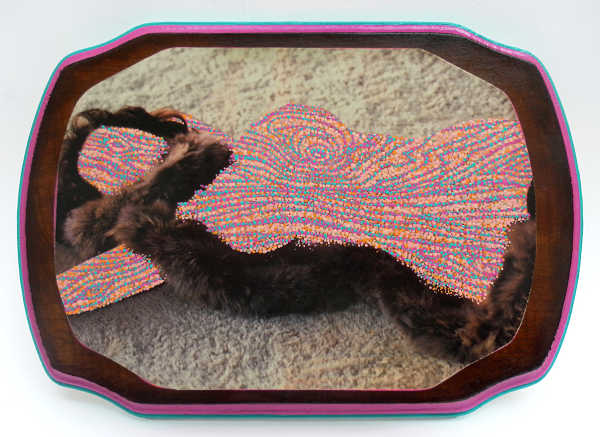 About the Artist:
Humor is the basis for the work of Philadelphia artist JoKa. Though his paintings aren't explicitly funny, there is a skewed sense of reality that can give one the chuckles, if not cause just a little bit of discomfort. That's because JoKa's work doesn't say anything outright; it consists of multiple layers of meaning, some absurd, some to be taken a little more seriously. That same balance exists in JoKa's process. Though he doesn't define the work by the way he works, he does pride himself on the technique he employs, namely hyper-pointillism. JoKa likens his hours spent dotting the canvas using toothpicks to a kind of meditation, where the process takes over. However, the finished product is just as important, and it's a high priority that the work feel well executed.

In his paintings, JoKa often draws from nostalgic imagery. He then skews and distorts, often times obscuring faces and presenting us with depersonalized, symbolic versions of a humanity which, though markedly different from our own, are also disarmingly familiar. Certainly, there is a point to be made, but JoKa does not content himself with prodding the observer in any specific direction, instead allowing the piece to slowly seep into the surreal corners of our unconscious, reminding us that a singularity of meaning isn't always possible in the complex world we inhabit.

About the Gallery:
Distinction Gallery was created in 2004 to give beginning and established collectors a venue to purchase high-quality, cutting edge artwork. Distinction has hosted over 160 exhibitions since its inception featuring emerging, mid-career and veteran professional artists. Distinction's artwork is available for purchase online to clients around the world, and most of our artists are available for commissions. In order to further expand offerings to the community, Distinction converted part of their location to ArtHatch, a non profit organization.

ArtHatch is a 7,000 square foot building which houses the front gallery: exhibitions changing monthly, "The Alley", featuring over a dozen local artists, "Micro Gallery" – a mini gallery featuring 8 x 8 inch and smaller artworks, the teen studio featuring artwork by 15+ teen artists, 17 artist studios, ranging in size from 150 to 800 square feet, featuring the work of over 20 local artists, ArtHatch Escape Rooms, and coming soon – "The Last Spot" – a Wine, Kombucha, Craft Beer, Mocktail Art Lounge coming soon.
Distinction Gallery Social Media Accounts
Facebook | Twitter | Instagram
JoKa Social Media Accounts