In every moment we create, let these worlds unite us with all that's yet to come…
In admiration and loving memory, Modern Eden Gallery proudly presents a retrospective exhibition of Michael Ryan (1982–2016). Nearly 35 works are on loan from private collections and represent part of the artist's production between 2004 and 2016. Through his striking imagination, the art of Michael Ryan tells a story of the inevitable experiences that universally compose our individual worlds. The fundamental development of our human condition blooms with that of joy and tragedy, mortality and death, and are as essential and esoteric as love and life itself. Help Modern Eden celebrate their inspirational friend and colleague.
I had the pleasure of speaking with Kim and Bradley of Modern Eden regarding the work of Michael Ryan and the significance of this honored exhibition. From all of us at Beautiful Bizarre Magazine, we hope you enjoy this very special interview.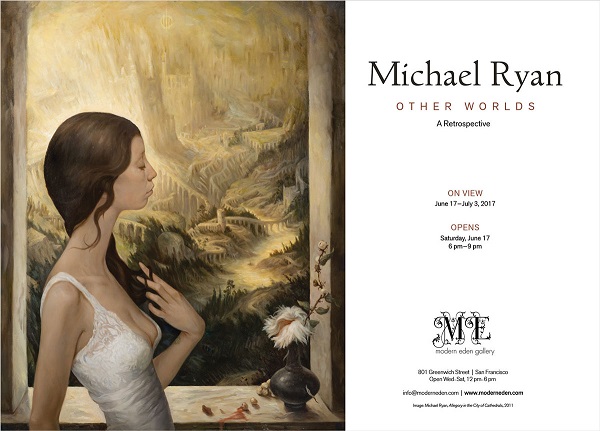 Exhibition Dates:
June 17 – July 3, 2017
Opening Reception:
Saturday, June 17, 2017 | 6–9 pm
801 Greenwich Street @ Mason and Columbus | San Francisco, CA
Kim Larson, Gallery Director
kim@moderneden.com
(415) 956-3303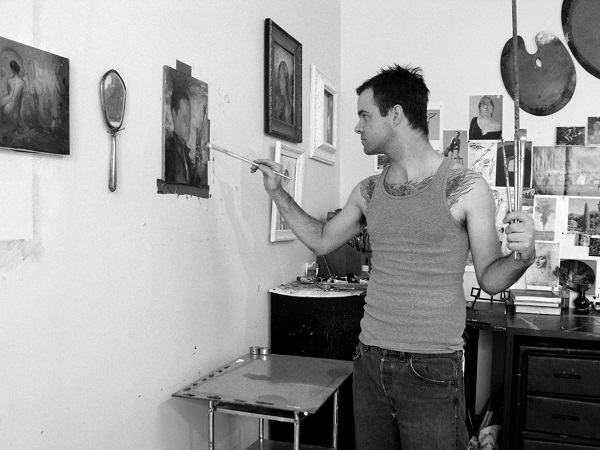 Michael Ryan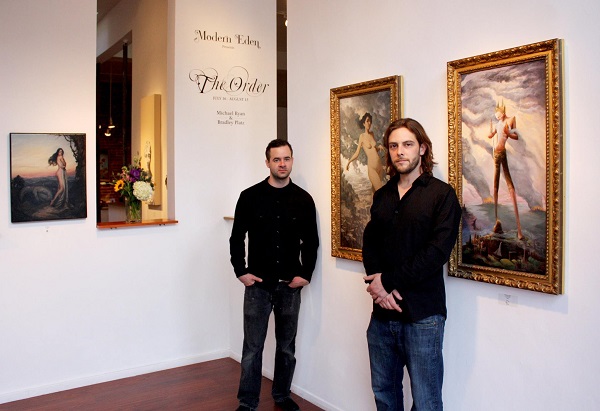 Michael Ryan & Bradley Platz
Press Release: 
Michael Ryan was born in Brea, CA and graduated the Academy of Art University in San Francisco in 2005. After graduating he took a day job and met then co-workers and fellow artists Bradley Platz and Kim Larson. An immediate bond was formed between the three, and Bradley and Michael became very close friends, collaborating on several paintings, art projects, and exhibitions over the course of the next decade. When the Gray Area Gallery (now the Gray Area Foundation for the Arts) was founded in 2006, Platz and Ryan shared a studio in the back of the gallery and helped to curate and launch the inaugural exhibition. Their first duo exhibition opened at San Francisco's Cowboys & Angels in 2007, followed quickly by a second duo exhibition at Eclectix gallery in El Cerrito in 2008. During this time Ryan was also working as a commercial illustrator, creating beautiful traditional oil paintings for Wizards of the Coast (Magic: the Gathering), White Wolf Studios, and Strange Horizons. Ryan was featured in Spectrum 14, and soon began exhibiting his allegorical oil paintings outside of San Francisco, with solo exhibitions at Mark Davis Gallery in West Virginia and in Los Angeles at the Hive Gallery in 2007.
He was accepted into the Beinart International Surreal Art Collective and participated in two collective group shows in 2010 and 2011 curated by Jon Beinart at Copro Gallery in Santa Monica.Ryan left San Francisco for Seattle, WA in 2008 earning a live/work residency at a new housing development for working artists. He was determined to start a new life in the natural beauty of the pacific northwest after living in San Francisco's Tenderloin for nearly six years. Soon after his departure from San Francisco, Bradley Platz and Kim Larson founded Modern Eden Gallery and began representing his work professionally. Ryan participated in numerous group shows and two featured exhibitions at Modern Eden, Reliquaries, with Billy Davis in 2010, and his third duo exhibition with Platz, The Order , in 2011. This retrospective exhibition brings together some of Michael's best and most memorable work from university days to his commercial works, and finally to his later works.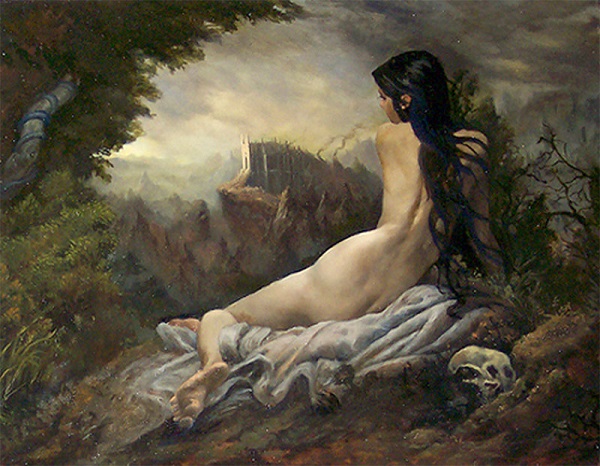 Interview with Modern Eden's Bradley Platz & Kim Larson
Introduction by Kim Larson: "Anyone who knows us, knows that there is little to no delineation between our business and personal lives at Modern Eden. Our artists become family, our various family members are always in and out of the gallery, and Bradley and I "take our work home" every night that we aren't already at the gallery working late. When we got a call in March 2016 that our friend and frequent collaborator Michael Ryan had passed away suddenly, we were crushed. A few weeks before, we had our daughter and we were still reeling from the unprecedented excitement and fear that most new parents feel. Losing Michael was one of the hardest things Bradley and I have had to face together, and individually, especially in an already stressful and emotional time. Our thoughts of the business were overshadowed by the fact that we had just lost our most loving and loyal friend. We retreated into grief and struggled with his passing without making much information available to the public.
After several months, the pain did not subside but we began thinking about Michael's legacy as an artist and our responsibility to preserve his memory. After connecting with one of his collectors and seeing what a positive experience it could be, we made the decision to honor Michael with an art exhibition of his life's work. Bradley named the exhibition Other Worlds, a reference to a Stephen King quote from the Dark Tower series, 'Go then, there are other worlds than these'. Michael was an avid reader and loved books almost as much as he loved painting. We hope this exhibition brings comfort to those who loved Michael and helps to share his beautiful visions with the world. "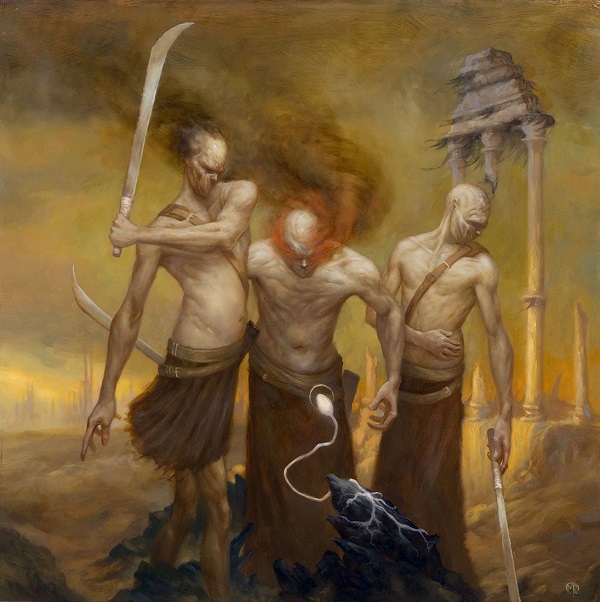 This exhibition, though more importantly, Michael Ryan, carries a deeply personal connection to you both as he was your close friend and colleague. What can you share with readers to help impart the significance of this show?
Bradley: When we first founded the gallery in 2010, it was in an effort to gain more exposure for our own work, and for our friends. Back in the mid-2000's, a lot of us worked the same day job together in San Francisco. This is where I met Kim, Michael Ryan, Leilani Bustamante, and many artists that we still work with today. When Kim and I started Modern Eden, we had this pool of talent to pull from, and we all had a shared vision. We've met so many incredible artists, incredible people really, over the last seven years, but a few very special people have been there since day one. Michael was one of those, and more. He was one of the reasons we got into this business in the first place.
Did representing a close friend through the gallery change your relationship at all?
Bradley: As Kim and I became more and more focused on the business aspect of running a gallery, Michael focused more toward his studio practice. He was thrilled to be a part of Modern Eden, but over the years I came to understand that for him, making art was personal. It was a messy business, complicated, deeply psychological, and everything was imbibed with personal meaning. He was fundamentally trying to understand himself through painting. He struggled.  What he created from the struggle was beautiful. It was beyond impressive. There are very few artists I know who can do what Michael could do with a brush. It wasn't about making pictures for him, it was about the process, it was about the idea, and what he could learn from working through it with paint. I think perhaps, that he had it right, he found the truth in painting.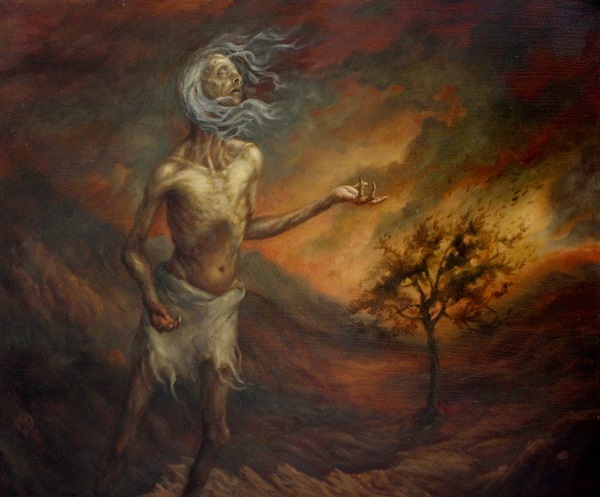 There is so much wisdom and passion gained during the course of a friendship. At times, it's virtually indescribable. Is there a particular painting that you feel contributes most significantly to the memory of his artistry?
Bradley: Each piece means something different to those who own them, and no doubt to Michael, who is truly the only one who understood them completely. Everyone has their own favorite piece, influenced not just by the skill of execution, but the personal memories of time and place surrounding its creation. One that I feel is among his best, and also most dear to our hearts is Allegory in the City of Cathedrals (shown below). Though we know Michael referenced another model, the figure bears a striking resemblance to Kim, and I always thought he did this with purpose. From my conversation with him, I know that it's the girl at the window, a subtle reference to King's Dark Tower, she represents the unattainable, the forever lost, the forever waiting. The cathedrals are in so many of his works, stark and often silhouetted, always conveying a sense of epic scale, and they loom, temples to both light and darkness, evidence of a world that has reached up to great heights, and at the same time is moving on, leaving monuments behind. Michael always conveyed a sense of the epic. He was so skilled with atmospheric perspective.
When we sold this piece in 2012, I remember Kim and I were both really sad to see it go. Nine months after his passing, Kim surprised me on Christmas Day with Allegory. I didn't have words. It had been five years, and I never thought I would see it again. It was our first time buying art back. As it turns out the collector, Jim Friend, who had purchased it was one of the kindest people. A man who I believe, understood the allegory, and its context in Michael's friendship with us. Afterwards, I reached out to thank him, and he said: "This is exactly what you want with owning art, isn't it?  Appreciating it for yourself for awhile, and then passing it on to even-happier-hearts-to-have-it."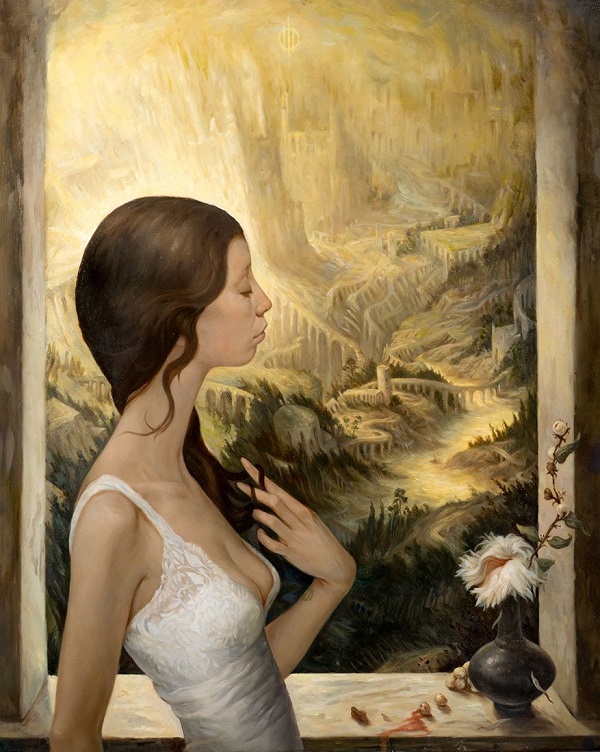 You stated that nearly 35 works of art are on loan from various collections. How did you make this possible?
Bradley: Thankfully, Kim and I have several of Michael's pieces in our collection, and we keep good records of who we have sold work to over the years, so that's where we started. With this exhibition I really wanted to showcase Michael's older pieces, works he made while living in San Francisco, and that had never been exhibited at the gallery. Finding these was tough. I was hitting a lot of dead ends trying to get in touch with galleries and curators who I hadn't spoken with in a long time, or I was told the work had been returned to the artist. I had help along the way, particularly from curator Catherine Kaleel, who put me in contact with the place that Michael and I had our first duo show at. Through her I tracked down several pieces that had sold during that show. Last month, we went down to LA and picked up nearly 20 additional pieces from his family, friends, collectors, including a couple from the Hive Gallery.
Once we had what we felt was a good amount, we began promoting the show. When it hit social media, more people started contacting us. Several key pieces came to light, and as of the last couple of days we are still finding more through word of mouth. There's some work, honestly, that I thought I would never see again. It's been like finding an old friend after many years to be reunited with some of the pieces, each time it's like seeing Michael again.
Can you explain the collector who has Michael Ryan's paintings in their collection? Are there similarities or connections between them?
Bradley: Every collector that we've connected with has been gracious and excited to see their piece in the context of his other works. Some have incredible and renowned collections of art, and some are renowned artists or creatives themselves. A lot of his works are living with family and friends, as Michael was very a generous friend and he had a strong support system. Many others are casual collectors; hair stylists, small business owners, writers–each has told me in one way or another how special their piece is to them, how it's always been in a place of pride in their house, and how sorry they were to hear of the artist's passing. I'm thrilled for Michael that he has work living among such esteemed company.
What has putting this show together meant to you personally? And what do you hope the exhibition accomplishes in general?
Bradley: It's been quite a beautiful journey putting this show together, and not only has it helped to honor his memory, and his legacy, it has helped us heal. We hope it helps those who were close to him heal also. It is also our goal to bring new attention to an artist that we feel should be remembered.
Are original works of art available for purchase for those wishing to add to his or her collection?
Bradley: Unfortunately no, all of the works in the exhibition are on loan. We are taking this opportunity to catalogue everything, and to document the works. Our plan is to publish a book, and this show is a first step for us, a way to reconnect all the pieces and all the people. For us, it's a another chance to share his work with the world.
Save
Save