This past weekend, The Dark Art Emporium presented 'Heroine Junkie: Art Celebrating Women and Non-Binary Folks' by Dan Litzinger. If you missed, there's plenty of time to see this intriguing collection of work.
Through compelling narratives, vibrant palettes, and creative musings, discover the non-binary portraits of Dan Litzinger. Join DAE in celebration of this exciting exhibition! Visit their website today and get acquainted with 'Heronie Junkie'… half of all sales will go to charities designated by the subject of each portrait.
Heroine Junkie
Art Celebrating Women and Non-Binary Folks
By Dan Litzinger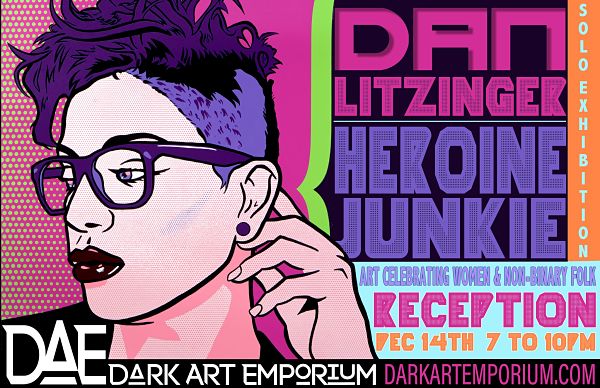 Exhibition Dates: December 14, 2019 – December 24, 2019
The Dark Art Emporium
256 Elm Ave., Long Beach CA 90802
HOURS
Monday – Wednesday – By Appointment
Thursday – Saturday – 11am – 8pm
Sunday – 11am – 6pm
ph: 562-612-1118
For additional information and available artwork please contact: [email protected]
Downtown Long Beach's Dark Art Emporium is proudly strange and strangely proud to announce the debut solo show of Los Angeles based pop artist Dan Litzinger, entitled Heroine Junkie, on December 14th. Plus, he will be painting a new mural installation in the gallery that will be on view exclusively for the duration of this show only.
An active force in the group art scene in Southern California since 2013, Dan Litzinger is overjoyed to bring his first ever solo show to the world. On this new series, Dan says, "I wanted to celebrate the unsung everyday heroics of women in American society, so I put out a call on Instagram for female-identifying and non-binary portrait muses. Plus, as a recovering alcoholic, it's important for me to try to give back to the world to say thanks for putting up with me this long. That's why half of all sales will go to charities designated by the subjects of each portrait, including Planned Parenthood, LA Downtown Women's Center, and more. Stylistically, I wanted to try something totally different for me and see if I could make pop art that would capture the imagination while remaining free from the built-in nostalgia of the usual pop culture iconography."
ABOUT DAN LITZINGER:
Dan Litzinger was born in Hartford, CT and grew up in Roswell, GA. Throughout his childhood, he dreamed of being a syndicated cartoonist and spent summers vending cartoons at his "cartoon stand" or door-to-door. His seventh grade public school art teacher, Mrs. Robinson, introduced Dan to the work of Roy Lichtenstein and his life was never the same again. As a teen, Litzinger also developed a love for filmmaking and ultimately storytelling through art.
Dan graduated Magna Cum Laude from the Savannah College of Art and Design with a Bachelor of Fine Arts degree in Video and Film. At Robocop's advice, Dan packed up his grandfather's Buick and moved to Los Angeles. Litzinger spent a glorious decade as a film and television editor on such projects as the smash hit Showtime series "Gigolos," and MTV's "Catfish: The TV Show." Dan lives in beautiful Glendale with his wife, Chelsea and son Dashiell.
The Dark Art Emporium Social Media Accounts
Website | Facebook | Twitter | Instagram
Dan Litzinger Social Media Accounts