In the contemporary art world, wildly exciting and incredibly diverse forms of creative expression abound. Experiencing some of it is like hopping on an amusement park ride that delights the senses, churns the ol' innards, and occasionally tests the upper limits of your adrenalin-o-meter. A buzz like that definitely has its place because we all need more unadulterated fun in our lives. There are also a plethora of socially and politically charged works that educate the beholder, triggering aha moments that sometimes lead to real-world action. Other artists set out to amuse… amaze… stir emotions… be provocative… enrich our lives… serve up guilty-pleasure eye-candy… shine a magnifying glass on humanity… offer a much-needed escape from reality.
Looking at Robin Eley's masterly portfolio, quite a few of those boxes can be ticked, which is a rather idyllic position to be in as an artist (whether intended or not).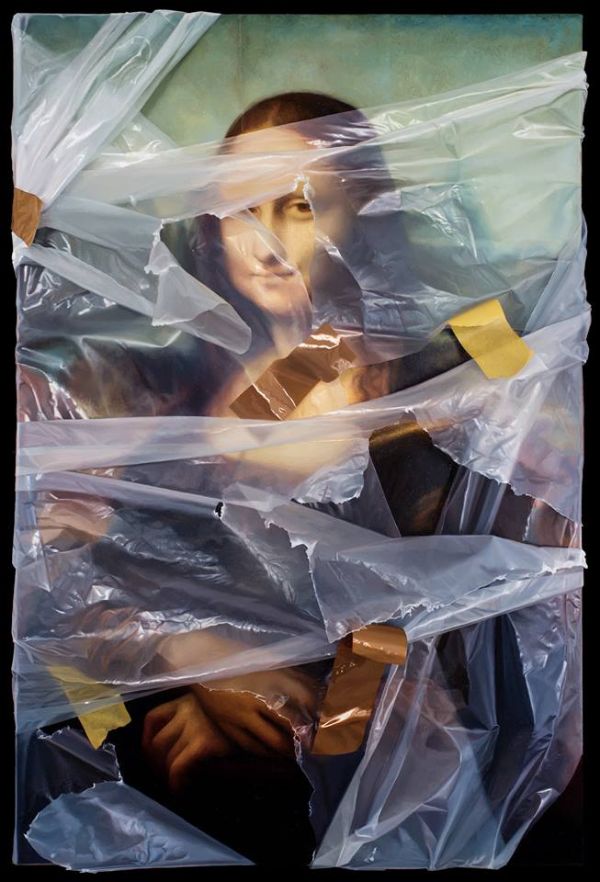 If your brow is befuddled by that claim, please hear me out. Eley's exacting brush-wielding efforts, which he categorizes as high-resolution painting (rather than photorealistic or hyper-realistic painting), have everything that an art aficionado could want… plus a little extra spice for good measure. An extraordinarily convincing depiction of the human form. A painterly, classical art-caliber celebration of physical beauty. A windows-to-the-soul examination of the human condition. Thought-provoking commentary regarding our chronically lonely digital alter egos. Relatable human emotions that somehow percolate to the surface of his canvases. A surrealistic twist in the form of synthetic artifices that are so realistically rendered that you desperately want to sneak into Eley's studio to witness his super-genius brush strokes first hand. Let's add to all of that the cerebral nature of his canvas concepts. The sad humor and surrealistic pop art appeal of his plastic-shrouded, pixelated, bubble-wrapped world. I could keep going on, but I'm sure we're all on the same page by now.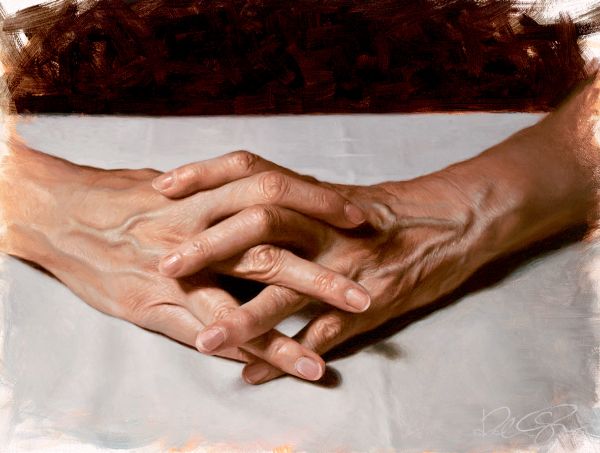 Have you ever taken note of the intense "do or die" look that is etched upon the faces of world-class Olympic athletes? The palpable resolve that emanates from them like a force field of unstoppable supremacy? View even just one or two of Robin Eley's painting process videos and you'll get the sense that he, too, is a man on a very singular mission. Decathlon athletes, pastry chefs and – naturellement! – artists who are good at their respective crafts should rightfully feel prideful. Being great or outstanding in one's chosen field, however, requires a reaching for the stars level of commitment that must be reinforced with an unyielding work ethic.
Eley's indefatigable pursuit of excellence, which involves painting up to 10 hours daily (yes… even on weekends), is all part of his driving force to become the very best artist that he can possibly be. It's a very conscious, deliberate decision. Even though it's quite evident that he's at the top of his game technique-wise, with each new day that he works in his studio, he strives to achieve new heights of painterly ability that may have been absent during his previous day's efforts. Whoever coined the phrase "practice makes perfect" may have inspired Eley to work on his canvases with the aid of a super mega-colossal electron microscope. There doesn't seem to be any other explanation regarding how he is so adroitly able to conjure such convincing canvas humanity.
Here's another applicable adage that sheds light on why Robin Eley's simply remarkable photorealistic painting process has catapulted him into the kind of artistic realm that is reserved for the masters. "Patience is a virtue". I'm not talking about the kind of patience and dogged perseverance that, on the simplest level, yields organic career success. In Eley's hands, the virtuosic trait of patience – coupled with his eagerness to practice his rendering skills until the cows come home – has resulted in his own brand of mad science canvas trickery. Examine the ladies and gentlemen splashed across his canvases and you'll soon come to realize that they really are meeting your gaze…. taking pause… sending you ever-so-spectral eye contact messages… wondering when you'll finally engage them in conversation. After all, they're already baring their bodies and souls to the world. Must they summon an ice-breaker, too?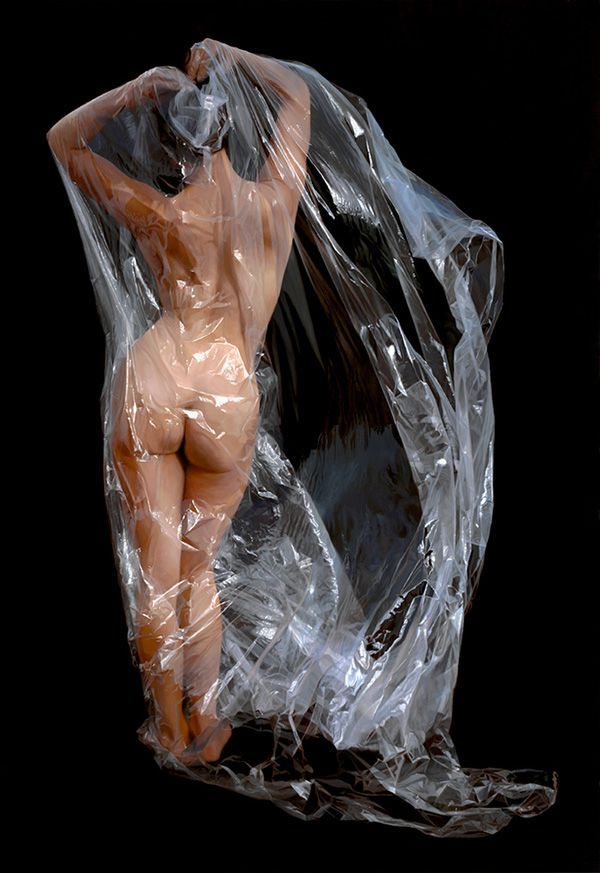 In Robin Eley's studio, creating a three-dimensional representation of a human being – one who will inevitably expect his or her quinoa-kale salad with extra avocado to be served promptly at 1:30 PM – begins with a humble pencil. Before his black voodoo magic visages can ever hope to chomp down on their daily greens, they must first be precisely sketched out on canvas. The artistic Prometheus then hand-mixes what seems to be hundreds of different color gradients in order to almost mathematically replicate what light refraction looks like upon flesh, hair, facial features, fabric, plastic, cellophane, bubble wrap, etc. Next, he dips a brush into tone number one so that he can paint one-quarter of a millimeter of canvas. He reloads with tone number two so that a section as narrow as a pine needle can be covered. This process, which is undoubtedly laborious, must be diligently repeated with myriad shades in order to realistically capture the appearance of a scintillating iris, or the rosy sheen of a woman's complexion. Eley works through his entire ombre palette du jour and then launches his hand-mixing and canvas application process once again so that he may cover an additional 2.5 centimeters of work. And then again. And so on, and so forth. This slight exaggeration might be amusing if it weren't so mind-bogglingly true.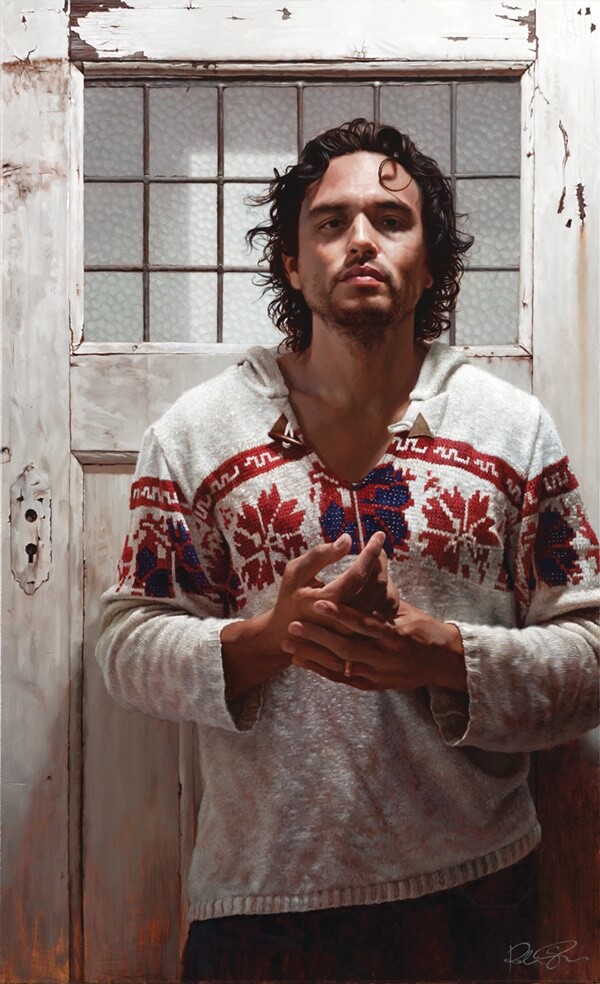 Artistic accolades for the Aussie-born, LA-based painter have not surprisingly been piling up throughout the years. With a self-propelled commitment to painterly excellence backed by an exacting technique that might make others crumple into an inconsolable pile of goo, Robin Eley's are-they-photos-or-are-they-portraits?? have repeatedly caught the eye of the art world powers that be. Quite notably, the very same year that he officially pursued fine art portraiture as a full time career (2010), he became a runner up in Australia's annual Doug Moran National Portrait Prize. His dazzling self-portrait entry – with Eley himself resolute in appearance, hands loosely clasped together against a weathered door backdrop – makes you want to beat down the judge's doors to demand a recount. Apparently the judging team was also asleep on the job the following year when they awarded Eley with highly commended third-place status. Or perhaps the vast majority of them were afflicted with horrifically obscuring cataracts after spectacularly and monumentally failing to create their own copycat Eley works. Such a shame.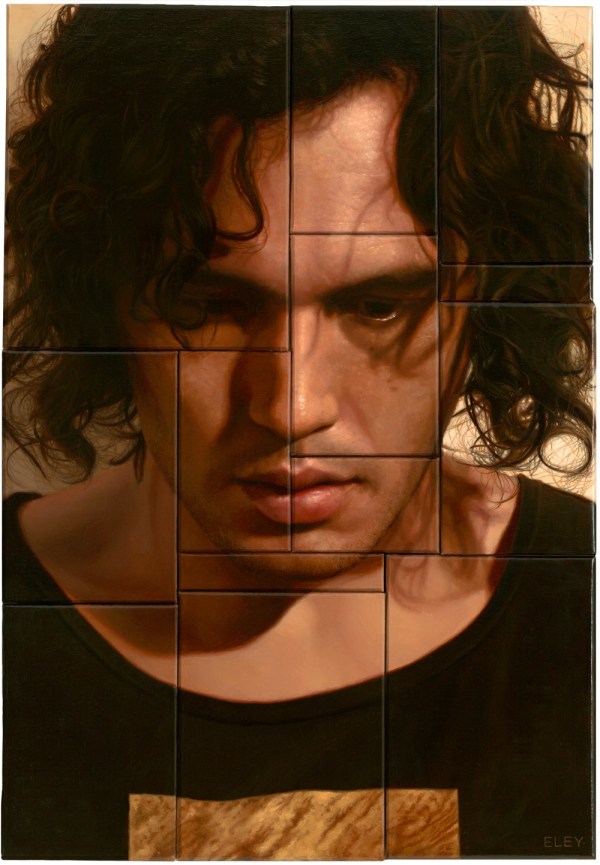 On the upside, Robin Eley became an Archibald Prize finalist in 2012 thanks to his Bibliography self-portrait. Finally – a bit of justice for our artsy underdog! Using a canvas consisting of personally meaningful literature representative of his Chinese and Australian heritage, Eley's highly contemplative and rather downcast likeness was strategically conceived so that it could ultimately be easily disassembled. How clever…and practical, too. The deconstruction element of his astoundingly realistic-looking erudite visage serves as incontrovertible proof that he did not employ any backroom projector trickery! That kind of skepticism has plagued Eley for the majority of his painting career, which actually amuses him to a certain degree. Despite posting a plethora of process videos demonstrating what can only be interpreted as a saintly-bordering-on-rip-roaring-mad degree of paint application precision, naysayers have still been known to call him out on his… impossible excellence.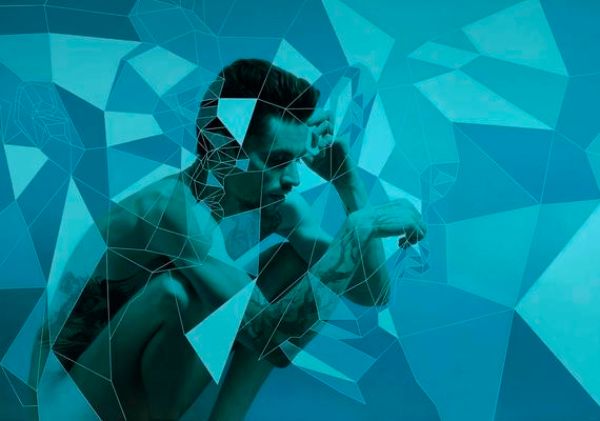 Being a world-class, hyper-realistic portraitist is well worth feeling chuffed about. Wisely though, Robin Eley has figured out how to add an extra added contemporary relevancy dimension to his practice – by thoughtfully, almost methodically conceiving ongoing photorealistic portraiture series that explore the weighty consequences of digital culture upon our lives and psyches. The artifice. The isolation. The disconnection. Among his various painterly explorations, Eley has depicted figures that are physically bare to the world and yet shrouded in a synthetic barrier of cellophane representative of their emotional unavailability. He took it one step further in 2014 by painting prismatic digital likenesses of his subjects, forcing the beholder to exercise their grey matter by mentally filling in the portrait gaps.
Perhaps one of his most treasured crown jewels, however, has been his Loss/Less body of work (2016) featuring uncannily life-like images of people in various degrees of pixelization. The idea behind Eley's show was to depict the merging of digital identities with physical forms, which metaphorically speaking, represents the all-encompassing effect of the internet upon humanity. He amplified the substance of his show by launching a companion piece, The Binary Project, starring the so-real-you-gotta-rub-your-eyes painted likenesses of his newly born twins in 70 inch by 70 inch Technicolor glory. His portrait of baby JoJo and baby Fox – rendered on 4,900 aluminum tiles – was then broken down and dispersed piece by piece to eager recipients in 46 countries. Their one task: send Eley a photograph of their tile. Upon manually piecing together all received photographic tile submissions, Eley then created a final high-resolution digital image of his babies – notably 'branded' with absentee digital pixels – that he dubbed Binary.jpg.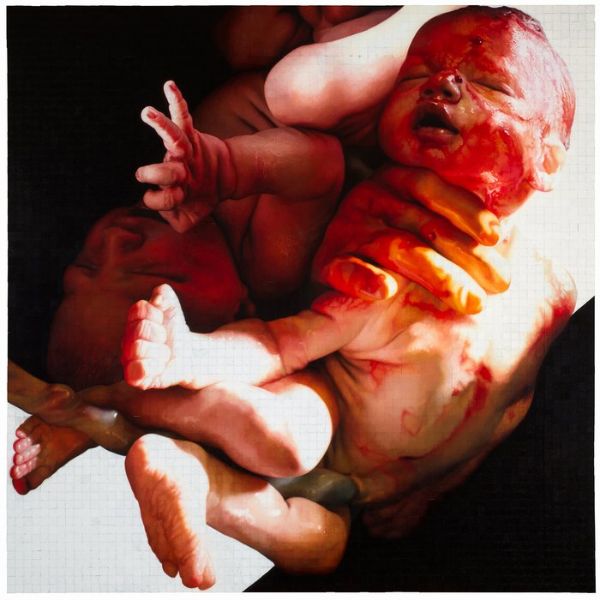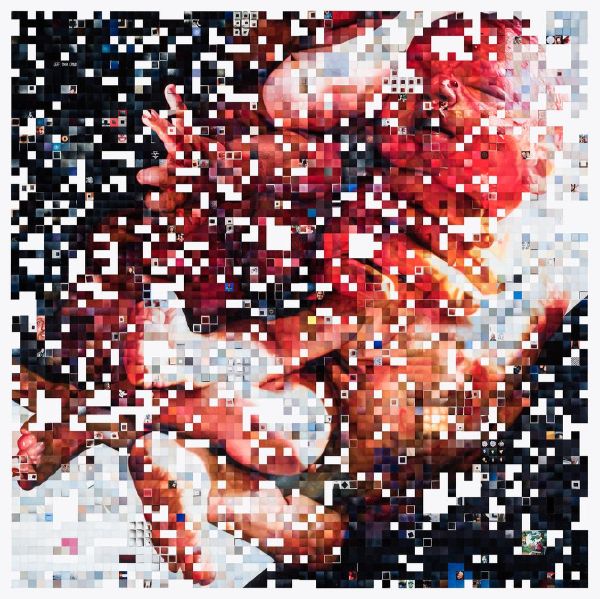 You might think that with all of the project conception push-ups that Robin Eley has engaged in during the past several years that his brain would finally be tapped dry. Despite having already set the bar quite high, his latest innovatively artsy enterprise – called mp*re world – entailed Eley altering New York-based fashion photographer Max Papendieck's large-scale, aluminum panel-mounted images of Dutch model Daphne Groeneveld with hand-painted Trompe-l'oeil folds, crumples, and tears. My oh my, you simply HAVE to take a few hot seconds out of your schedule to watch Eley painting Groeneveld's lipgloss-slicked pout. Simply astounding! This charitable collaboration is designed to raise $50,000 for environmental advocacy group Ocean Conservancy. Want to aid their noble cause? 100% of the proceeds from the purchase of each limited edition mp*re x Daphne Groeneveld t-shirt, emblazoned with a cross-legged image of the model surrounded by highly convincing pieces of Eley-painted, indiscriminately torn masking tape, will be donated to the nonprofit dedicated to the formidable task of protecting marine life through restoration, aquaculture, sanctuary plans and plastic trash cleanup efforts.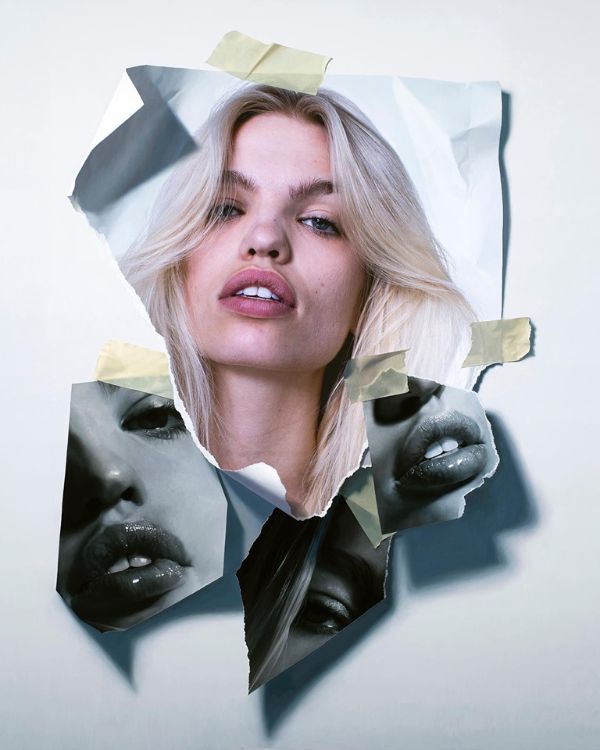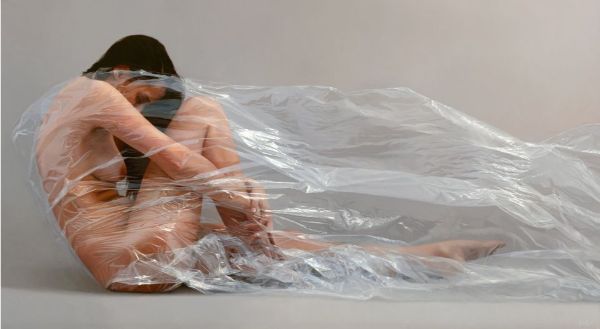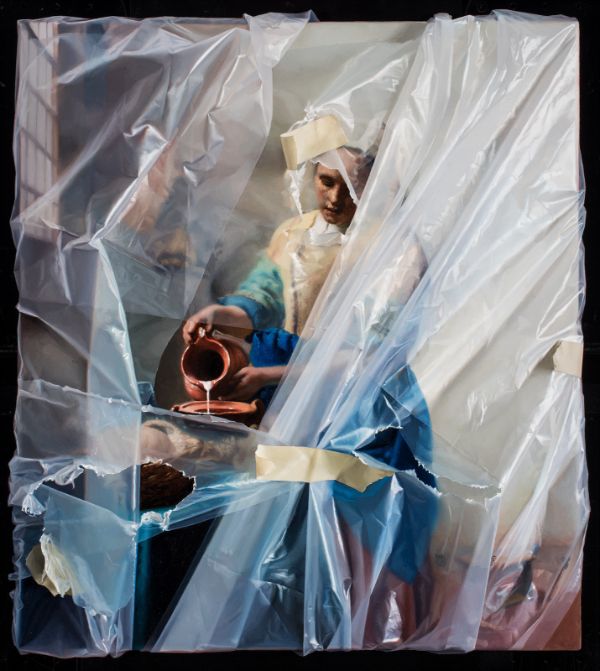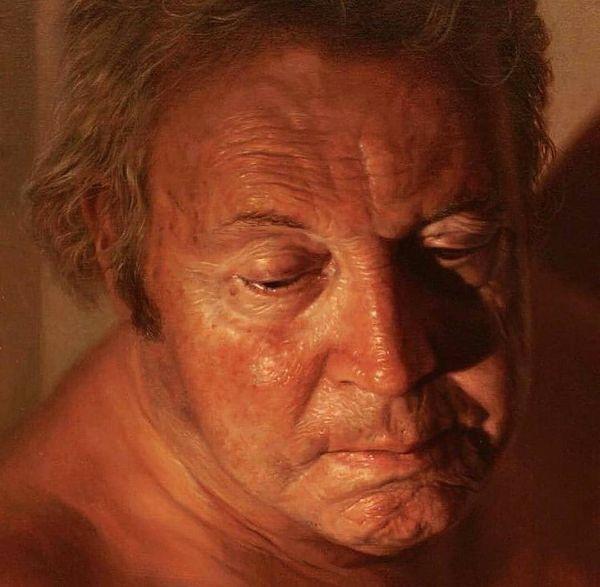 Robin Eley's Social Media Accounts
Website | Instagram | Facebook | Twitter
Related Articles
Cover Me in Hyper Realism: An Interview with Roos Van Der Vliet