2018 Beautiful Bizarre Magazine Art Prize Finalist, Roos Van Der Vliet is an artist born and raised in The Netherlands. I was captivated by her portraits of women being what looked to be silenced by their own hair. At first glance, I felt angry that the subjects seemed to be speechless. I thought it was a way to show that women had lost their sense of empowerment. I thought the subjects were a social commentary on how possibly women may be viewed by certain ethnicity or religions as being unequal. That was not the case at all. Below is our interview with answers to those very questions and to my excitement- garnished delightful results.
2019 Beautiful Bizarre Art Prize entries are now open! To be in the draw to win global exposure + over US$20,000 in cash and prizes, check out the details and enter today!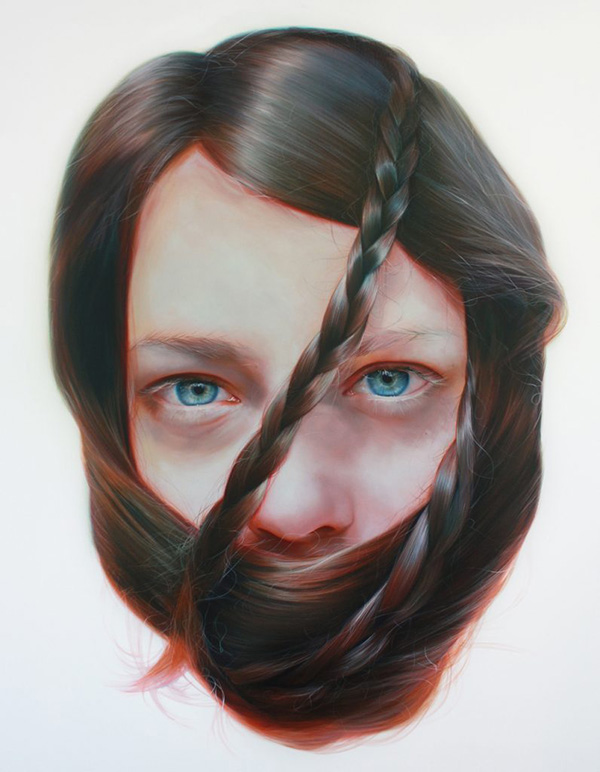 "Storytellers XVII" [Acrylics on canvas, 35.43″ x 27.55″]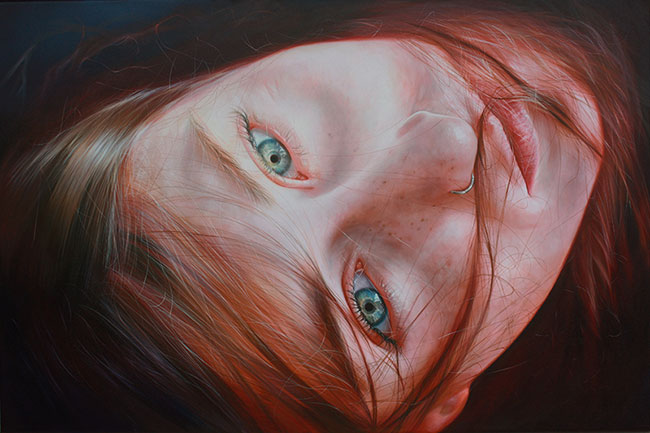 'Smoldered', 2018 [Acrylics on canvas, 60 x 90cm]
How lovely to meet you at the King Woman show at Pen + Brush curated by my dear friend Mashonda Tifrere. Your painting of her was exquisite. Please tell our readers how you became involved in that show and do you do private commissions? Did you fly in just for that particular show?
It was great meeting you too, and thanks! I got to know Mashonda in 2016, thanks to Kit King who also works with Mashonda, who introduced us. She thought my work would be of Mashonda's interest for the ArtLeadHer Platform, and luckily she was right. Mashonda and I met in Amsterdam last year and she invited me to be part of King Woman. We shared some personal stories and soon it felt inevitable that I would paint her as part of my Storyteller series. I then flew out to New York; I wouldn't have wanted to miss that for the world! It was great, I met so many amazing people, amongst them some artists that I deeply admire. It's a great memory.
Regarding your question about doing private commissions, yes I do them, although I'm quite busy so I choose them carefully.
We must address your fascination with women, hair and incredibly hyper realistic details. Why are the portraits always covered somehow- almost as if they are not allowed to speak-by their hair? I have always been extremely intrigued by your work because of this.
For me, my innate need to create is a way of making sense of the chaotic world we live in. By portraying -as realistically as I possibly can- an object of my choosing I try to feel in control. (When clearly, in the grand scheme of things, there is no such thing as being 'in control'). My mission in art is to convey that feeling of trying to create order in chaos. This especially holds true for my Storytellers series in which the women in the paintings all but command you to stand still and look the viewer in the eye. They look at you fiercely, not questioning their position but not feeling any need to talk about it either. They are not silenced by their hair, they chose their position themselves.
For my paintings I always look for a certain type of model. Even now, after having painted 25 Storytellers I still don't exactly know what makes me gravitate towards a certain person. Maybe it's because I recognize something of myself in them? Maybe it's in the way they carry themselves, maybe it's about their eyes, or a combination of all of the above? It's the kind of woman that doesn't seem afraid of anything, but still wants to hide away from the world at times. They want to be seen and heard but they don't always want to talk.
Do you put a piece of yourself in every creation? Is there a connection with your childhood, upbringing or current social environment in your work?
My work has always been personal, and I do figure that it has something to do with my childhood, so, yes. I think it's inevitable to have that early period in life influence your work. As a child, I was very aware of the people surrounding me; I've always been sensitive to their moods and have always tried to behave the way I figured adults expected me to in order to make them happy and proud. The pressure I laid on myself was pretty high. The whole concept of, in the same time both wanting to be seen and hiding from the world, has its origin in my youth.
What has been your most favorite piece to date?
That is, without a doubt 'The choking game' from 2012. In this painting I'm choking myself with my own hair. Yes I know it's such a buoyant piece of work.
I didn't know that this painting would be a turning point for my oeuvre because I made it solely for myself as an outlet when I was in what I'd call the hardest but also the most significant period in my life so far. I made several works afterwards that to my utter frustration, never reached the level of importance that I thought this work had, and it was only when I made my first Storyteller – also a self portrait – in 2015 that I felt that I 'did it again'.
I kept 'The choking game' close for years, thinking that I'd never sell it to anyone. But eventually it felt right to let it go and it now belongs to my favorite collectors, Mie and Martin from Denmark. They are the perfect owners and caretakers for this piece.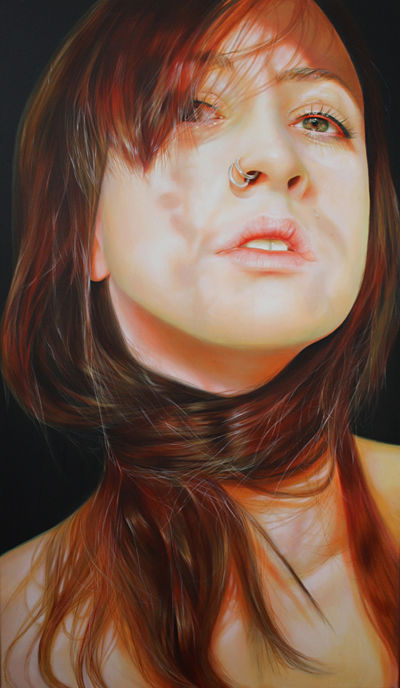 Is there something you can share with me that you had never told another journalist before with regards to your work?
Awesome question! I never told anyone that I never draw. Although I used to when I was a kid and it even was once the reason to wanting to become an artist in the first place, as soon as I learned how to paint, I simply quit on the pencils. I don't even sketch before starting a new painting. I do have sketchbooks though, small ones, but I only use them to write ideas down, possible titles for paintings, interesting lyrics I've heard in a song or a quote from a book. But that's it. The whole process before the actual painting is made is only happening in my head.
What is next for you and do you ever see yourself straying away from painting women with covered faces? Another series possibly?
Oh yes, definitely. I recently made my last Storyteller ever, number 27. It felt like it was time to move on and start on something new. I think as an artist I have to avoid repeating myself, and although I will continue to explore the same themes within my work, I need to push myself more and start experimenting again. So I recently began a series of paintings focusing on hair as an object itself. I'm spending hours in my studio creating new shapes and forms and eventually those creature-like hair sculptures will become paintings. I'm challenging myself by adding more detail than ever before. I want to paint every little hair, want to capture all the shades of color and light reflections that can be found within a single lock of hair. The hair sculptures are even more silent than my portraits, they are lifeless so to say, but I'm attempting to bring them to life and give them a whole new meaning while at the same time I want the viewer to realize that those hairs once belonged to a human being.
Regarding the Beautiful Bizarre Magazine Art Prize – what did you think of it?  What was the experience like and why did you enter?  Did you think it was valuable to your career and why? 
I heard about the prize while I was working on my last Storyteller ever, and I knew immediately that I would enter and this would be the painting that would represent me in the competition! BBM is majorly important for new contemporary realism artists and they gave my career a boost several times by including my work in their magazine and online.
I avoid competitions as much as possible because I hate being rejected over something that makes me feel the most vulnerable, which is my art.  I need to have a strong feeling that it could lead to something when I do enter and I make sure to not tell anybody about it. And once again my intuition didn't lie! I read the news of my honorable mention while waiting for my plane to bring me back home after a great holiday in France, and I remember how I was looking forward to getting back to work all of the sudden.
Where can our readers learn more about both you and your work?
Best way to learn more about both is to follow my Instagram and Facebook, because I post everything work-related every day. And my website, www.roosvandervliet.nl