Beautiful Bizarre Magazine's debut Museum exhibition Gaia Reborn: A Future Utopia opened to huge crowds on Saturday 11th May at Urban Nation Museum for Urban Contemporary Art's, Project M space in Berlin. Our sincere thanks to everyone who attended, we loved sharing the very special evening with you!! Scroll to the bottom to see some of the great photographs of the gallery space and opening reception.
And the story goes….
Beginning with a glass of bubbles, as every good night should, the Beautiful Bizarre Magazine team gathered in Berlin for the opening of 'Gaia Reborn: A Future Utopia', a seminal exhibition showcasing the best contemporary artists from around the world. Each exploring a critical topic – the conservation of our planet, in their unique signature styles!
Dressed up and ready to get the celebration underway, we walked through the streets admiring buildings covered in the incredible street art Berlin is famous for. Culminating in Findac's special new mural on the outside wall of Urban Nation's Project M space. Fin's beautiful goddess brings to life the duality of nature, the fragility and power, creation and destruction – perfectly setting the overall tone of the exhibition, as she welcomed the crowds into the gallery.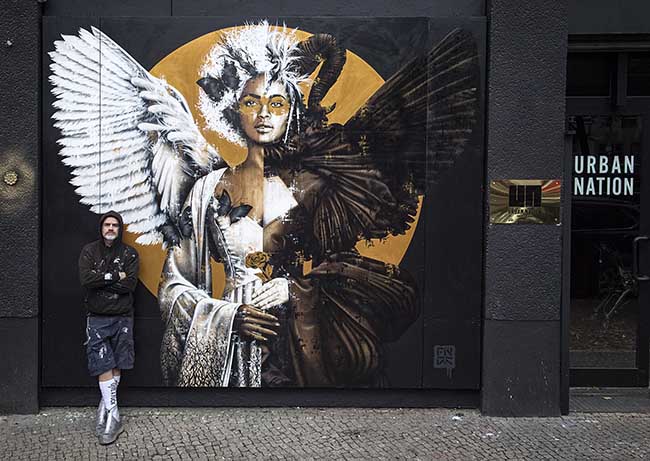 Findac with his mural outside Project M, Urban Nation
Upon walking into the Project M space, we were at once enveloped in the womb of a pagan forest. Forest mulch covered the floor around the 200 year old olive tree, sparkling with crystals and surrounded by moss covered branches and logs. Oak branches and forest leaves surrounded the bar while dark walls perfectly highlighted the displayed artwork. We felt as if we had entered a magical land – not an exhibition space in the centre of urbanised Berlin.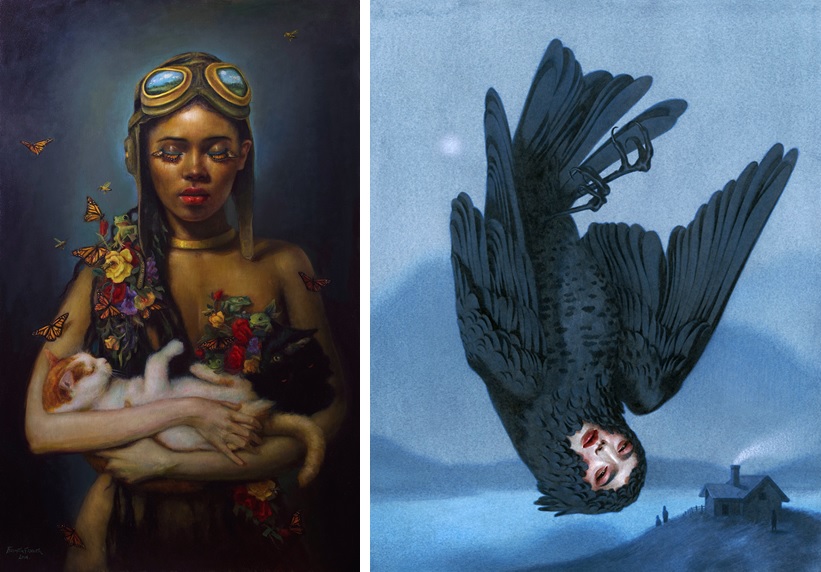 [Left] Rose Freymuth-Frazier, "Survivors", 2019. Oil on linen, 32″ x 50″
[Right] Tran Nguyen, 'In the Dead of the Night', 2019. Acrylic and coloured pencil on watercolor paper, 11 x 14″
With over 50 exhibiting artists, the walls were covered in paintings, drawings and sculptures depicting an empowered feminine, mother nature on all her glory. A force to be respected and valued.
Within an hour of the event opening the gallery space was so crowded that guests began to line up outside waiting for their opportunity to enter. It was so exciting to see more and more people joining us to experience the immersive exhibition!
[Left] Kazuki Takamatsu, "The Choices for the Freedom" 2019, Acrylic, gouache & giclee on tarpaulin, 72 x 60 cm
[Right] Rebeca Leveille, "The Champion" 2019, Oil on Canvas, 45″ x 56.5″
Sincere thanks
A huge thanks to the artists who attended from far and wide: Jana Bee, Redd Walitzki, Jessica Dalva, Ciou, Ewa Prończuk-Kuziak! And to Roxanna Walitzki whom performed so beautifully. The Beautiful Bizarre Magazine team was deeply honoured to share the special night with such incredibly inspiring women.
Beautiful Bizarre Magazine is very proud to be able to support and champion female artists and an almost entirely female team through its important work.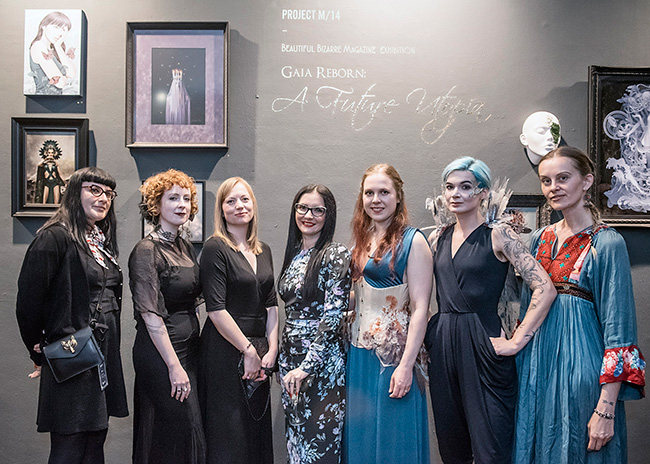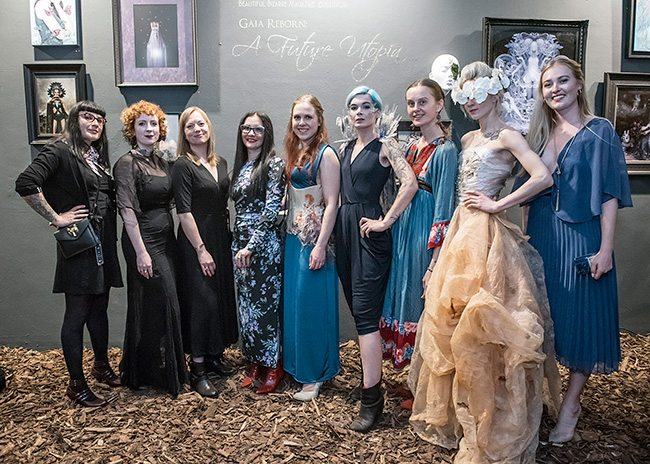 [Left to Right]: Ciou, Jessica Dalva, Ewa Prończuk-Kuziak, Danijela Krha Purssey [Editor-in-chief], Natalia Joruk [Deputy Editor], Redd Walitzki, Jana Brike, Roxanna Walitzki, Caitlyn Gregson [Curatorial & Editorial Assistant]
We had such a blast talking to so many of the guests! Artists from all around Germany and Europe whom expressed their excitement and sincere thanks to Beautiful Bizarre for bringing the exhibition to Europe. Many fabulous collectors also attended and shared their love of art and vision for their personal collections with us.
Roxanna Walitzki performing
As the background music faded away, a hauntingly beautiful operatic performance by mezzo soprano Roxanna Walitzki began. From the very beginning of her musical set the crowd was mesmerised; not a word was spoken and not a body moved throughout her deeply moving performance.
After Roxanna's performance, Beautiful Bizarre Magazine's Editor-in-chief, Danijela Krha Purssey, shared a short but moving speech about the importance of the exhibition's vision, then invited everyone to mingle and enjoy the open bar whilst taking in the beautiful works that surrounded us from all angles.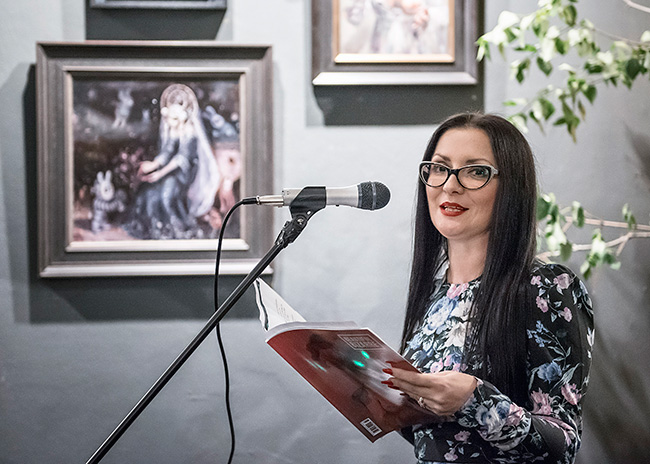 Danijela Krha Purssey, Beautiful Bizarre Magazine Co-Founder & Editor-in-Chief
I am personally deeply honoured and grateful to all the participating artists for creating such exceptional work for this special exhibition. This group of artists have individually and collectively brought to life an incredibly important topic – the conservation of our planet!
'Gaia Reborn' is a call to action – the time for change is now! To ensure we leave the next generation & those that follow a vibrant, living planet.
I would also like to thank Urban Nation Museum for Contemporary Urban Art Executive Director Yasha Young, and team, for giving myself and Beautiful Bizarre Magazine this invaluable opportunity to inspire thought, discussion, and a deeper connection with the earth through this important collection of work. Yasha and her team have gone above and beyond to help us realise our vision, and to give you the opportunity to experience this exhibition in a fully immersive way – thus providing a deeper more connective experience. One which we hope will move you to take action and help us to effect real change.
At the end of the opening reception we rounded up all the artists, collectors and Beautiful Bizarre Magazine team and made our way to a cosy bar, filling their backroom speakeasy for the after party! Cocktails were flowing, friendships deepened, new ones were born, and laughter bubbled all around us. We were surrounded by such a supportive group of people that had made our first Museum Exhibition opening night a huge success. A night we will remember always!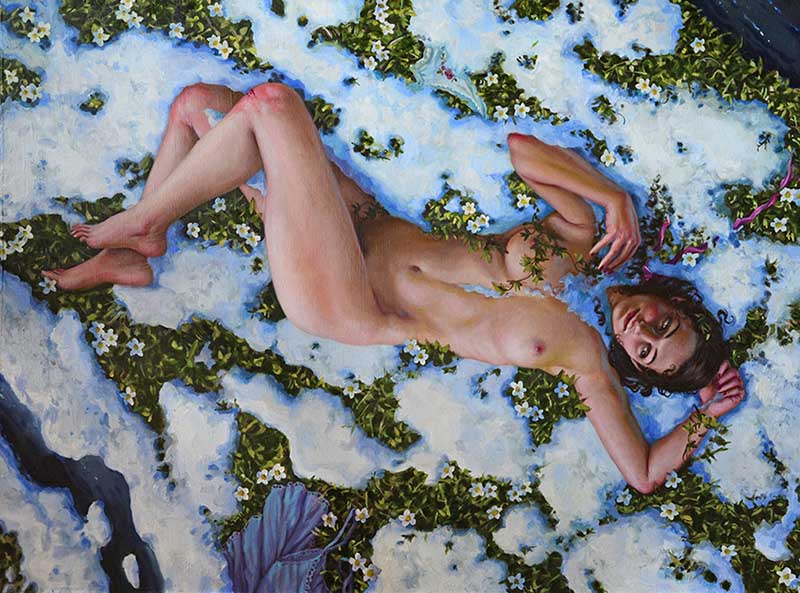 Jana Brike, "Meltdown", 2019. Oil on canvas, 81 x 61 cm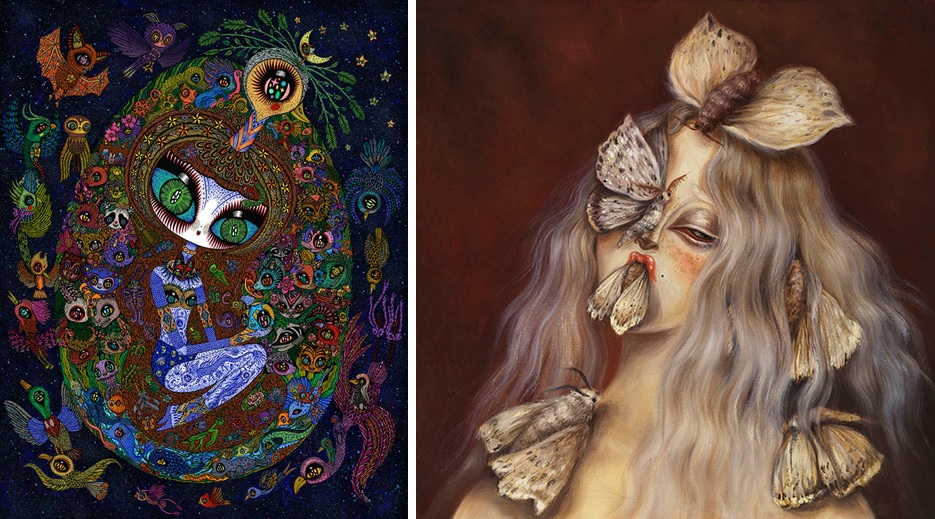 [Left] Ciou, "Cosmic Egg" 2019, Acrylic, ink, paper on wood, 60 cm x 80 cm
[Right] Miss Van, "Moth Muse II" 2019, Oil on Canvas, 60 cm x 60 cm
If you find yourself in Berlin before 10th July 2019, please stop by Urban Nation's Project M space and see the beautiful artworks on display.
Gaia Reborn: A Future Utopia
Exhibition Dates: 11 May – 10 July 2019
Urban Nation Museum of Urban Contemporary Art
Project M, Bülowstraße 97, D-10783 Berlin, Germany.
The exhibition is open Tuesday to Sunday from 10 AM to 6 PM.
Admission is free.
If you are interested in any of the over 50 incredible 2 and 3 dimensional artworks on view at 'Gaia Reborn' please feel free to contact Beautiful Bizarre Magazine Co-Founder and
Editor-in-Chief via [email protected] or feel free to shop online.
Check out the fabulous little video below showing the exhibition preparation – produced by Urban Nation.
Below are some great photographs of the gallery space and opening reception, enjoy! For more fabulous opening night photos, check our the Facebook album here.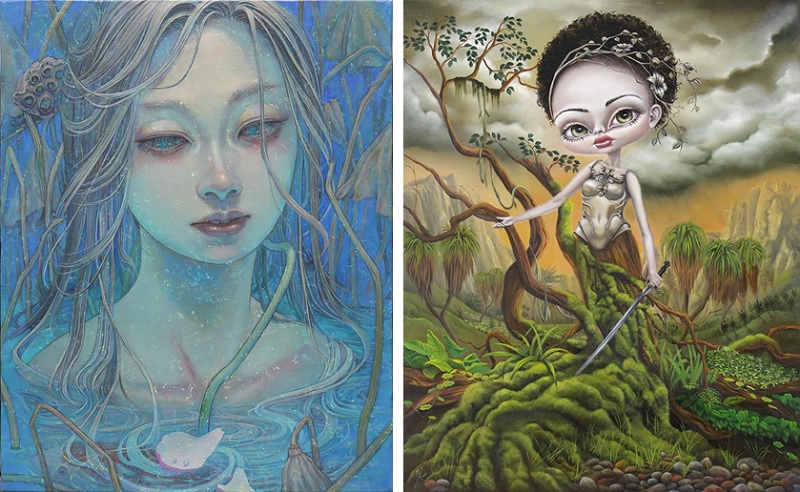 [Left] Miho Hirano, "Coexistence and Co-prosperity", 2019. Oil on canvas, 41 x 32 cm
[Right] Marie Larkin, "As It Was So It Shall Be", 2019. Oil on composition board, 41 x 51 cm
Yousuke Kawashima, "Edda", 2019. Oil paint on Japanese paper on panel, 606 × 727 mm
Related Articles
GAIA REBORN: AN EXCLUSIVE INTERVIEW WITH DANIJELA KRHA PURSSEY & YASHA YOUNG OF URBAN NATION
EXHIBITION PREVIEW: BEAUTIFUL BIZARRE EXHIBITION 'GAIA REBORN: A FUTURE UTOPIA' @ PROJECT M, URBAN NATION MUSEUM