Vibrant, surreal portraits emerge from the paint, enticing you to take a closer look. This is the work of Victor Roman. Linger in the colors and let your imagination flourish. Join Distinction Gallery this weekend as they proudly present his solo exhibition, "Celestial Awakenings". The opening reception includes live music, ArtHatch open studios, BK Cellars Urban Winery & Tasting Lounge and beer.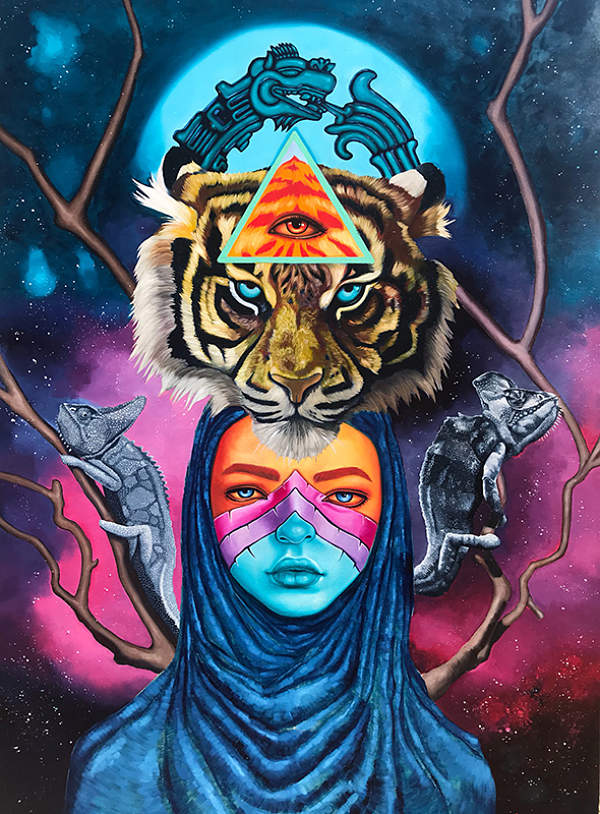 Victor Roman: "Celestial Awakenings"
Opening Reception with Artist:
Saturday, June 8, 2019 | 6-10pm
Exhibition Dates:
June 8- July 6, 2019
Distinction Gallery
317 E Grand Ave Escondido, CA 92025
(760)707-2770
As a young child, Victor would receive art pieces through the mail from his uncle.Each drawing was in pen but the surface would vary. Victor later discovered that his uncle was sending these to him from San Quentin. The drawings helped ground his uncle and keep him connected to life outside prison throughout his long years of confinement. It was the beautiful craftsmanship and extreme detail of these pieces that inspired Victor's love of art and which you can see echoed in the art Victor produces.
Victor Roman's passion for expressing himself through art motivates him to sketch and paint whenever he can. On most days, you will find him painting in his studio until late into the night. Painting at night after work shows his dedication to his craft, and after 3 years of study at Palomar College, Victor's talent has grown exponentially. The subjects he paints evoke complex emotions in the viewer, who are challenged to consider their feelings and develop their own interpretation of his art. Music is a large part of Victor's life. Throughout the day he listens to a variety of music but finds himself drawn to artists such as Aesop Rock, J. Cole and Led Zeppelin on his personal time. Victor's art is influenced by music, but of a different kind. While he is working, Victor listens to music from areas of the world that he is unfamiliar with. The culturally indigenous sounds inspire and inform his work. He researches their area of origin and learns about the traditions and culture of the people who live there. The artwork showing at Distinction presents a snapshot into this journey that Victor has traveled over the last three years. We begin with his "Nebulous" series where we see a duality of color in each portrait.The blue represents the side of us that we show to the world; a more professional, less intimate shield that protects us. The orange represents the inner self; those transitional moments when the public shield comes down and we are vulnerable and our raw emotions are exposed with those we love and trust.
Throughout his work he is constantly refining and becoming more intentional with his use of symbolism. His journey is now reaching a transition of sorts and we are privileged to watch him work on a fully developed pieces for his "Celestial Awakenings" series. One piece in particular, The Gift, the Curse, tells us the story of a celestial being giving the gift of time to humanity. But we must acknowledge its duality in that as much as we are given time to measure progress, healing, and create organization, our individual time is finite. As we move continually forward, we are aware of how little time we have left to live, create, and love. Each beautiful art piece is masterfully painted on wood; a craft taken on by few artists. If you have the opportunity to visit him in his studio, he will be happy to turn up the volume for you on his wall of sound and introduce you to the sounds that inspire him.