Walk into the depths of darkness, but do not fear! The creatures you will meet are not (usually) malicious…
This weekend Copro Gallery presents two solo art exhibitions which celebrate the dark, the bold, the esoteric and the humorous. We celebrate the opening of Allen Williams: 'Sinew and Bone' and Edward Binkley: 'Strange Countenance'. Both artists have created new bodies of work for the exhibit. To top it off, both artists will be in attendance at the opening reception Saturday, June 4, 5:00-10:00pm!
Copro Gallery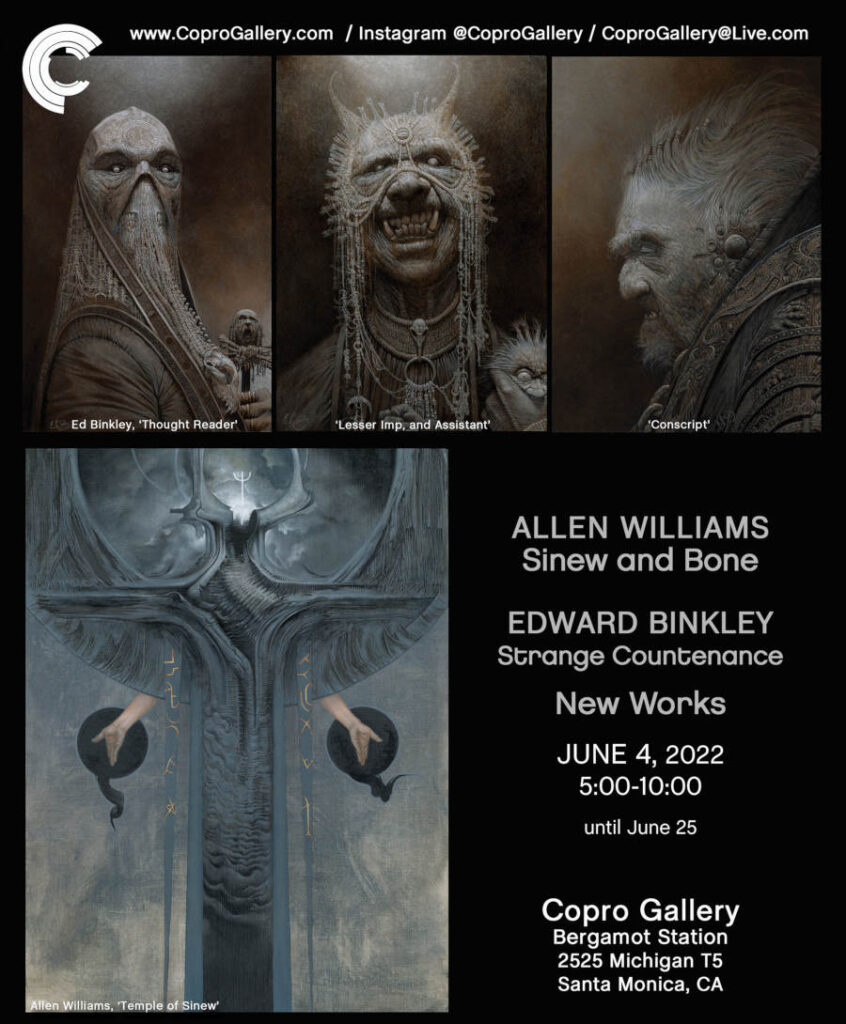 Bergamot Station, 2525 Michigan Ave, #T5, Santa Monica, CA 90404, United States
Phone: 310 829 2156
Opening Reception: June 4, 2022 | 6pm – 10pm – Both artists in attendance
Exhibition Dates: June 4 – June 25, 2022
SHOW HOURS:
Saturday, June 11, 2022 – 1pm – 5pm
Saturday, June 18, 2022 – 1pm – 5pm
Saturday, June 25, 2022 – 1pm – 5pm (closing reception)
For more information, email Gallery Director, Gary Pressman at coprogallery@live.com or call 310-829-2156.
Allen Williams' fine art is grounded in reality but flows into otherworldly forms. Primarily created in graphite, gouache, and oils, his drawings and paintings directly respond to his surrounding environment. Allen Williams uses everyday experiences and objects as a starting point for many of his pieces, where the fragility and instability of our seemingly certain reality is questioned. He tries to develop forms that do not follow logical criteria, but are based only on subjective associations and formal parallels; these are meant to incite the viewer to make new personal associations within his work.
Allen is an award-winning illustrator, concept designer and fine artist. From a young age the pencil and paper were an escape and a refuge for Allen. Now nationally and internationally known, for over 28 years Allen has applied his talents to everything from rock posters for the band Tool, concept work for creature and character designs in major motion pictures and television including the latest Hellboy, illustration for books and gaming companies. His first book, both illustrated and authored by Allen, is titled "The Witches' Kitchen", and was published in 2010 and his most recent book illustration project is with Guillermo del Toro and Cornelia Funke on Pan's Labyrinth: The Labyrinth of the Faun.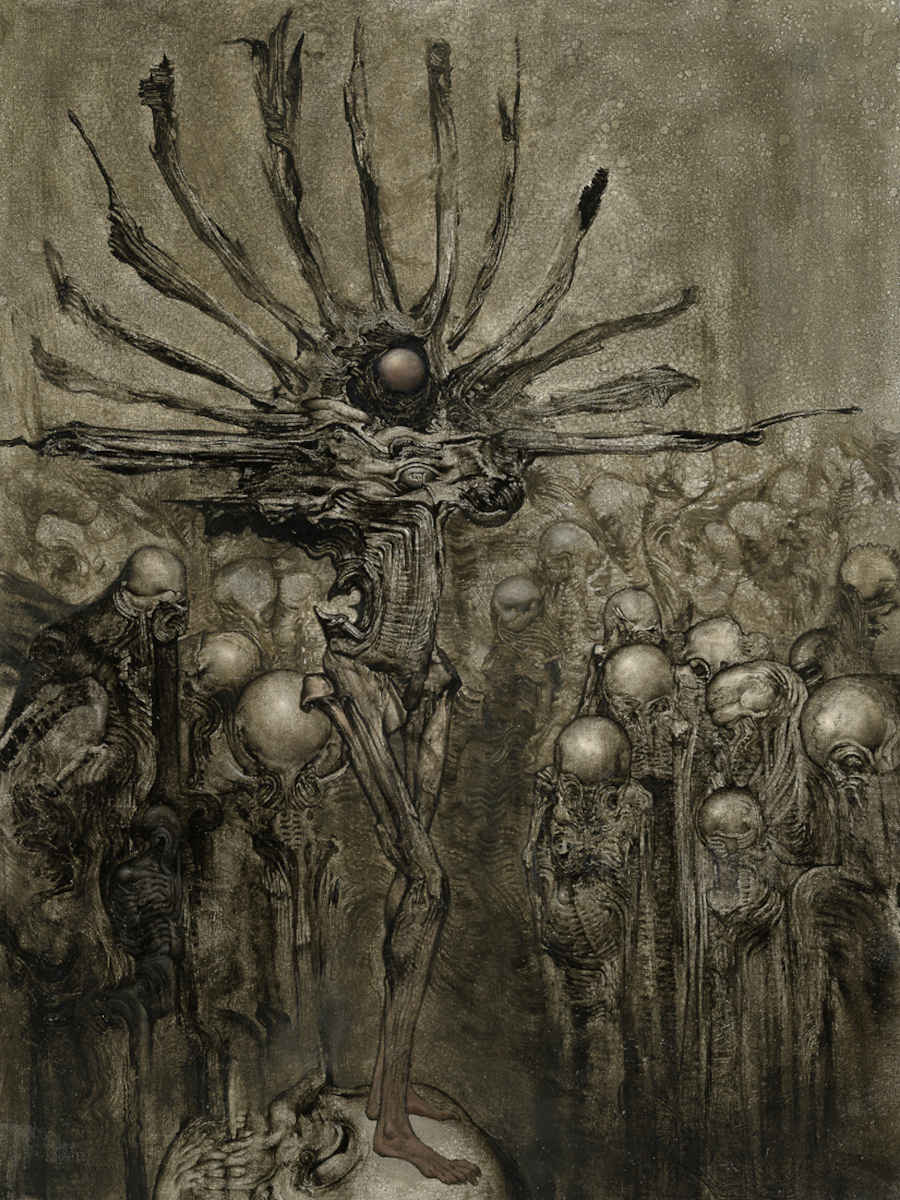 Ed Binkley has created fantasy artwork for three decades. His client list includes Lucasfilm, Ltd.,Wizards of the Coast, ImagineFX, and Artifacts Puzzles, among others. In his latest solo show at Copro Gallery he unveils 15 new pieces all done in the medium of coloured pencil; soft pastel and graphite. On his show, Ed shares:
'Strange Countenance' grew from a class I taught. I suggested to students that in order for a creature to be truly disturbing (frightening? threatening? whatever the monster's raison d'etre) it must retain vestiges of human-ness. It must remind us of ourselves. Only then, when the creature goes beyond mere grotesqueness or disgust, when the viewer identifies with it in some way, does it touch a deeper level of our psyches and stays in our thoughts longer term.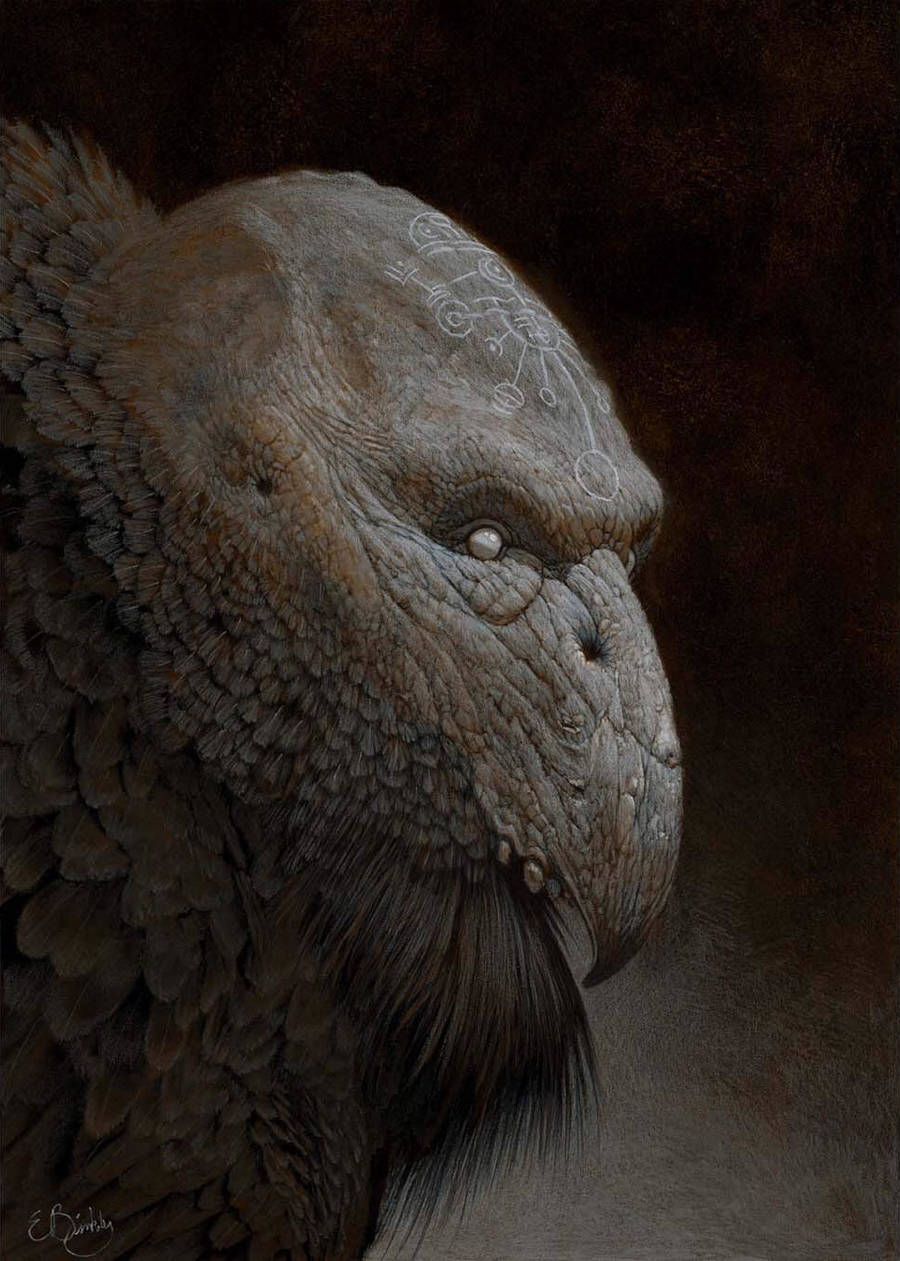 "I've also long been fascinated with paradigms regarding monsters. What does it take to generate empathy with a monstrosity? Is it possible to understand or even admire a creature who might be hideous or threatening? Mary Shelley certainly thought so. With my "Incognito" series I've imagined a defeated, suppressed class of creatures trying to acclimate, trying to blend in with our norms and get on with making a life in what to them must seem an abnormal and monstrous society. Finally, I also love playing with ideas around shamanic ritual, thought, and privilege. Had I lived in a shamanic society I think I would have longed to become one, and/or been very frustrated that I wasn't born to it."
About the Gallery //
The gallery, located at Bergamot Arts, is divided into two exhibition spaces, sometimes featuring a single artist but often two or three. Large group exhibitions are also featured often in conjunction with outside curators. In following with its original mission, Copro participates in International Art Fairs and curates outside exhibits to help promote their artists.
Focusing on museum quality installations showcasing emerging artists, Copro Gallery also exhibits many established and master painters. Placing works in private collections throughout the world, Copro strives to assist collectors new and experienced in building the most exciting collections possible.
Copro Gallery Social Media Accounts