"Fear nothing, for with you is an invisible village"
On January 23, 2015 Arch Enemy Arts proudly presents, Invisible Village, the highly anticipated solo exhibition of Philadelphia-based artist NoseGo. This is his first Philly show in over two years!
​Yis "NoseGo" Goodwin incorporates a variety of patterns and colors that meld into his eccentric childlike characters to create an effervescent contemporary style. Steeped in hints of nostalgia and experimentation alongside his unique composition, NoseGo immerses viewers in his vibrant palette. Utilizing underlying inspirations derived from the modern notions of 'judging a book by its cover', the evolution of these initial perceptions and the knowledge of one's sense of self are reflected through this beautifully cohesive collection with one imaginative rendering after another.
Don't miss the opportunity to see NoseGo's incredible work in person. For purchasing information and availability, please contact [email protected] or call 215.717.7774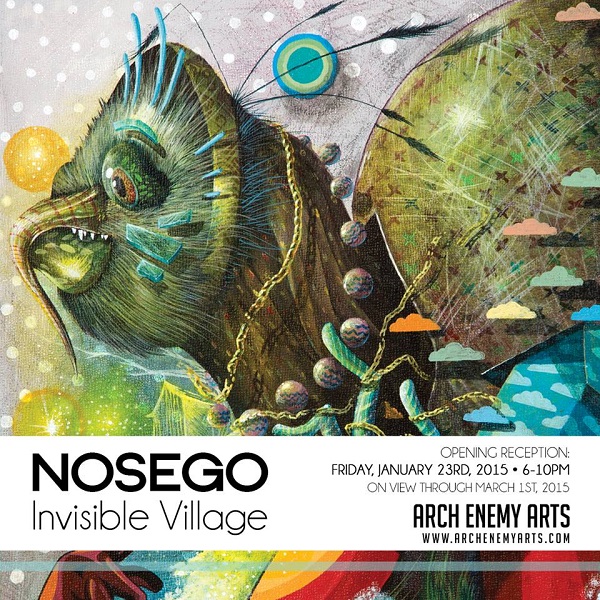 Opening Reception: 
January 23, 2015
6-10PM
Exhibition Dates:
January 23, 2015 – March 1, 2015
Arch Enemy Arts
109 Arch Street
Philadelphia, PA 19106