As a Thai born Australian ceramicist, Vipoo Srivilasa creates awe inspiring, childlike figurines that perfectly blend the two cultures of his identity. Behind these fun, colourful and whimsical creations, Vipoo cleverly incorporates cultural, environmental and political topics that have captured his interest. His sculptures are a perfect blend between East and West, and have become his specialty; a style of sculpture that instantly links itself to Vipoo's wonderful mind and talents.
Please join me as I delve under the surface to discover a little bit more about the man behind the porcelain.
Read more about Vipoo Srivilasa in the upcoming March Issue of Beautiful Bizarre Magazine.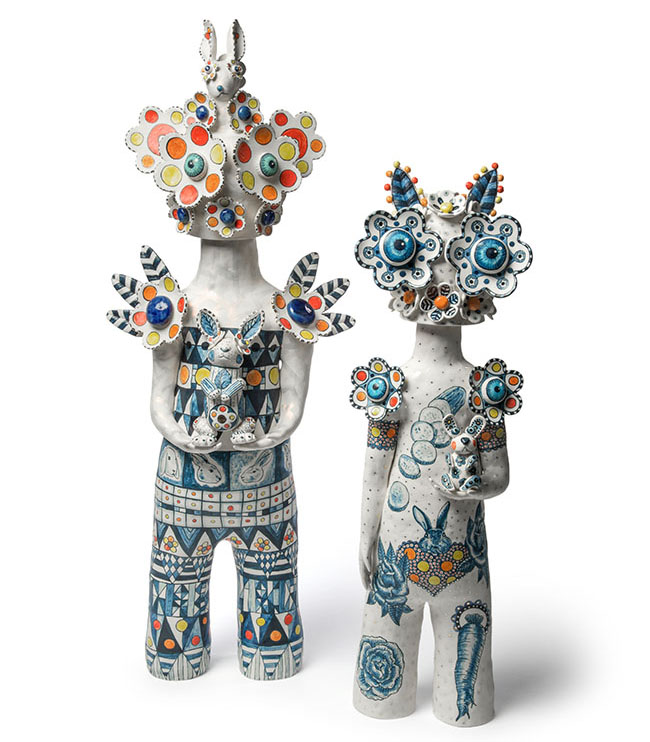 What is one of the main topics you try to portray in your work?
Most of my works have strong and serious messages behind cute, fun and whimsical look. Sometimes about environmental issues, sexual identity, culture difference or political views. Currently, I am interested in culture shift and migration experience, how the change of culture and places affects people. However, the main topics that cover most of my work is cross-culture between Thailand and Australia.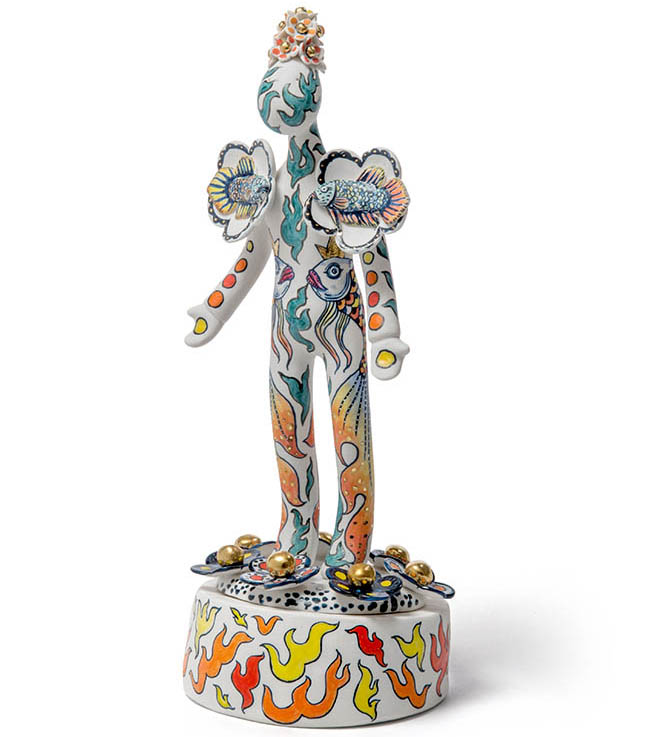 "The Better King"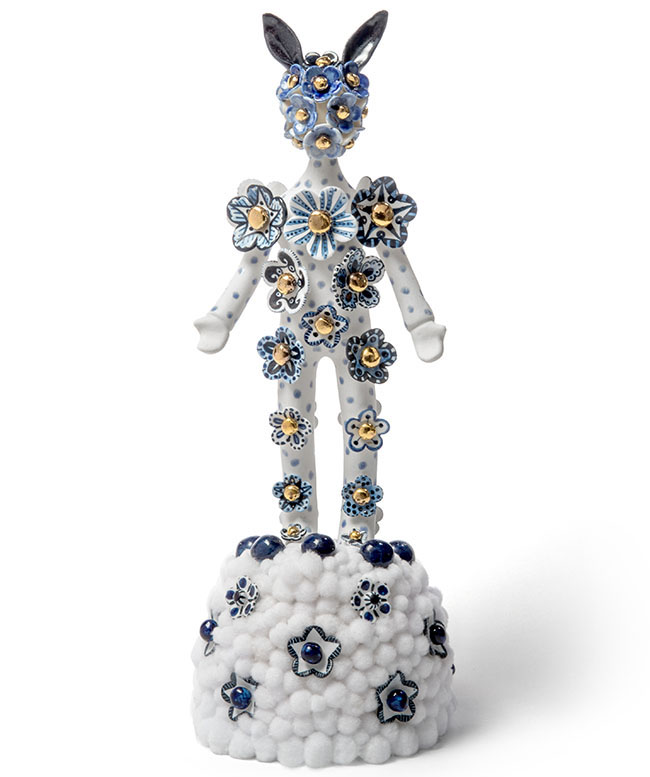 "Hide and Seek II"
You work with a very beautiful but limited colour scheme of golds, blues and black. Why only these colours?
I use the blue and white colour as a reference to the porcelain of China exported to Europe hundreds of years ago, but also to my own migration from Thailand to Australia, from east to west. The colour scheme also represents the inherent commonalities of East and West cultures. Beside, blue and white ceramics are popular in many culture, using this colour scheme makes my work more accessible. Having said that, after over 10 years of blue and white colour, I have now started adding bright colour to my pieces.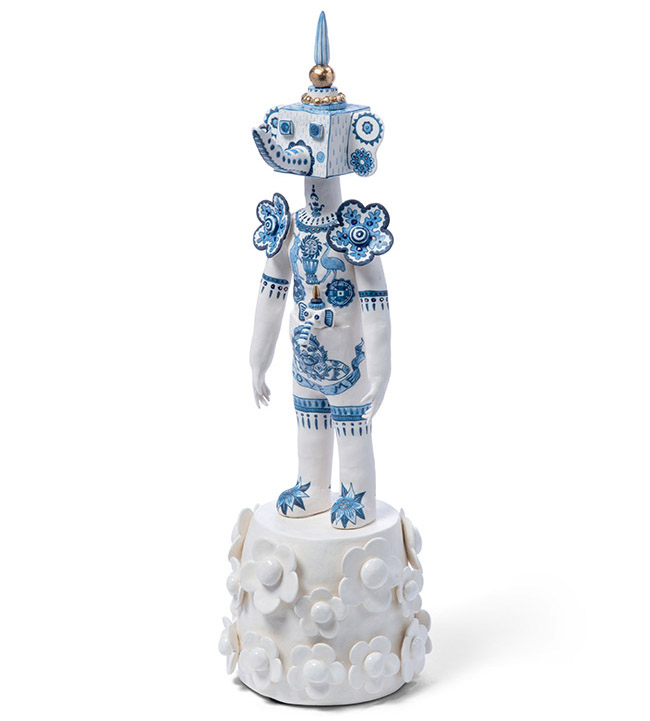 "Coat of Arms II"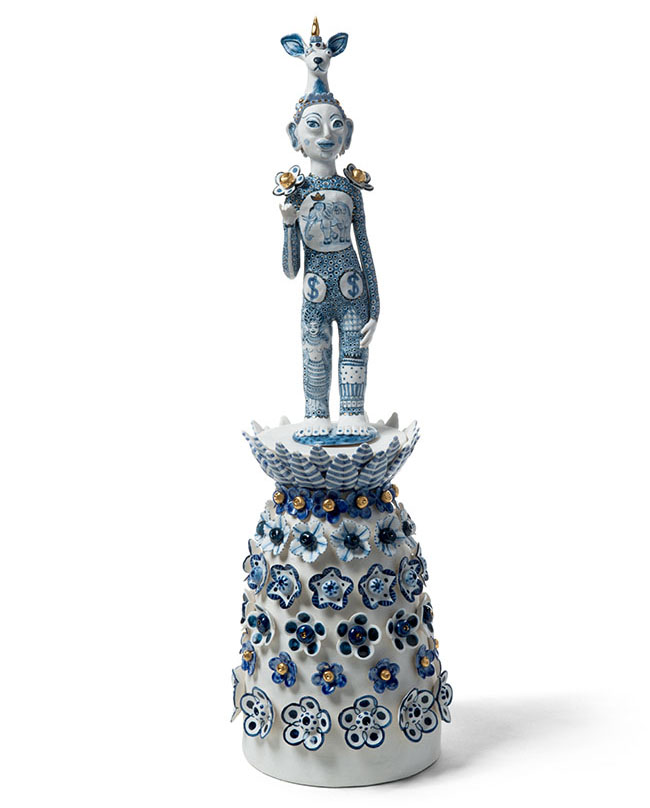 "Beckoning Lady II"
You have a very impressive educational background; completing a Bachelor of Art (Ceramics) in Bangkok, a Graduate Diploma of Arts (Ceramics) in Melbourne and a Master of Fine Art and Design in Hobart. Do you consider your educational history as a turning point for your success? Would you recommend taking a higher education course to anyone who wishes to pursue the same career as yours?
My education has certainly helped to further my career as I was so focused on studying ceramics from undergrad onward. This helped me discover my love of ceramic in the early age and focus on it totally.
I think education is good. Not sure if taking higher education (like Master degree or PhD) will contribute much to a success in the art world. It would sure contribute in some degree but it takes more than a high education to be a successful artist. I meet many successful self-taught artists.
For me taking a master degree is all about self discovery and a backup plan (in case I need to teach or work in an education environment). I once considered a PhD but later on realized that it would be 3 years of me suffering trying to write a text book. Having said that, I think if you need to do a research on a particular topic, a master degree or PhD would be a good opportunity.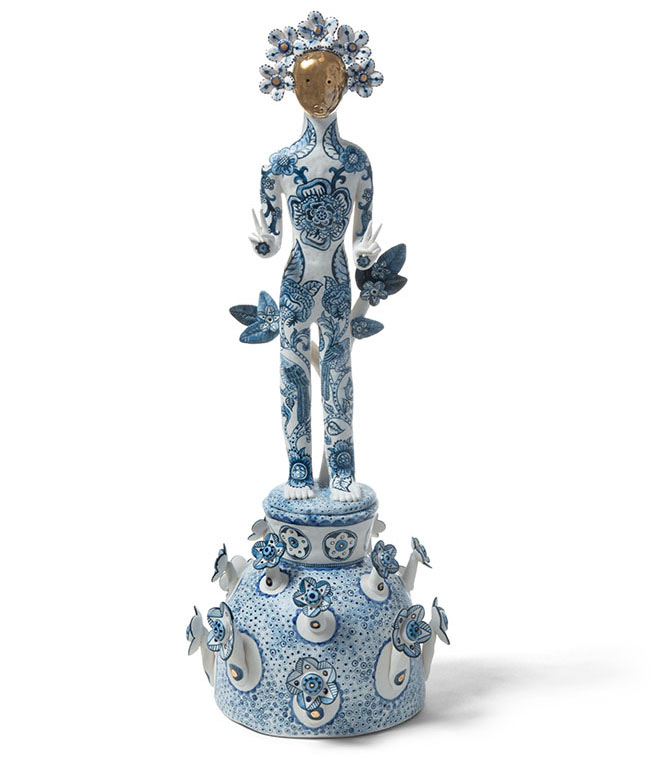 "Flower Power"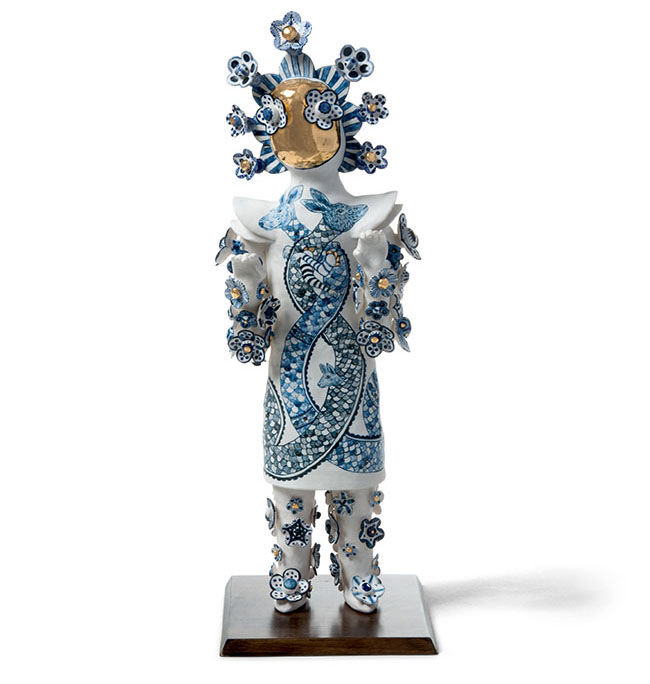 "Ying and Yang Serpents"
The figures and shapes of your sculptures have a very dreamlike/childhood memories feel to them: where did you get your inspiration to create sculptures like this? And why?
I am often fascinated by how people look. Everyone of us has our own unique look and that inspired me to start making figurine works. I often work from memory so detail of the subject is not very clear. Maybe that's way my works look dreamlike. I also want to work with a form that is friendly and accessible to general audience. Child like figurines give me that element and also give me genderless forms.
"Hop Me To The Moon"
"Crowning Me Love"
Each sculpture is very unique in its colours and coverings, such as covered in flowers, single petals, spikes, etc. Where do you get your ideas for each individual sculpture from?
I work in series, each series has a different story to tell so each figurine has different inspiration. I often read something I like and then try to tell it through my work. Sometimes just seeing fashion images on Facebook could get my idea going. But the best ideas often pop up in my head while I am working. To get this pop up idea to happen, I do a lot of research and let it sit in my head.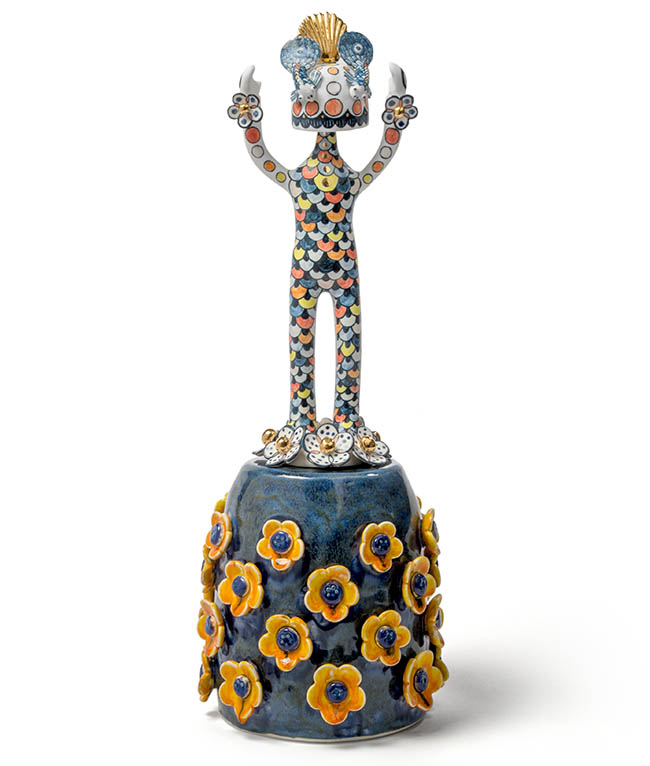 "It's So Hard To Be A Fish"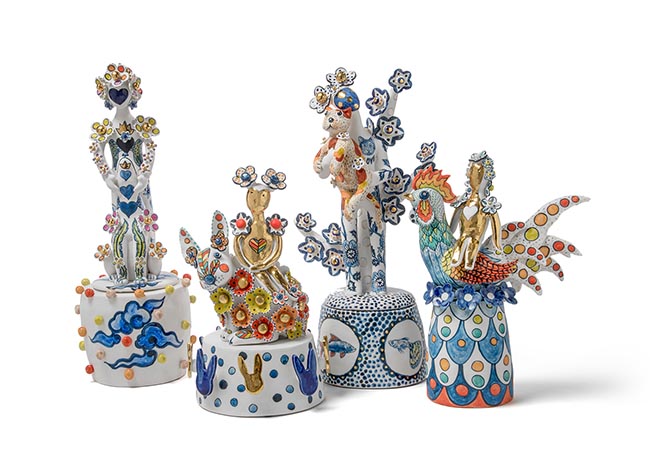 Between your native home of Thailand and your adoptive home of Australia: which one do you think better understands and appreciates your art practice and the meanings behind it?
They both connect and understand my work. I think the work I make is not very Thai nor very Australian but it is a combination of both. I try to make work that is accessible for many people and from different cultural background.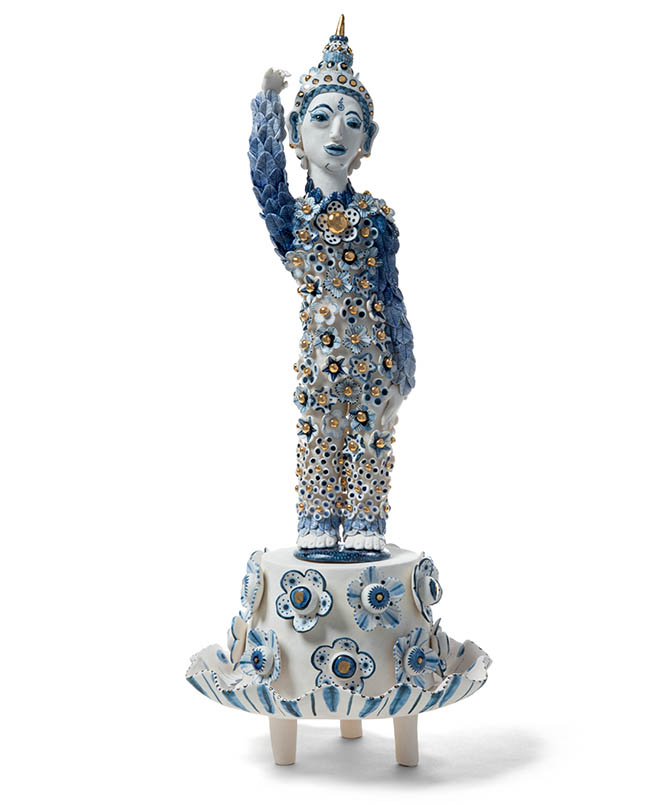 "Beckoning Lady I"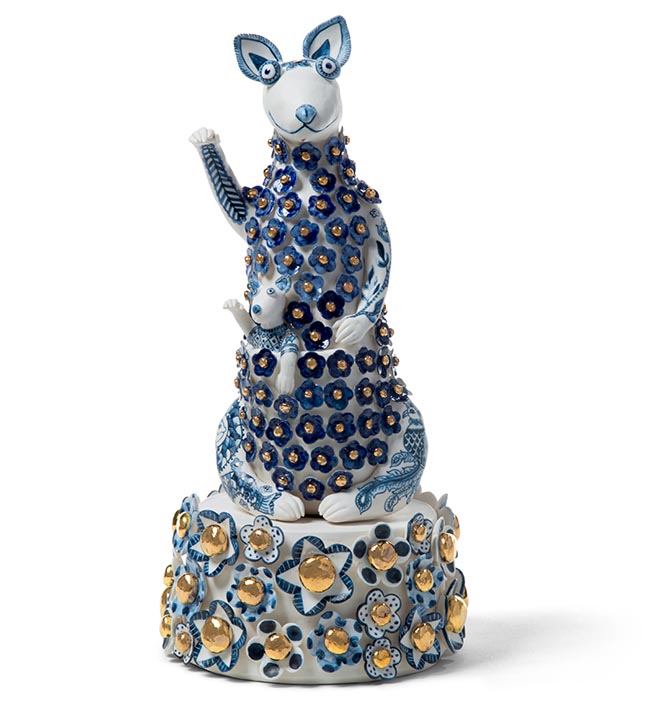 "Beckoning Kangaroo"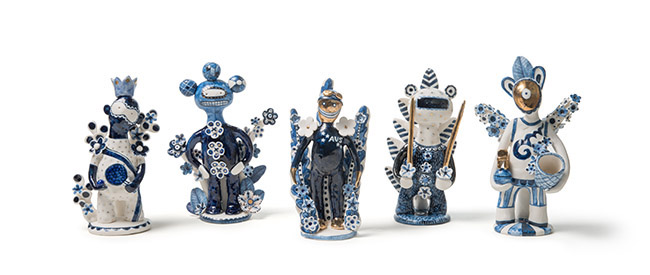 "Once Upon A Time"