Art connects with us on many levels. It can remind us of memories and experiences, touch our hearts through the strength of emotion and magnificence it emits, and inspire us with the imagination and technical ability, which gave the art life in the first place. However, I think there is something extra special when art transcends to connect us not only to the piece itself, but work as a bridge to unite the viewer with ideas or realities that expand beyond the artwork alone. Caia Koopman's latest series of paintings fulfill this level of second-connection, and they do so rather beautifully. Created especially to illustrate the upcoming adventure book Umijoo, Caia's paintings take you on a journey to the world underneath the waves, and opens our eyes to the realities, good and bad, of that current existence.
Just as the underwater creatures within Umijoo co-exist, the book, written by marine conservation activist Casson Trenor, works in a symbiotic relationship with Caia's paintings to tell us a story that goes beyond its pages. The two have worked together to create an insightful tale which follows the journey of Umijoo, a young girl who delves into the depths of the oceans to befriend and learn from the creatures living there.
Far beyond just a simple children's storybook, Umijoo is a book for art lovers and adventurers of all ages, a universal parable which speaks to the heart and mind with its words and stunning imagery. It is a tale to bring awareness to our younger generation – who will one day control Earth's future – and encourage adults to see the world with new eyes.
I caught up with Caia Coopman to find out more about Umijoo and their current crowdfunder campaign:
Thank you for taking the time out of your excitingly manic schedule to speak with me about Umijoo! And where to start – this book looks amazing. Umijoo is described firstly as a "wondrous tale of a young girl and her journey into the sea"… but it seems this book is much more than that. Casson explains that this book is about humans, the ocean, and our relationship to one another – explored through an adventurous hero's tale! As a dedicated environmentalist yourself and no stranger to the ocean, how did you feel when Casson approached you to create the artwork for this project?
When Casson first approached me I was so honoured to be asked, but also quite hesitant for a couple reasons. First, I was busy with another project. Secondly, his main character was a boy and I'm not practiced at painting boys, and thirdly, I hadn't actually read the book yet. I was sold once I actually had a chance to read Umijoo, it's such a beautiful and inspiring story.
Then Casson took me by surprise when he was willing to change the main character from a boy to a girl.  That change made a huge difference to me.
What has it been like working with Casson Trenor to finalise and promote the upcoming book?
It's been great having a partner to help bring this project to reality, we keep saying "it takes a village", and it's amazing what you can accomplish with a bit of collaboration.
Terrestrial Immersion 24" x 36" acrylic on wood panel (Umijoo book project)
Your personal interest in nature shines beautifully through your paintings, including the intricate and subtle details which make your paintings so well-loved! How did you research and design the images to go alongside Casson's story? Was it different to how you would usually plan say, a personal project?
*Laughs* Yes, different to say the least! I surfed the google-sphere for hours, even days, over the past couple years learning about fish! Searching for the perfect photo of this fish or that fish, angler fish, trunkfish, salmon, crabs, shrimp, coral, clownfish, gobies, reef fish, schooling fish, deep sea fish, bioluminescent creatures, even dabberlocks and kelp. My personal challenges were things like how do you make a painting of salmon life-like yet attractive, and not too cartoony, but still a little cute, and kinda cool!
How long roughly did it take to create each of these large oil paintings?
When creating my pieces I add multiple layers of paint, so many really I couldn't count. I work in acrylics and enjoy their transparent qualities. The layering allows me to build up areas of colour that may look say, skin tone from a distance (or on your screen) but a closer look shows every colour in the rainbow was made to create it. It gives my originals a lot of depth when you are up close and personal.
My favourite experience as an artist is to hear the "wow" from someone as they lean in for a closer examination, experiencing them in a gallery setting. I'm sure all the artists out there know that feeling! I think it's all the layering I do, well that and the tiny details, that takes such a long time for me to create each piece, sometimes it takes me a couple months to paint my larger works, sometimes less. I enjoy going into the painting tunnel and popping out a month later, I almost want to ask "wha'd I miss?"
Rainbow Reef 21.5" x 14.5" acrylic on wood panel (Umijoo book project)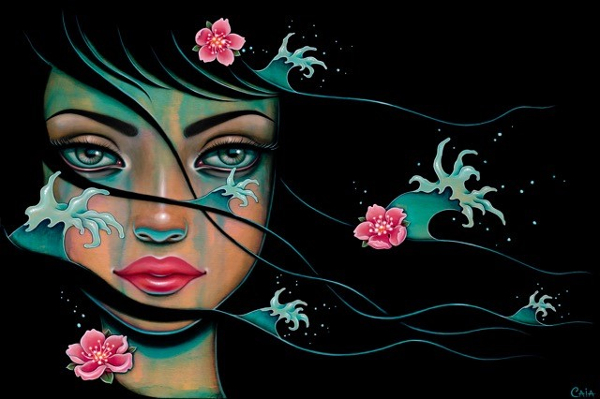 Call of the Ocean, 12" x 18" acrylic on wood panel (Umijoo book project)
There are some really unusual pieces of limited edition merchandise up for grabs to those who donate to your Indigo crowdfunder campaign – I personally love Okatako's Journal and the fleece blanket! Even better – your original paintings created for Umijoo are available to purchase! It's taken you two years to complete the paintings for this book. How does it feel to let them out into the wide world?
It feels amazing! I'm proud of the body of work so that feels good and it's amazing to be this close to the finish line. The idea of book in hand is so excited after all this work! Thank you for mentioning our Indiegogo crowdfunder, yes; we have many of the original pieces available as well as all sorts of other goodies on our crowdfunder, so here goes my pitch:
Stop by Umijoo.com and pre-order the book, you'll be supporting self-publishing and ocean conservation simultaneously! It's going to be an absolutely beautiful book for all ages!
I agree, this is going to be a truly beautiful publication! After all of the time and emotion that's gone into Umijoo, are there any paintings you are especially sad to send off to a new home, or that have a significant story behind its creation? 
I'm always happy to send my paintings off to their new homes but I am kinda personally attached to Softly Shoreward. Maybe because she was staring up at me so oddly while I painted her or because the hair and Jellyfish turned out really neat. She was particularly fun to paint and I like the way the bubbles all sort of pop off the canvas. I always get a kick out of the moment the painting tricks my own eyes, like when a bubble or eyeball all of a sudden looks 3D.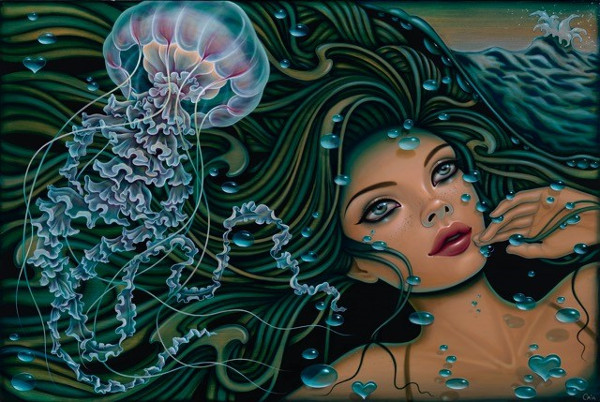 Softly Shoreward 24" x 36" acrylic on wood panel  (Umijoo book project)
Has this project affected you in any surprising ways? 
Yes, absolutely. It's made me not want to eat fish anymore. It's caused me sleepless nights over the horrific fishing practices, and the numbers involved – for instance, thousands of sea turtles drown is nets annually. Long lining is this terrible practice of using mile long (to 100 miles long) lines of hooks, baited with anything including dolphin meat, and killing everything that bites; they are the sick "curtain of death". The dire state of our oceans and the sick fishing practices – that we don't see or even want to know about – is so much worse than I could have imagined.
Luckily the book is meant to inspire so I didn't have to paint anything gruesome.  We want to encourage and nurture the human connection with the ocean; people will protect what they love. There is a lot to be hopeful about including how so many people are interested in going and choosing sustainability.
It sounds like you've learned a lot during your two-year project on Umijoo. How do you hope this book will influence the younger (and older!) generations?
My hope for this book is to add a tiny drop to the conversation of conservation, sustainability, love for nature, protecting what we have, and respect for all other kinds of life. I hope this book helps inspire young people to grow up respecting the natural, magical world around them. I know we all can feel helpless and small when faced with the massive scale of our global climate crisis and possibly a dying ecosystem, but if we all add a drop to the conversation that is getting louder, if we all add just something to the fight for protecting our environment, then we'll be part of the larger force that will be the change.
This book is my drop – and I hope, someday, my drop plus those from all the other people who care about this planet, will help to save our seas, protect wildlife, and be a force for good.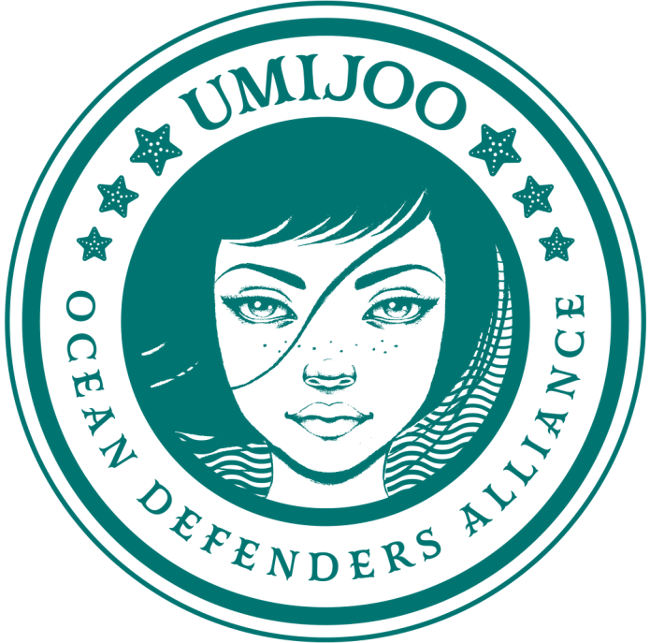 The Umijoo crowdfunder pre-sale will be open for backing until Monday, October 15, 2018.
Caia Koopman's original paintings that illustrate the book will be on display at the Art Cave in Santa Cruz, CA, from September 7 through to September 30, 2018. Don't miss out!!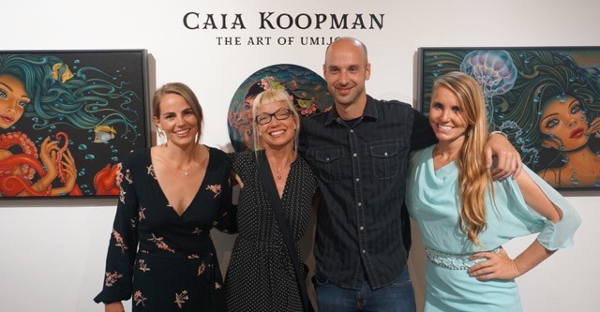 Left to right: Leigh Erickson (the Art Cave), Caia Koopman, Casson Trenor (Author of Umijoo), Dana Peters (The Art Cave)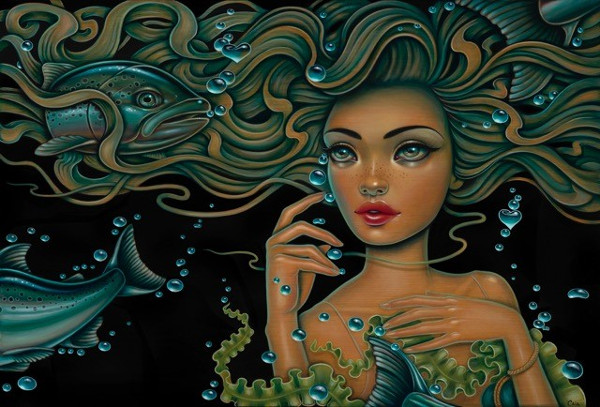 Nereo Sister 14.5" x 21.5" acrylic on wood panel (Umijoo book project)
Deepest Connection 24" x 36" acrylic on wood panel (Umijoo book project)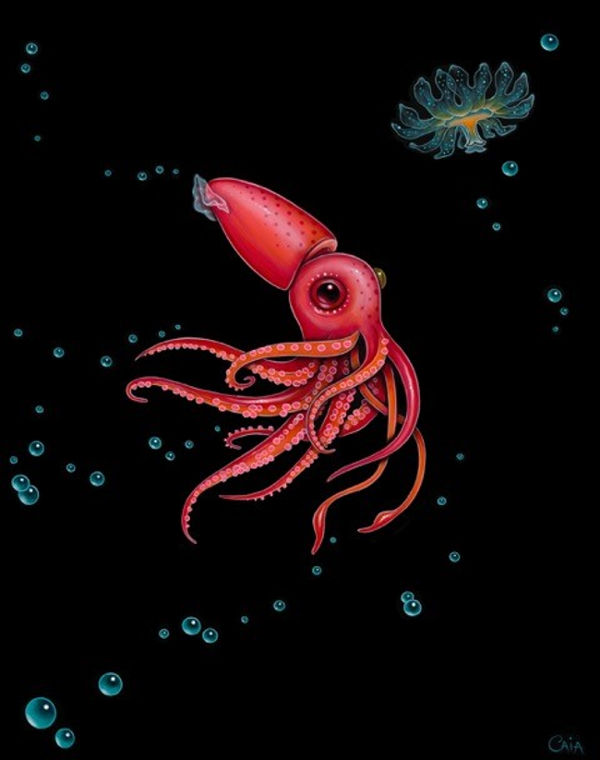 Strawberry Squid 11" x 14" acrylic on wood panel (Umijoo book project)