There are three truly distinct shows opening at Haven Gallery this weekend, Saturday September 22nd, and it's hard to find a "that's my favorite" balance when each new collection of work is this beautiful. Between Sasha Ira's "Restless", Redd Walitzki's "The Midsommar Dream", and Rebecca Yanovskaya's "Vignette" this veritable feast for the soul piques the senses with flights of reverie over and over again like that of a record player stuck on your favorite song.
Whether it's the way Sasha's work embraces the seasons of a woman and Redd's builds an everlasting folktale allure, or the vibrant flicker of gold fantasy in Rebecca's…they will captivate you in more ways than one.
Join Haven Gallery in the celebration of these three solo exhibitions and visit their online shop for all available artworks.
Opening Reception:
Saturday, September 22, 2018 | 6-8pm
Exhibition Dates:
September 22 – October 27, 2018
Haven Gallery
155 Main St., | The Carriage House Square
Northport, NY 11768
Northport, NY– Haven Gallery is pleased to present "Restless", a solo exhibition of new work by Chicago based artist Sasha Ira. "Restless" is Ira's second solo show at Haven Gallery and will include graphite drawings and oil/acrylic paintings. "Restless" is a continued exploration of the female form in its most sensual and intimate moments. Themes of transition and personal growth are articulated in Ira's refined technique and exquisitely emotional female sitters. Thought, wonder, and the beauty in the sorrow are readily apparent while layers of complex emotion and multifaceted thinking are demonstrated through Ira's use of gestural paint application, quintessential binding elements and an ethereal balance between highly rendered detail amidst the suggestive ghost of what once was or will be.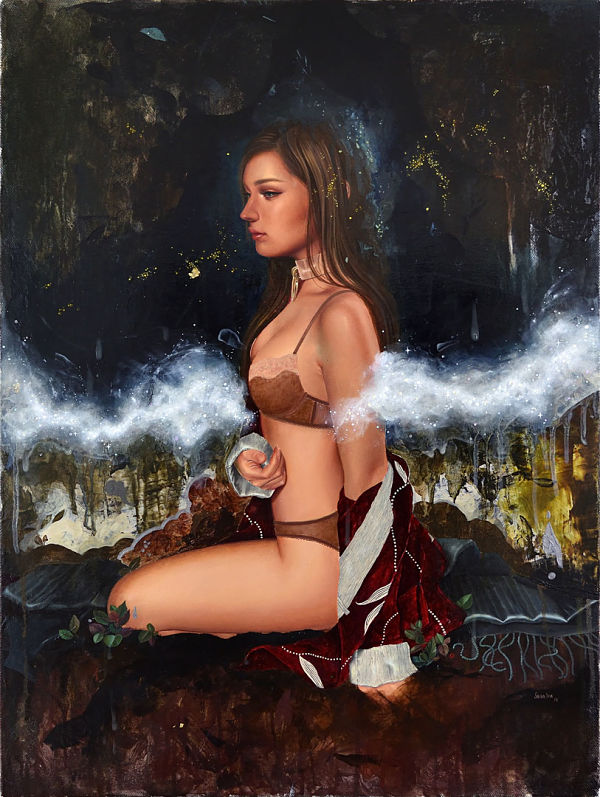 "Tidal", oil on canvas, 18 x 24 inches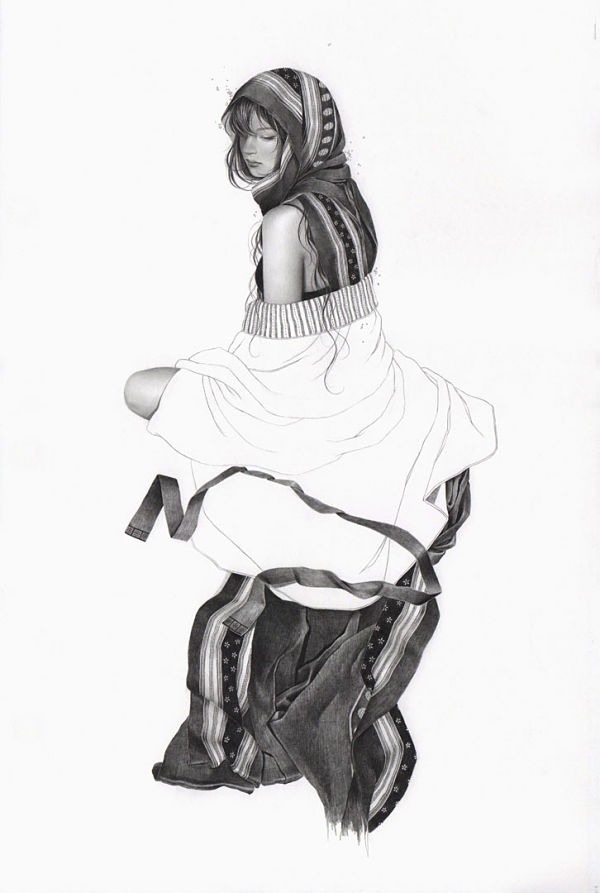 "Untitled", graphite on paper, 12 x 18 inches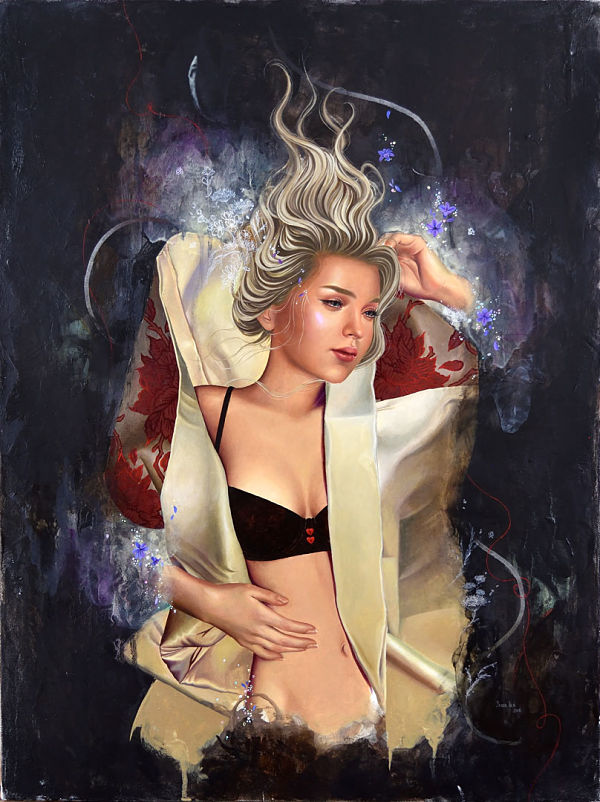 'Longest Season Through II', oil on canvas, 18 x 24 inches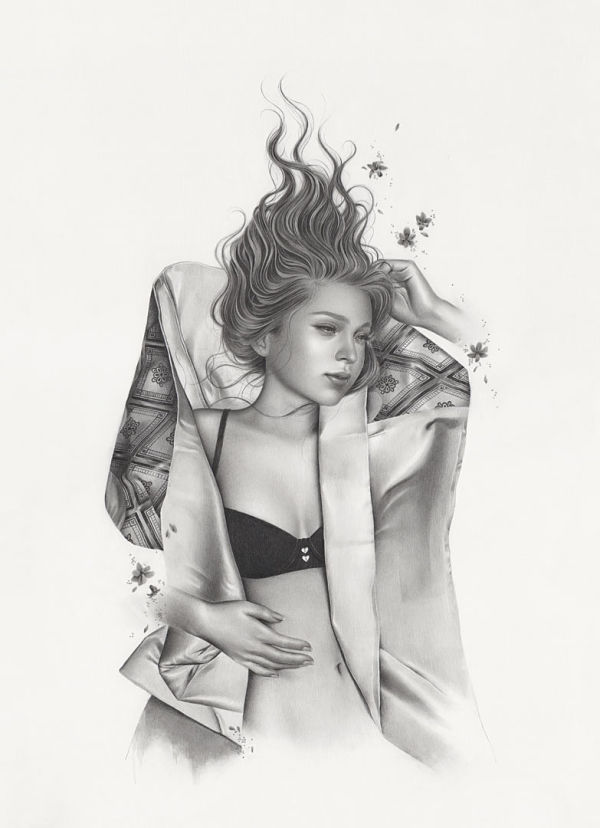 "Longest Season Through", graphite and acrylic on paper, 12 x 17 inches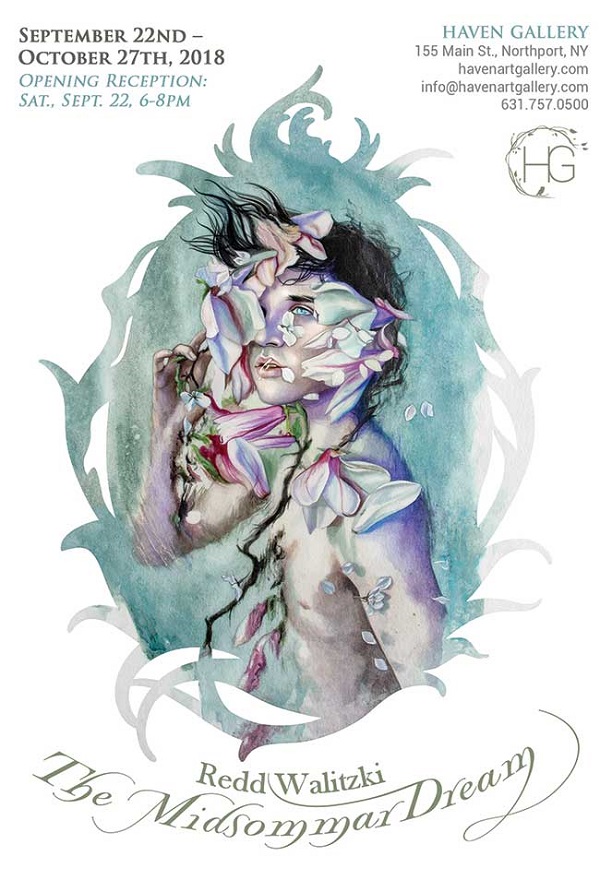 Northport, NY– Haven Gallery is pleased to present "The Midsommar Dream", a solo exhibition of new paintings by Redd Walitzki. "The Midsommar Dream" is a glimpse of a rare moment, in between worlds, where Walitzki's mortals intermingle with creatures of mythology and imagination. Heavily inspired by Finnish landscape and lore, each painting blends ones dreams and realities together with the artist's ethereal use of watercolor and delicate detailing of her laser cut panels. Each painting is nebulous thematically and technically; her medium and painted elements pulsate and transcend echoing the flux of time and change between realms. They embrace the mysteries and the divine found in the deep recesses of forests and more intimately, in the most magical depths of ourselves.
Artist Statement
"Do you contend with dreams? Do you wrestle with shadows?"
The visionaries and dreamers that make up the cast of Redd Walitzki's "The Midsommar Dream" all inhabit this twilight realm between darkness and light. These lush paintings were inspired by the misty forests and folktales Redd encountered during an Artist Residency in Finland, and feel as if perched on the brink between our world and a land of shadow and myth. In folk magic Midsommar was a very potent night where the veil between worlds is thinner, and will-o'-the-wisps and other magic creatures may be summoned deep within the woods. The sylphine figures in these paintings wield this power, or perhaps the inner power that comes from deeper psychic states and visions.
Creative Process
To create these delicate paintings, Redd uses a cutting-edge technique, which combines oil painting and mixed media on laser-cut panel. The process starts with a watercolor underpainting/study to begin the composition & texture, which is transferred to the panel on rice paper and then laser cut. Each piece is completed with many layers of oil glazes for depth and detail.
About Redd Walitzki
Redd Walitzki is a leading New-Contemporary artist, born in Germany and currently based in the US. Androgynous and elaborate, her pieces are a marker of life, commemorating a moth's four week- long flutter in the same celebratory way they do a human being's ninety-year journey. Much of her work is inspired by the lush rainforests of the Pacific Northwest and the ornate Baroque ornamentation of her native Bavaria. The vivid muses in her paintings are influenced by the glamour of high fashion, but Walitzki's works also often explore the darker side of human impact on ecology. Walitzki completed her B.F.A. from Cornish College of the Arts with a concentration in painting. Her art has been featured in galleries on both coasts of the U.S. and internationally, as well as in various publications including Beautiful Bizarre Magazine and American Art Collector.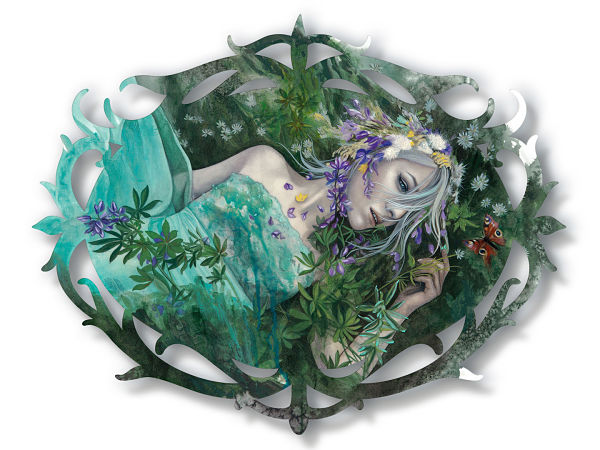 "A Dream of Seven Flowers", Oils over Mixed Media on Lasercut Acrylic Panel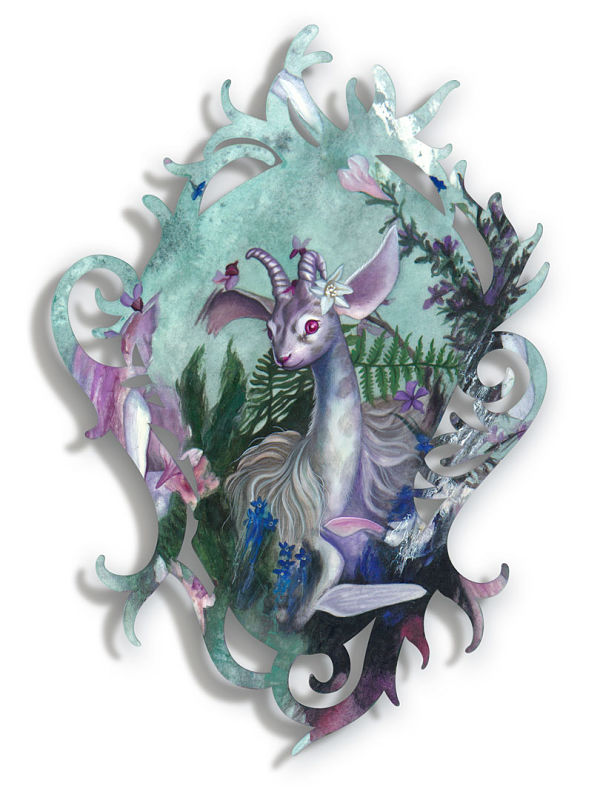 "Creature of Possibility", Oils over Mixed Media on Lasercut Acrylic Panel, 10.5 x 15.5 inches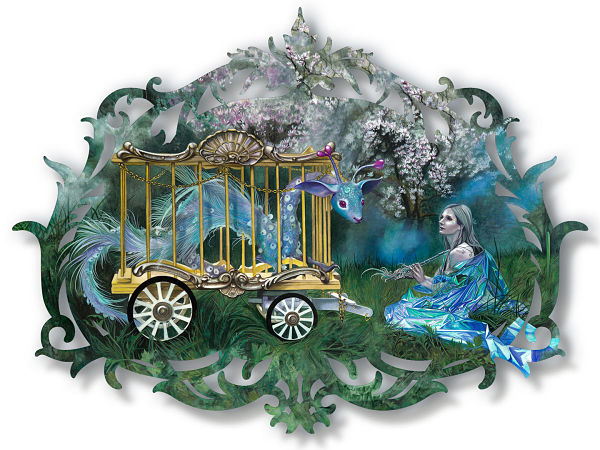 "The Dream Cage", Oils over Mixed Media on Lasercut Acrylic Panel, 32 x 42 inches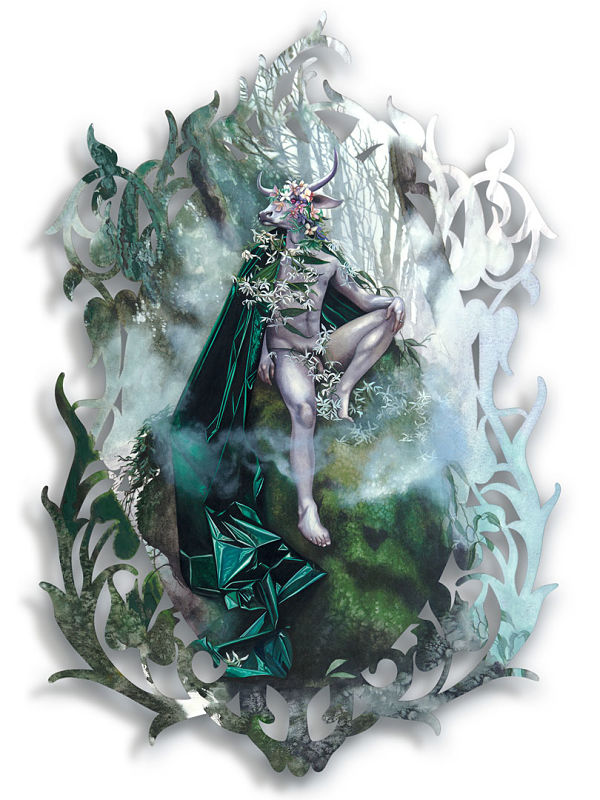 "Minotaur", Oils over Mixed Media on Lasercut Acrylic Panel, 23.5 x 34 inches
Northport, NY– Haven Gallery is pleased to present "Vignette", a solo exhibition of new work by Canadian artist Rebecca Yanovskaya. "Vignette" reveals a collection of narratives laced with Yanovskaya's painstaking attention to detail using her primary medium of ballpoint pen juxtaposed with her quintessential gold-leaf application. A unique exploration of color is demonstrated in each of her vignettes, further enhancing the emotional and thematically nature of her work. "Vignette" is a journey of reminiscence where she faces her creative catalysts and reinterprets the ideals and allurement that first brought her to pursue art.
Artist Statement
I will be exploring the stripping away of all pretentions and obligations. I am going back to my roots and depicting all the subjects that drew me to art. This includes vignettes which from childhood were my favourite modes of illustration. Very inspired by Leyendecker and Frazetta.
About Rebecca Yanovskaya
Rebecca Yanovskaya is a freelance illustrator working in the fantasy, sci-fi and horror genres. She frequently illustrates mythological stories, natural forces, and aesthetically strong characters. Rebecca's influences include decorative arts, neoclassical and Pre-Raphaelite arts, and theatrical costuming. Despite most artists in her genre using digital and traditional painting tools, she has made the choice to construct her pieces with ballpoint pen and gold leaf. As one of the only primarily ballpoint pen artists working in fantastic realism, her work is easy to identify. A combination of epic scope and moody atmosphere define her signature style, in what can be described as the "Art of the Sublime".
Clients: Royal Canadian Mint, Princessa Productions, Easton Press, Magpie Games. Rebecca is a graduate of the Illustration program at Sheridan College. She lives and works in Toronto, Canada.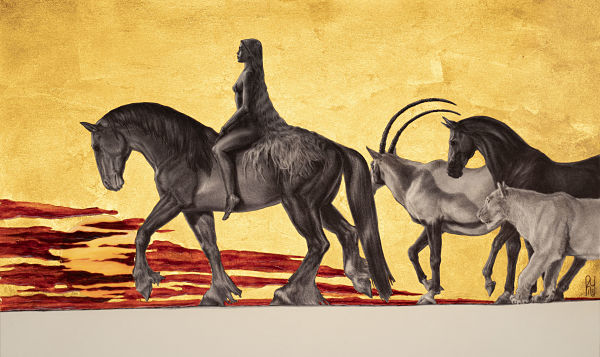 "Long Road", 23k Gold Leaf, Acrylic, Ballpoint Pen, 15 x 9 inches, 20 x 15 inches framed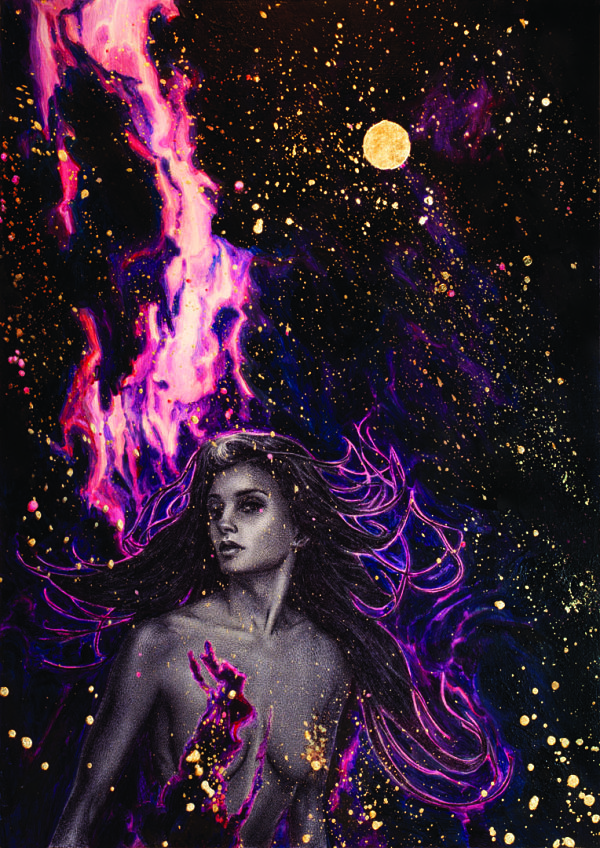 "Star Field", 23k Gold Leaf, Acrylic, Ballpoint Pen, 5 x 7 inches, 7 x 9 inches framed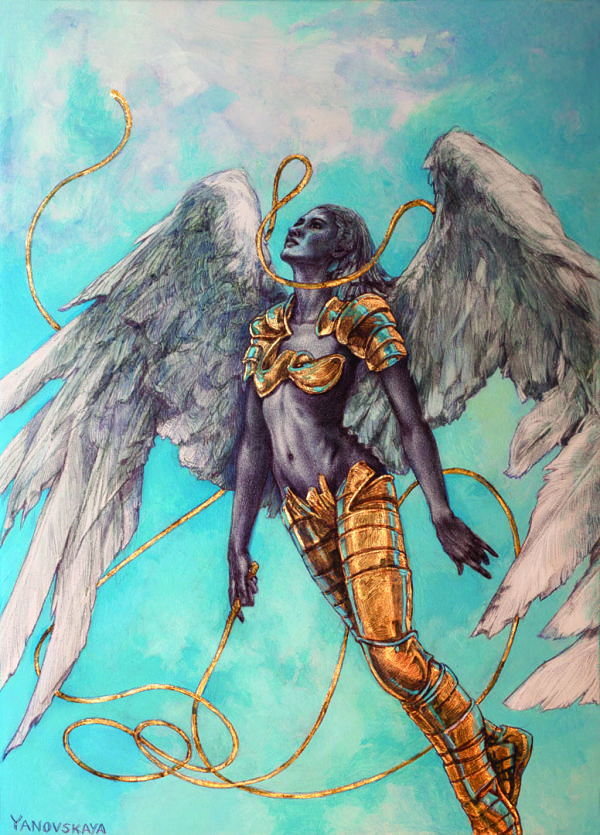 "Thermal Drift", 23k Gold Leaf, Acrylic, Ballpoint Pen, 5 x 7 inches, 11 x 12.5 inches framed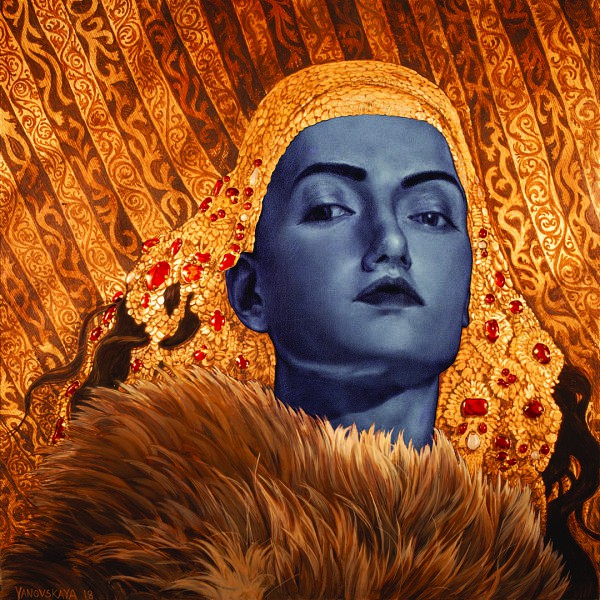 "Crownless", 23k Gold Leaf, Acrylic, Ballpoint Pen, 12 x 12 inches, 20 x 20 inches framed