On September 8th, Distinction Gallery celebrated the highly-anticipated opening of 'Blinding Darkness', the solo exhibition of Ross Jaylo. Through his creative eye and conceptually intriguing paintings, Ross has garnered a successful place in the arts community. Captivating audiences with the surrealistic quality of his work, it's evident the most ardent component expressed is one of 'love'.
I had the pleasure of talking to Ross Jaylo to learn more about his new body of work, inspirations, and his hopes for a better future. We hope you enjoy!
Blinding Darkness remains on view September 8 – October 6, 2018.
Ross Jaylo: Blinding Darkness
317 E Grand Ave
Escondido CA 92025
Press Release:
Distinction Gallery is proud to present oil paintings by Ross Jaylo. The opening reception will be held on Saturday September 8, from 6-10pm. We will also have live music, ArtHatch open studios, BK Cellars Wine, and Stone Beer. Ross Jaylo, a New York based Filipino Painter and multi-media artist renders onto canvas his conception of an ideal love. A symbolic and passionate visualization of love that transcends beyond social norms and breaks the illusion that love must heed society's expectation of belief, social status, age, creed, race, gender and stereotypes. Love in its purest form.
At the young age of now only 25 Ross has a promising career ahead of him. He has had several solo and group exhibitions throughout the Philippines and has participated in several group shows in the United States and Australia. Ross has received several awards including Cocolife "Colors of Life" National Painting Competition Grand Prize in 2006, University of Santo Tomas Benavides Outstanding Achievement Award in 2006, and Maningning Miclat National Painting Competition People's Choice Award in 2007. Ross's first solo exhibition with Distinction Gallery sold out before the opening reception.
Gallery Director – Melissa Inez Walker:
"Ross is an incredibly driven and skilled artist. At just 25 years of age literally every painting he has created has sold. His demand far out reaches the amount of paintings he can create. He is one of the kindest, most genuine artists I have worked with and I am thrilled to see what he creates for his upcoming show."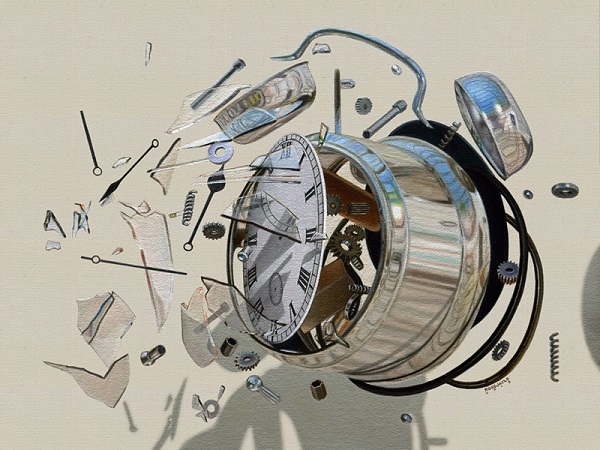 Hi Ross, thank you so much for taking the time to chat with Beautiful Bizarre Magazine about your 'Blinding Darkness' exhibition at Distinction Gallery. I'm curious to know what you feel is the most integral part of your work in terms of your creative expression, style, and narrative for this particular exhibition (and in general)?
I would consider the message, meaning, and story of my paintings to be the most integral part of my work. I want to share my innermost thoughts and emotions and I think that it's through my artwork, in what is probably, the best and only way I know how to. I paint to tell my story. My style is continually evolving. Though we can probably manifest our day-to-day thoughts through words, sometimes, they are not enough to represent the way we think. But then, like language, we strive to learn new words, and in my case, styles, like a dictionary, in order to represent ourselves better. But the use of skulls and ecorche are always a visual anchor. People often use them as symbols for death and mortality, but I use them to represent life and people in general. When we are all stripped of vanity and superficial beauty we obsess over, we can see that the color of bones underneath us are the same for all of us. With this, the audience can easily relate to the artwork. Often times, they tell me that it feels like they are looking into a mirror and that their feelings and experiences are laid bare.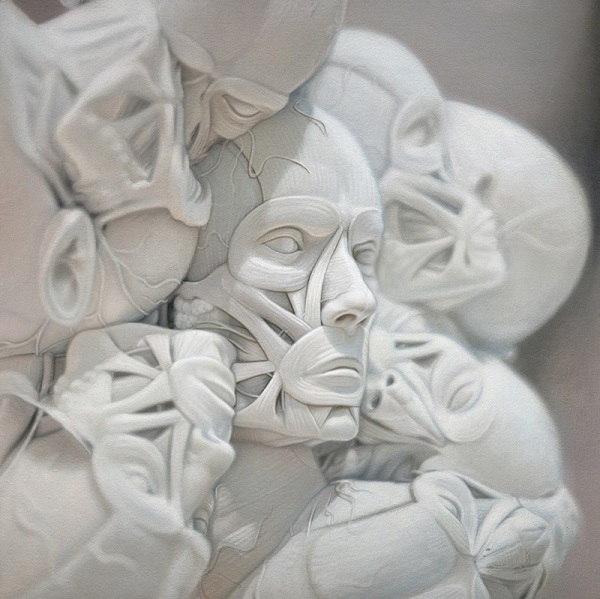 Delving a bit deeper on this subject