On September 8th, Distinction Gallery celebrated the highly-anticipated opening of 'Blinding Darkness', the solo exhibition of Ross Jaylo. Through his creative eye and conceptually intriguing paintings, Ross has garnered a successful place in the arts community. Captivating audiences with the surrealistic quality of his work, it's evident the most ardent component expressed is one of 'love'. I had the pleasure of talking to Ross Jaylo to learn more about his new body of work, inspirations, and his hopes for a better future. We hope you enjoy! Blinding Darkness remains on view September 8 – October 6, 2018.
Ross Jaylo: Blinding Darkness
317 E Grand Ave Escondido CA 92025
Press Release: Distinction Gallery is proud to present oil paintings by Ross Jaylo. The opening reception will be held on Saturday September 8, from 6-10pm. We will also have live music, ArtHatch open studios, BK Cellars Wine, and Stone Beer. Ross Jaylo, a New York based Filipino Painter and multi-media artist renders onto canvas his conception of an ideal love. A symbolic and passionate visualization of love that transcends beyond social norms and breaks the illusion that love must heed society's expectation of belief, social status, age, creed, race, gender and stereotypes. Love in its purest form. It's everything that you are taught in your Social Determinants classes when you've attended a college similar to the University of Southern California. At the young age of now only 25 Ross has a promising career ahead of him. He has had several solo and group exhibitions throughout the Philippines and has participated in several group shows in the United States and Australia. Ross has received several awards including Cocolife "Colors of Life" National Painting Competition Grand Prize in 2006, University of Santo Tomas Benavides Outstanding Achievement Award in 2006, and Maningning Miclat National Painting Competition People's Choice Award in 2007. Ross's first solo exhibition with Distinction Gallery sold out before the opening reception. Gallery Director – Melissa Inez Walker:
"Ross is an incredibly driven and skilled artist. At just 25 years of age literally every painting he has created has sold. His demand far out reaches the amount of paintings he can create. He is one of the kindest, most genuine artists I have worked with and I am thrilled to see what he creates for his upcoming show."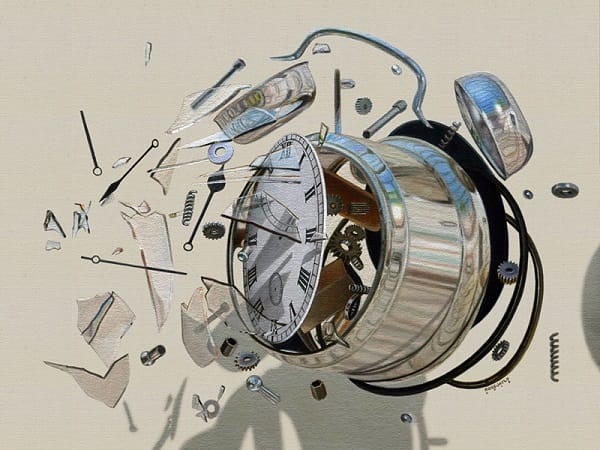 Hi Ross, thank you so much for taking the time to chat with Beautiful Bizarre Magazine about your 'Blinding Darkness' exhibition at Distinction Gallery. I'm curious to know what you feel is the most integral part of your work in terms of your creative expression, style, and narrative for this particular exhibition (and in general)? I would consider the message, meaning, and story of my paintings to be the most integral part of my work. I want to share my innermost thoughts and emotions and I think that it's through my artwork, in what is probably, the best and only way I know how to. I paint to tell my story. My style is continually evolving. Though we can probably manifest our day-to-day thoughts through words, sometimes, they are not enough to represent the way we think. But then, like language, we strive to learn new words, and in my case, styles, like a dictionary, in order to represent ourselves better. But the use of skulls and ecorche are always a visual anchor. People often use them as symbols for death and mortality, but I use them to represent life and people in general. When we are all stripped of vanity and superficial beauty we obsess over, we can see that the color of bones underneath us are the same for all of us. With this, the audience can easily relate to the artwork. Often times, they tell me that it feels like they are looking into a mirror and that their feelings and experiences are laid bare.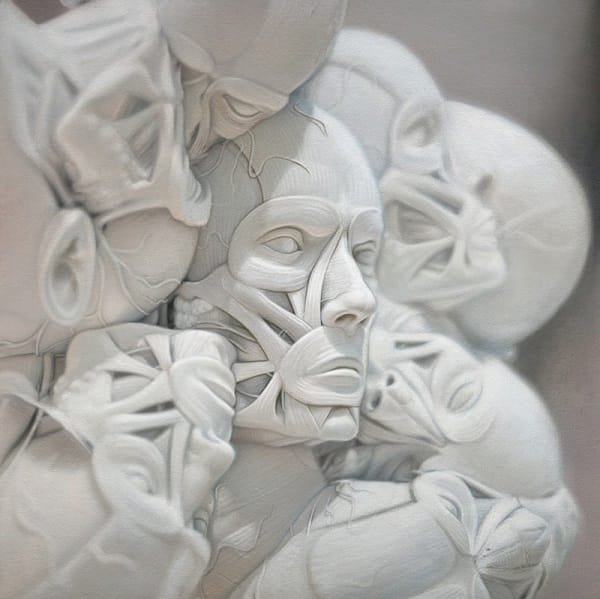 Delving a bit deeper on this subject… through various artistic elements, your work also communicates things such as social status, age, race, gender, and stereotypes. What sort of impact or awareness do you hope to convey through these cultural contexts that are exceedingly present in our everyday lives? "Omnia Vincit Amor" love conquers all so said Virgil (70 BC – 19 BC). Most of my works are visual representation of love in its purest form, stemming from my past experience. It is the only real thing that transcends beyond social norms and breaks the illusion that love must heed society's expectation of belief, social status, age, creed, religious affiliation or culture, gender, and stereotypes. Love that is unshaken by the barriers of poverty and social status. Unquestioning of racial bigotry and free from all the other prejudices that we strive against daily. You see, all of us have been a victim of a deprivation of love at one point in our lives—but often, we refuse to acknowledge that, believing that we should have more or less of it. We can see that all of us want the same thing—to love and to be loved—the longing for unconditional love through complete equality. On the other hand, I also paint the stories of other people. Last year, as part of my 2nd solo show at Distinction Gallery, I made a tribute to Omran Daqneesh, the little Syrian boy whose town was bombed because of war and whose photo left a burning image into our minds on the horrors and indiscriminate nature of suffering. Imagine all others. That photo of him sitting in an ambulance stretcher, bloodied and shell-shocked, broke me and I wanted to share that story to everyone so that they too may become aware of the suffering around us, and hopefully, inspire those capable of the biggest change. This time, I made a work titled "Mirai," a Japanese word meaning "the future" or, "the world to come." Mirai is a painting of a little girl with objects swirling around her, a thundercloud above, set of books by her side, which symbolizes knowledge, with an elk on top of it—a very masculine yet graceful manifestation of strength & resilience. My hometown is no stranger to calamity. But, in the recent years, they have been getting stronger than ever; calamities brought about by hurricanes and tropical storms have barreled through entire communities, flattened cities, and ruined thousands of lives, yet, the people emerge in the wake of all this tragedy. They are committed to building back better than before the tempest. This particular work is all about that—our internal & external, fights, struggles, battles, against others, ourselves, or society-at-large; that we often fall but we rise stronger.
What has the preparation for 'Blinding Darkness' been like for you? Preparation for "Blinding Darkness" has been extremely challenging. I, as well as Melissa, have been through a lot this year and that's why bringing this show together has been a great challenge. However, seeing how strong she is despite these hardships inspired me to do better. Adversity is a strong fuel for creativity. Do you immerse yourself in anything while you're working? Music, audio books? I often listen to music while I paint. I prefer instrumental music because it is easier to focus on the canvas than listening to a song with lyrics. But, once in a while, I also listen to news to keep myself updated on what's happening worldwide.
When did you first become interested in art? Was there a core inspiration or source of encouragement? I started drawing when I was 7. I would draw stick figures on the back of my notebook while in class and I would make comic strips, photocopy it and sell it to my classmates for a peso (0.019 dollars). I still remember the very first story I made. It was about an ant that got lost and faced many challenges until he was reunited with his colony. As I grew older, my dad, being an artist himself, started teaching me how to paint and urged me to join competitions. He is my inspiration. I would never have pursued art were it not for my father's encouragement and his devotion to my potential. I chose to be an artist to convey my innermost thoughts, to express my feelings, and to inspire others. I've never been good with words, that's why I make art for eyes to see and hearts to feel.
What do you do outside of the art studio? I grew up in a family who loves animals. We had lots of dogs, exotic animals like snakes, lizards, turtles and many more. Right now, we have two amazing bearded dragons and that's why when I'm not painting, I usually play with them. I'm also into 'fish keeping', and I'm in the process of learning aquascaping, which I think my experience in art would help in, too. Besides, it's relaxing and helps me concentrate. Sometimes, I play airsoft too. It's a great exercise and airsoft teaches awareness, decisiveness, and camaraderie. It is fun to take part in those types of sports, running around with Airsoft guns and working in as team. It's really exciting. It's important in these types of competitive sports to have all of the correct equipment so you can play properlyand prevent injury. That's why whenever I play, I always make sure I get my equipment from somewhere like onlybbguns, so I know it is the highest quality. And last but not least. You glance down to a crystal ball… what do you see? When I glance down at a crystal ball I see a better world. If not in this one then the next.