On July 14th, Modern Eden Gallery presents the fifth major ME solo exhibition of Erika Sanada. As part of Beautiful Bizarre Magazine's exciting redesign and growth in the arts community, we are pleased to bring you more in-depth and varied content. In our dedicated efforts to evolve and show our gratitude for all your support, we proudly present the second of our gallerist's discussions as Gallery Director Kim Larson interviews Erika, during a studio visit, to delve deeper into the ceramic world and the many elements that keep her creating.
We hope you enjoy our preview and this wonderful interview by Modern Eden Gallery as much as we do!
We started working with Erika in 2013 for her debut solo exhibition, 'Odd Things'. After 4 major exhibitions, numerous group shows, magazine spreads in Hi-Fructose and Beautiful Bizarre, and a feature last year at Scope Miami Beach, the young artist continues to push the quality and application of her craft and, on the verge of her fifth major exhibition is San Francisco, firmly establishes herself as one of the top contemporary ceramic artists working today.
Erika Sanada: Togetherness
Exhibition Dates:
July 14–August 3, 2018
Opening Reception:
July 14, 6 pm–9 pm

Modern Eden Gallery
801 Greenwich Street @ Mason and Columbus | San Francisco, CA
For press inquiries or sales, please contact Gallery Director Kim Larson [email protected]
General Information: Please email [email protected] | www.moderneden.com
Modern Eden Gallery is located in San Francisco's historic North Beach neighborhood. Founded in June 2010 by local artists Bradley Platz and Kim Larson, the gallery features monthly exhibitions of established and emerging artists. The gallery's contemporary aesthetic ranges from realism to surrealism with a strong focus on illustrative painting and representational sculpture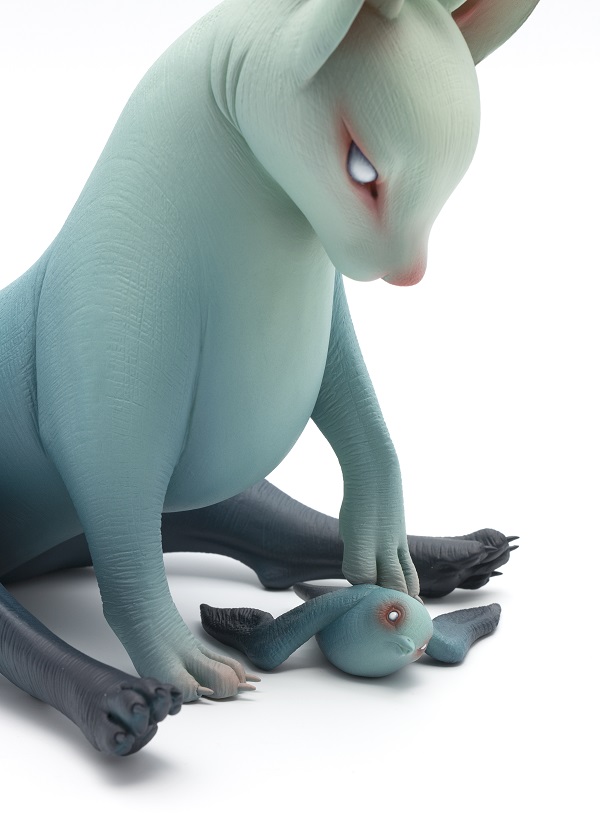 "Togetherness" marks your 5th solo show at Modern Eden (Yay!). How do you feel your work has evolved over the years?
I used to make just my dogs, but now my dogs have buddies like birds, rats and cats :) And, since I got my little birds, the appearance of birds in my sculptures are more than before. I think the new animals give more stories in my work and it helps make my idea more clear. And I like them a lot!
I remember the initial inspiration for the dog sculptures was your pet dog from childhood in Japan, and I was just thinking about how birds have become prevalent in your newer work. Hanging out with the birds in the studio, it all made sense! There always seems to be some kind of tension between dog and bird, do you identify with the dog characters and symbolize the birds as emotions/feeling? Or are you more concerned with the narrative between the animals?
I got inspiration from my dog, and my dog sculptures represent myself. Birds depict my anxieties, fears and worries. They are hard to catch and flying around everywhere, so they are like my bad side. I'm trying to cope with my dark side. That is why my birds are attached to the dog body, and it's still bothering the dog, but they are not attacking each other, like misfit buddies.
Your work deals with a lot of your personal struggles and anxieties. Do you ever feel exposed when creating/exhibiting works? Is it cathartic or does it magnify those feelings?
Making sculptures is helping me a lot. It's kind of cathartic, but more like a detox. I'm always overthinking and the creative process is a release of my constant anxieties. When I finish my work, I feel like I get some tiny closure.
I know first-hand that you are one of the hardest working artists. On average, how many hours a day/days a week do you work? About how much time does a sculpture take you?
I work about 10 hours a day. When deadlines approach, this time will get longer and longer, haha. For sculpture, it depends on the size and details. If it's a small piece, I can finish it 3-5 days but bigger pieces are 2 – 4 weeks.
Do you listen to music or watch anything in particular while you create?
I do both! Mainly, I watch movies and TV shows, especially horror and sci-fi, while I'm sculpting. And I'm listening to music and podcast when I coloring my sculptures :)
What's your favorite TV show at the moment? Favorite music to paint to?
My favorite TV show is 'Fringe' right now. I've watched it before, but I'm re-watching it again because this it's a really really good show! It's serious, but there are so many funny things and pop culture references in the show. And their special make up is so awesome. I can't believe somebody would want to cancel their cable altogether when there are amazing shows like this that you just can't get on places like Netflix. I get that people want to save money, but surely you'd be better off trying to get a better deal instead of pulling the plug altogether. There's a lot more information here that can help you to save money if you're not impressed with the bills you receive from cable companies every month. For music, most of my list is from movies and TV shows soundtrack, so it's hard to pick a favorite! My newest added music is 'Can't Help Falling In Love' from 'Blade Runner 2049.'