For many contemporary art lovers, SCOPE Miami is one of the annual art fairs they don't want to miss. Hundreds of people from all of over the world fly to Miami to attend this event. This year, there is one additional reason for you not to miss it, Haven Gallery's triple mini-solo exhibitions featuring Kukula, Jennybird Alcantara and Regan Rosburg's most recent body of works. All of them are known for their outstanding and entrancing pieces, and this fact alone is enough to put Haven Gallery's presentation on your must-see list.
Many people agree that, often, preview images are not able to do justice to the artworks they represent. And, it's not only because of their smaller scales. The way artists present their works – e.g. the frames they choose for their paintings – tend to add characters and dimensions to their works. Since no en face photograph can ever capture a three-dimensional piece in its totality, we can never experience the full impact of an artwork just by looking at its photo. This very fact is especially true when we talk about three-dimensional artworks like Regan Rosburg's. So, if you can make it to SCOPE Miami this year, make sure to stop by Haven Gallery's booth and spend some time viewing the artworks in person.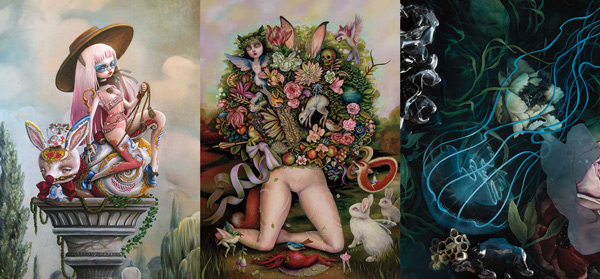 Kukula: "Pop-Royal" + Jennybird Alcantara: "The Mercurial Humors of the Fairer Sex" +
Regan Rosburg: "The Truth Lies in Reverence"
VIP Opening:
November 29, 2016

General Exhibition Dates:
November 30 – December 4, 2016
General Exhibition Hours:
Wednesday, November 30 – Sunday, December 4 | 11am – 8pm
Scope Miami Beach Pavilion
801 Ocean Drive
Miami Beach, FL 33139
USA
Press Release:
Pop Royál is a collection of five paintings representing Kukula's signature style of popular iconography blended with her flair for the opulent and regal. Kukula's females frolic and repose amidst arcadian landscapes reminiscent of Rococo artists such as Watteau and Fragonard. Self coined as a Neo-Rococo artist, her work focuses on the historical and resplendent, the luxurious and the contemporary and the surreal and chimeric. Kukula's heroines confront the viewer with their assertiveness and allure; they celebrate the strength and beauty of womanhood while simultaneously revealing their unique identities through their aristocratic accoutrements. A mastery of color and dedication to the finest detailing, Kukula's oil paintings are further embraced by her exquisite selection of Rococo style framing.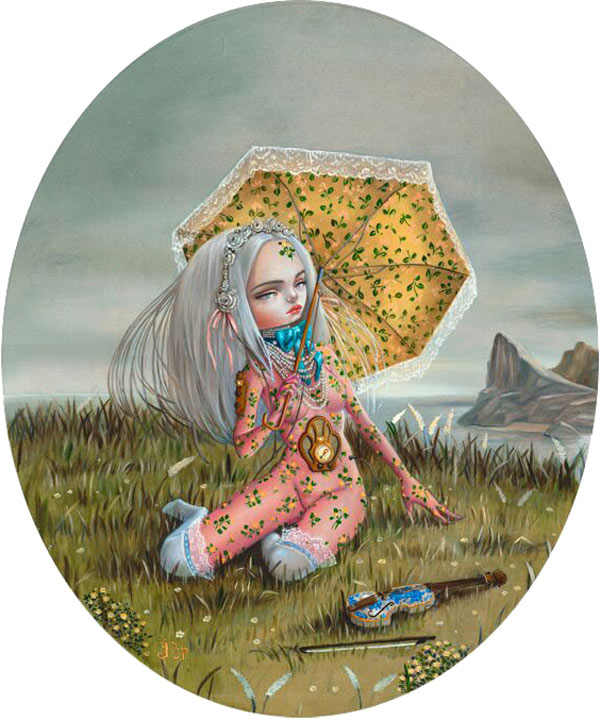 "Melancholia Walk With Me", oil on panel, 20 x 24 inches (32 x 36 x 5 inches framed)

"Forever Never Comes", oil on panel, 20 x 24 inches (32 x 36 x 5 inches framed)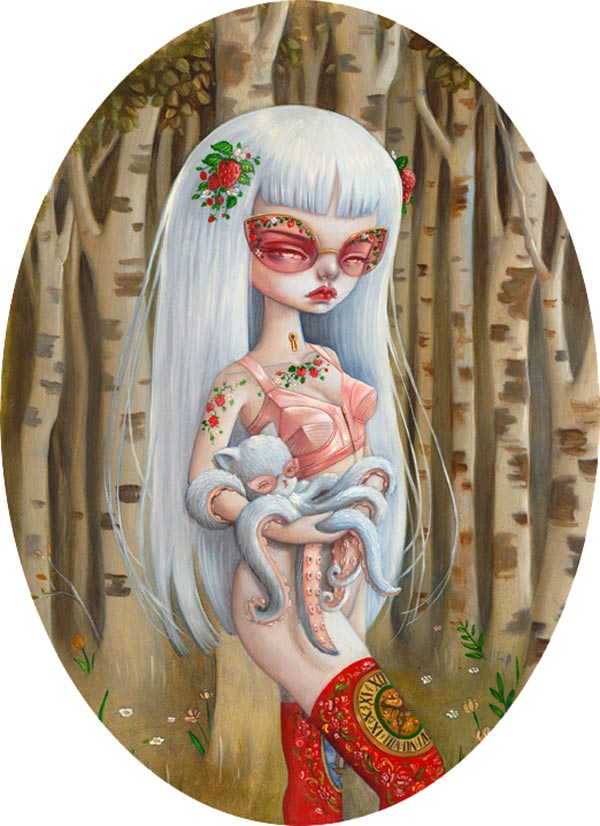 "Lilya & Pussypus", oil on panel, 11.5 x 16 inches (18.5 x 20 x 3.5 inches framed)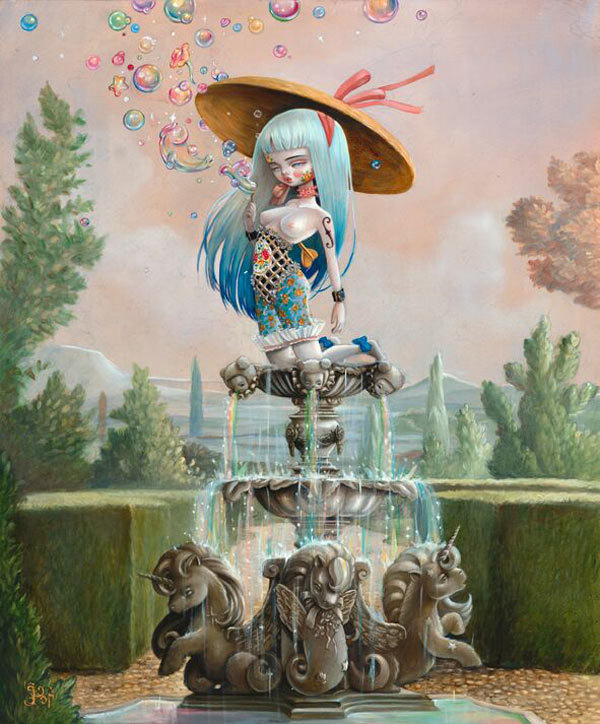 "Elixir Fountain", oil on panel, 20 x 24 inches (30 x 34 x 2 inches framed)
Press Release:
"The fairer one in this tale is a bouquet. She a bounty teaming with life. The characteristics of her being are illuminated by her transmutation. She is beauty and mystery, she is innocence and she is cunning, she is devouring and sacrifice, knowledge and curiosity, she is haunting and she is haunted; she is, "Still life with a Pulse". My work explores mystery, transformation and the sacred. Existing between a waking and dream state, the archetypal anthropomorphic creatures that are a part of my visual language attempt to illuminate the invisible threads of connection between sentient beings and the environments they inhabit. Depictions of Flora and Fauna integrated with the human and animal characters serve as metaphor for the connections between all living things; Darkness and light are at constant play and I try to maintain a tender balance between the two." – Jennybird Alcantara.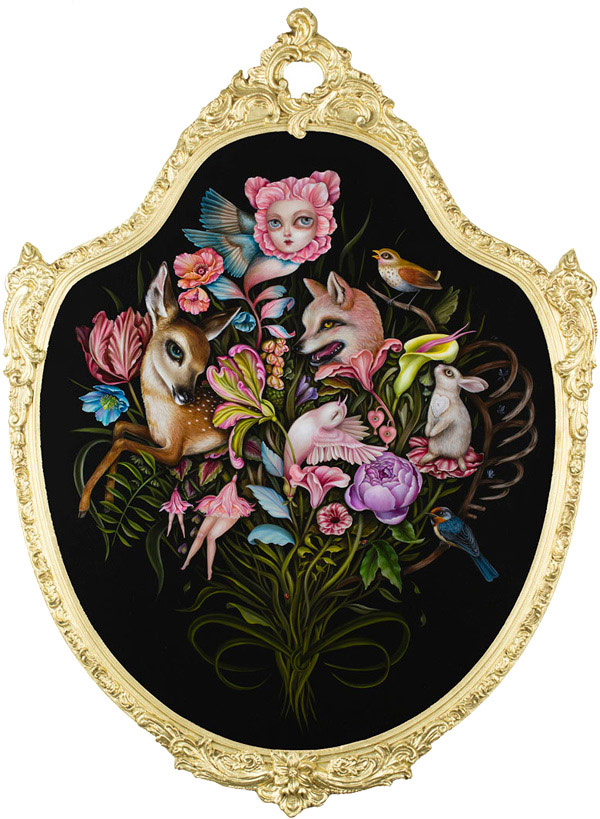 "Meditation on the Delightfulness of her Recesses", oil on wood, antique frame, 22 x 26 inches (24.5 x 32.5 inches framed)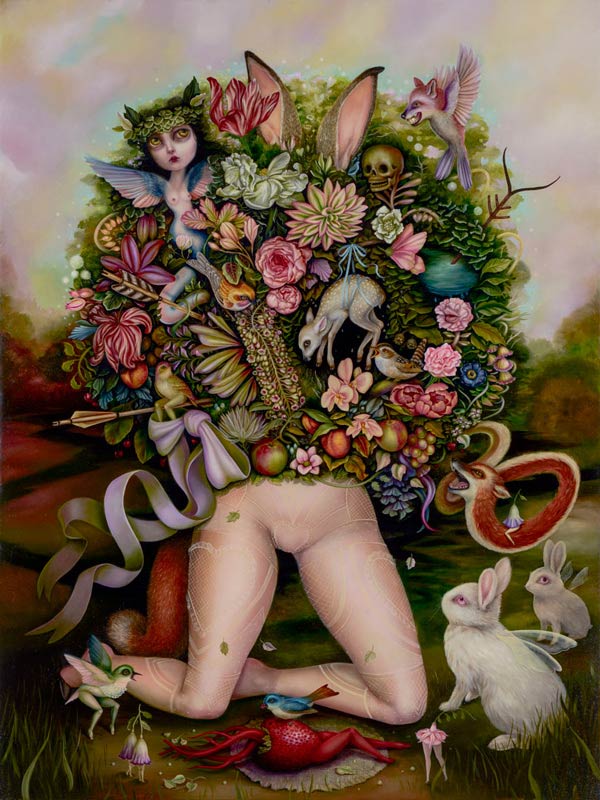 "The Mercurial Humors of the Fairer Sex", oil on wood, 36 x48 inches (43 x55 inches framed)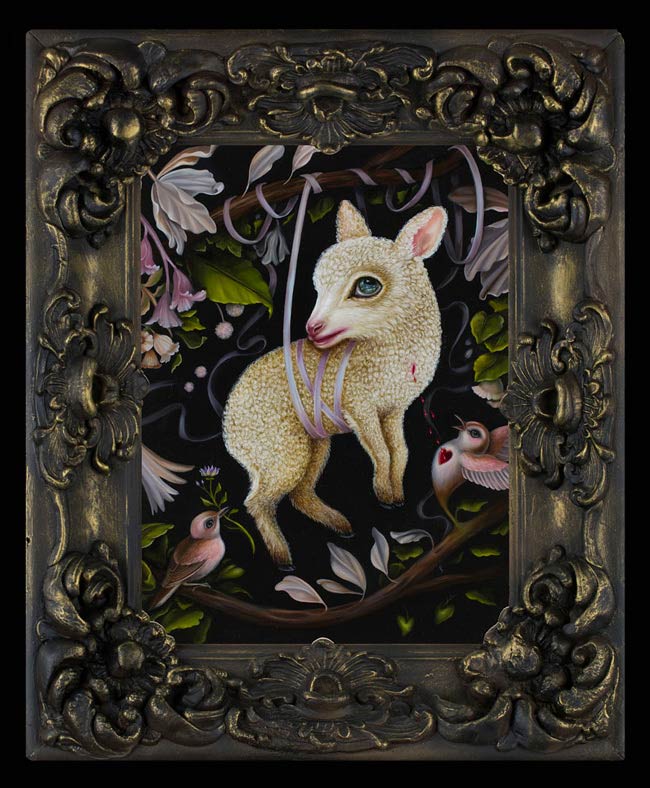 "The Offering" oil on wood, antique frame, 2016, 9 x 12 inches (13.5 x 16.75 inches framed)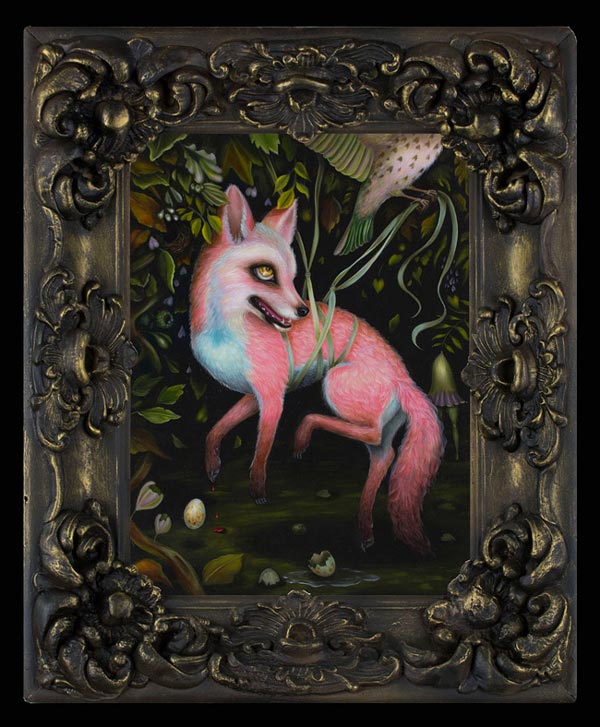 "A Delicious Reprisal", oil on wood, antique frame, 9 x 12 (13.5 x 16.75 inches framed)
Press Release:
"The beautiful floral combinations rendered in sixteenth century Dutch Still Life paintings were both scientific studies (collected from "exotic" regions of the world during exploratory expeditions) as well as status symbols of the powerful and affluent. A specific genre of these still life paintings was that of the Vanitas, which contained symbols of death or change as a reminder that all living things succumb to their own mortality. This theme continually inspired introspection for generations. In fact, Sigmund Freud used the human response to transience as the foundation for groundbreaking psychological findings on mourning and melancholia. These works are a paradoxical take on the vanitas. They contain both manmade and natural objects, held in material that would not let either of them decay. Plastic is the defining material of our time." – Regan Rosburg.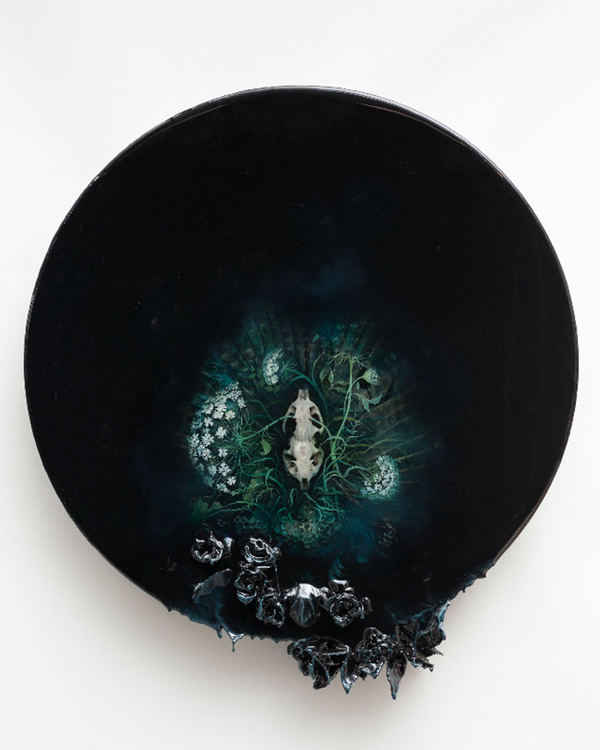 "Vanitas IV", Three-dimensional sculptural painting (paint, mylar, silk, wood, foam, resin, pheasant wings, wasp nests, squirrel skulls), 23 x 26 x 4 inches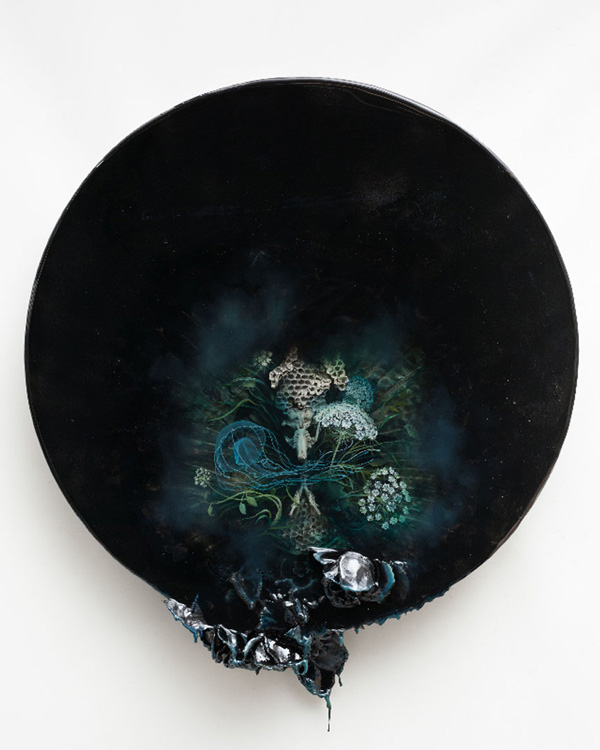 "Vanitas III", Three-dimensional sculptural painting (paint, mylar, silk, wood, foam, resin, pheasant wings, wasp nests, squirrel skulls), 23 x 27 x 4 inches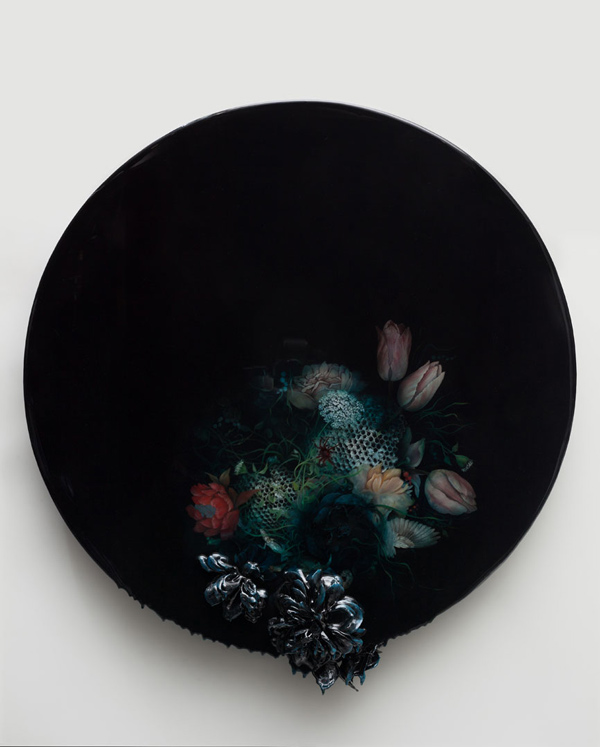 "Vanitas V" Three-dimensional sculptural painting (paint, mylar, silk, foam, resin, wasp nest, wolf spider, lizard, bones, squirrel skulls), 29 x 31 x 5 inches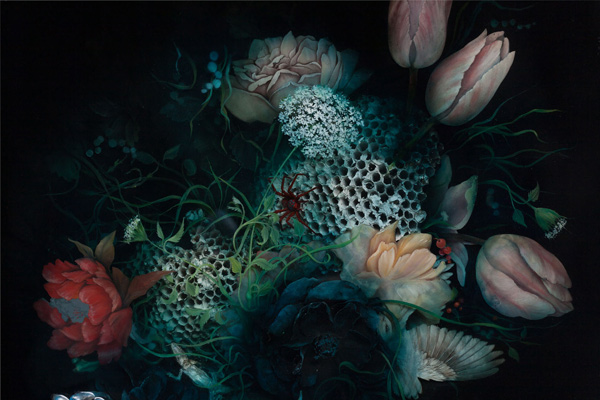 Detail of "Vanitas V", (paint, mylar, silk, foam, resin, wasp nest, wolf spider, lizard, bones, squirrel skulls)
Save
Save
Save
Save
Save
Save
Save
Save
Save
Save
Save
Save