Curator and Warholian founder Michael Cuffe has come together with Modern Eden Gallery to present a stunning new body of work in their newest exhibition, Animation Reimagined. From memorable cartoons and animated films to the many enduring popular tales of today, these nostalgic characters are sure to pull our heartstring and give us plenty to talk about. This exciting collection features the artwork of many of your favorites. For a full look at participating artists and available artwork, visit Modern Eden Gallery's website… or if you're in the area stop by and see them in person!
Press: Modern Eden Gallery proudly presents an art exhibition curated by Michael Cuffe of Warholian. This multi-artist gallery exhibition will feature the best established and emerging contemporary art talent who will re-imagine the most memorable cartoons and animated films of all time. Iconic animated shows/films such as Felix the Cat, Betty Boop, and Mickey Mouse, to modern day classics such as Frozen and Story and many more will be fantastically recreated in new paintings and from new perspectives. Cuffe has asked all artists to bring a bit of realism into their paintings and works. We will see these animated classics re-imagined in a way we've never seen before, from a unique artistic viewpoint.
Animation Reimagined
Curated by Michael Cuffe of Warholian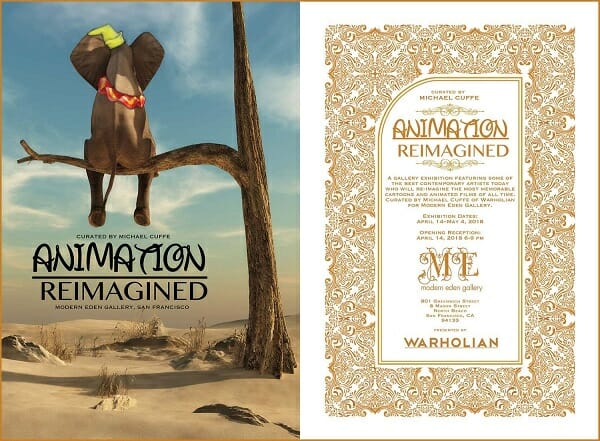 Opening Reception: 
Saturday, April 14, 2018 | 6 pm–9 pm
Exhibition Dates: 
April 14–May 4, 2018
Modern Eden Gallery
801 Greenwich Street @ Mason and Columbus | San Francisco, CA
For press inquiries or sales, please contact Gallery Director Kim Larson [email protected]
General Information: Please email [email protected] | www.moderneden.com
Modern Eden Gallery is located at 801 Greenwich St. in San Francisco's historic North Beach neighborhood. Founded in June 2010 by local artists Bradley Platz and Kim Larson, the gallery features monthly exhibitions of established and emerging artists. The gallery's contemporary aesthetic ranges from realism to surrealism with a strong focus on illustrative painting and representational sculpture.