Whether it's a small scale painting or a giant mural: leave it to Miami based artist Tatiana Suarez to transform any canvas to an amazing piece of art. Inspired by nature, lore and mythology Tati creates amazing portraits of enchanting women, lush and vibrant in color. In this exclusive interview for Beautiful Bizarre Magazine Issue 019, Tati shares insights on her inspiration, way of working and love for nature.
Tatiana Suarez
Website | Facebook | Instagram
Hi Tati, nice to meet you! Could you give a short introduction to the readers that haven't met you or your work yet?
Hi! I'm Tatiana Suarez. I'm an artist who lives in sunny Miami, Florida with my husband, dog and cat. I paint my ladies both on canvases and walls around the world!
Have you always wanted to become an artist? I noticed you are trained as a graphic designer, something I – as a designer – can spot in the way you handle colour and composition. Are you still working in graphic design?
I remember being fascinated by art from a very early age. Like most kids, I spent a good amount of time doodling. I remember first taking an interest in art from my dad, who is also very artistic. Some of my earliest art-related memories involved flipping through his sketchbooks, watching him make a mess while painting in the bathtub, and studying this one particular book he owned on Salvador Dalí. Growing up in a creative household with very supportive parents in many ways propelled me to get into the arts. Early on, I knew I wanted to pursue a career in art or consider becoming a vet (or basically anything that involved handling animals haha). When I started college, I knew I wanted to make art. However, I chose to study Graphic Design. This move was made solely out of fear and uncertainty in not being able to maintain a stable career as a painter. While I don't currently work as a designer (beyond designing my own promotional material and the occasional logo for my mom), I'm grateful for those acquired skill sets!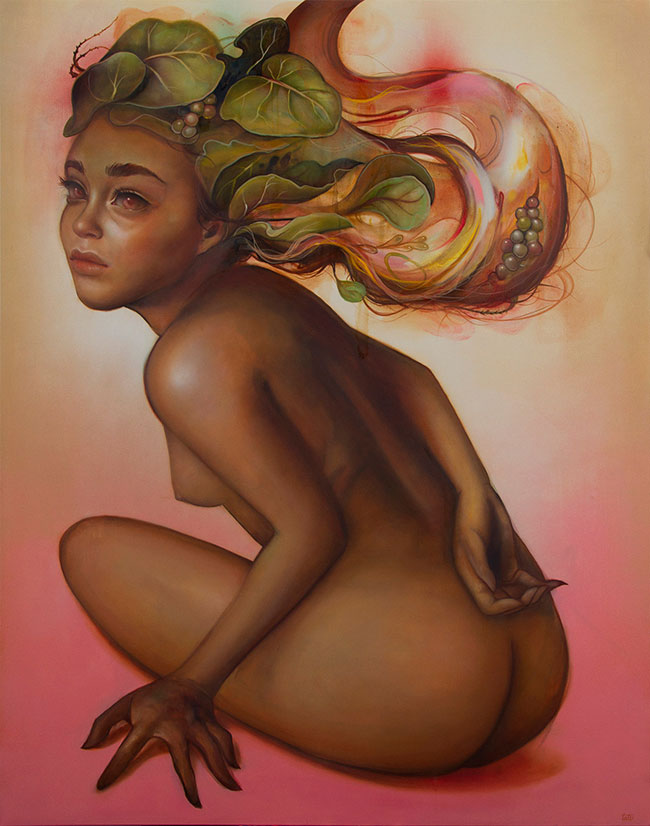 If you had to choose one piece of art to describe your work to someone – which piece would you choose and why?
That's a toughie because they all share the same subject, style, and aesthetic. They've definitely evolved throughout the years, but the subject matter remains the same. One of my favorite series of ladies to paint were the sirenas from the 'Seelife' exhibition at Known Gallery a few years ago. They were depicted in washy, dreamlike atmospheres—sultry, royal, and with big, glazed-out eyes. They were surrounded by animals, and adorned by squish matter and other plant life.
You create both paintings and murals, two mediums that differ a lot in scale and approach. Is there one you prefer or is it the mix of the two that keeps your work as an artist exciting?
Overall, I still prefer working on paintings over murals. I enjoy the moments of solitude and the feelings of calm and control that comes with working on a painting. I tend to establish a personal connection with the women in my work, so the absence of an audience is favorable. Working on paintings gives me an opportunity to explore and experiment. I also prefer working with oils because of their flexibility, which allows me to create creamy blends. At times, studio work can be cumbersome. There can be moments where you're stuck and caught up on certain pieces and feel a bit stir crazy from being inside and alone all day. Mural painting forces me to loosen up and use my entire body but it also forces me out of my comfort zone; taking you outdoors and into unique opportunities to meet new people and collaborate. Like most things, it's all about finding the right balance.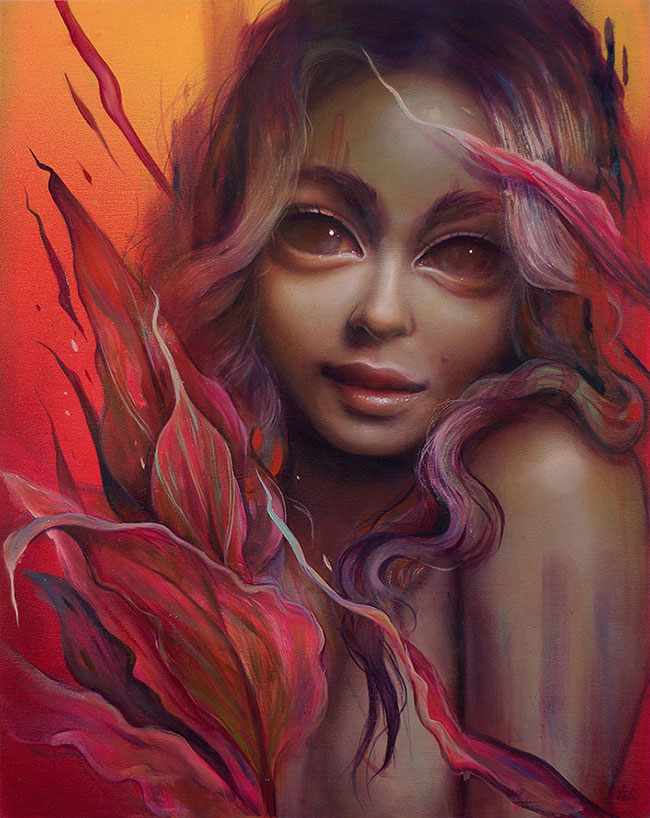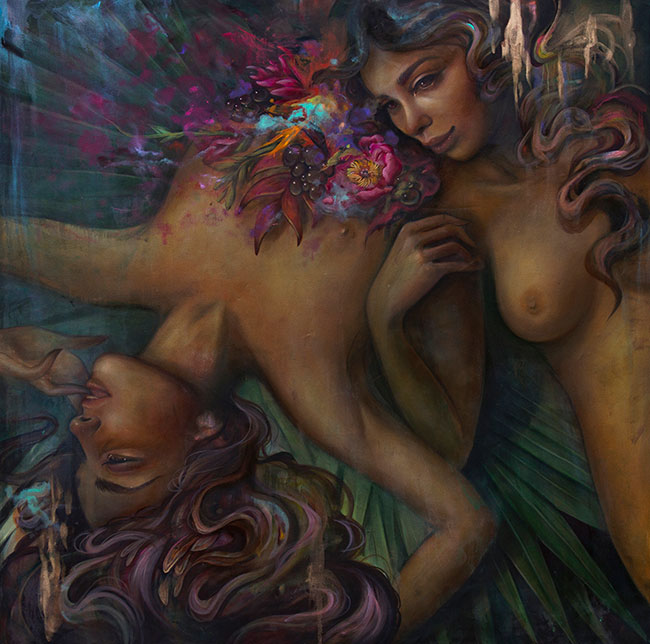 Does your approach of creating a mural looks like the approach of creating a painting? I can imagine it must be hard to plan something outdoors, plus on a giant scale it's not easy to do something over.
I approach them both differently. When working on paintings, the process tends to happen more organically. I rarely sketch. I start off by working from a reference photo, but everything else that follows—the elements, colors, and washes—is all mostly improvised. Again, this is the stage in which I get to play and experiment. Murals tend to require more planning. Color palettes need to be established ahead of time as final colors need to be selected and ordered. Sketches need to be finalized and perfected in order to transfer the work onto the wall. And as far as mediums go, I'm still sort of adapting and figuring them and their application out as I go.
A painting can be on display everywhere. A mural is in a fixed location. Does the location of a mural influence your concept and ideas for a piece?
In most cases, the shape of the wall defines the composition of the mural. The location of where I'm painting always plays an important role in coming up with a concept. Whether through color, local flora and fauna, something of cultural significance, or some kind of story or narrative told by someone in the community, I like to incorporate something from my surroundings into the piece I'm leaving behind. It's also important to do your homework to avoid painting anything that might be misinterpreted or offensive.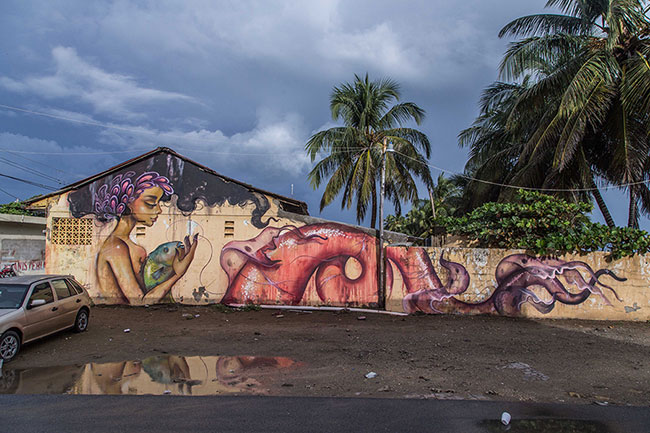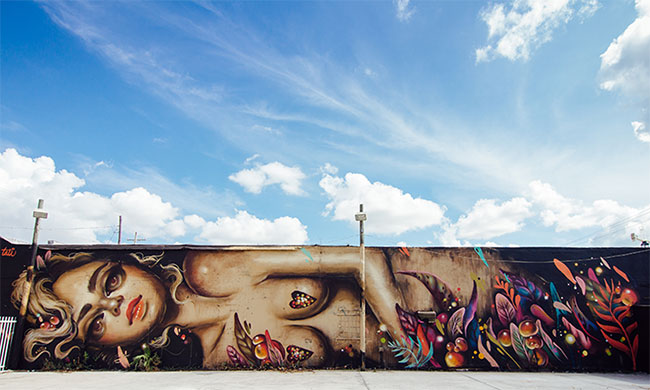 You created a beautiful piece concerning the rising water in your hometown Miami. How important are current events in your work?
This year's been difficult and overwhelming. While it's important to stay informed with what's going on in the world – all the ongoing coverage and constant access to certain news has had me in a bad state of mind. I don't usually address current events or social/political issues in my work. I like to look at my work as a means of expression but also as a way to escape our day-to-day reality. When there are issues that resonate on a more personal level, my art will serve as a tool to voice it. Partnering up with organizations like Pangea Seed has given me the opportunity to express my own personal commentary on ocean issues, a topic that's very close to my heart.
Is there a place or city on your wish list when it comes to murals?
I'd love to paint in Brazil, specifically Bahia! The themes in many of my works are derived from this region, but I've only experienced it from stories passed down to me by my family. I need to go experience it for myself. I also love the architecture found in Europe. All these contemporary murals look beautiful on those older structures.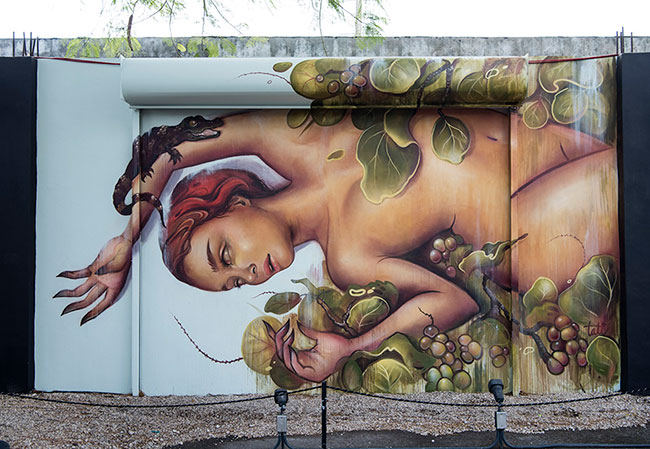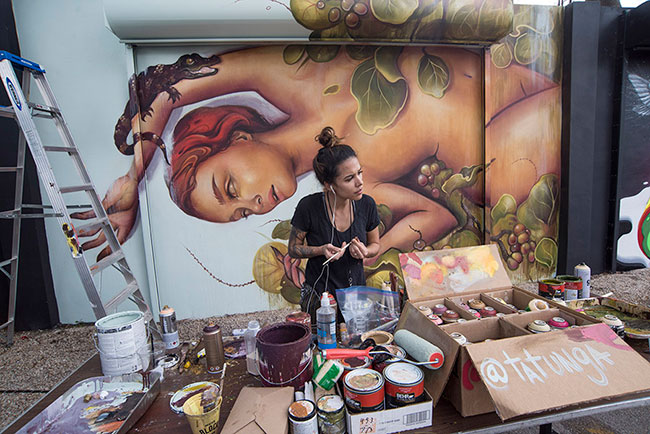 Olukai x Miami River from tati suarez on Vimeo.
Common themes in your work include nature and mythology. Can you tell a bit more about your fascination with these subjects?
Nature is my main source of inspiration—it always has been. Everything about it, from the various species of animals and plants to the colors, textures, and patterns found in it. So much of it is synchronized. To me, folklore and nature go hand-in-hand. Most tales involve animals and other elements of nature that teach lessons and provide guidance to help with decision-making. These simple stories act as metaphors and explain the way we live our lives. From a storytelling aspect, it's amazing to think about how they've been passed down from generation to generation, yet their impact and meaning remains the same. Culturally speaking, they inform so much about ourselves. I really enjoy meeting artists from all over the world and exchanging these tales.
You were born and raised in Miami, Florida, with a Brazilian mother and an El Salvadoran father. Your mentioned before your roots and heritage inspires you a lot, especially Brazilian folklore and mythology. What is it that fascinates you so much about this subject? Can you share a myth or story you particularly love?
Incorporating Brazilian folklore and culture in my work allows me to feel more connected to my roots. It helps with telling history and passing along customs. I guess it stems from enjoying creepy stories as a kid. Most ghost stories all originated from some kind of folk tale or urban legend. The one story that's meant a great deal to me recently is that of the Vitoria Regia. The legend is about a girl who wanted to touch the moon. She reached for the moon's reflection in the water, fell in and never emerged. The moon felt pity for the girl, turning her into the flower that blooms beautifully during the moonlight. Last year, my cousin passed away in a drowning accident. At the time, I was painting a mural along the Miami River and in remembrance of her, painted the lotus flower from that story.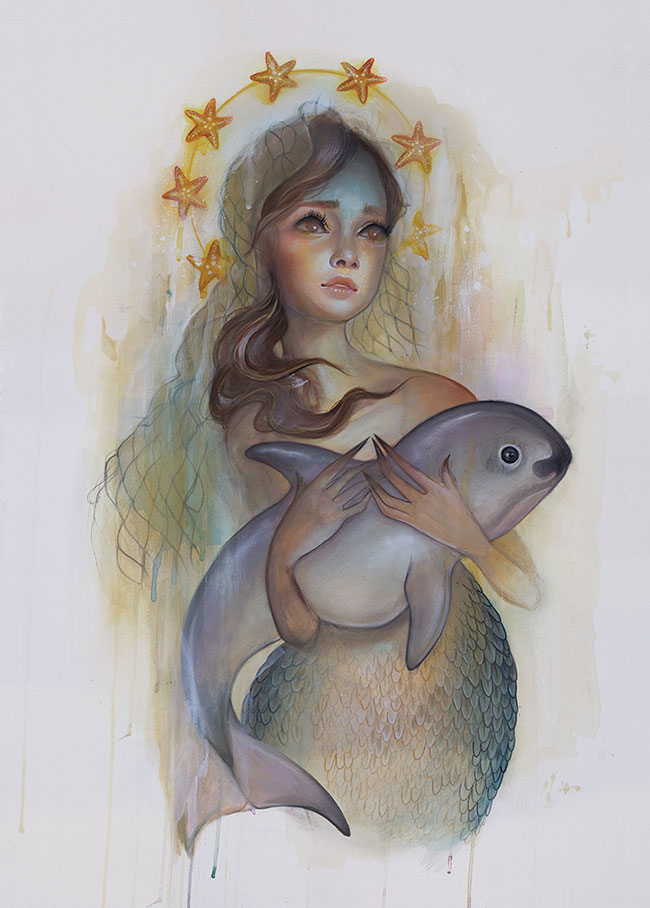 Whilst never too girly your work has a clear feminine touch: from the women you portray to the soft focus and smooth curves in colour and line work. How important is femininity to you? And the role of women in your work in general?
I've always been interested in the feminine form. The women I paint are often portrayed as goddesses or nymphs. Their role is to simply embody all of the things that make up a woman. We are beautiful and strong—forever growing, complex, passionate, and nurturing. We are all connected to the natural world. Just as murals and street art bring life and color to public spaces, women are innately life providers. With each piece, I like to think I'm leaving behind a feminine energy of mothers, nurturers, protectors, and mistresses.
Your big-eyed ladies remind me of Margaret Keane's work, an artist many will know through the film Big Eyes. I see some influences of that movies' director in your work too: your ladies have a Burtonesque edge. Who are your main influences?
Tim Burton is totally responsible for the origination of my style! I was a huge fan of his movies growing up and then later discovered his drawings and concept art. I've been inspired by numerous artists throughout the years—too many to list! When I was first getting started, I was very much into the works of James Jean and Audrey Kawasaki. A few others that come to mind are Gil Elvgren, Alphonse Mucha, J.C. Leyendecker, Chris Sanders, etc… really, the list can go on forever. Today, Instagram exposes you to the work of so many talented artists. Constant inspo.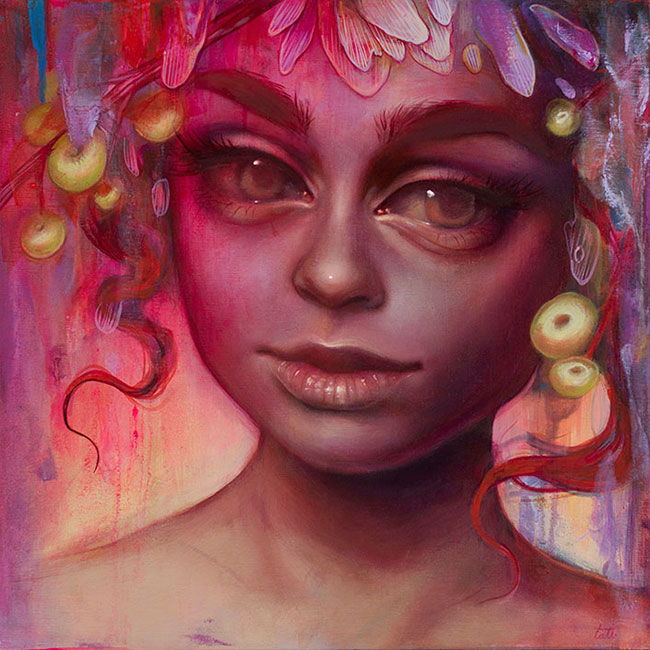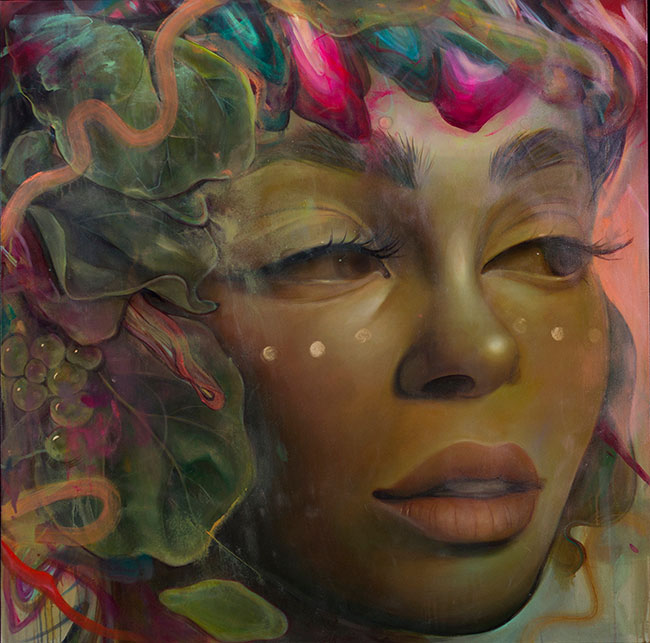 Speaking of other artists: if you could pick one artist for a collaboration, dead or alive, who would you pick and why?
I can't pick just one! One of my favorite things about murals is having the opportunity to collaborate with artists. I've had the privilege to paint with some of my favorite humans in the past three years and look forward to more collabs! Painting with Fafi or Miss Van would be incredible since they both inspired me when I was just getting started. Also, I'm really into Andrew Hem's paintings and I love the way they translate into murals.
With social communities like Instagram and Facebook around it's almost impossible to not have an internet presence. How important is the internet for you as an artist?
Social media—particularly Instagram—has been an important tool in helping build my career. I've acquired projects and sold work via the platform. I like how connected I am to fellow artists, the creative community and fans.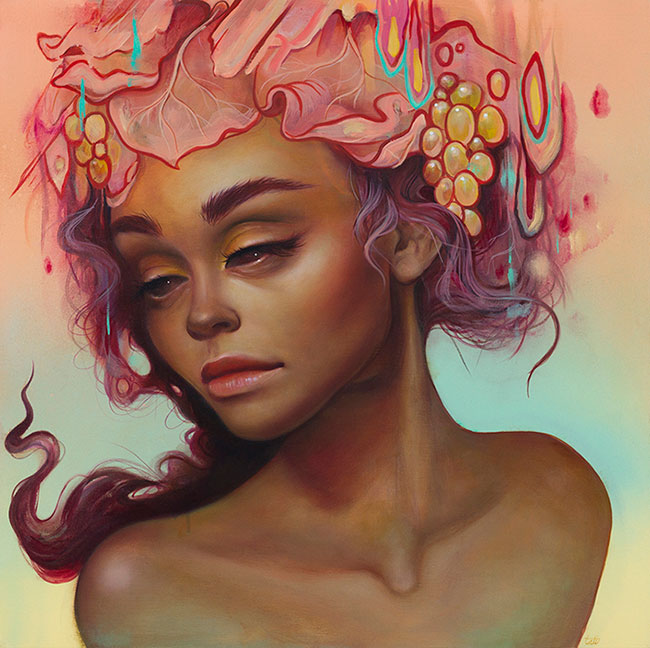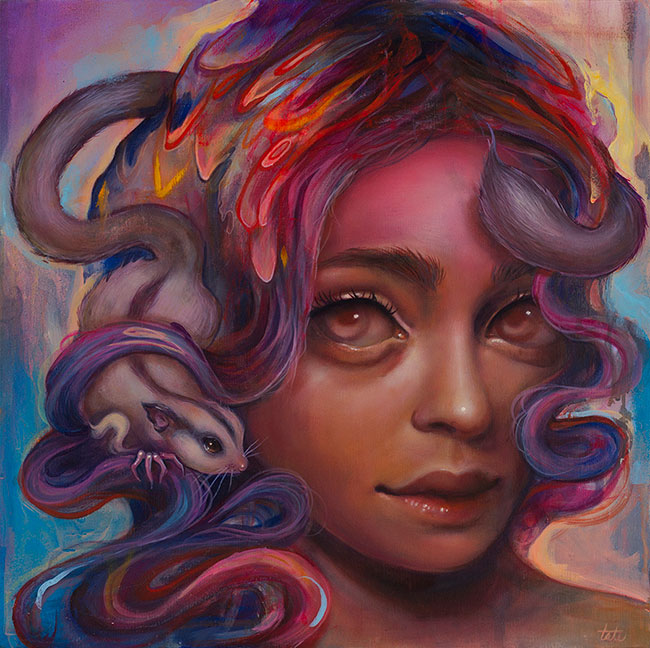 What's next for Tati Suarez? Any updates on projects you are currently working on?
The first part of my year was spent tucked away in my studio working on my two-person show with Hueman at Corey Helford Gallery. Afterwards, I got to spend the summer traveling—painting in Los Angeles, Long Beach, Sweden, and Detroit. Things are beginning to wind down, now it's back to studio mode for an upcoming solo show at Spoke Art, San Francisco, in March.
Last but not least: can you recommend a book, movie or artist you've enjoyed lately?
I usually re-watch old series' and movies while I work in my studio, so it feels like I haven't watched anything new lately! I did recently finish West World and was really into that! I especially loved all the Radiohead covers.