As enticing as it may be, please avoid licking the screen. Though Natalia Fabia's candy-coated paintings are deliciously crafted onto her canvases, they still taste like oil paints. The California painter has a penchant for using wildly bright colors in her art that play extremely well with the glamorous scenes she depicts.
Natalia Fabia artfully combines fantasy with reality, landscapes and portraits, to incorporate her own unapologetic style.
Having graduated from the Art Center College of Design in Pasadena, Natalia has had almost 20 years of both solo and group exhibitions. Her careful brush strokes pay homage to painting giants like John Singer Sargent and Toulouse Lautrec. While Sargent created portraits, Lautrec painted the world around him. Natalia's art combines both, then mixes in Kawaii, burlesque, and punk rock, with a healthy splash of glitter and confetti. Her paintings incorporate both tradition and rebellion elegantly.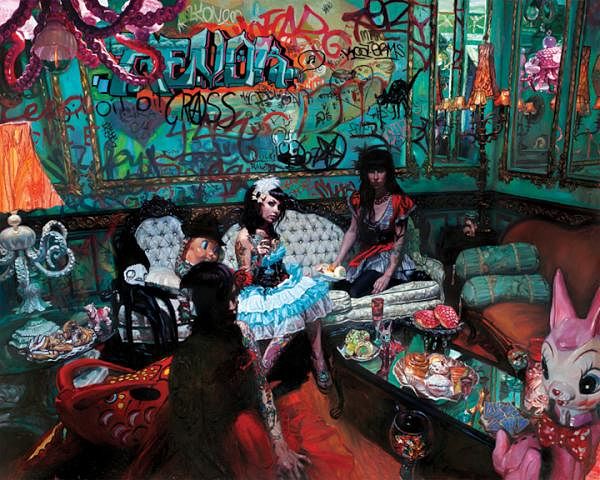 Though many of Natalia's women are nude as in Rainbow Mamas or lingerie-clad in Pizza Party, she avoids depicting them in ways that sexualize the women. She emphasizes the beauty and sexiness of the female form and clearly establishes that a woman's body is her own. She supports femininity and selling one's talents as a profession. Her art also portrays a harmony among women and with their environments. She rarely does illustration, preferring to cast her models in oil paints on canvas. She pulls inspiration from Japanese culture, Christianity, punk rock, fashion designers, and the goth scene. Many of her creations are glamorous in one way or another, as in Blush Moon Indulgence. However, they still tend to play on an everyday life for Natalia.
In addition to painting, Natalia is obsessed with yoga but also teaches art classes. She holds studio hours for prospective artists where they can learn to paint live models from one of the best in the business.
Natalia Fabia Social Media Accounts
Website | Facebook | Twitter | Instagram
Related Articles
Interview: Leigh Bongiorno And The Importance Of Portraits In Our Digital Age