For 40 years, Heavy Metal Magazine has been the forefront illustrative fantasy publication covering a gargantuan display of artists, styles and realities from around the world. As a magazine that many arts lovers have grown up with, this significant event was always going to be one for the history books. Subsequently, to help celebrate its 40th year, Heavy Metal has teamed up with Santa Monica's highly revered Copro Gallery, together creating a celebratory group show, which has already been marked as one of the not-to-be-missed exhibitions of the year!
Exhibition Dates:
July 15 – August 19, 2017
2525 Michigan Ave | Unit T5 | Santa Monica | CA 90404
David Stoupakis – Pale Rider (2017)
Exhibiting artists:
Albert Cuellar, Alessandra Pisano, Alex Horley, Alex Pardee, Allen Williams, Anthony Ausgang, Anthony Palumbo, Beast Brothers, Becca, Billy Norrby, Bonethrower, Brett Herman, Brian Despain, Brian Smith, Brian Viveros, Brom, Bruce D. Mitchell, Cam Rackam, Camilla D'errico, Carin Hazmat, Carlos Huante, Carlos Torres, Chet Zar, Chris Achilleos, Chris Leib, Christopher Ulrich, Damien Echols, Dan Quintana, Dave Devries, Dave Lebow, Dave Palumbo, David Hartman, David Stoupakis, David Van Gough, E.M. Gist, Erik Alos, Eve Skylar, Florian Bertmer, Frank Forte, Gail Potocki, Greg 'CRAOLA' Simkins, Gregg Gibbs, Hanna Jaeun, El Mescalito, Jim Pavelec, John Mahoney, Johnie Thornton, Joseph M. Linsner, Ken Kelly, Kevin Eastman, Kryss Sapp, Lee Shamel, Lorenzo Sperlonga, Luis Royo, Luke Chueh, Maegan Lemay, Marina Mika,Mark Bode, Mark Covell, Mark Garro, Mark Todd, Mat Hurtado, Matt Gordon, Matthew Bone, Michael C. Hayes, Michael Rosner, Menton3, Moebius, Molen Brothers, Naoto Hattori, Nate Van Dyke, Nikko Hurtado, Nychos, Olivia De Berardinis, Pepe Moreno, Peach Momoko, Peter Gric, Robert Bowen, Robert Morello, Robert Steven Connett, Roger Dean, Ron English, Ryan Brown, Sam Shearon, Sergio Barrale, Shark Toof, Shawn Barber, Sho Murase, Simon Bisley, Skinner, Stan Dark Art, Stephan Franck, Stephen Bower, Stephanie Inagaki, Tanino Liberatore, Terry Wolfinger, Thomas Gieseke, Tim Molloy, Tim Vigil, Travis Louie, William Skaar, William Stout, Vaughn Bode, Yacine Elghorri and many more!
Heavy Metal Magazine and Copro Gallery have brought together a host of big names in the art world for this special group show; no surprise, given the long-established reputation of both of the hosts. The opening night of Heavy Metal took place on July 15, exhibiting at Copro Gallery's venue in Bergamot Station arts complex. Glittered with the presence of many the artists involved, Copro Gallery enjoyed a full house of visitors set to devour the night's festivities; the raw energy imbued into the artwork easily transferred across to those present. Alongside live full body painting and edible treats, visitors on the opening night got the first look at inside art featured in Heavy Metal's 40 years of publication, as well as original paintings, sculptures, vintage film posters, t-shirts, memorabilia and much more. Michael Rosner's performance poster was another prevalent talking point, with a rather eye-catching model performing live on the life-size front cover of Heavy Metal Magazine.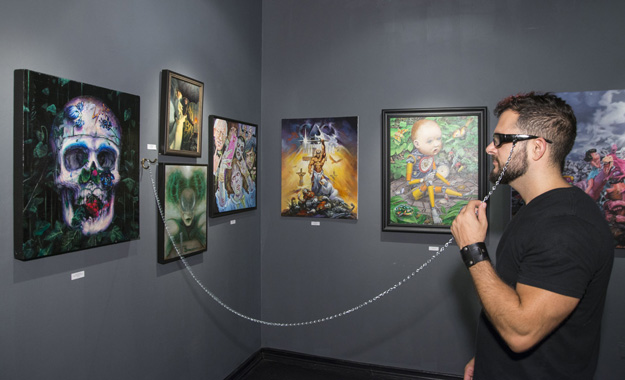 The 3D glasses provided for Sergio Barrale's oil painting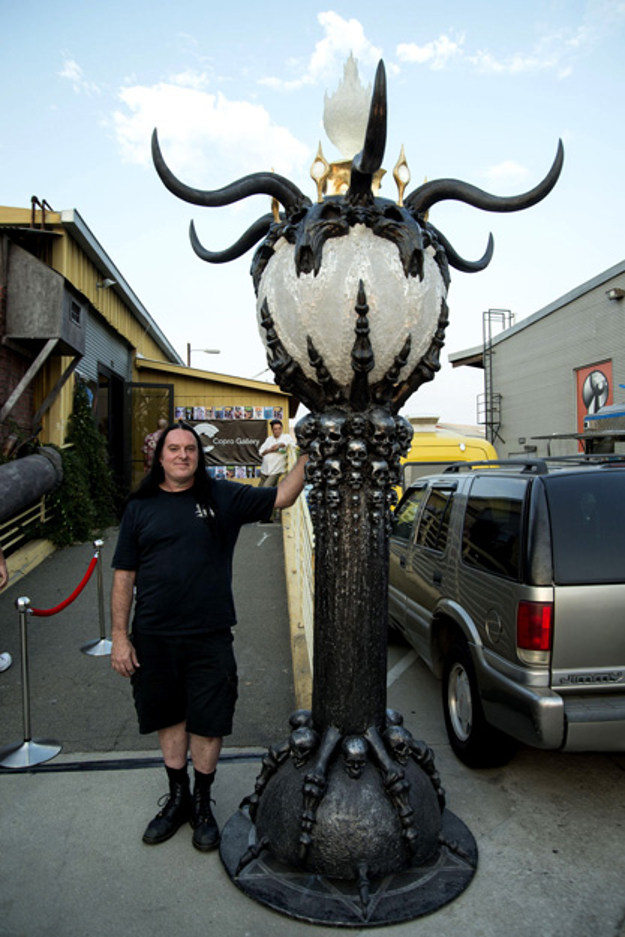 Lee Shamel in front of the Crystal Sceptre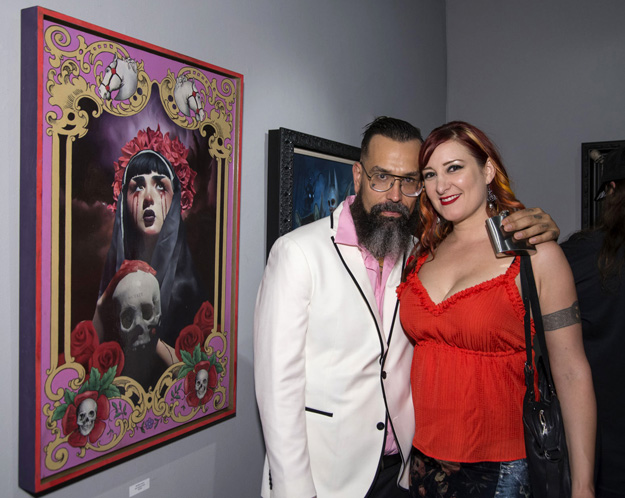 Matthew Bone with his wife in front of his piece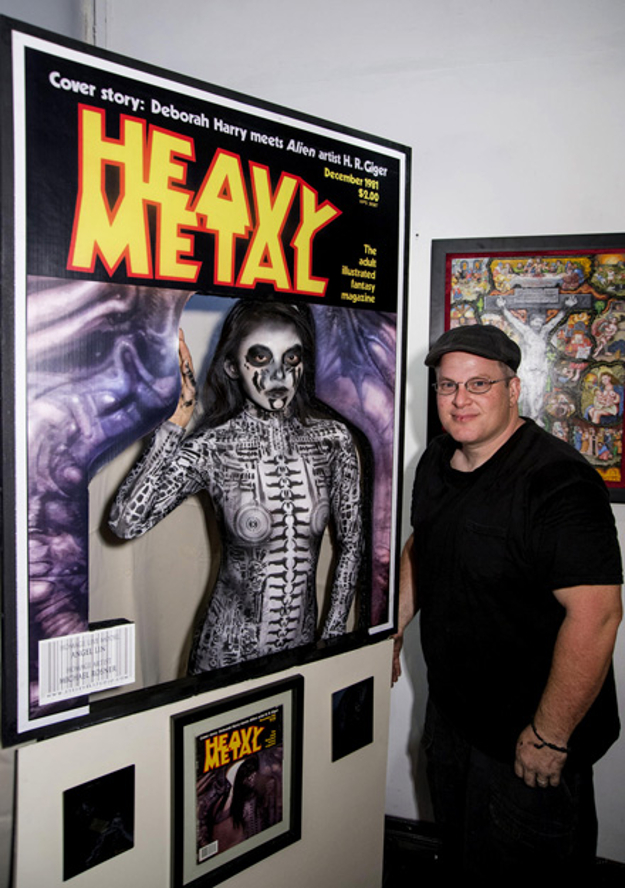 Michael Rosner – creator of the night's performance piece, posing with his model
Don't worry, however, if you missed the opening night – there is still plenty to see until the show ends on August 19, 2017! Featuring over 100 works, come down and revel in the dark dystopias of Chet Zar and Elghorri, before taking a dip in the oceans of fantasy with Michael C. Hayes' Princess of Mars and Dave Lebow's Green Death vixen. There's plenty to enjoy in the illustrative cartoons of Frank Forte and Pepe Moreno, and if you're looking for something a little more sultry, Brian Viveros and Dan Quintana's collaboration Desensitized brings a raw edge alongside Gail Potoki's original painting Botanica No. 3 (featured as one of HM's covers). The entire Heavy Metal exhibition integrates 40 years of artwork with playful celebration, and creates an altogether uniquely memorable experience. Copro Gallery are also planning many more pop-up artist signings throughout the group exhibition, so be sure to also keep an eye on their website for further updates!
[From the press release:] "First published in 1977,
Heavy Metal
, the world's foremost illustrated fantasy magazine, explores fantastic and surrealistic worlds, alternate realities, science fiction and horror, in the past present and future. Writers and illustrators from around the world take you to places you never dreamed existed. Heavy Metal was the first magazine to bring European legends Moebius, Tanino Libertore, Phillippe Druillet, Enki Bilal, Pepe Moreno to the U.S. as well as showcasing American superstars Richard Corben and Berni Wrightson. The magazine continues to showcase amazing new talent as well as allowing established creators to have "carte blanche". Heavy Metal magazine is now published six times per year. Most issues feature one serialized graphic novel, several short stories, an artist gallery and artist studio section, a dossier and editorial pages. Featuring Grant Morrison as editor-in-chief and Kevin Eastman as publisher, this new era promises to boldly go where no magazine has gone before. Explore ancient secrets, forgotten worlds and savage futures…".
For more information, contact Gallery Director Gary Pressman on 310/829-2156 or email [email protected].
A full line-up on featured pieces can be found on their website.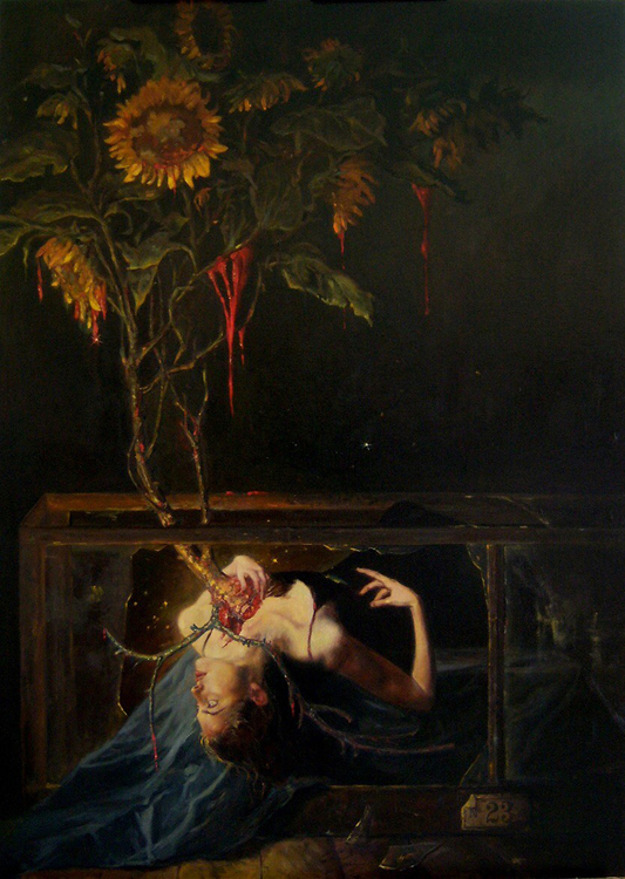 Gail Potocki – Botanica No. 23 (HM Cover)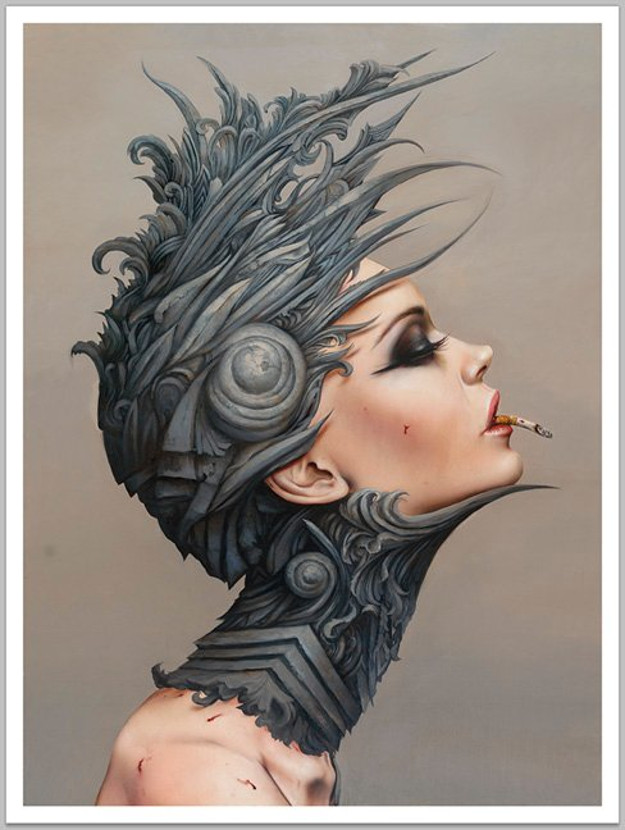 Brian Viveros / Dan Quintana – Desensitized: Heavy Metal Event  24″ x 18″ giclée signed and numbered by both artists
Camilla d'Errico – Albinow Rhinow (2017)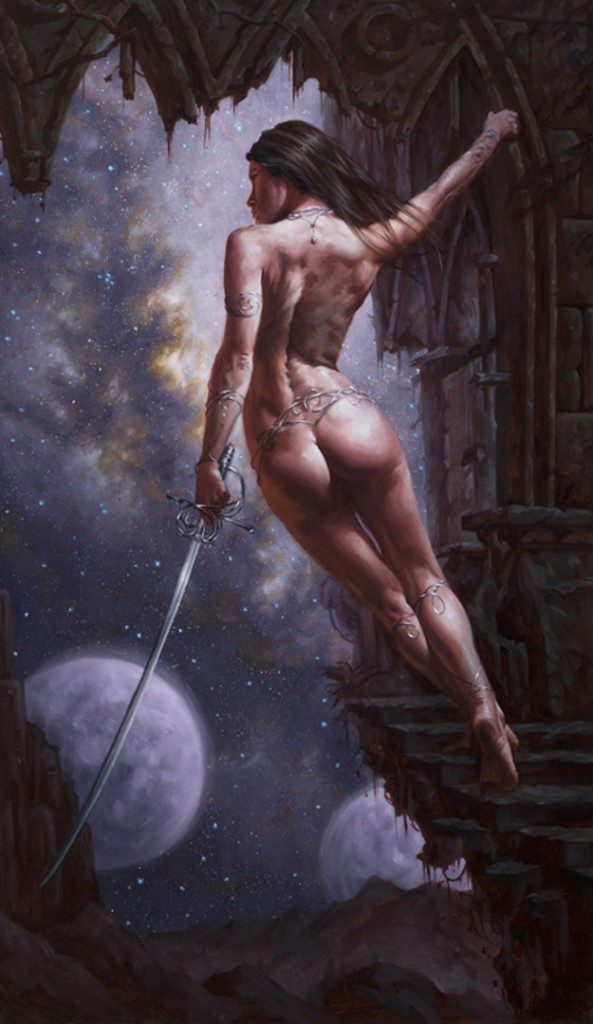 Michael Hayes – Princess of Mars
Carin A Hazmat – Dust and Shadow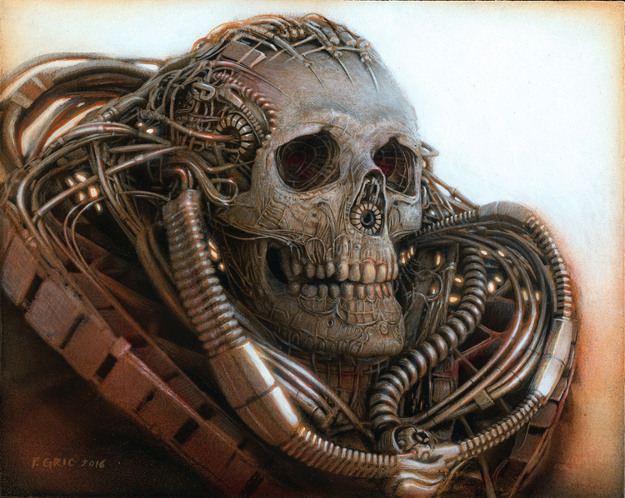 Peter Gric – The Time Traveler
Jim Pavelec – Ars Goetia: Asmodai