Jersey City artist M.H. Yaghooti uses his work as an expression of the beliefs, people and things he holds dear. Like the comic books that motivated him to pursue art, M.H's color palette pops and subdues as necessary, capturing the different range of emotions he's trying to convey. Describing his art form as "personal therapy", he creates an unintentional dialogue between himself and society, every piece expressing a strong feeling and a unique intensity that captures your eye and intrigues your mind.
Allowing viewers to attach their own personal experience to his artwork is important to M.H. The uncertainty conveyed in his work unconsciously allows the observer to carve out their own perspective, creating a personalized window into the unknowns. Inspired by greats like Francis Bacon and H.R. Giger, M.H.'s mystical figures, some with indiscernible faces, add to the otherworldly quality of each of his pieces. Some of these peculiar figures are a clever homage to icons like David Bowie, Les Claypool, Les Paul and George Washington.
Whatever your take is, being "a one-dimensional artist" is not on his agenda. M.H. is continually evolving his process through the use of new mediums, creating layers of contrast and adding to that symbolism. Hints of his search for spirituality and recognizing a higher power are sprinkled throughout his work, with symbols like all-seeing eyes and triangles, reflecting his interest in occult books. Others pieces seem to be surrealist nods to the collective unconscious, humanity and the metaphysical world. Soon he'll self-publish a third book thematically based on his work, and in October he'll be a featured artist at The Raven Gallery and Boutique's "Mystic and Mayhem" show. With many projects on the horizon, M.H. Yaghooti continues to keep the conversation interesting.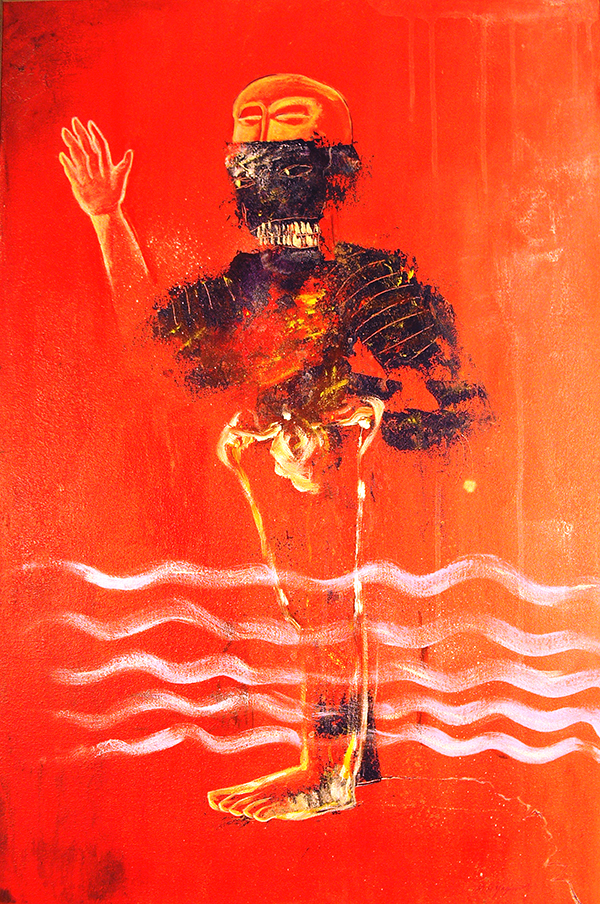 "Pazuzu" Mixed media on canvas. 20″ x 30″
It's always fascinating to hear how an artist was shaped. Can you describe your journey into art?
The most vivid memory I have is my mother encouraging me to draw. She noticed I took an interest in pictures and drawings and thought it was something I could learn and occupy my time with. You see, I have three older sisters who pretty much were a clique growing up. I'm sure she didn't want me to feel alone but I was a very solitary child, so she handed me a pencil and paper and I would draw for hours. I'm glad she did, she was my biggest fan.
The second memory I recall was around 8 or 9 years old when the local fire trucks were tossing comic books to all the neighborhood kids during Christmas. We would rush like mad to get a couple! I picked up a Turok and X-men comic. I was so excited because Turok had dinosaurs in it, and I loved dinosaurs! What kid doesn't?! Looking back, little did I know, that was a turning point for me to pursue art in some form.
Lastly, thanks to my mother who found a job for me at 13 years old, I worked at a comic store during junior and senior high school and into my first year of college. That helped shape my foundation for the arts because once I was in college, I found so much more.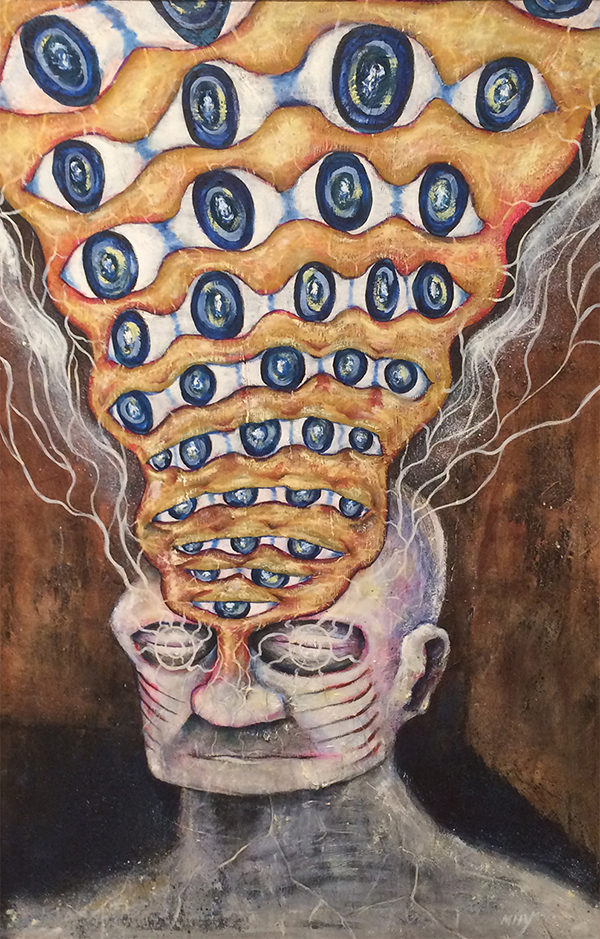 "Higher Mind" Oil and acrylic on canvas. 24″ x 36″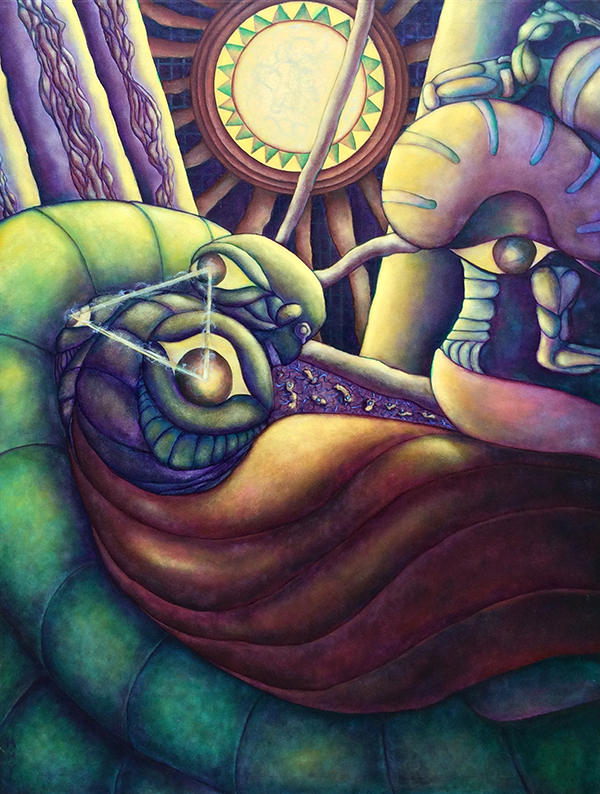 "Divine Triad" Oil on canvas. 36″ x 48″
Whether it's conscious or, not every artist has a process that they undertake. How do you go about embarking on a piece and how do you know you've reached the end?
My process starts in a number of ways. I'll begin by making some sketches in my journal and develop a piece from there. Other times it's spontaneous, simply adding paint to canvas, drawing shapes and colors. After some experimentation and layer building, I'll look for the desired results to wrap the piece up.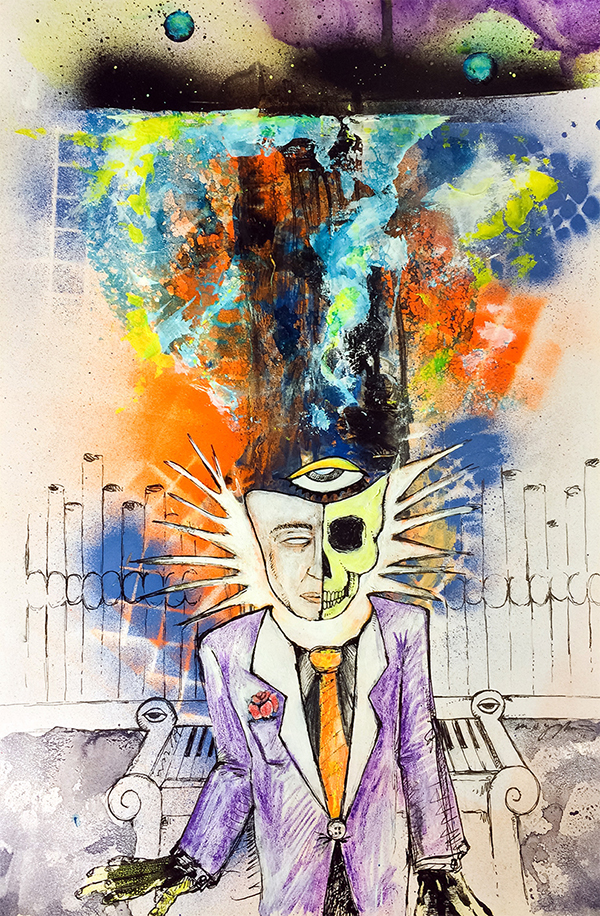 "Maestro" Mixed media on paper. 12″ x 18″
Do you have any rituals or routines that part of your creative process?
I like looking at my studio like a science lab. I'll work on several "experiments" at once. I'll start a drawing and work on that for an hour, and then switch to a painting I haven't touched in months. It's good to walk away from a piece now and then if it's not working at that moment…unless you have a show!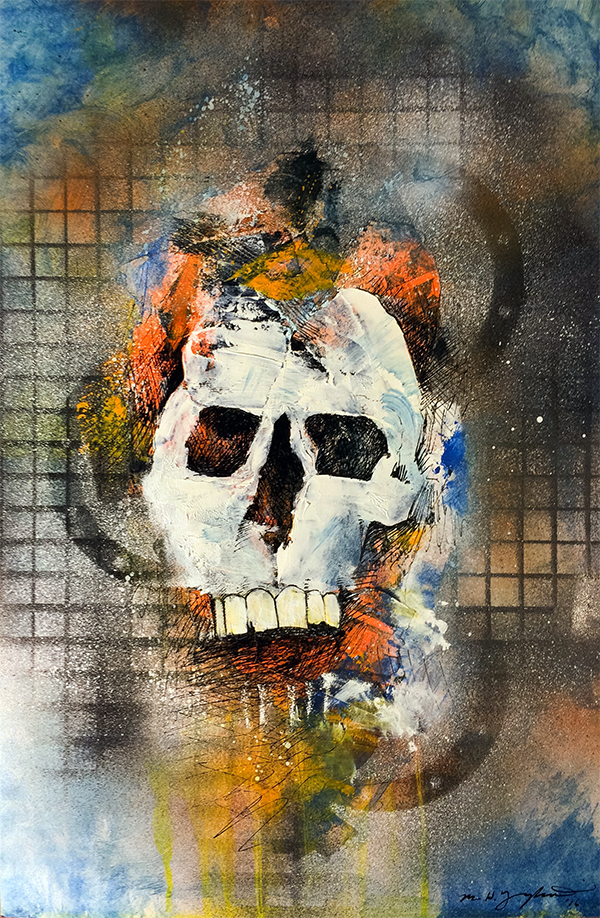 "Chaos" Mixed media on paper. 12″ x 18″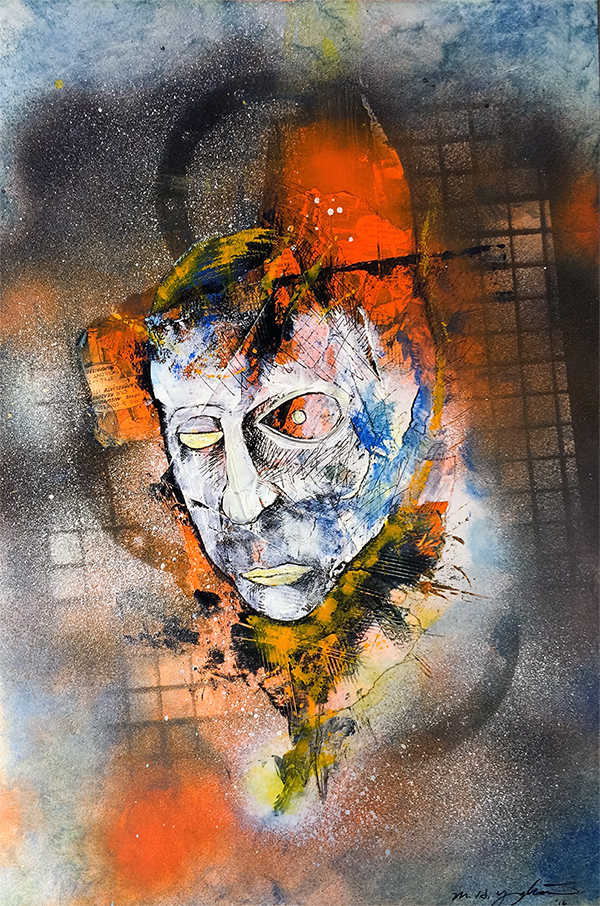 "Order" Mixed media on paper. 12″ x 18″
How has your work evolved over time?
Recently, I've used more mixed media – watercolor, spray paint, stencils and collage. For a long time, I only used oil and acrylics but I felt limited with what I wanted to do, so these have become essential for me in the experimental phase of my process. One thing I like doing is putting two pieces of paper together, pulling them apart and then smacking both pieces to canvas. It's one way to get spontaneous results so introducing other mediums to my work has helped a lot. Also using random objects like rags and sponges along with brushes to paint with works well for me.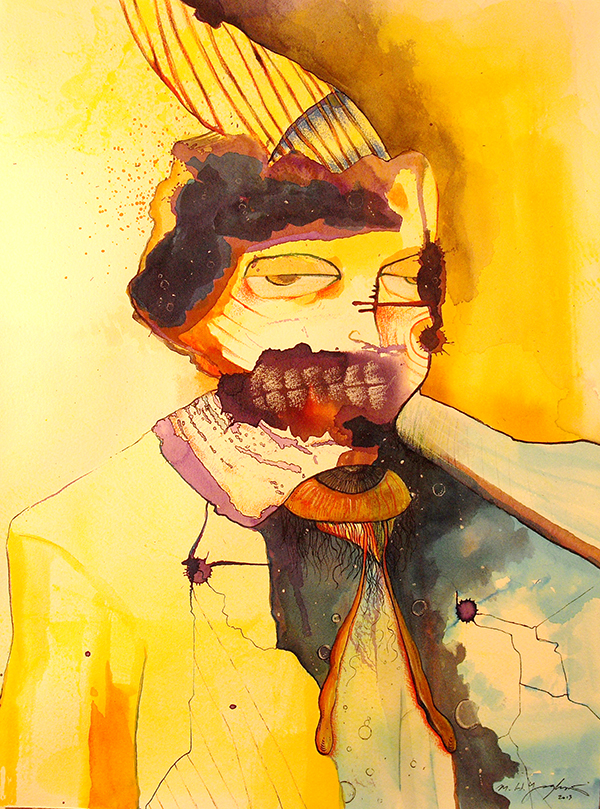 "Portrait of a Boy" Mixed media on paper. 12″ x 16″
What is your artistic philosophy?
Paint Forever. Paint until I die. Those are a couple mantras I follow. I'm selfish when it comes to art. I believe it's part of my spirit, my essence. My connection to the universe. Let inspiration flow because why force it? It's a constant. If something moves me enough, then I act. Additionally, it feels good to make money from your art, but it's more important for me to find peace, calm and gratification when making art. It's like having a therapist who I meet with a few times a week.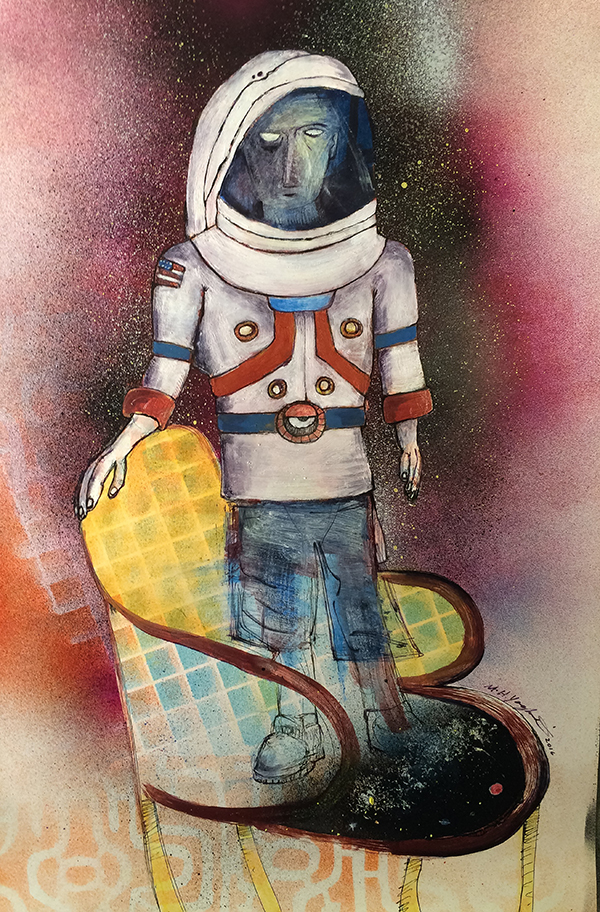 "Space Oddity" Mixed media on paper. 12″ x 18″
What kind of experience are you trying to communicate through your work? What do you hope someone takes away from it?
My art is very ambiguous. It can tell a story but the story isn't always mine. What I do on canvas and paper is only my narrative. Someone else will have a completely different experience. That's one of the best components of art. In most cases, art is subjective so one person's experience is entirely different from another person's point of view. It's interesting when a viewer can personalize a piece from their perspective because if they can relate to it, or evoke a response that moves them, I've made an impact on that person. It's happened at several shows where one viewer will explain their interpretation and someone else will tell me something entirely different. And I don't see it as lazy or the ever dreadful "I don't want to talk about my art". I've always felt that my work will have a better impact on the viewer if I don't give them too much. I want people to connect to my work in more than one way. Is it a story? A memory? Did I inspire them?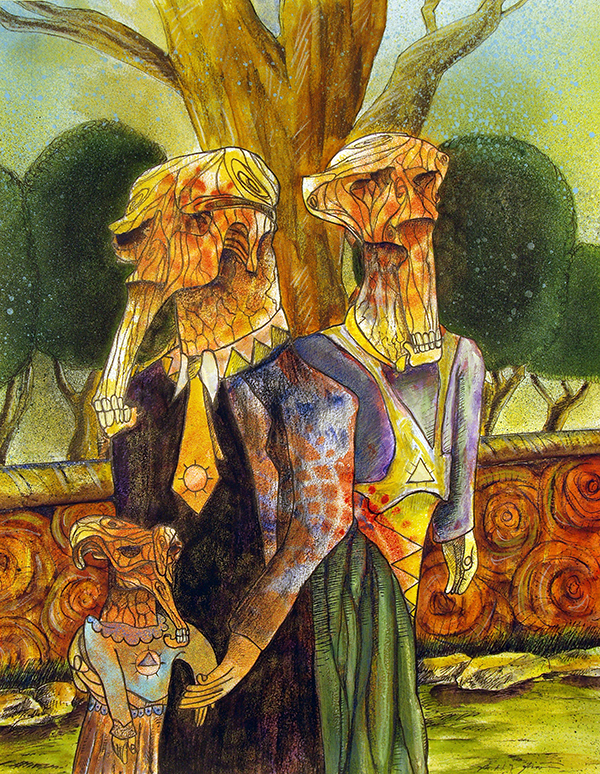 "A Family Portrait" Mixed media on paper. 11″ x 14″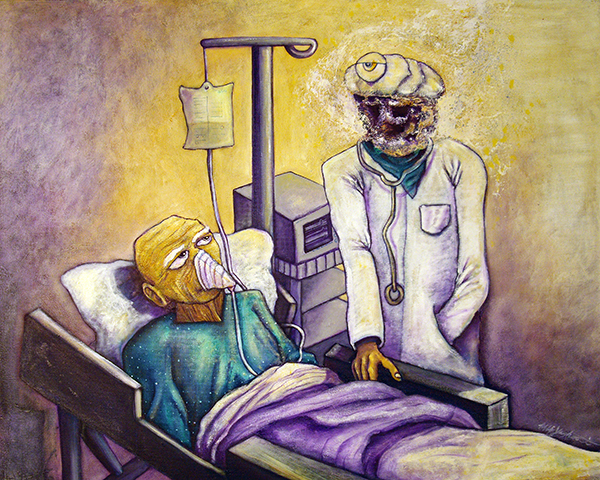 "Waiting" Oil on canvas 30″ x 24″
As an American of Iranian and Salvadoran descent, has your cultural background seeped into the conversation you try to create through your art?  Does art ever become a political platform for you?
If anything cultural had seeped in, it would have happened by now. A lot of artists use their cultural backgrounds as a springboard to do their art but that's never been the case for me. I guess it's too obvious. I'd rather dig deeper. Right now would be the time to be political, wouldn't it? I have done a few political pieces when it felt right but it isn't something I'm interested in doing with my art. There are other artists doing a better job of it.
"BDF" Mixed media on paper. 12″ x 18″
What would you like to accomplish with your art?
At first, I wanted to be a comic book artist. In college, I had a summer internship with DC/Vertigo Comics. Comics were popular but they weren't as mainstream as they are now with these blockbuster movies coming out, but it was a great experience because it provided a professional introduction to a part of the art industry. It's extremely competitive, however, I still love comics and the book format so I'm not ruling those out.
I think making my own art books is plenty fun so I'll probably continue doing that. I've done a couple already showcasing my drawings, paintings and mixed media pieces but for the next one, I'd like to focus on a theme and do a series of images for it. Ideally, it would be amazing to be included in some major art galleries and collections or perhaps have one of my pieces in a major art institution but most importantly, sharing my vision of art with the world is a humbling accomplishment.
"In Bloom" Mixed media on paper. 11″ x 14″
Outside of your own creations, what is it about art that moves you? Is there an aesthetic or a feeling that you gravitate to when viewing or collecting for yourself?
Art is a mystery. If I weren't an artist, I would enjoy it anyway. It's part of our everyday lives. It's in everything, in all forms. Our existence and future depend on it. It's crazy to me when you hear art education getting defunded. A lot of great ideas come from artists and they have always contributed to the world.
The art that attracts me the most is usually mysterious, weird and bizarre…like a window into the unknown. Artists like Francis Bacon, Zdzisław Beksiński, De Es – they're all unique visionaries. They all created work that displayed the beautiful and the bizarre. It's a delicate balance and I admire they did it so masterfully.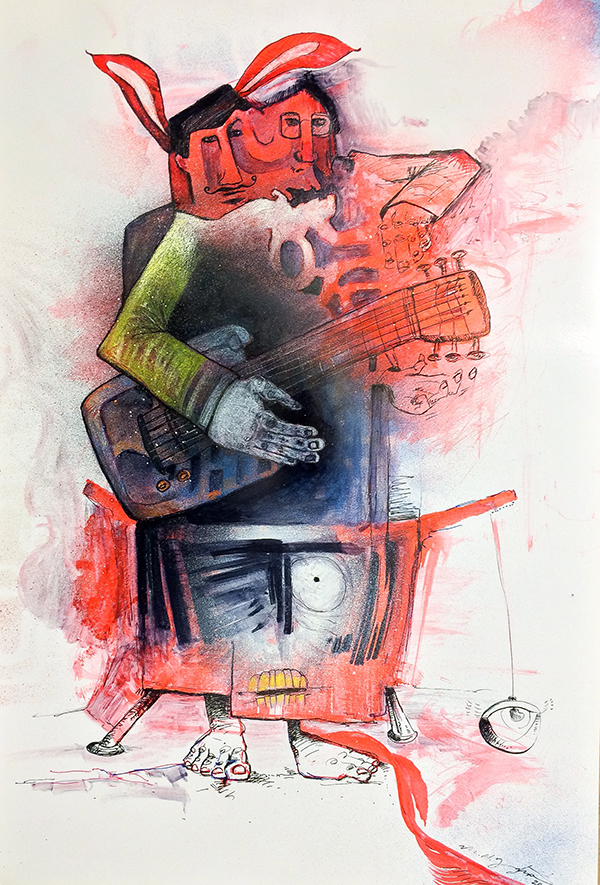 "Les ClayPaul" Mixed media on paper. 12″ x 18″
As a non-traditional artist trying to transition your passion into a sustainable living, what advice do you have for other artists in a similar situation?
Don't get frustrated and have patience. Recently, I was accepted into a strategic planning workshop and it was overwhelming because there was so much information to soak in. What I took from it was that your career won't start overnight and no one will come to "save" you. You need to put in the work as well as know when you need help. It's a tougher battle when you're doing it on your own. Find the opportunities you believe your work will shine. Family and friends are great support but find the supporters who take an interest in you and your work.
The business side is important, don't neglect it. Build relationships with other artists whose work you like and be present in your arts community. It's essential for people to see that you are serious about your art.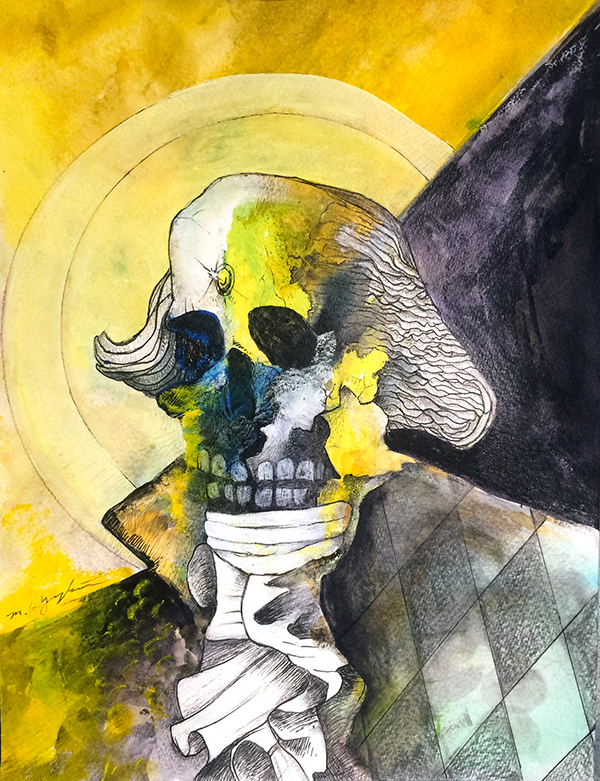 "Saint George" Mixed media on paper. 11″ x 14″