Rethinking Evolution: 'We Are the New They'
Ron English unveils his new work, 'NeoNature', a boldly symbolic exhibit at the Corey Helford Gallery. English's first solo exhibit in Los Angeles in two years, "NeoNature: We Are the New They" examines the art of evolution, civilization, and the parallel of instinct and intellect. In his own words, Ron English describes the overall essence of his upcoming show:
"We are the new They. And we will materialize joy by thinking as a species. We have evolved to survive in times incongruous with nature, where instinct won't save us. Our intellect is our fang. NeoNature examines the art of evolution, the flaw that propels civilization. The mutation of the ordinary stubbornly conjures new worlds.

Evolution is everything—wings flap and echoes trigger new means. It is intellectual communication. What is a butterfly pattern but a flamboyant yet fragile grab at the chance to spread the dust of its wings into new and larger worlds, a chance to seed before being consumed."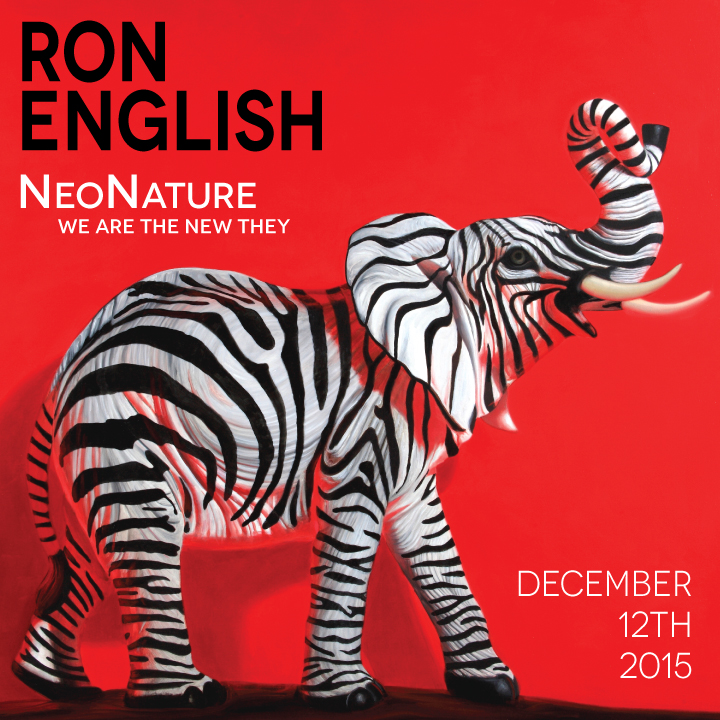 Opening Reception:
December 12, 2015 |7-10PM
Exhibition Dates:
December 12-January 9, 2016
571 S Anderson St (Enter on Willow St)
Los Angeles, CA 90033
(310) 287-2340
HOURS: Tuesday-Saturday: noon to 6pm
These explorations into the evolutionary chain of humanity force the viewer to intellectually interact as well as contemplate the artist's vision through visual dialogue on the themes of evolutionary alternatives, ongoing shifts in nature, and mankind's intervention and role in these shifts. Juxtaposition, a key factor in his latest work, combines both the elements and attributes of different species to create something new, and English also combines different material elements – sculpture, photography, oil painting – to add depth and layering to the work.
"We are the genetic result of selective breeding for happiness rather than survival," writes English. "Our superhero is no longer the strongman, but his conceiver, the writers and artists who elevate reptilian dreams, as the beasts of our evolutionary past tromp from forest to suburban tree-line, convinced we are only their dream, yet compelled to peer into our windows."
The gallery will reopen its doors this Saturday (12/12) from 7:00pm to 10:00 p.m., in their expansive 12,000-square-foot building downtown.  Opening night will include a DJ set by KCRW's Marion Hodges.