The 'Scarlet Reckoning' is in its own way an ode to feminine rage. Indeed, rage, whether we want it or not, is present on the spectrum of human emotions. Every so often, rage manifests itself within us as a tempestuous ocean with towering waves and churning currents. It is in the words we speak, the actions we take, the tears we shed or the fists we raise. Rage is either liberating or triggering. Like cathartic yet painful bursts of flames in our chests. Rage can also be taboo. Especially in a world which doesn't allow women and girls to fully express it.
Junyi Liu, through her 'Scarlet Reckoning' exhibition, aims to transcend that fear and explore other, broader themes. The artist unveils a world where female rage is no longer a taboo but a sign of strength. Like Artemisia Gentileschi's Judith beheading Holofernes, Junyi Liu's heroines dare to materialize their rage through sharp blades. However, Junyi Liu maintains an incredibly appealing aesthetic: soothing to the eye, with pink and red hues and a disarming softness and romanticism. A whimsy, even! Something more ambivalent and at its core, quietly theatrical.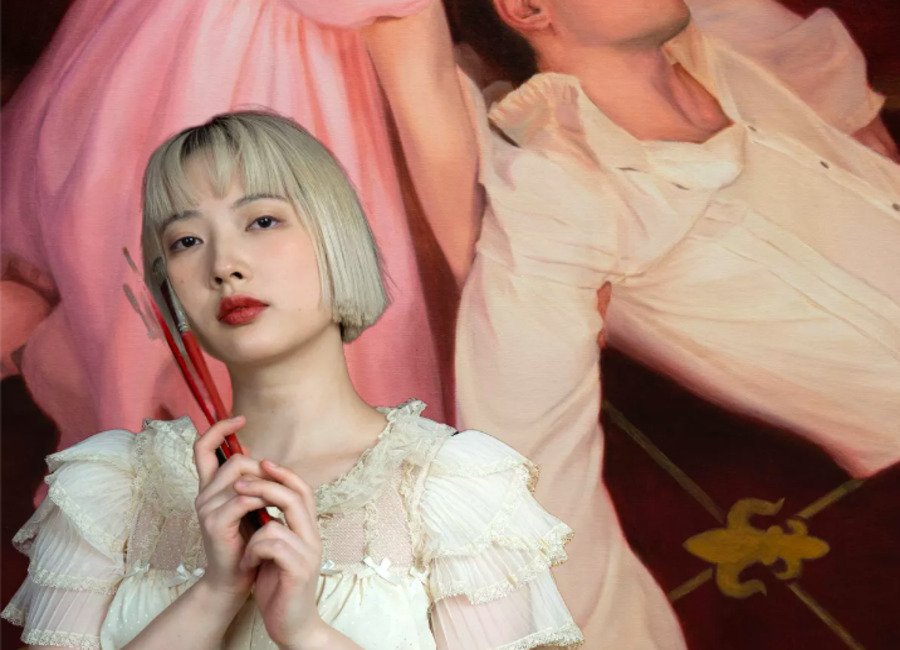 The online exhibition 'Scarlet Reckoning', is brought to you by Junyi Liu in collaboration with PoetsArtists and 33 Contemporary Gallery. It contains a collection of five oil paintings in which young ingénues are more lethal than they appear.
Junyi Liu: 'Scarlet Reckoning'
Online Exhibition: June 1 – July 31, 2023
https://www.artsy.net/show/33-contemporary-scarlet-reckoning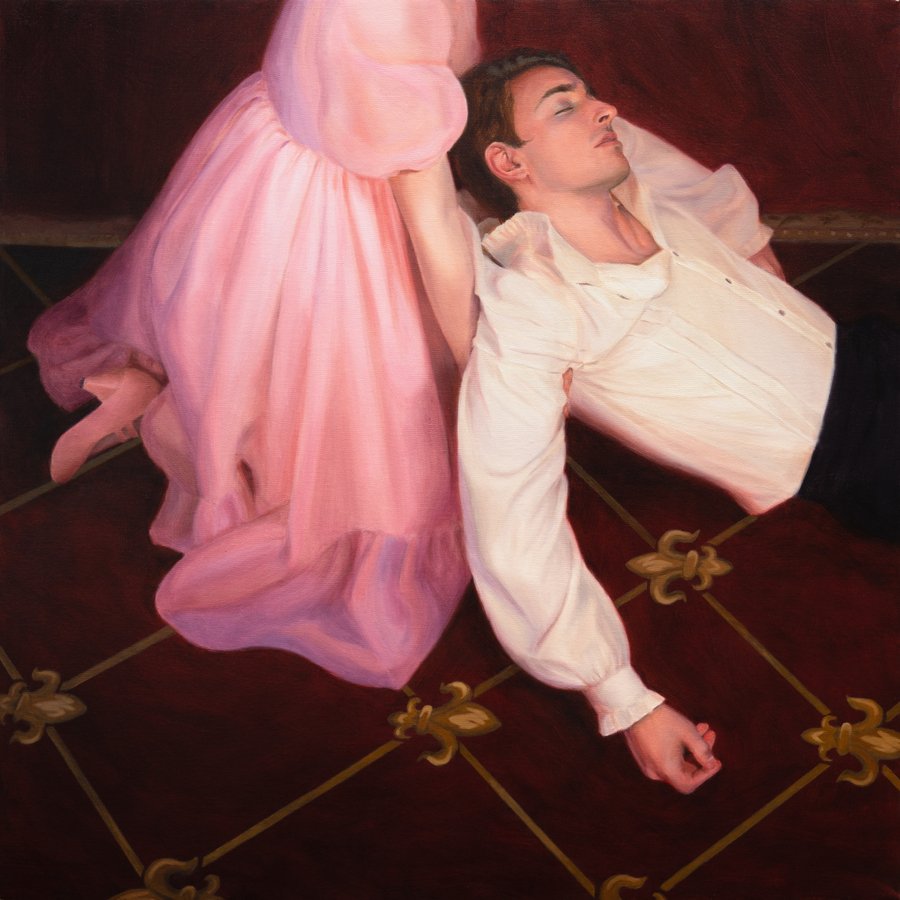 Painting is not a direct catharsis for me, as I don't like to treat the canvas as a mere protest sign. I want it to be aesthetically pleasing, intriguing, and challenging.

Junyi liu
Exclusive Interview with Junyi Liu
If you could use three words to describe the 'Scarlet Reckoning' exhibition, what would they be?
Theatrical, intense, evocative.
Theatricality, defeated men, and the power of feminine rage are the core ideology of this exhibition. What does feminine rage mean to you?
My artwork is rooted in my life experiences. My firsthand experiences of social injustice, domestic violence, and sexual violence have fueled my strong feminine rage. The trauma I have endured have had a profound impact on my physical and mental well-being. Combating these after effects has become a significant part of my life. Over the years, I have gradually pulled myself out of a state of confusion, helplessness, and pain, learning to validate my feelings and needs, and gaining the courage to confront injustice.
Art has provided me with an outlet to express this rage. Painting is not a direct catharsis for me, as I don't like to treat the canvas as a mere protest sign. I want it to be aesthetically pleasing, intriguing, and challenging. Through the conceptualization, preparation of props and scenes, photoshoot sessions, image adjustments, and various choices made during the painting process, I have transformed this feminine rage. This six-month process for 'Scarlet Reckoning' has become a means of exploring and communicating my inner self.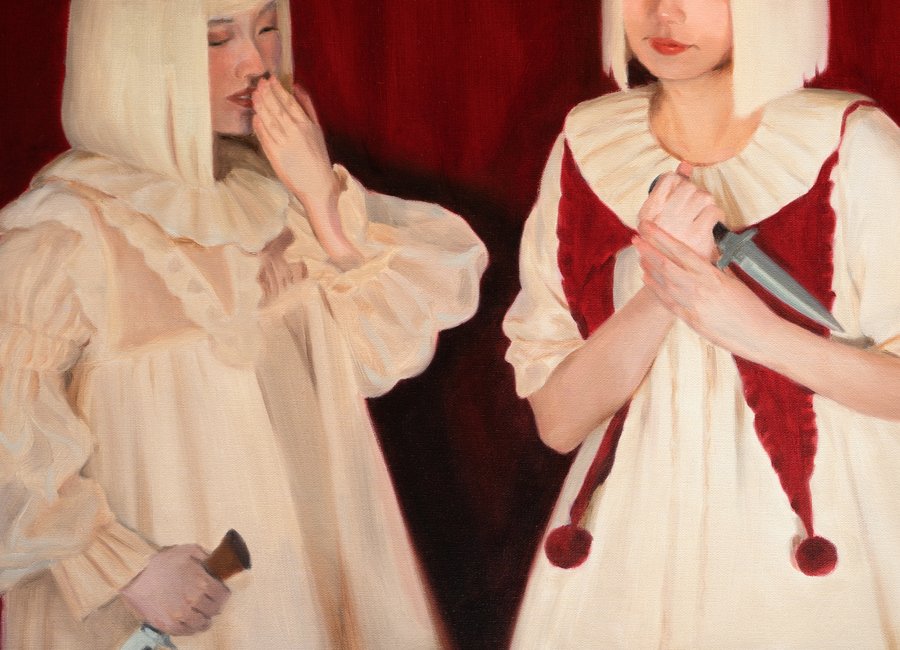 In 'Scarlet Reckoning', there seems to be a dichotomy between the perceived innocence/fairy-like appearance of the young women in your paintings and their actions. Was this contrasted effect intentional?
Yes. In both traditional fairy tales and societal expectations, women are supposed to be gentle, beautiful, and pure. They are objects to be gazed upon and possessed. In my artwork, the innocent and delicate appearance of women is a deceptive facade they use to deceive male characters. By pretending to be prey, they accomplish their revenge.
They are not passive objects without agency; instead, they are goddesses capable of judging male wickedness. The male characters who seek to exploit women face unexpected consequences, and their eyes are filled with disbelief. The story unfolds in a way that is unimaginable to them. This contrast between appearance and action achieves a subversion of traditional fairy tales and power dynamics.
Reimagining fairy tales is an attempt to regain control over the narratives and bring power back to women.
Did you find yourself being inspired by stories or other artists whilst working on the pieces for the 'Scarlet Reckoning' exhibition?
Absolutely. I am drawn to stories and films about female revenge. In many cases, real-life justice and retribution do not occur, so the protagonists in these works seek revenge through cunning and violence. Classic examples include "Kill Bill," and I also enjoyed the 2018 Thai drama "Girl from Nowhere." The aesthetic of violence in these films fulfills women's desire for powerful revenge or fantasy.
In reality, women's hope for justice and retribution is rarely fulfilled, but their imaginations give them a chance to shake up power dynamics. In my series, I chose fairy tales as a medium. Reimagining fairy tales is an attempt to regain control over the narratives and bring power back to women. However, as fairy tales—despite the alterations—the stories do not possess much power in the real world. Like a dream with beautiful aesthetics and exciting storylines, these fairy tales could be abruptly halted.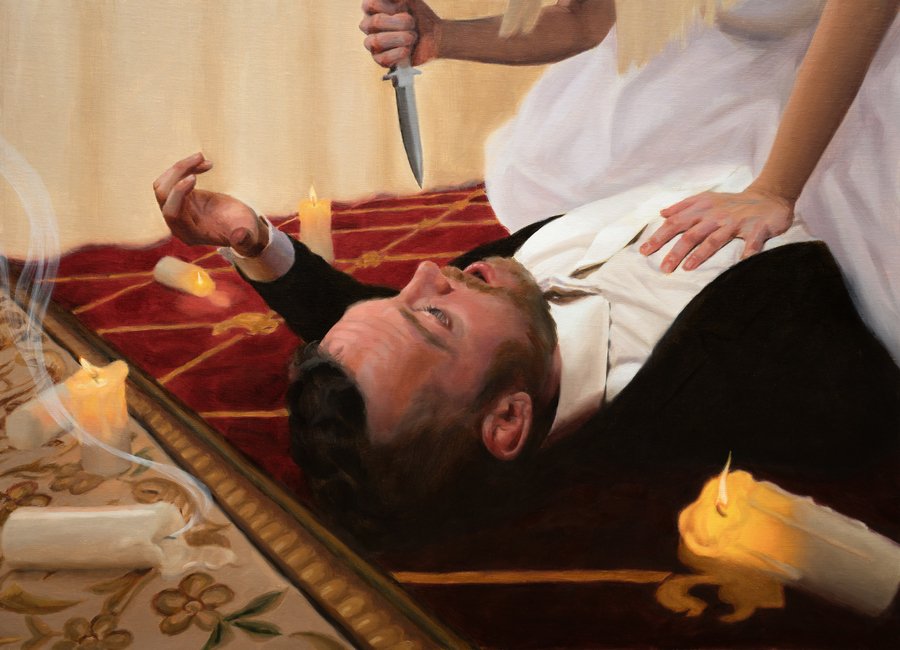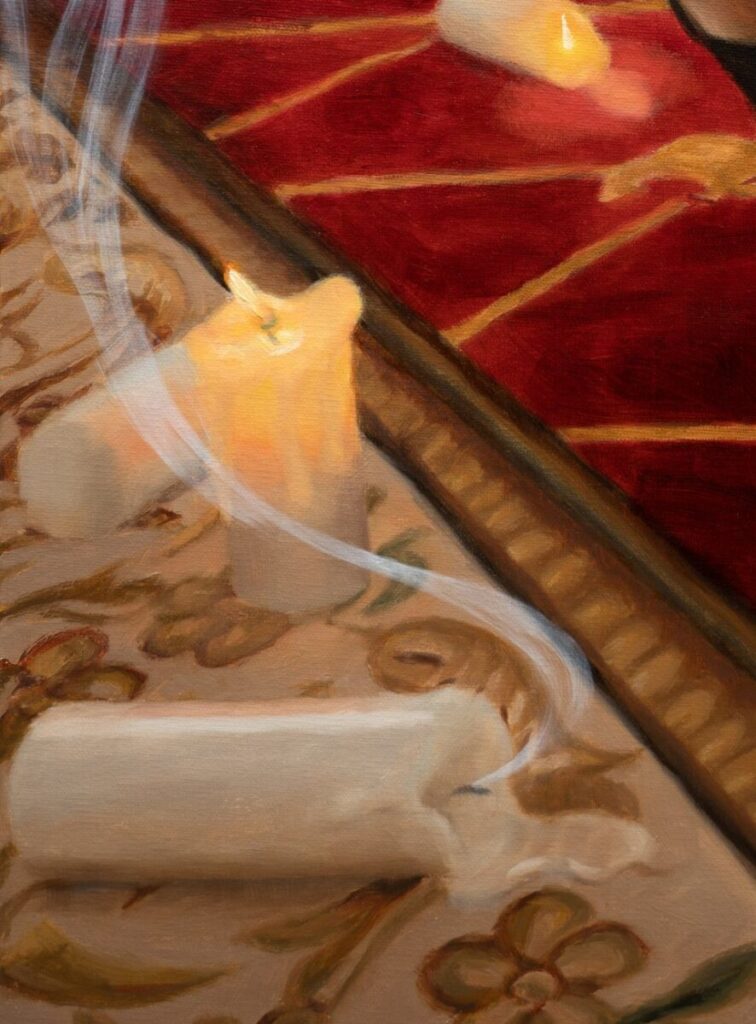 Color is a huge theme throughout 'Scarlet Reckoning' as you use such vivid red and pink color palettes. Would you say color is an integral part when discussing and painting themes relating to strong emotions?
Yes. I deliberately restricted the main colors of the paintings to red, pink, and off-white. These three contrasting colors appear repeatedly in the backgrounds, props, costumes, and hair of the characters. Like metaphorical poetry, the small white rabbit on the table is juxtaposed with the blood-red table runner and spilled red wine. You can see both the innocence of a young girl and the hidden violence within the same person. The red velvet curtains and carpets serve as the backdrop for this mysterious poem. When you hold this red paper in your hands, it constantly reminds you of the unsettling energy simmering in the darkness and the magnificent plot waiting to unfold.
What was the creative process like for creating the works featured in 'Scarlet Reckoning'? Any highs or lows you can share from the time spent working on this exhibition?
This series underwent a series of transformations. When the initial idea emerged, I was excited because it truly touched something deep within me, so I immediately immersed myself in developing the concept. After establishing the overall style, I acquired costumes and props, set up shooting scenes, and invited my friends to my home to model. Most of my friends had no modeling experience, but I was glad that they appreciated my aesthetics and concept, finding the project cool.
The shooting process for 'Scarlet Reckoning' was definitely a high, and we all enjoyed ourselves. During the actual painting process, my emotions fluctuated. Many significant decisions had to be made, and each decision would affect the final presentation. However, every time I completed a piece, I felt a sense of accomplishment. The feeling of turning a fleeting idea from my mind into a tangible artwork was incredible.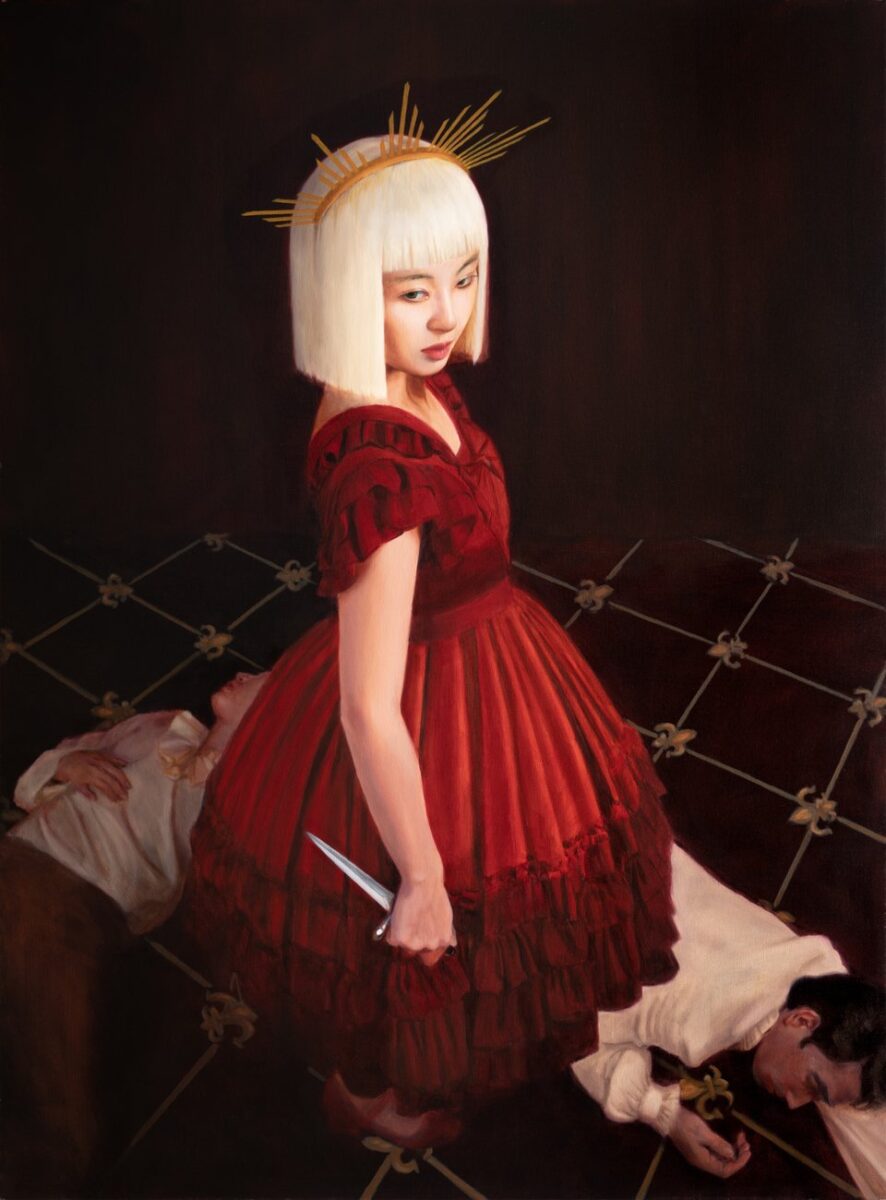 What do you hope those attending 'Scarlet Reckoning' can take away with them after viewing your work?
I encourage the audience to interpret my 'Scarlet Reckoning' artworks in their own way. I hope that people from all backgrounds and ages can gain something from my paintings, whether it's emotional resonance, a response to the colors, or appreciation for technique. Regardless of the theme, I want my artwork to be "beautiful." This kind of "beauty" is a beam of light that I continuously strive for.
I was wondering if you had any favorite pieces from 'Scarlet Reckoning' ? If so, which ones and why?
"The Feast Is Served" is one of my favorites! Another one is "Till Death Do Us Apart." Both of them have unconventional compositions. I have seen too many oil paintings with centered figures and blank spaces on three sides, so I wanted to do something different. By cutting away certain parts, not only does it make the composition more interesting, but it also contributes to a unique narrative style.
"Till Death Do Us Apart" captures the moment when the bride pushes the groom and is about to stab him. The extinguished candles and the impending toppled candle, just like the apple (symbolizing sin), red wine (symbolizing blood), and the little white rabbit (representing the unknown) in "The Feast Is Served," both have aesthetic appeal and are symbolic in nature. I thoroughly enjoyed the process of painting these pieces.
What's next after 'Scarlet Reckoning'? Any new projects or opportunities in the works that you can share with our readers?
I will continue to create more oil paintings within the same series, allowing the audience to see a more complete storyline. I will be participating in this year's CONTEXT Art Miami, exhibiting my works at the booth of 33 Contemporary. At the same time, I am also planning some performance art pieces. You can see completed work images on my personal website or social media platforms.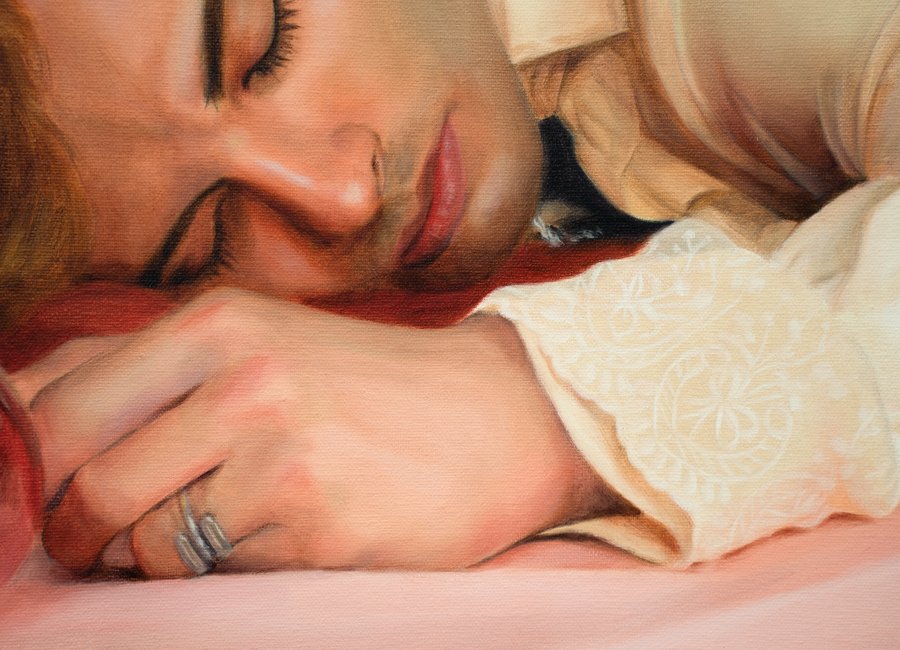 About Junyi Liu //
Junyi Liu was born in China in 1995. Her paintings are characterized by rich colors, unusual compositions, and emotionally charged scenes. She explores themes such as trauma, mental illness, and romanticism. She received an art education in the U.S. and graduated with a BFA from Maryland Institute College of Art. She now lives and works in New Jersey.
About 33 Contemporary Gallery //
33 Contemporary Gallery is a gallery based in Chicago. It has evolved over the years in scope and focus recognizing the needs of artists and the art market. It has organized over 200 solo and group exhibitions in our gallery, online and through international partnerships. The gallery offers a wide selection of premier contemporary realism, figurative art and abstraction paintings from emerging and established artists from around the world. It presents exhibitions and online exclusives in partnership with PoetsArtists.
Junyi Liu Social Media Accounts
Website | Instagram | Youtube | TikTok
33 Contemporary Gallery Social Media Accounts
PoetsArtists Social Media Accounts