Today we are featuring three incredible shows coming to Haven Gallery this January! Haven's new renovations lend itself to a comfortable space to share three simultaneous shows, each truly captivating in their own right. Adam Burke's 'Ghosts of the Anthropocene" is his first solo show and Adam is highlighting the natural world in a beautiful and meaningful series of works. He has captured the deep and personal relationships we, as humans, share with the Earth and our surroundings. This show will evoke the feelings and mysteries between mankind and nature herself.
Alongside Adam, an exhibition of 12 new works from the wonderful Andi Soto, with her solo show 'Halycon'. These works are truly mesmerising. The details is these mixed media pieces, would be worth a decent amount of travel to see in person. These rendered drawings also examine the world and the emotional responses to it. Coming from a reflective and darker place, these 2 shows complement each other and will open up a new way of seeing our existence.
The third show is Haven's always-popular Music Box exhibition. Music box III will feature many artists both emerging and established from around the globe. Of course, the pieces, as always, are thoughtful and personal. These incredible artists will explore the world of sound and it's unique and intimate role in all of our lives.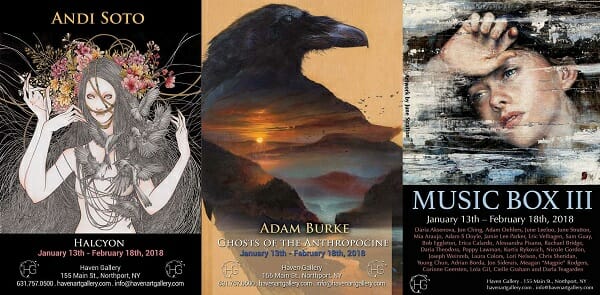 Opening Reception:
Saturday, January 13, 2018 | 6-8pm
Exhibition Dates:
January 13, 2018 – February 18, 2018
155 Main St., Suite 4
The Carriage House Square
Northport, NY 11768
Hours of Operation:
Wednesday – Sunday | 12pm– 6pm
For additional information and preview images, please contact Erica at [email protected]
Press Release:
Northport, NY– Haven Gallery is pleased to present "Ghosts of the Anthropocene", a solo exhibition of new paintings by Oregon based artist Adam Burke. "Ghosts of the Anthropocene" is Burke's first solo show with the gallery and will include seventeen new paintings that provide a glimpse into a world that is both past yet to come. A world where nature glows in vibrant hues and vitality while shadows of mankind, with the essence of a more primordial past echo within the vista.
"The Anthropocene Epoch is the proposed name for the current time interval in which human activity will significantly alter Earth's geology. These shifts will be marked by climate change and mass extinction. Though serving as reminders of our losses, I also want these works to help us remember to value the beauty in nature. I want the viewer to appreciate nature on a deeper level by reflecting on our relationship with it. We are of nature and must remember our place. I want to expose the incredible complexity of the simplest moments. I want to highlight the mystery all around us. I want to help change ideas of hierarchy and beauty and remove barriers that keep us from holding the natural world as dear. In doing so, I hope to redefine beauty, expressed through the infinitely refinable skill of painting. I want these works to serve as a memorial for that which has been lost and what will continue to be lost in the Age and Man". – Adam Burke
Press Release:
Northport, NY– Haven Gallery is pleased to present "Halcyon", a solo exhibition of new work by Panama based artist Andi Soto. "Halcyon" is Soto's first solo show with the gallery and will include twelve new works on paper that feature the artist's highly detailed, mixed media works that focus on the female form synthesizing with elements of growth and decay. Soto's meticulously rendered drawings are a combination of ink, graphite, colored pencils and markers that work together to form cascading lines of infinite strands of hair merged with delicate shading and blossoms bursting with color that embody what is past, present and to come all in the cycles of existence.
"The Halcyon days of creation are meant to be seen and wondered with nostalgia. Between constant day-dreaming and contemplation, my illustration work is the result of an introspection, a way to examine the world, lurking in the vast realm of the unconscious and the emotional response to darkness." – Andi Soto
Press Release:
The art of music dates back to the prehistoric era and has served a number of purposes throughout the passage of time and evolution of mankind. The ability of expression through sound has proven to play a variety of roles including inspiration, comfort, pain and the bringing of people together. In our second edition of "Music Box", artists look to a lyric, song title or musical genre to intertwine with their aesthetics. The transcending medium of sound is paired with their visual expression, bringing at once a dual connection of emotion which serves to further strengthen the bridge between artist and viewer. Each artwork exhibited will contain its musical inspiration alongside its title to further enhance the already connective forces of the visual arts with their mellifluous counterpart.
Artists include:
Daria Aksenova, Jon Ching, Adam Oehlers, June Leeloo, June Stratton, Mia Araujo, Adam S Doyle, Jamie Lee Parker, Eric Velhagen, Sam Guay, Bob Eggleton, Erica Calardo, Alessandra Pisano, Rachael Bridge, Daria Theodora, Poppy Lawman, Kurtis Rykovich, Nicole Gordon, Laura Colors, Lori Nelson, Chris Sheridan, Jon Siderais, Meagan "Magpie" Rodgers, Corinne Geersten, Lola Gil, Cielle Graham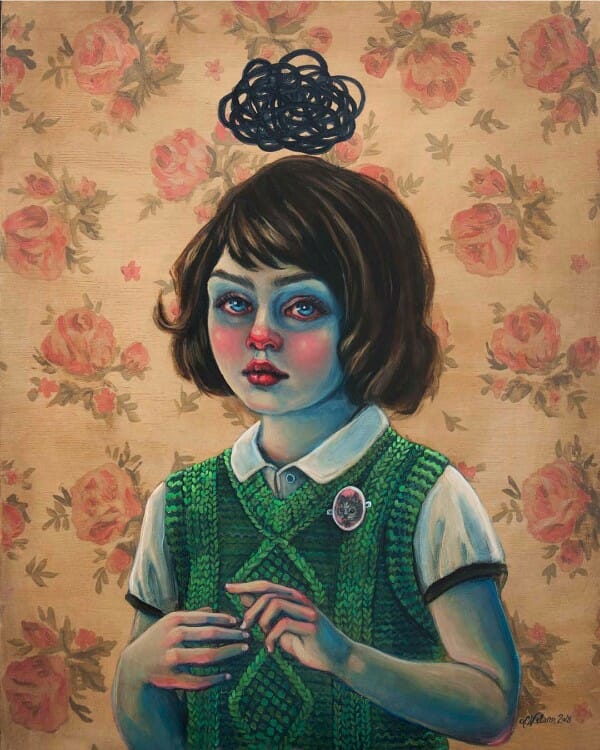 Lori Nelson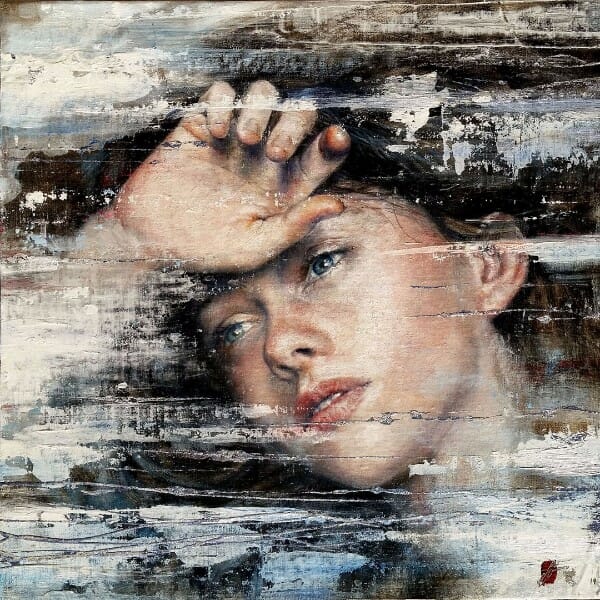 June Stratton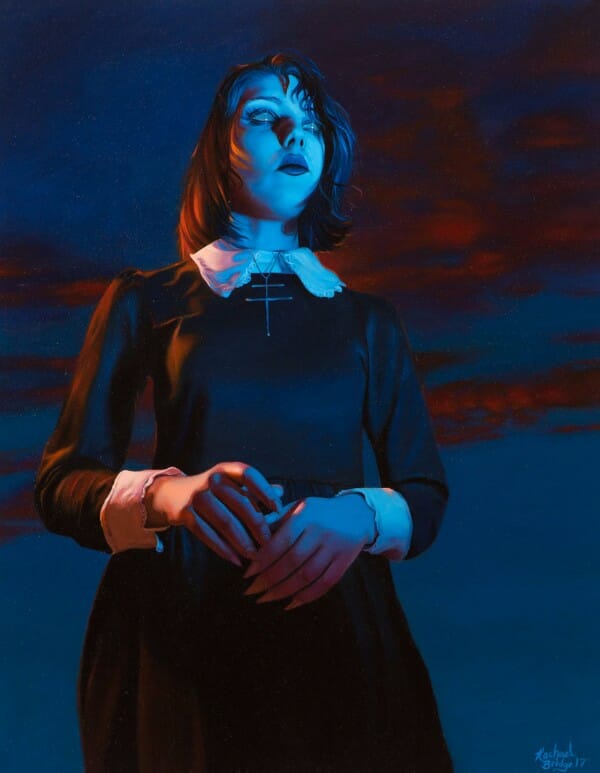 Rachael Bridge
June leeloo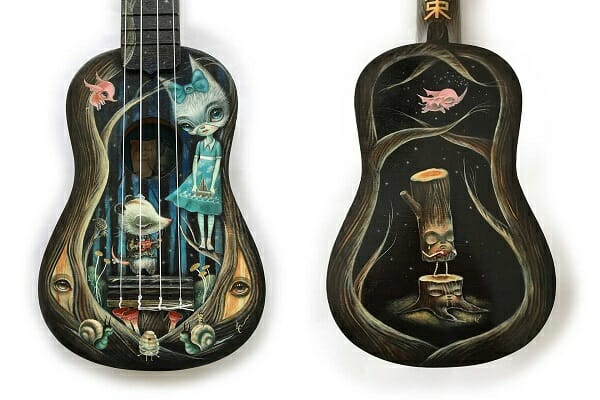 Laura Colors
Kurtis Rykovich