ArtHatch and Distinction Gallery reveal Kari-Lise Alexander's stunning new body of work in her solo exhibition "Inflorescence" from 14 February to 7 March 2015. Kari-Lise will be in attendance at the opening on Saturday, February 14, 2015 from 6 – 10pm to meet, greet and answer questions. Local artists within the ArtHatch building will have their studios open to the public as well. Bring your Valentine for a Date Night and enjoy complimentary Chocolate, Red & White Wine, and Stone Beer! Free flower given to the first 50 women after 6pm!
"Kari-Lise Alexander's expressive work explores themes rooted in her Scandinavian heritage. Innocent maidens float in worlds of their own making, oftentimes losing themselves in their daydreams, Kari-Lise's work often reflects the Norwegian folk art of rosemaling. This traditional art is given a contemporary feel in many of Kari-Lise's paintings as it wraps and entwines itself within the composition, sometimes floating as a ghost as if it were an ancestral reminder." ~ Distinction Gallery
Kari-Lise Alexander | Inflorescence
14 February – 7 March 2015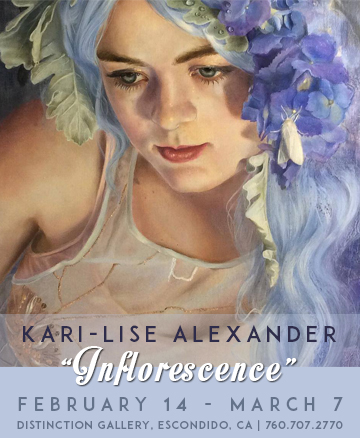 317 East Grand Avenue,
Escondido, CA 92025
.
Kari-Lise Alexander gives us a personal insight into this series, "Inflorescence has a couple different definitions. First is the arrangement of flowers on a plant. Second and from which I drew my inspiration, is: the process of flowering. Each individual piece in the show is in the process of revealing itself to the audience. The process of flowering is also personal to me, with my growth as an artist, and a conscience effort to evolve my work over this last year.  
Inflorescence is about the overlooked details in nature. The opportunities we have to observe and enjoying those tiny precious details we so often miss in our hurried lives. I want you to be up close and personal with the girls in these pieces whom seem to notice all these details we ourselves over look. Be it a passing moth, rain drop on the shoulder or melting flowers, this series has the intention of pulling the viewer in for a closer look and making us stop to see the moment of Inflorescence before us."
'Overlooked Details: An Artist's Journey' by Scott Wilson
"This is a story about resilience – about what it really takes to be an artist. This is the story of Kari-Lise Alexander, an acclaimed oil painter whose work has been shown at international galleries. Along with her husband, author K.M. Alexander, and friend, woodworker Steve Leroux, Kari-Lise recounts her past and present struggles and shares what she's learned along her journey. It's not just talent. It will never be perfect. And success is not a destination." ~ Scott Wilson
Overlooked Details: An Artist's Journey from Scott R. Wilson on Vimeo.