Erik Jones' [July 2013 issue of beautiful.bizarre] debut solo exhibition, 'Motion' opens on 5 July at Hashimoto Contemporary and is on show until 21 July. Jones' unique blend of form and abstraction are inspired by contemporary non-representational abstract painting and fashion photography, both of which are incorporated into his figurative hyperrealism. We see glimpses of his figures enveloped by bold geometric shapes and splashes of colour. However these are not random forms, but carefully planned and executed using layers of water-colour, coloured pencil, oil paint and wax pastels.
"For his debut solo show, the subject of Erik Jones' paintings take on three separate forms, all unique yet interconnected into a greater whole. The most recognizable of the paintings depict the nude human form, an ongoing motif in the artist's greater body of work. Simultaneously, some of the paintings focus on what lies further beneath the skin, exploring memento mori and the symbology of death. Lastly, the third grouping of paintings in the exhibition stand void of any figure at all, giving in whole-heartedly to the mobility and flux of the more abstract qualities of Jones' work. These three subjects take the helm of Motion, referencing a cyclical narrative of life, death and the unknown." ~ Hashimoto Gallery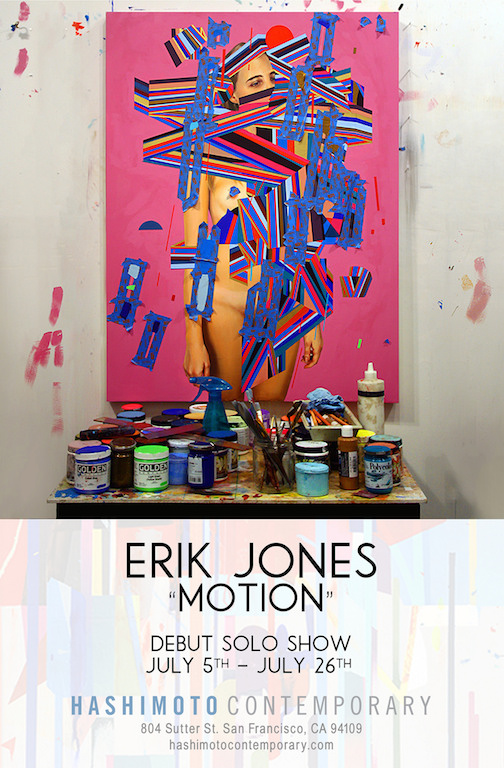 'Motion' opens Saturday, July 5th, with an opening night reception from 6pm-10pm.
Hashimoto Contemporary
804 Sutter Street, San Francisco, CA 94109