Turn your sights towards the believer within, to the dreamer always searching for joy on the horizon. Feel the inspiration seep into you like a cozy cup of tea that warms your soul from the inside out. Join Haven Gallery as they honor the new year with exciting exhibitions by Jason Mowry, Nikolas Tower, and Tina Yu. Then look to the beyond and delve deep into their Sky Group Exhibition, featuring artists you love and their diverse interpretations of the endless mysteries, magical complexities, and mythological discoveries of our glorious night sky.
Don't miss these beautiful new bodies of work! View them in their entirety alongside all available inventory by visiting the gallery website! Feel like time travelling? Return and reflect upon past exhibitions and see what piques your interest!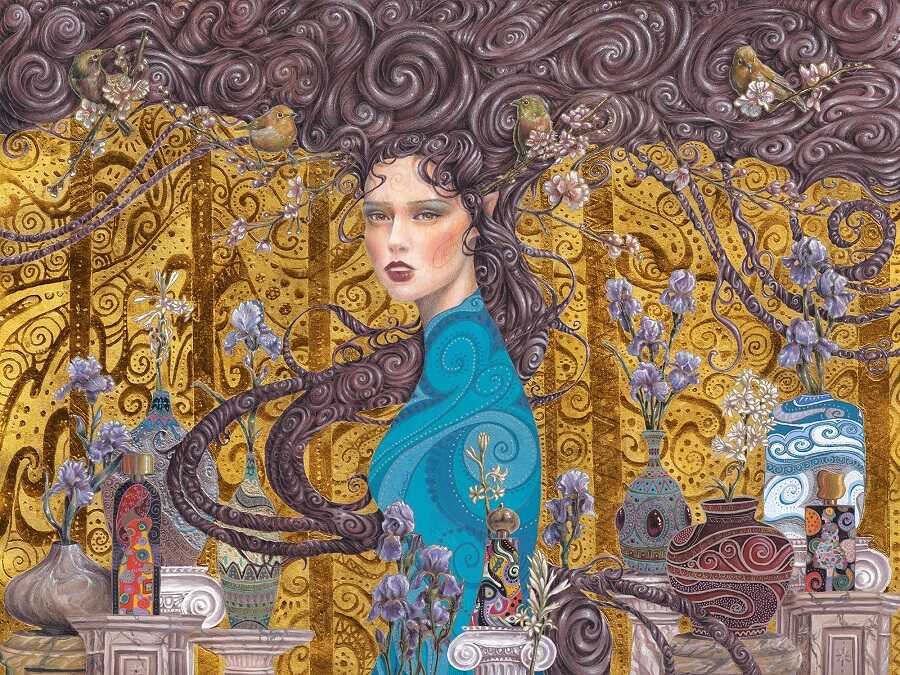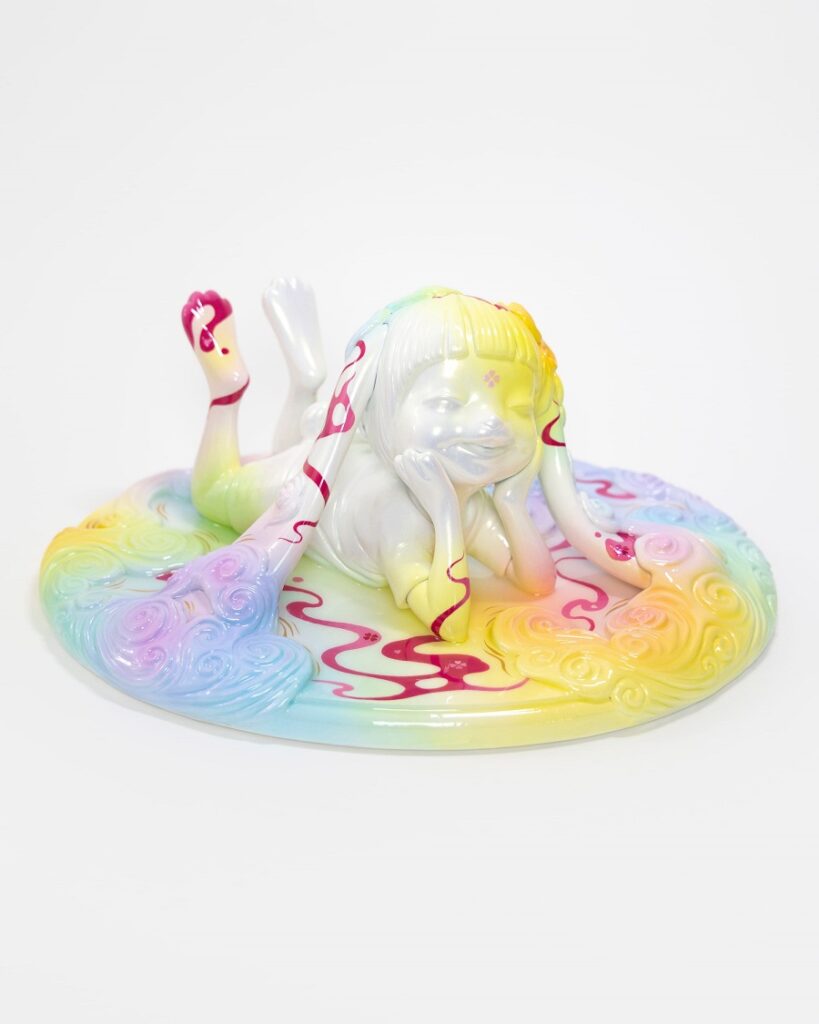 Jason Mowry | Nikolas Tower | Tina Yu
&
Sky Group Exhibition
Opening Reception: Saturday, January 21, 2023
Exhibition Dates: January 21 – February 19, 2023
Haven Gallery
50 Main St., Northport, NY 11768 | ph. (631) 757-0500
To inquire, please contact Erica via email [email protected]
About the Gallery //
Haven Gallery is run by Erica Berkowitz and Joseph Weinreb. The gallery first opened in 2015 in the Carriage House of historic Northport, NY. Within two years, the gallery doubled in size and expanded into the entire Carriage House building. Through their successful in-house exhibitions and presentations at art fairs both domestic and international, Haven opened a secondary location at 90 Main St., in 2020, during the height of the Covid pandemic. It was at that point, that Erica and Joseph knew it was time to find a permanent location for their artists. In January of 2022, they bought the building at 50 Main st., and opened its doors as Haven Gallery's perennial home.
Haven Gallery's focus is on exhibiting emotionally, intellectually and imaginatively driven, representational artwork that connects the audience and artist with universal axioms and passions. We work with both emerging and established artists who transcend their medium and subjects by exploring the world around them as well as the one within themselves.
---
Haven Gallery is pleased to present "Burgeon Fantastic", a collection of new paintings by Ohio based Jason Mowry. "Burgeon Fantastic" is Mowry's third solo show at the gallery and continues the artists exploration of human beings transcendence with nature through historic and contemporary narratives. Highly inspired by mythology, Mowry paints classical divinities and timeless chronicles in his own stylistic hand, reinterpreting these ageless tales into contemporaneous visuals. Warm, earthen palettes embrace his Mannerist female figures, impressive animals and exotic flora, as a sense of harmony and balance are evoked. Lush with detail, his paintings teem with life and grace. Through his medium, Mowry creates serene and expressive scenes uniting all living beings and returning humans to nature's cyclical and majestic realm.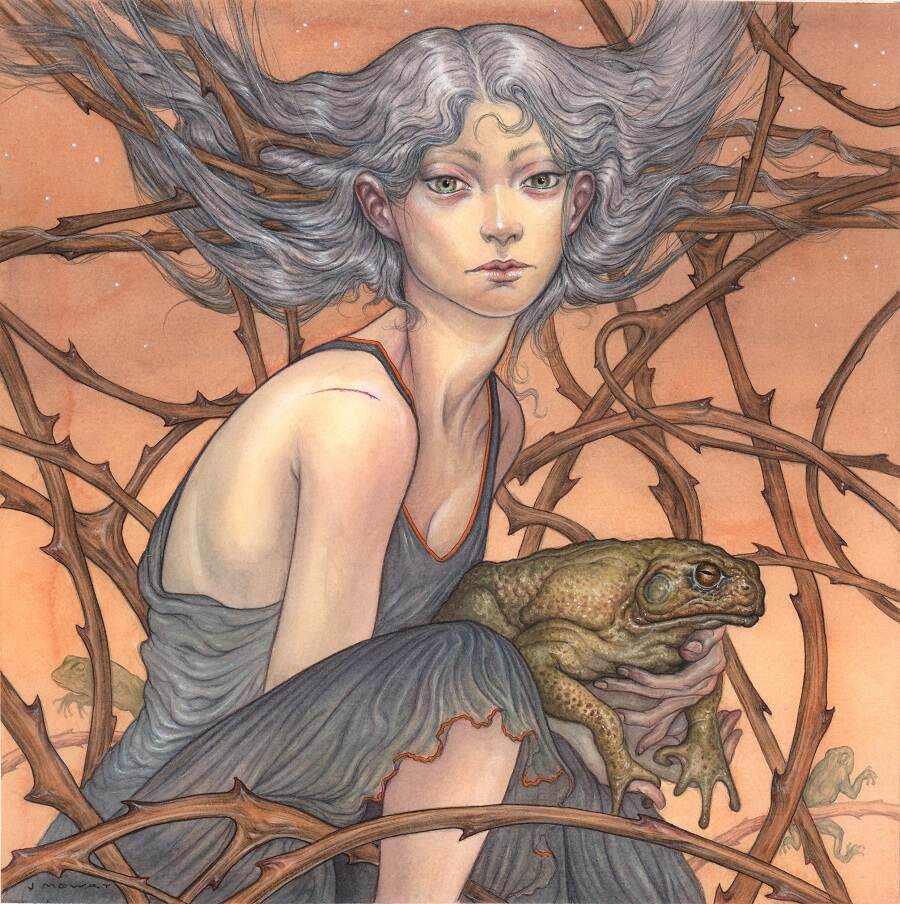 About the Artist //
Jason grew up between the art museums and comic book shops, combining the rhythms of each to walk the line between formal art and the fantastic. Jason calls Ohio home where he keeps a studio as well as teaches at the Columbus College of Art and Design.
Inspired by the stories he reads, and the people and times that surround him, Jason's work blends myth, personal narrative, and symbolic imagery to speak to the larger collective narrative.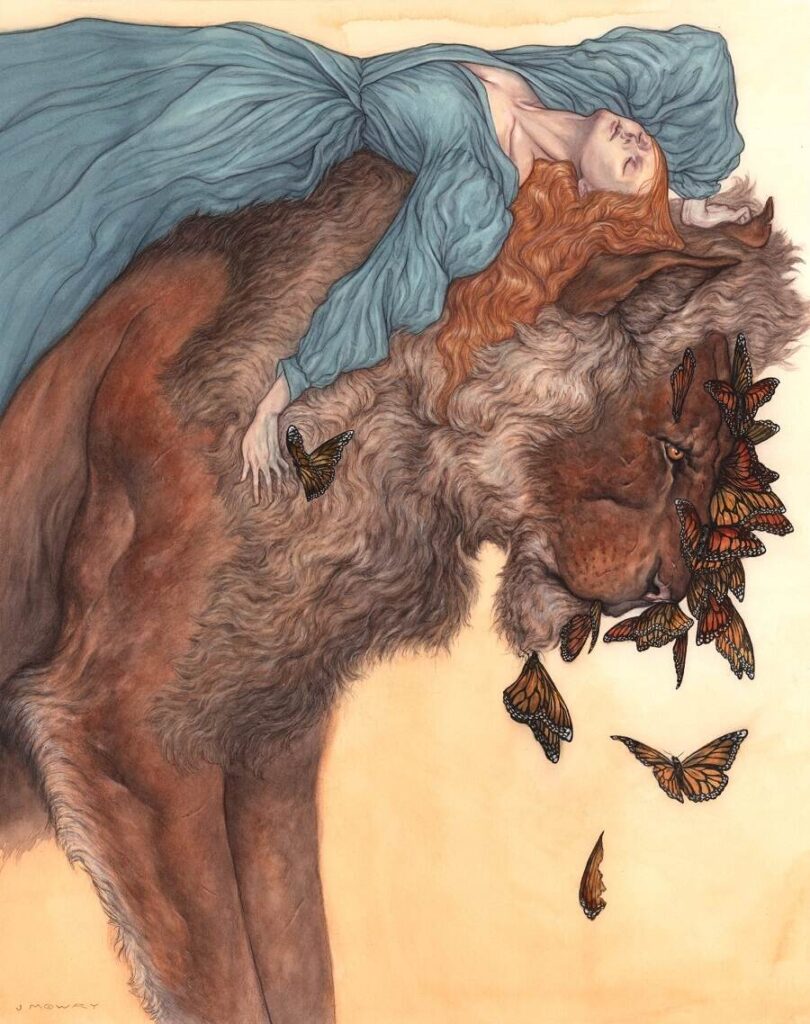 Haven Gallery is pleased to present Greek artist Nikolas Tower, for his second solo show "Elysian Ores" at the gallery. "Elysian Ores" features a collection of painted portraits celebrating female personifications and deities found throughout historical and contemporary mythologies. Serene expressions coupled with graceful textures and pattern work lend themselves to ethereal portrayals of paradisaical beings. Rhythmic lines and Arcadian palettes evoke tranquil emotions and peaceful depictions of nature. Tower's sitters hold placid appearances as they coalesce within the landscape through their unifying patterns, palette and ore mediums. Precious metals such as gold and platinum are integrated into each painting, further tying in the connection and place these females have within the natural world.
About the Artist //
Nikolaos Kafasis, also known as Nikolas Tower, is an artist and Illustrator, born in Greece in 1998. He took traditional art, academic drawing, and color study lessons at the "Art Palace" private art school in Rhodes for 7 years (2009-2016).
Throughout the past years, he has experimented with a lot of painting and drawing mediums, including graphite, charcoal, acrylics, pastels, oils and more. Nowadays, he works mainly with watercolors and mixed media. He is inspired by nature, anime, fantasy books, ancient Greek and Asian culture – often combining the two – and mythology.
Nikolas' style is characterized by stylized compositions, organic motifs, flowing lines and abstract elements, surrounding female & male portraiture. Through his watercolor Illustrations of otherworldly, tranquil, and mysterious women & men, he is trying to convey a world of silent human feelings that cannot easily be expressed in words. He is currently studying Pedagogy in the Mediterranean University of Rhodes, where he also lives with his family, and he is pursuing a career as a contemporary artist and illustrator.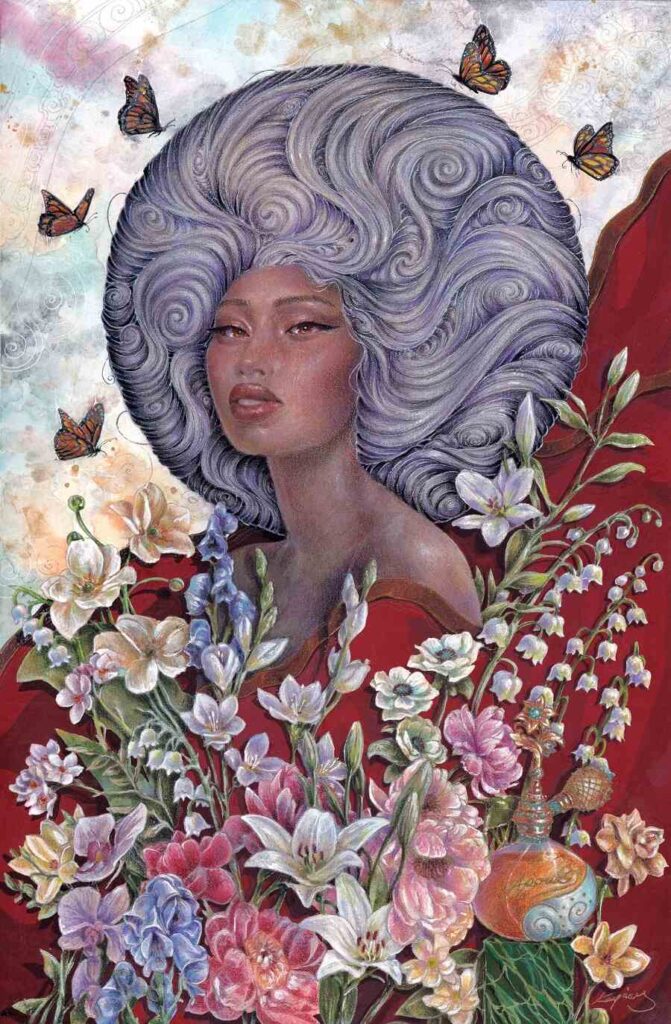 Tina Yu, Always and Forever
Haven Gallery is pleased to present New York based artist Tina Yu, for her first solo show at the gallery entitled Always and Forever. Tina Yu is known for her colorful sculptures of animals, people and imaginative chimeras, doused in mythologies from her Chinese heritage, pop culture and her own personal narratives, creating fresh and timeless artworks. Her imagination is a kaleidoscope of dreamy motifs, vibrant hues and nostalgia, bringing her characters to sentience in order to share their own tales. Yu's works are intrinsically inspired by nature and the presence of both animals and humans to craft folklore and jubilant emotions. A re-telling of tales laced with sentimentality and buoyancy brings the viewer back to their childhood mind, where the worlds color, beauty and creativity flourish.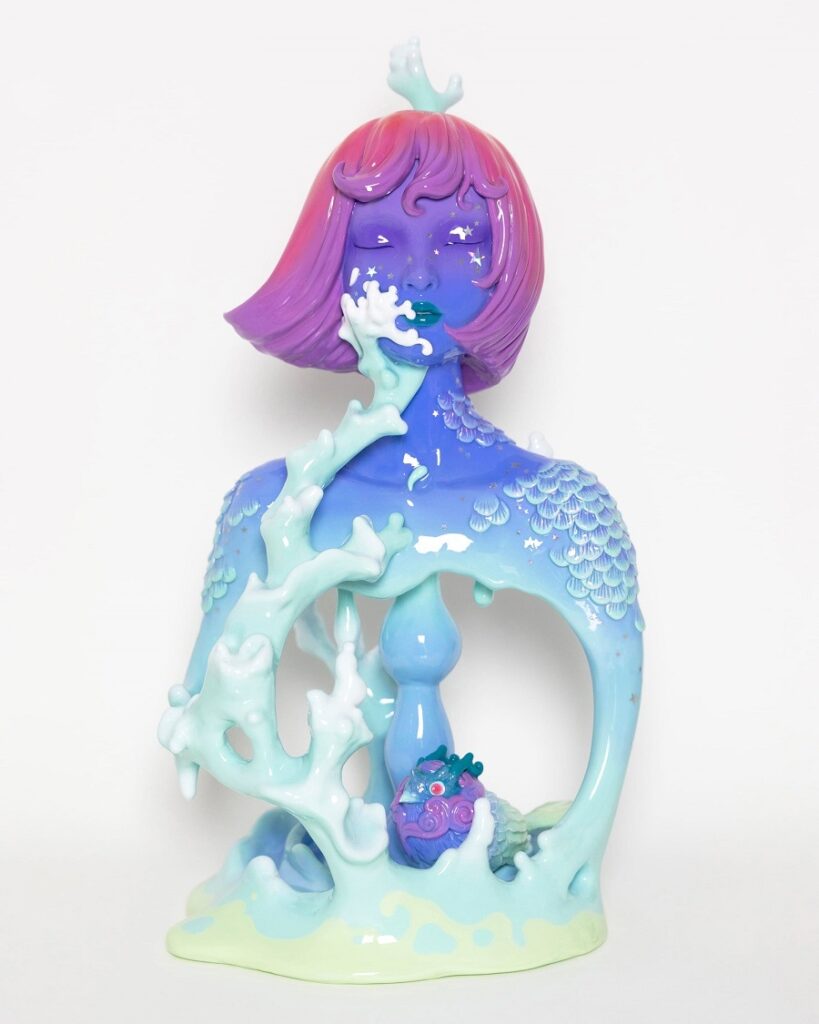 About the Artist //
Tina is a Chinese-raised New York-based sculptor/artist. After developing an interest in sculpting in college, she decided to pursue her passion after getting a BFA degree in Graphic Design from Pratt Institute. Drawing inspiration from movies, animals, nature, Chinese culture, family, childhood memories, and imaginations, Tina brings her imaginary characters to life through sculpting.
Sky Group Exhibition
An exploration of the constellations and celestial bodies of the night sky. Mythological and scientific approaches may be taken to visually interpret the characters, themes, stories, zodiac and heavenly bodies.
Exhibiting Artists //
Jennifer Healy, Erika Sanada, Linda Adair, Scott Radke, Stephanie Rew, Claudia Griesbach-Martucci, Paige Carpenter, Jeff Echevarria, Laura Krusemark, Nikolas Tower, Valery Vecu Quitard, Kate Domina.
Haven Gallery Social Media Accounts