Kirsten Stingle's sculptures are a fine example of how to transform simple objects into breathtaking art. Each material is elevated, thoughtfully combined and given new life. Not surprisingly, this practice goes deeper than merely creating a visual feast, and explains why she has been a finalist for three years running in the annual Beautiful Bizarre Art Prize. Kirsten's sculptures exist as a narrative to encourage connection, introspection, and hope. "It's easy to be overwhelmed by the social, political, and economic upheavals we are facing. Not to mention the devastation of the climate crisis we seem to passively address." Kirsten shares. "In order to move towards the possibilities of belonging, I want to reengage our imagination and curiosity with an awareness of the vibrancy of life."
Read our interview with Kirsten Stingle to learn more about her recent projects, her upcoming shows at Art Palm Beach + Contemporary and LA Art Show, and much more.
Interview with Kirsten Stingle
It feels that your characters have further solidified into otherworldly performers living in these surreal situations. I've often wondered if this evolution projects your personal sense of harmonizing the serious with the playful. Or, perhaps, holding up a mirror to just how ridiculous reality in itself can be?
I flirtatiously juxtapose the ridiculousness of what we have valued and perpetuated in the Anthropocene with the emotional and spiritual sinew that connects us. My sculptures salvage and reabsorb those objects and themes, recognizing that they are tied to our ancestors' journey, their destructions and salvations, and reimagine ourselves in a healthier communion with the animate and inanimate world. I seek to pull away the veil of disenchantment and reveal the vivacious play of which we are a part.
I definitely feel that the world my characters inhabit has become more entangled and vibrant. A lot of that has to do with the intensity of mixed media experimentation in the studio as well as a deepening of my journey to find ways of connection. Our ancestors used stories and myths to give us a better understanding of our place in the world. While many of these narratives seem quaint and no longer speak to us as they once did, the solutions can still be found in the stories we share. As a narrative sculptor I like to emphasize the fantastical, because part of good storytelling is tapping into the mystery, empathy, and play in our world. Through rich surrealism I want to engage common threads of curiosity and begin a dialogue with the world around us.
I weave and re-wild stories to discover a path of conceivability, or at least to offer a sense of wonder. Can we find a way to collaborate and harmonize with other beings in our ecosystem to better serve everyone, everything? What if we were able to drown out the binary, patriarchal production chatter of the dominant societal structures to focus reigniting imagination on a more cooperative and intimate relationship with each other and our ecosystem.

Kirsten Stingle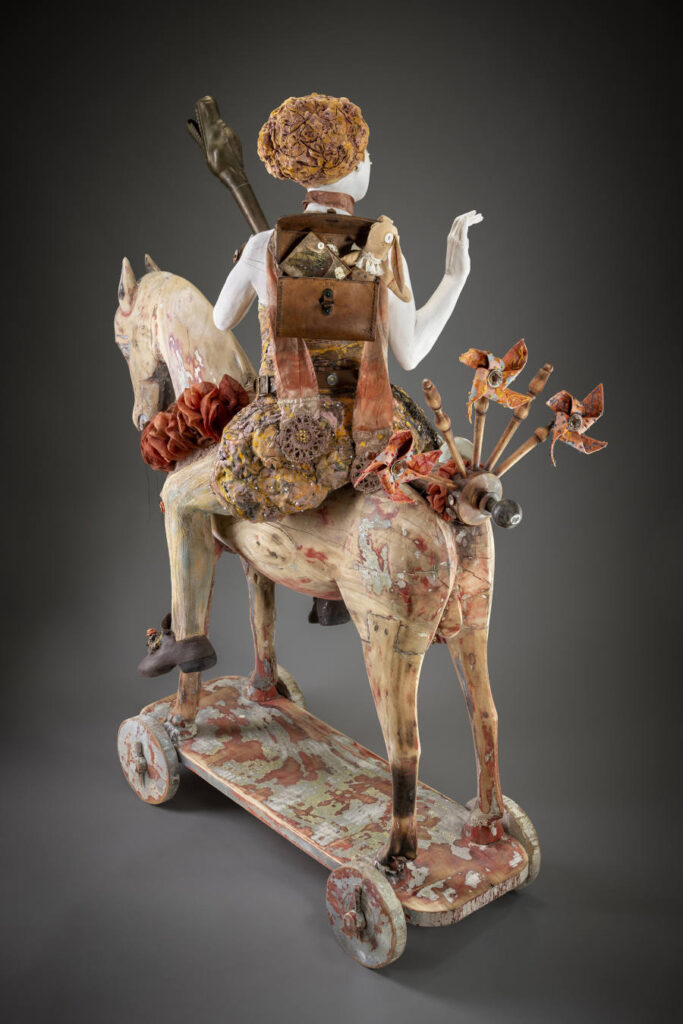 Into the bizarre
Though you often use mixed materials, it feels that you have further pushed this in your most recent works. This has included some genuinely bizarre elements such as old vintage materials and bone. Where do you source all these materials?
When I was young, I had a dream that my grandma and grampa had laid out all their possessions they had collected from the farm and throughout their life as if at a yard sale. There were bits of broken tools and crockery, pictures, etc., and I kept poring over the tables looking at each piece. They finally asked, "What would you do with all these things?" I thought, "Tell stories."
I have always been attracted to and collected vintage and antique items. As a child I would collect bits and bobs and create gifts and things for my dollhouse. When I started sculpting in ceramics, these elements became a natural extension of my voice.
Elevating ideas, objects, and stories
These objects have great narrative potential because they are pulsating with associations of the human and natural world. Twisting or reinventing their meaning is my way of recognizing our legacies, as well as imagining alternative forms of possibility. Whether it is an industrial pattern, a vintage TV set, or family bible, these relics are the remnants of the dominant cultures struggle for satisfaction and achievement. The history and concomitant consequences around their existence are playfully reabsorbed to offer an invitation to imagination.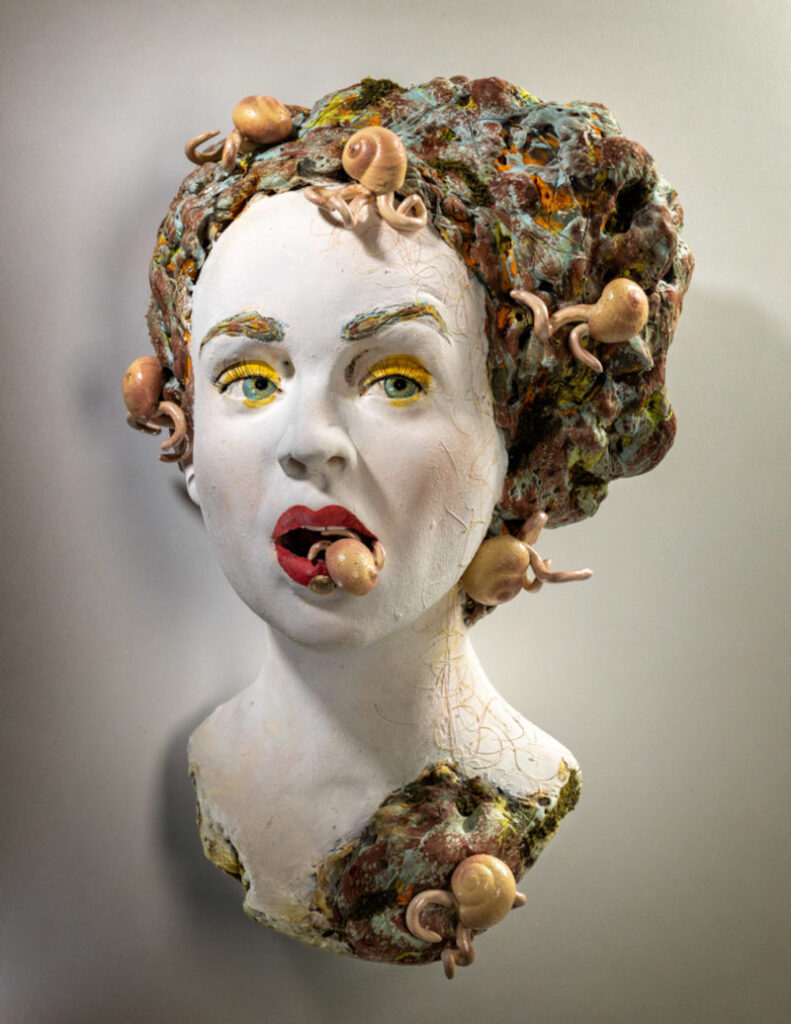 In addition to searching salvage yards, flea markets, and city streets, I also look to the natural world for inspiration. I forage for and ethically source natural materials. It is a magical gift from nature to stumble on desiccated animal remains or antler sheds that can be reincarnated into art.

Recently, I have spent a lot of time mimicking what inspires me in the natural world using man-made objects. This includes making lichen out of dollar bills or caterpillars out of fake eyelashes.

Kirsten STingle
The challenge is to synthesize all the disparate sculptural materials (ceramics and objects) into a seamless whole. I rely on an ever-increasing array of mixed media techniques to blend and deepen the narrative dialogue. Techniques include eco-dying, manipulating, stitching, and sewing forms in fiber, collage, torch work, encaustic, book arts, and metal work. There are endless combinations of materials and techniques to help push forward narratives. Experimentation increases fascination and curiosity in the studio that I hope bleeds into the work.
Kirsten Stingle: Upcoming events
Dates: January 25 – 29, 2023
Dates: February 15 – 19, 2023
It's fabulous that you already have two massive events lined up to kickstart 2023; both Art Palm Beach and the LA Art Show are the perfect hubs for creative promotion and networking!
I am over-the-moon excited to be showing my latest pieces with Okay Spark Gallery at Art Palm Beach and LA Art Show! Okay Spark has represented my work for over 10 years and their support has been foundational to my growth as an artist. I was offered the opportunity to exhibit at LA Art in the past but was unable to attend. This is a longtime dream come true and I am excited to be able to connect with some of my favorite art crushes!
The new works I am exhibiting are some of my most detailed and expressive to date. During the past few years, I have had the time in the studio to expand the size and depth of my work. This new work bounces off mythic symbols, archetypes, and allegories.

Kirsten Stingle
For example, "Entanglement" and "Awakening" are part of a series embodying the relational complexity of human beings and ecology, while calling on classical allegorical depictions. The personifications of nature confront the viewer with what they distinctively know. "The Shepherd" explores the mythic wolf/female connection and how society has used those correlations to further its dominant constructs. She is a product of a patriarchal culture that dismisses her ferocity as deviant, yet those primordial embers of wildness continue to glow. She dances between the paradoxical qualities of protector and predator. Her vestment is at once a symbol of untamed vitality as well as protection from cultural predation. While she may at times walk alone, she knows the embrace of a pack.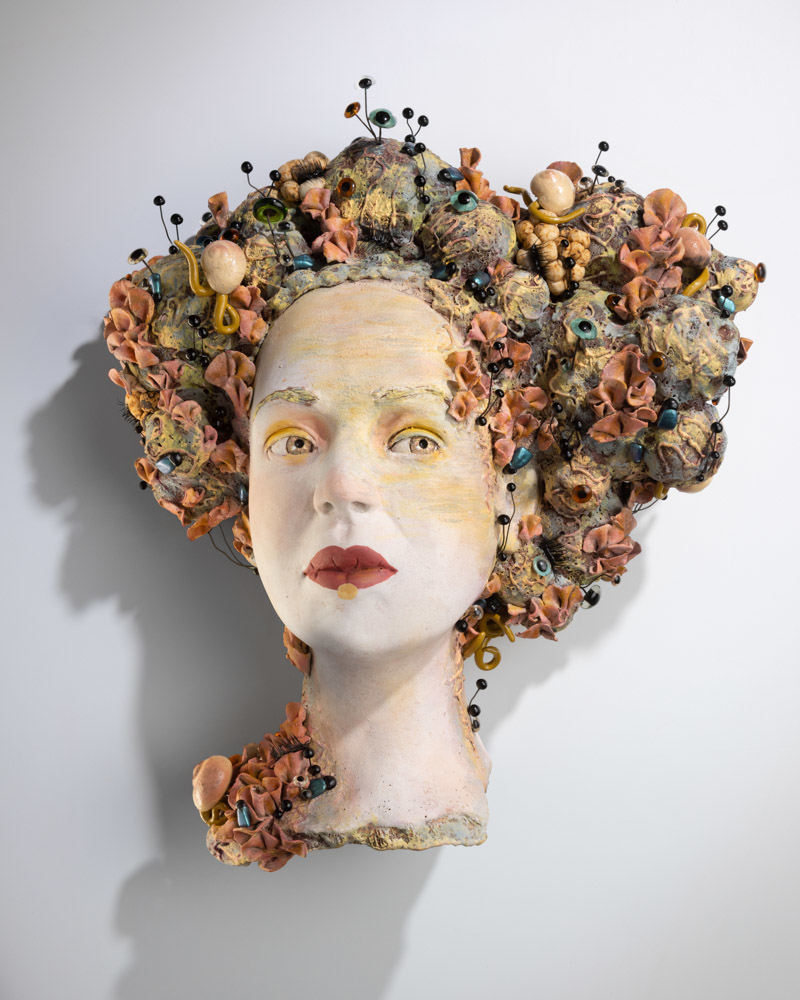 Overcoming challenges: finding harmony in juxtaposing elements
Were there any challenges which were particularly satisfying to overcome while creating your latest series?
I have been doing a lot of embroidery and fiber work in addition to my usual ceramic work. One challenge is finding how to express my narratives through fiber and textiles. Abstracted stitch work shows movement and entanglement, an ebbing and flowing. I constantly look for other concepts that I can incorporate into my stitch vocabulary. The challenge is to seamlessly combine the resulting fiber piece with my ceramic figure. Are they two different bodies of work or is there a way to combine them into the same world?
While they can be tactilely very different, they also complement each other. Indeed, there are a lot of similar qualities between clay and fiber including their representation of slow work and the mark of the maker. I'm not sure how this will eventually resolve itself, but right now I feel compelled to work in both areas and have faith in the process. "Gentle Offerings" is one example of blending these two bodies of work in one piece. I have used the two media to my advantage as representations of different species. "Reclamation" is another attempt to intertwine these voices. I've used eco-dyed silk velvet as spores, harmonizing the human and natural world.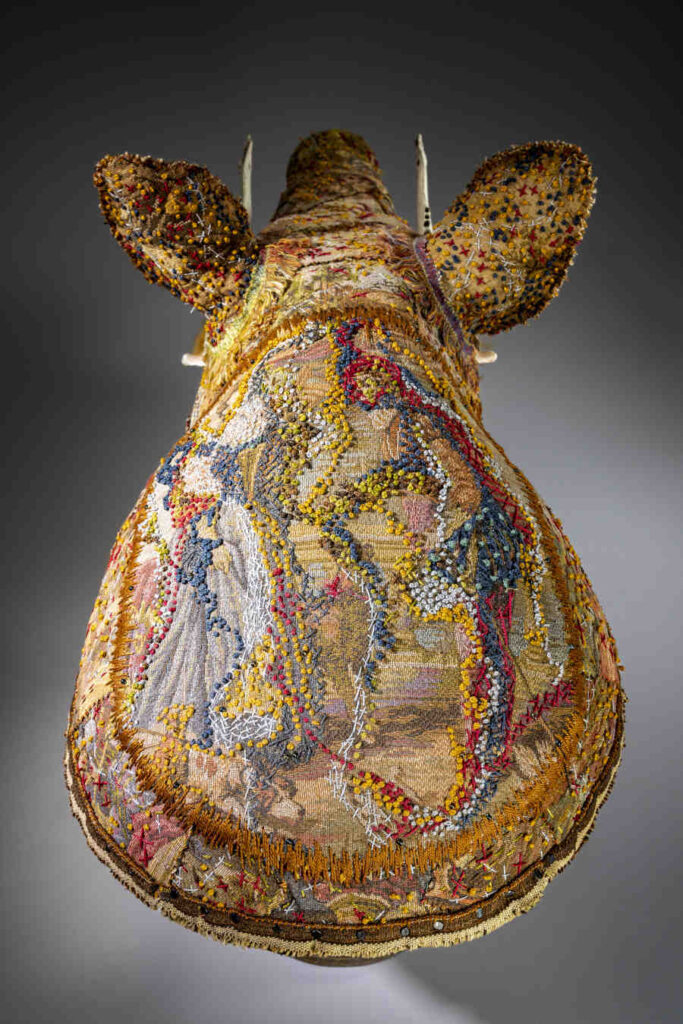 Internal as well as external balance: what's next for Kirsten Stingle
Hmm, what's next? Currently I am grappling with the overwhelming push to constantly produce crashing against the fact that the well of authentic creativity needs time to breathe. Consistently producing, staying "relevant," and manifesting opportunities is exhausting. It doesn't nourish my soul's imagination. I am growing aware that I need to find balance and embrace the process of slowing down as equally valid. Whether that means exploring in the woods, listening to the water run over the rocks in a stream, or daydreaming over a fire, these quiet moments are unproductively essential. Being driven is part of my identity. It isn't easy for me to nurture the simmering moments outside the studio, but I am striving to be patient and listen.
Catch Kirsten Stingle at Art Palm Beach + Contemporary from January 25th – 29th, and LA Art Show from February 15th – 19th 2023. Thinking of attending? Kirsten loves chatting about her work! You are encouraged to contact her directly if you would like more information, or a sneak peek.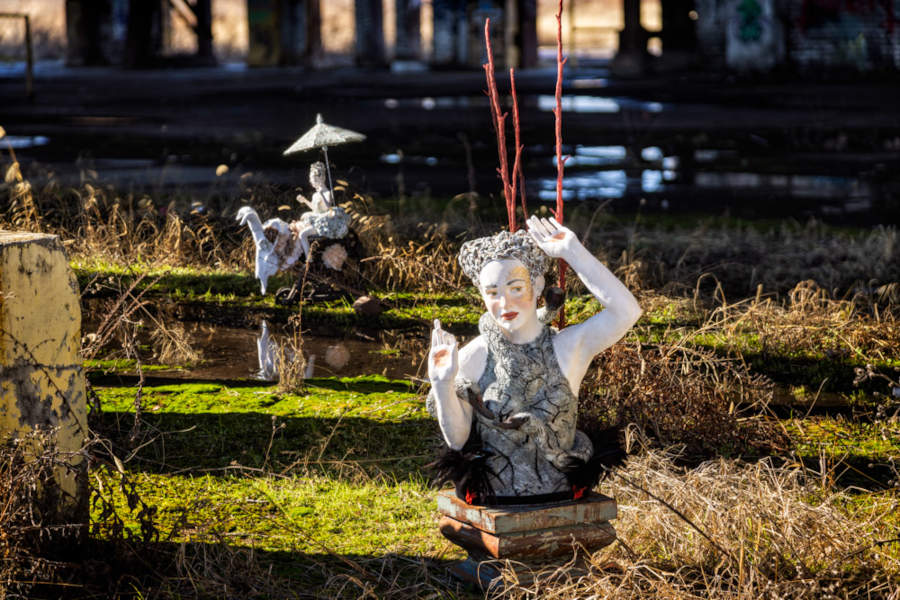 Kirsten Stingle Social Media Accounts
Website | Facebook | Instagram
Okay Spark Social Media Accounts