Exclusive Interview with Jacqueline 'Jisu' Choe, 1st Prize Winner of the iCanvas Digital Art Award 2021 Beautiful Bizarre Art Prize
The pink-haired beauty stares up at you. Her crooked blissful smile trying to convince you she's okay while her bright eyes glaze over with overwhelming fear and sadness from the chaos surrounding her. Her hands clasp around her cheeks, framing her fragile expression with a mixture of comfort and madness. Pill bottles litter the floor seeping into a colourful splatter of rainbows and an overwhelming feeling washes over you as you're plunged into her chaotic world.
Emotions are an extremely powerful tool, particularly negative ones. Often these negative feelings and experiences can be so impactful on a person that they can be manifested into positive bodies of work. These creations resonate with others helping both artist and viewer to feel a little less lonely and a lot more understood by the world. These are the kinds of feelings that are evoked when viewing a Jisu painting.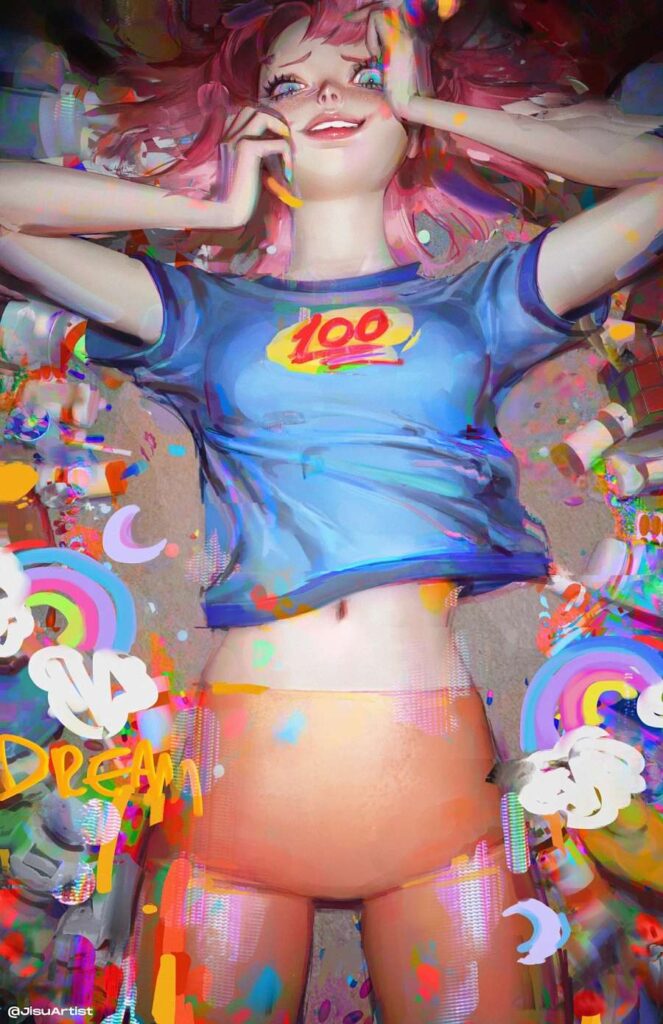 Jacqueline Choe better known online under her artist name 'Jisu' is a 23-year-old Korean-American artist currently living in Southern California. Originally from the Midwest, Jisu grew a following in the Smash and eSports community as a content creator before helping to bring to light many of the injustices within the community along with her #MeToo story. Moving forward, Jisu decided to pursue a career as a full-time artist with a particular focus on digital illustration. Jisu is currently attending ArtCenter to continue her journey as a budding young artist.
Alongside her studies, Jisu decided to enter the 2021 Beautiful Bizarre Art Prize Award entering the iCanvas Digital Award. She won 1st place with her piece titled 'DrUgZ' which is a digital painting created with Photoshop and Blender. As an artist, Jisu hopes to create real social change around important topics through her art using her own experiences as inspiration. 'DrUgZ' was created during a difficult period in Jisu's life as she struggled with the side effects of antidepressants alongside other substance abuse. The overwhelming feelings she experienced at the time manifested into this painting. Now possessing the help and support she needs, Jisu looks to a bright future where her art and story can help others who may be struggling with their mental health.
Art is such a powerful tool and connects people in ways that we cannot describe. When it comes to mental health, I think people feel alone in their struggles – so when they see something that relates to that they feel a very strong connection.
Interview with Jisu
First of all, I want to say a big congratulations to you on winning the Digital Art Prize! What was running through your mind when you found out that you'd won?
I was honestly shocked. I've never won an art prize on this scale before, and was surprised that my style was received so well on a contemporary, mainstream platform.
Why did you decide to enter the Beautiful Bizarre Magazine Art Prize?
Why not? It's a great chance to share your work and see the work of others. I was also curious how my work would be perceived by the larger art community, since I've always stayed in small internet communities.
Who are some artists who inspire you and what do you find inspiring about them?
Honestly, I am inspired by everything. If I had to choose, I obviously take a lot of influence from anime and manga, but a lot of my recent inspiration has been from contemporary arts such as computer-generated visuals. My painting style is influenced by comic artists such as Jo Chen, Stanley "Artgerm" Wu, and Alex Ross, and of course, you can't have good paintings without studying the old masters and their painting techniques. In my daily life though, I take a lot of inspiration from my hobbies. I love observing fashion from designers like Thierry Mugler or AVAVAV Firenze. And my interest in music has led to finding very inspiring individuals like Sophie or LSDXOXO. I also can't forget to mention all the inspiring artists I randomly find all over the internet. There's talent and genius everywhere, and it would be impossible to name them all.
I'd love to know more about how you approach paintings like 'DrUgz' from a technical standpoint. What's your method for conceptualising and crafting your paintings?
So 'DrUgz' is actually a combination of digital painting, photo bashing, and 3D. I wanted the picture to feel alive, almost like a Polaroid. In order to achieve this, I would need to emulate photorealistic lighting. I achieved that by referencing a lot of similar photos and then generating it in Blender (3D software). I used a really rudimentary mannequin model for the pose then drew and painted over it. All the drugs and different items scattered around her are a combination of the same methods, with everything eventually feeling more 2D as I add more layers of painting. Not all of my artwork follows the same method. I only use 3D or photos if I feel it's necessary. It's a lot of work, but I am generally a 2D artist through and through.
What is your favourite thing about creating digital art?
Accessibility. I became obsessed with digital art when I was 12, and without the internet or digital painting technology — I wouldn't be where I am. It's given me an outlet that school or normal life otherwise could not offer, as I grew up very isolated as one of the few Asians in a small Midwestern town. The digital art community is almost like the open-source community as well – building, sharing, and innovating upon one another, all for a passion of art. But, despite all this, I still prefer the act of drawing traditionally haha. I was a chronic doodler in school so the tactile feeling of pen and paper is like home to me – but everything after the sketch, I take it digital.
Art is such a powerful tool and connects people in ways that we cannot describe. When it comes to mental health, I think people feel alone in their struggles — so when they see something that relates to that they feel a very strong connection.
What was the most challenging part about creating 'DrUgZ' and why?
Evoking the correct emotion. I think the pose and subject matter could make the image go in a very different way if not done correctly. Her expression is the focal point of the piece and combining the right ratio of bliss and almost insanity — while still looking aesthetically pleasing— can be very difficult.
Paintings such as 'Anxiety', 'Stress', and 'DrUgZ' feature serious themes accompanied by bright and vivid colours. How do you approach your colour palette?
Honestly, I wish I had a more complex answer to this beyond that I'm just going with my instincts. I try to keep my original art as expressive as possible, so I just let myself go loose. I grew up pretty reserved so using bright colors feels like a way I am able to express myself. I also want the images to be striking, and what better way than to incorporate loud, bright colors. There are probably deeper reasons, but really I'm just going with what feels right.
Do you think art can help create positive change when it comes to topics such as mental health? For example, fighting stigma on certain illnesses.
Yes! Of course. Art is such a powerful tool and connects people in ways that we cannot describe. When it comes to mental health, I think people feel alone in their struggles — so when they see something that relates to that they feel a very strong connection. We are already seeing a generational shift where younger people are acknowledging their mental health more and more, and you can see that exemplified through a lot of modern artwork. The more people realize they are not alone, the more people will speak out and seek help, and hopefully, my art can help people in that way as well.
You sell apparel on your online store and your Patreon features a project where you create concepts for hypothetical high-fashion lines. Are fashion and apparel something you hope to pursue more in the future?
Yes. I always joke to my friends that in another life I would be a fashion designer. I spend so much time looking at stylists, judging runway shows, and eye shopping. I even have my own personal aesthetic Instagram feed that I share my newest finds on. I have a lot of ideas, and sometimes I do think about pursuing fashion school – but for now, I'm happy styling my own outfits and drawing out my visions.
I try to keep my original art as expressive as possible, so I just let myself go loose. I grew up pretty reserved so using bright colors feels like a way I am able to express myself.
Alongside creating and sharing your art, you're also learning as a student yourself, how has your art school journey been going so far?
I was a pretty good student growing up, minus the skipping classes and never paying attention haha. But really school has been cool. I just started again after almost 7 years in my last class. I've been self-taught up until now so I'm excited to see where formal education takes me. I have been considering dropping out just because I've been getting a lot of work and I'm so busy, but it honestly makes me more productive due to the structure it gives me.
When you aren't making art, what do you get up to in your spare time?
I like to go hiking, skating, and exploring around town. I grew up in a pretty desolate area so almost everything is exciting to me. My friends and I are always looking for new experiences, so we'll try a new restaurant or activity all the time. Usually, we'll start off doing something mild, but end up at a party or some underground music show haha. When I'm just winding down, I like to read and browse fashion and music. When I was younger, I used to stay inside and play a lot of video games, but as I grow older I think I'm more attracted to experiencing what life has to offer.
What do you feel you have gained from participating in the Art Prize?
I feel a new sense of confidence. It's always scary creating work from your soul since it's like you're putting your true self on display. But, knowing that a highly-acclaimed panel of judges saw my vision and appreciated it enough to award me a prize means so much and really gives me the confidence to keep pushing forward.
Would you recommend it and encourage others to enter the Art Prize? If so, why?
Of course! It's a great experience and you have nothing to lose.
What's next for you and your artistic journey?
Hopefully something badass. My life has been taking so many twists and turns lately it's hard to pinpoint where I'll end up. Even winning the digital art prize is one of many exciting events I've been having. I think I'm going to focus on creating my original work, while balancing school (somehow) since I feel that a lot of people are connecting with my vision. I could never sit down and do a normal job, so I'm grateful for the opportunities. I hope the exciting opportunities continue and wherever I'm going — it's probably sick.
Jisu social media links