Here we are already stumbling into August, and if you need a burst of creative energy to ignite the fires of your weekend Thinkspace Projects sets us in motion with new exciting bodies of work by Mark Jeffrey R. Santos (aka Mr. S), Clémentine Bal, Jamiah Calvin (aka Miah the Creator), Wiley Wallace, and GoopMassta. A penchant for the imaginative, we linger in the imagery – soaking in every drop like water to a sponge. An air of nostalgia flanks the surreal as we explore each collection enthusiastically. Join us, won't you?
Thinkspace Projects also offers a full schedule of events, interviews, and much more to keep you and your creative needs fully immersed. Be sure to follow their blog Sour Harvest to stay updated on all the artsy things you love! If you're looking to add to your own collection of art, take a moment and visit their online store to view available inventory.
---
Thinkspace Projects Presents
Mark Jeffrey R. Santos (aka Mr. S), Clémentine Bal, Jamiah Calvin (aka Miah the Creator), Wiley Wallace, and GoopMassta
Opening Reception: Saturday, August 5, 2023 | 6-10pm
Exhibition Dates: August 5, 2023 – August 26, 2023
With DJ, refreshments, live painting, video projections and more!
Thinkspace Projects
4217 W. Jefferson Blvd. | Los Angeles, CA 90016
#310.558.3375 | Tues. – Sat. Noon to 6PM
thinkspaceprojects.com
For all inquiries please contact the gallery via email at [email protected]
Search their hashtags: #thinkspaceprojects #thinkspacegallery #thinkspacefamily
About the Gallery //
Thinkspace Projects was founded in 2005; now in LA's burgeoning West Adams District, the gallery has garnered an international reputation as one of the most active and productive exponents of the New Contemporary Art Movement. Maintaining its founding commitment to the promotion and support of its artists, Thinkspace Projects has steadily expanded its roster and diversified its projects, creating collaborative and institutional opportunities all over the world. Founded in the spirit of forging recognition for young, emerging, and lesser-known talents, the gallery is now home to artists from all over the world, ranging from the emerging, mid-career, and established.
The New Contemporary Art Movement, not unlike its earlier 20th Century counterparts like Surrealism, Dada, or Fauvism, ultimately materialized in search of new forms, content, and expressions that cited rather than disavowed the individual and the social. The earliest incarnations of the Movement, refusing the paradigmatic disinterest of "Art" as an inaccessible garrison of 'high culture', championed figuration, surrealism, representation, pop culture, and the subcultural.
By incorporating the 'lowbrow,' accessible, and even profane, an exciting and irreverent art movement grew in defiance of the mandated renunciations of "high" art. Emerging on the West Coast in the 90's partly as a response to the rabid 'conceptual-turn' then championed on the East Coasts, the Movement steadily created its own platforms, publications, and spaces for the dissemination of its imagery and ideas.
---
Thinkspace projects is proud to present Uncharted Paths from Mark Jeffrey Santos, aka Mr. S in our main gallery. Following appearances in our Chicago and Dubai group shows last year, this is the artist's debut solo exhibition in the United States.
Santos's creations show his penchant for adventurous and larger-than-life personas, there's an instant and comfortable connection that is established once a viewer comes to experience his art.
His new body of work for Uncharted Paths is based on his personal experiences traveling, creating a body of work that evokes the certain feeling of excitement when you find yourself in a new place.
"Last year I had the opportunity to travel to South Korea and I was lucky to have witnessed the season of autumn. Seeing it for the first time feels like I'm in a strange world. It was such an otherworldly experience for an ordinary phenomenon."
Many of Santos's works revolve around vignettes of a young boy captured in the midst of discovery and exploration of a new realm. A sense of self-awareness is evident in the pensive gaze of his innocent protagonist. It is a look that is filled with profound reflection and contemplation of things to come. Santos uses a variety of Japanese Noh masks to expand this concept — masks that conceal its subject's emotion opposite the pensive gaze that reveals the true emotions he feels.
Complete with a dreamlike environment and his wide-eyed characters, Santos is not only technically skilled, but also gifted with the vision to construct imaginary, bordering on surreal, scenes. His characters can often be found on an adventure, accompanied by larger-than-life creatures. Such talent in world-building and character design only comes natural for Santos, who did works in video and film before becoming a visual artist.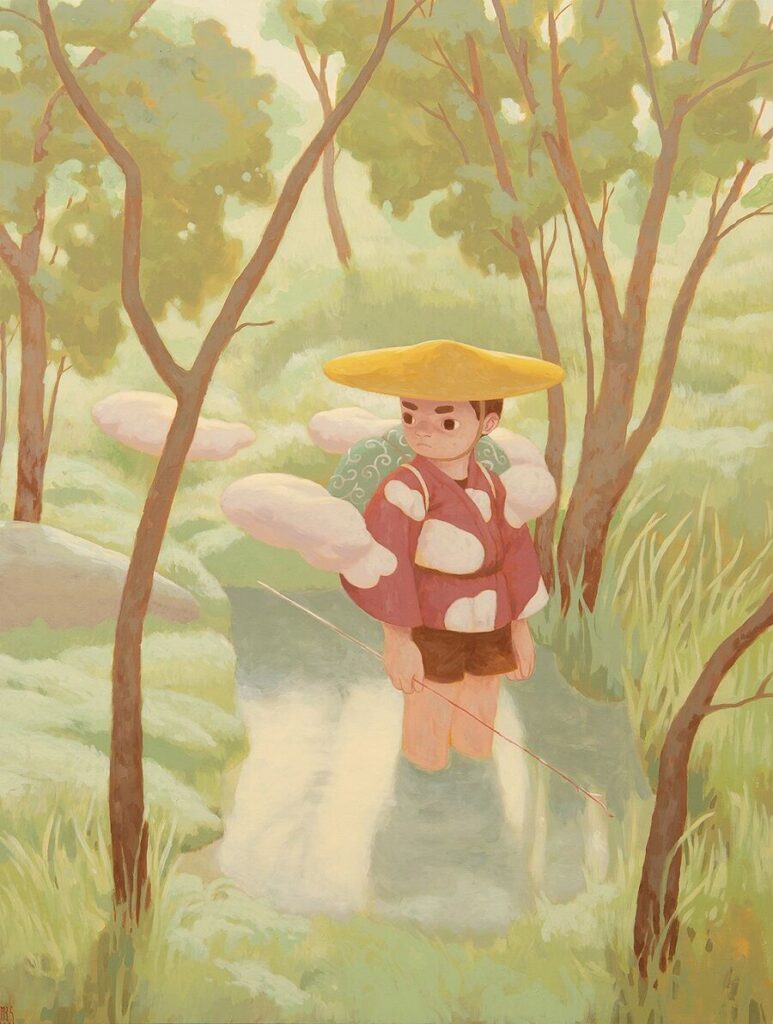 About Mark Jeffrey Santos (aka Mr. S) //
Mark Jeffrey Santos (b. 1990 Philippines) works are steeped in the world of fantasy. With previous work in video and film, he is a world-building and character design wonder. Since participating in art exhibitions in 2015, Santos has been gaining a massive following online and on ground, earning the moniker "Mister Sasquatch" in the local street art scene, for one. Santos's paintings and illustrations are also beginning to gain traction internationally, having exhibited his works in Taiwan, China, and the United Kingdom.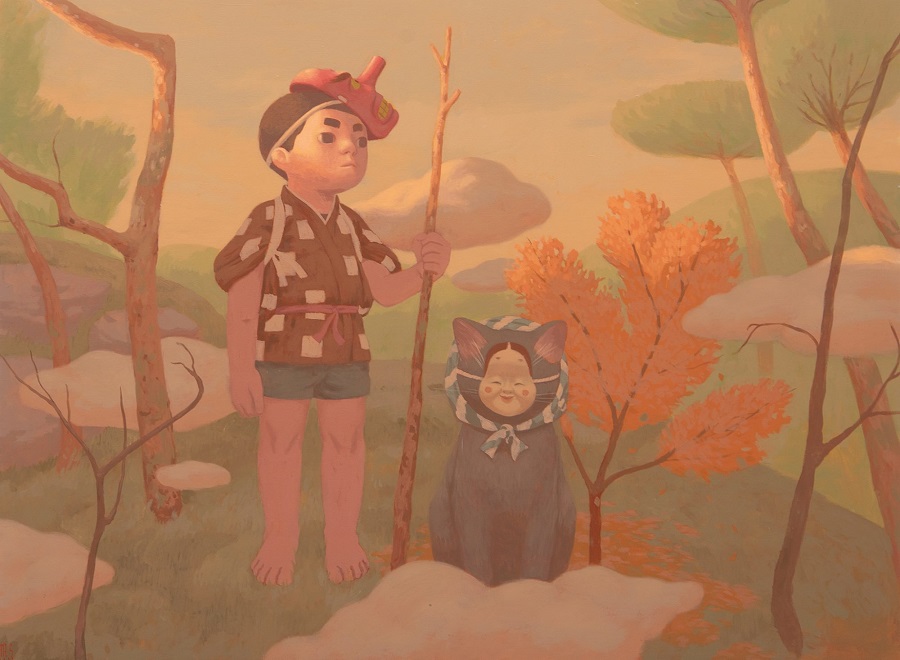 Clémentine Bal's Magic Friends welcomes viewers into her world of characters who proudly embrace their uniqueness and vibrant colors, filling Gallery II of Thinkspace Projects for her debut U.S. solo exhibition.
This body of work explores slightly strange, quirky, or even truly bizarre characters and a joyful luminous ensemble fueled by gradients and contrasts. Each subject was designed to celebrate their own individuality, even as some of them still struggle to accept themselves as they are.
With shapes ranging from the easily recognizable, such as animals, suns, or mountains to the more abstract curves, spikes, bumps, and hollows. The tactile aspect of my work is undoubtedly what I appreciate the most. Each character is unique, yet they all seem to be connected in one way or another. They form a magical entity that can transform at will. With their simple, clean lines, it's as if they just came out of a drawing, evoking a childlike wonder and even a disconcerting naivety.
"I truly enjoyed bringing these characters to life, aiming for them to be light-hearted, kind, and funny, like friends."
About Clémentine Bal //
Clémentine Bal is a sculptor born in Paris in 1979 and who lives in France. She graduated from the School of Fine Arts in Annecy. In her work she creates characters that reflect her inner world. They can come from feelings, memories, projections. They take the form of multicolored mountains or volcanoes, semi-human creatures, little hybrid ghosts. With their simple, clean lines, it's as if they just came out of a drawing.
Clémentine Bal maintains the strong ties she keeps with childhood, giving her characters a sometimes disconcerting naivety. Influenced by the worlds of Mark Ryden or Hayao Miyazaki, she will also draw her inspiration from her memories of reading or cartoons from her youth. Family, children, friendship, animals, and more generally the strong bonds that give us emotions are themes that she likes to address. Thus are born a variety of characters gently. Their lightness protects us like an antidote to the sound and fury of the world.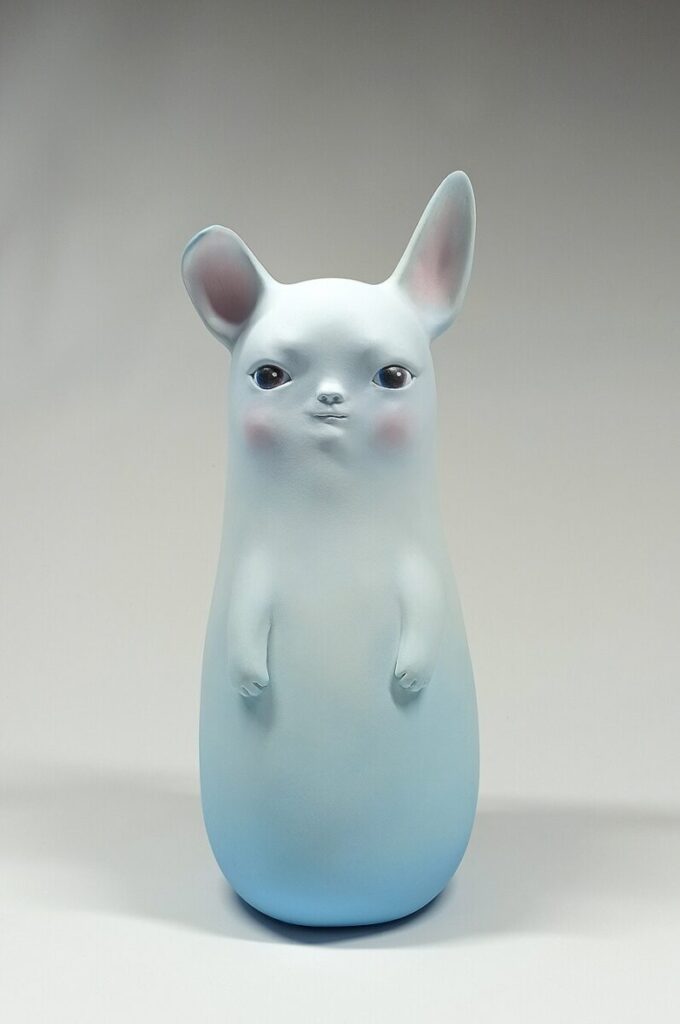 In Gallery III, Thinkspace Projects presents Jamiah Calvin's new body of work, full of moments of fortitude and moments of healing. Reaganomics, Cocaine '80s and the '90s Re-Up uses past memories and nostalgic moments where the "hard times" were also the best of times.
In no real order these paintings tell an intimate story of the artist's world and upbringing, providing a sober view of what it meant to live in a world where drug transactions and confusing crack for candy as a child was a normalized way of life.
In this body of work you can see the way in which Calvin has enriched himself in the art of visual storytelling without aggression. With depictions of iconic hood spots, Calvin highlights the "golden days," calling attention to the ways recent transplants have glamorized the times of hardship.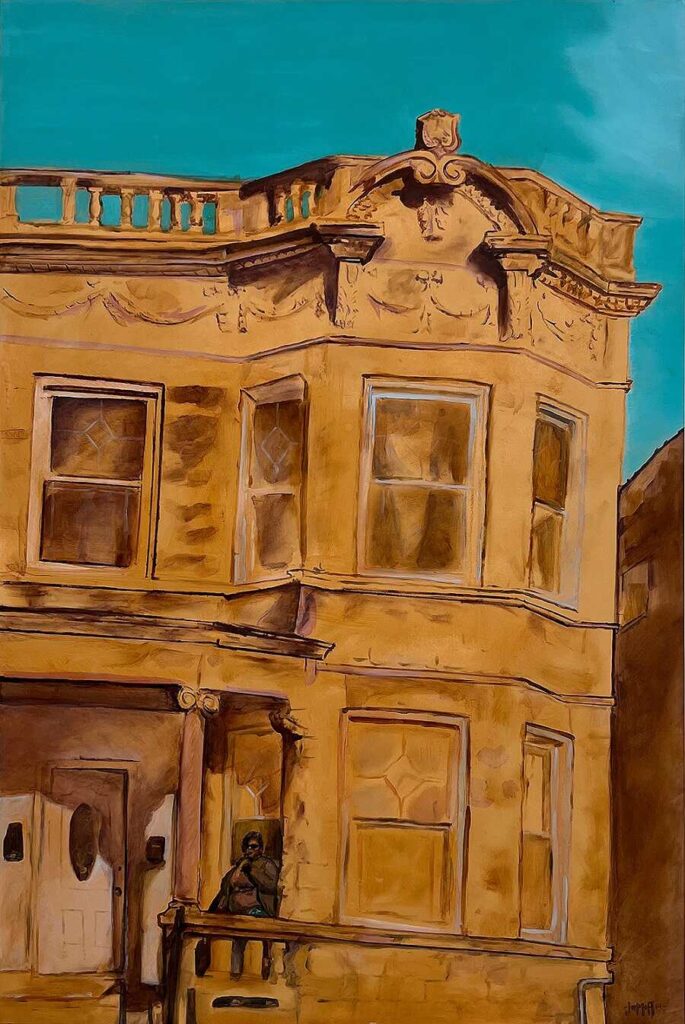 About Jamiah Calvin //
Jamiah Calvin is a visual artist and muralist from Chicago Illinois. He graduated from Northern Illinois University with a BFA in studio art with an emphasis on painting. He specializes in figurative and narrative oil paintings that captures raw emotions and nostolgic experiences growing up within the Austin Community on the West side of Chicago.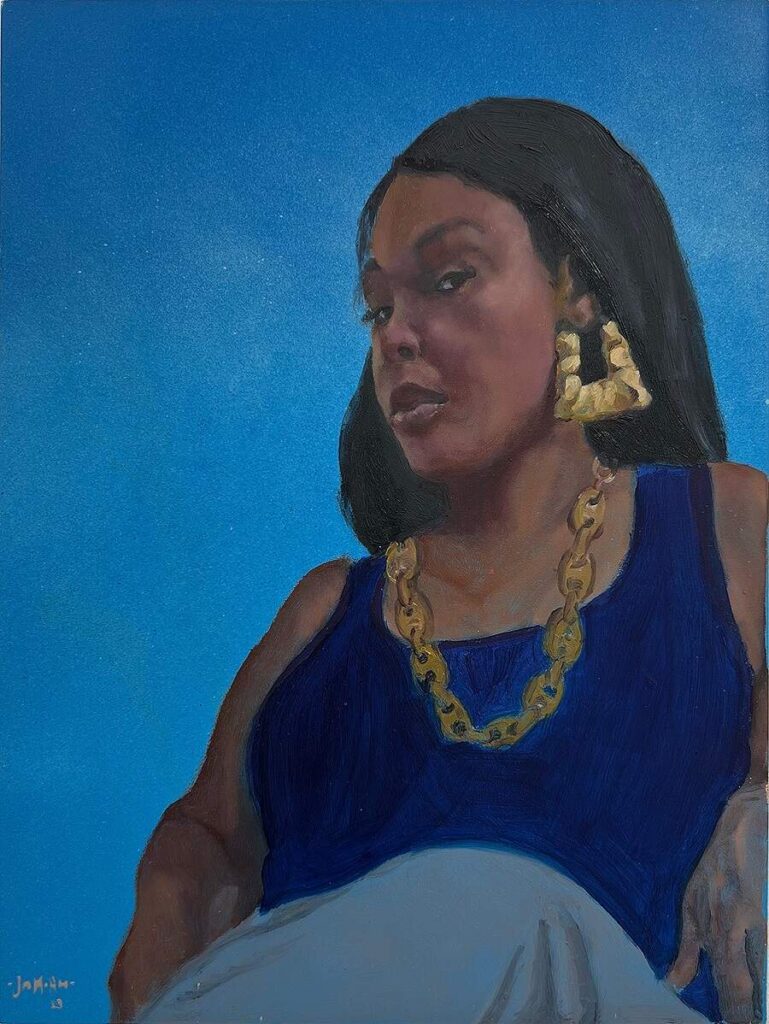 Woven Trails is Wiley Wallace's latest solo exhibition, bringing a captivating exploration of interconnectedness, time, and space to Thinkspace Projects' Gallery IV.
Through a harmonious fusion of yarn, threads, transparent shapes, translucent glass, hiking trails, and metaphysical elements, Wallace creates compositions that transcend the boundaries of the tangible world. Symbolizing the invisible threads that bind us and the universe together, the incorporation of string highlights the connected nature of all things. With translucent glass, the artwork takes on an ethereal quality, inviting contemplation of the seen and unseen. Central to the exhibition are the motifs of hiking trails, serving as metaphors for the journeys we undertake in life and the narratives that shape our experiences.
Woven Trails delves into metaphysical concepts, inviting viewers to reflect on the mysteries of existence. The paintings depict transformative journeys where time, space, and interconnectedness intertwine to form a mesmerizing tapestry of exploration and reflection. Wallace's pieces convey a kind of sci-fi nostalgia harkening back to a Spielberg-era of extraterrestrial-themed filmmaking. At times their implied innocence and naiveté give way to darker and more dystopian readings, surfacing amidst the neon-hued glow.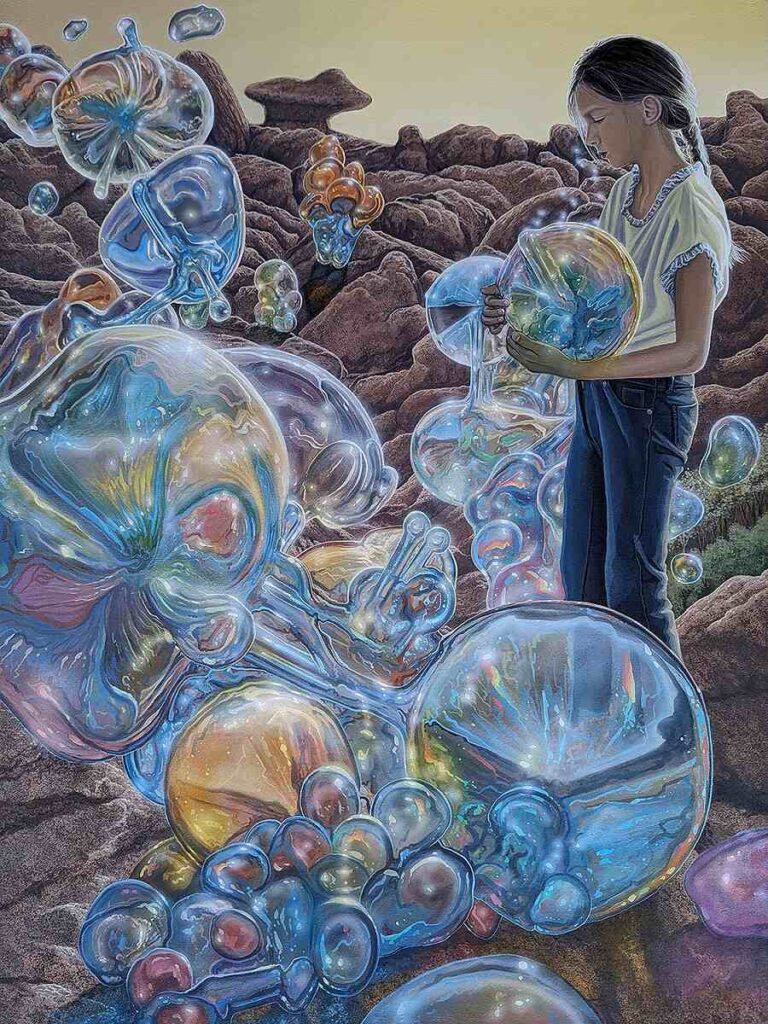 About Wiley Wallace //
Phoenix-born painter Wiley Wallace's work is playful and ambiguous, his luminous and ostensibly radioactive worlds suggest a metaphysical interest in the possibility of alternate realities: the endlessly shapeshifting and protean nature of fantasy at the intersection of the imagined and "real." Wallace's paintings combine realistic rendering with elements of the surreal, and near-magical references that include eerily cast light sources bordering on the supernatural. Playful and macabre, his works combine intense thematic contrasts between light and dark to achieve suspense and evasion.
Children are a recurring theme in his compositions, representing a kind of primordial link to something invisible and beyond comprehension, exempt from the rationalizations of the adult. Often using his own children as models, Wallace's narratives are open-ended, filled with suggestion and partial disclosures rather than forceful assertions or posited certainties.
The themes of connection and communication resonate throughout Wallace's imagery, as the works' protagonists seem ever in search of fugitive contact. The skeleton is a recurring figure throughout Wallace's imagery as well, appearing at times as a sinister harbinger of some kind and at others as Halloween costume level kitsch. Wallace's pieces convey a kind of sci-fi nostalgia harkening back to a Spielberg-era of extraterrestrial-themed filmmaking. At times their implied innocence and naiveté give way to darker and more dystopian readings, surfacing amidst the neon-hued glow.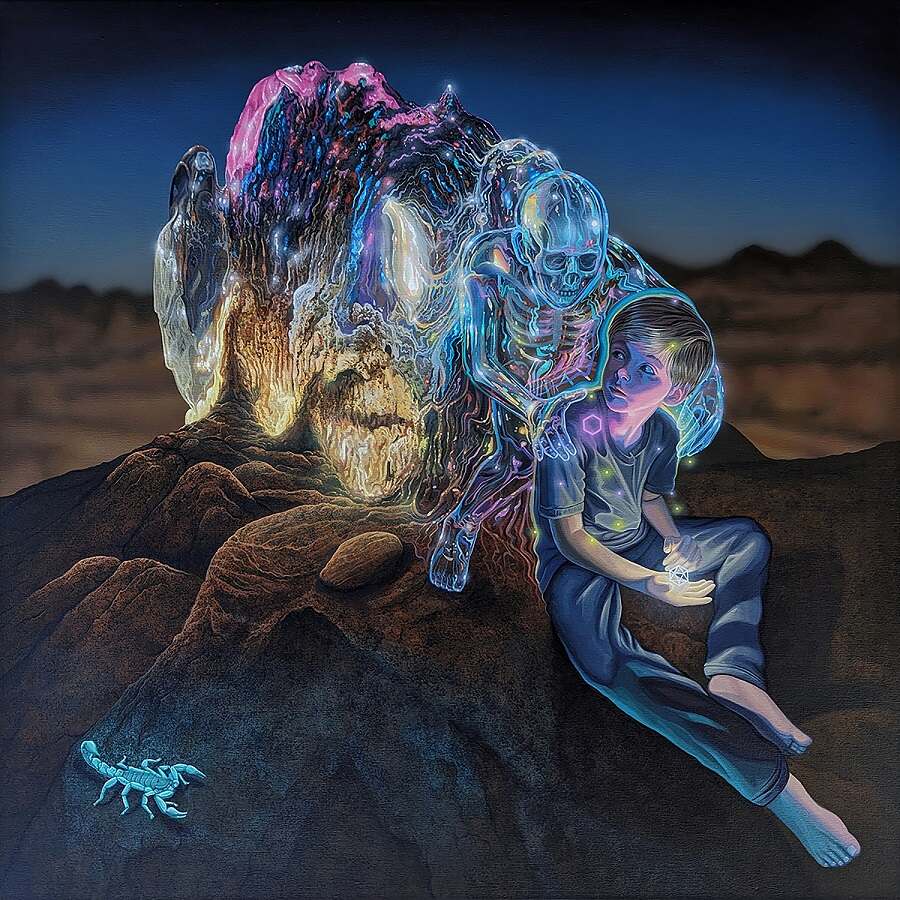 GoopMassta's debut solo show embraces the environment of the Dog House Gallery. Playing off the irony of the dog house itself, the collection features 15 new canine-inspired works for Leader of the Pack. Each piece creates a unique and playful atmosphere that will evoke a feeling of happiness and familiarity. The refreshing experience does not stop as you take in the full collection, but continues throughout with eye-catching installations both inside and out.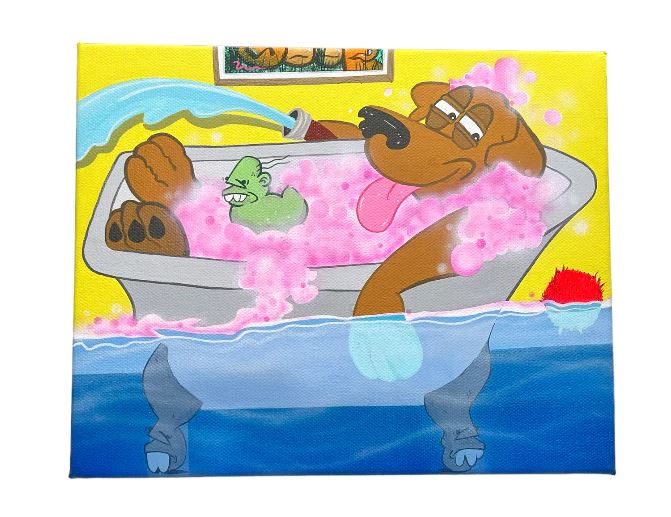 About GoopMassta //
Hello, my name is James – I'm currently living in the Los Angeles area; was born in New York and raised in Miami. I am the creator of GoopMassta, the iconic and legendary fashion-forward, positive thinking froggy character. I focus mainly on my character and portraying his exclusive lifestyle to the world. The more you experience with him, the more you'll become a part of his journey and never want to leave. I'm constantly pushing and exploring different aspects of GoopMassta and his story to continuously promote positivity through different mediums. My goal as an artist/creator is to inspire and show others that there are no limits – you can achieve anything you desire.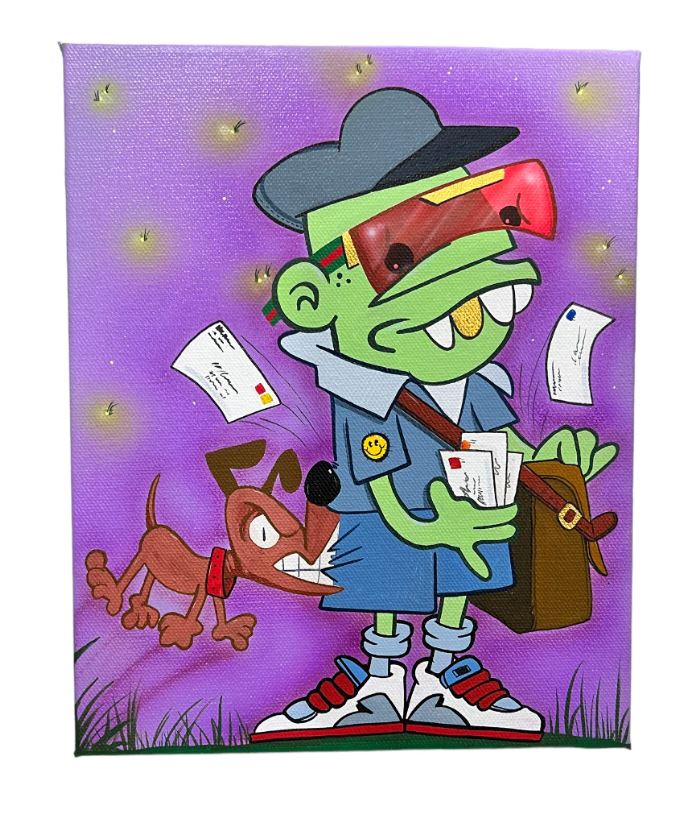 ---
Thinkspace Projects Social Media Accounts