Thinkspace Projects dares us to engage our creative liberties as they proudly present new solo exhibitions by Ezra Brown, Delisha, Willem Hoeffnagel, and Caroline Weaver. Through a complexity of characters, stylistic ideations, and distinct artistic expression – there's something to satiate everyone's personal taste. Join them this weekend in celebration of each artist's imaginative achievements.
Thinkspace Projects also offers a full schedule of events, interviews, and much more to keep you and your creative needs fully immersed. Be sure to follow their blog Sour Harvest to stay updated on all the artsy things you love! If you're looking to add to your own collection of art, take a moment and visit their online store to view available inventory.
Enjoy the new outdoor courtyard between Thinkspace Project's two spaces and have a drink from open bar while you checkout GoopMassta's "Courtyard Sessions" featuring live painting from Dreyfus + artist mini-mart featuring booths from GoopMassta, Joon the Goon, Raymond Argumedo and Dirt Cobain + DJs Venice Beats + grub from The Roll N' Bun + video projections from Digital Debris Gallery.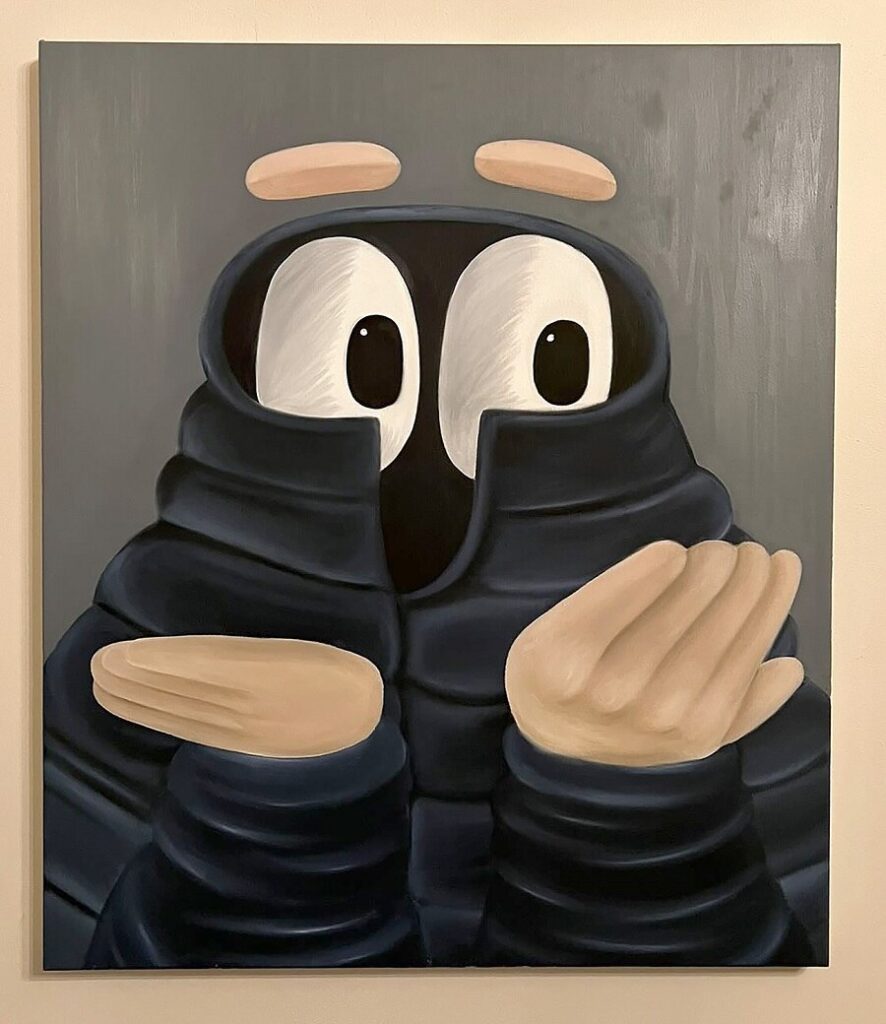 ---
Thinkspace Projects Presents
Ezra Brown | Delisha | Willem Hoeffnagel | Caroline Weaver
Opening Reception: Saturday, April 1, 2023 | 6-10pm
Exhibition Dates: April 1, 2023 – April 22, 2023
Thinkspace Projects
4217 W. Jefferson Blvd. | Los Angeles, CA 90016
#310.558.3375 | Tues. – Sat. Noon to 6PM
thinkspaceprojects.com
For all inquiries please contact the gallery via email at [email protected]
Search their hashtags: #thinkspaceprojects #thinkspacegallery #thinkspacefamily
About the Gallery //
Thinkspace Projects was founded in 2005; now in LA's burgeoning West Adams District, the gallery has garnered an international reputation as one of the most active and productive exponents of the New Contemporary Art Movement. Maintaining its founding commitment to the promotion and support of its artists, Thinkspace has steadily expanded its roster and diversified its projects, creating collaborative and institutional opportunities all over the world. Founded in the spirit of forging recognition for young, emerging, and lesser-known talents, the gallery is now home to artists from all over the world, ranging from the emerging, mid-career, and established.
The New Contemporary Art Movement, not unlike its earlier 20th Century counterparts like Surrealism, Dada, or Fauvism, ultimately materialized in search of new forms, content, and expressions that cited rather than disavowed the individual and the social. The earliest incarnations of the Movement, refusing the paradigmatic disinterest of "Art" as an inaccessible garrison of 'high culture', championed figuration, surrealism, representation, pop culture, and the subcultural.
By incorporating the 'lowbrow,' accessible, and even profane, an exciting and irreverent art movement grew in defiance of the mandated renunciations of "high" art. Emerging on the West Coast in the 90's partly as a response to the rabid 'conceptual-turn' then championed on the East Coasts, the Movement steadily created its own platforms, publications, and spaces for the dissemination of its imagery and ideas.
---
Thinkspace Projects is honored to present their debut solo exhibition with artist Ezra Brown, 'Trying to Keep it Together'. In a series of works that toe the line between whimsical and emotional, he creates complex characters and scenarios that are truly accessible to viewers.
Using his signature 'Happy the Clown' as a reflection of himself, he depicts situations where the character is often quite the opposite of what his name suggests, using him to demonstrate coping with events in the world around us today. Leaning into the title, Trying to Keep it Together, Brown delves into the deeply relatable, exploring the feelings of overwhelm that come up on a day-to-day basis, whether it be preparing for a show or just trying to manage everyday life.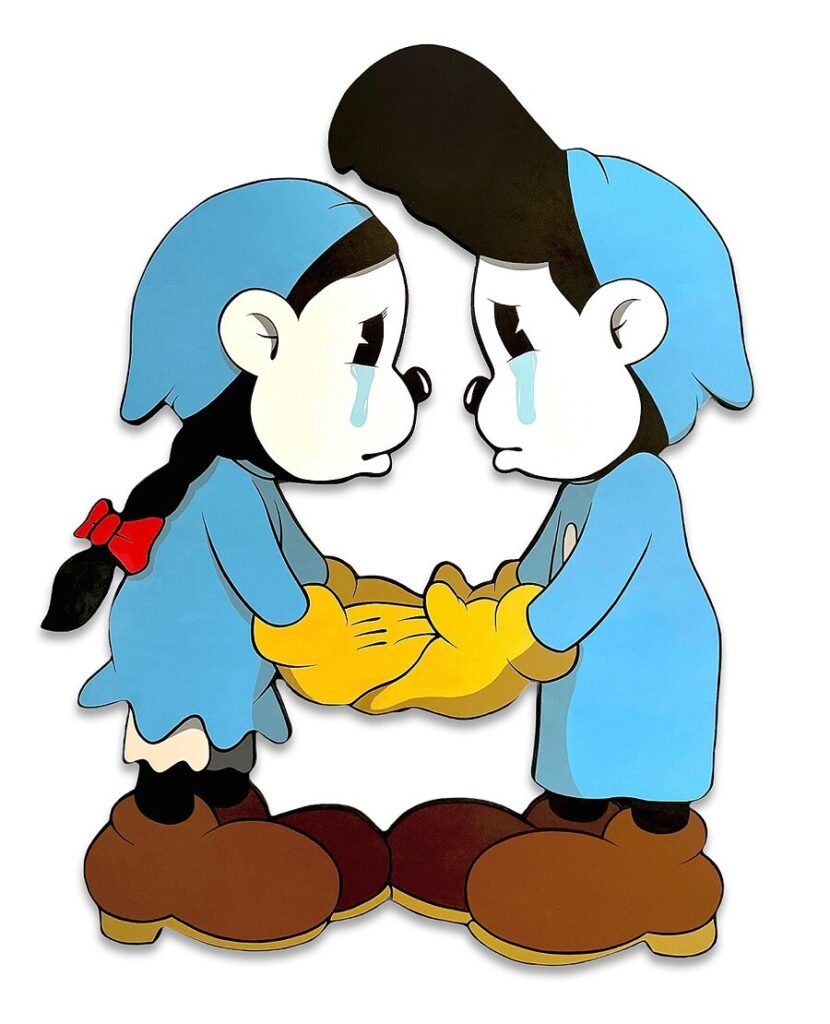 This is a love story gone wrong and unfortunately it has a tragic ending. I think we've all gone through traumatic experiences and this was an opportunity to show just how horrible things can get when we let our emotions get out of hand.
Inspired by his love of Disney, Brown's work has a childlike, nostalgic quality that evokes a positive feeling, no matter the subject matter. Underneath the style that brings out the kid in viewers, Brown urges attendees to use his work as a device to tap into their own feelings, and connect on an emotional level.
With a simple creative process fueled by his own emotions at the time, Brown creates work that is a window into his own emotions, serving as a visual diary in some instances. Driven by a desire to create pieces that he himself would buy, the collection is curated and cohesive.
About //
Ezra Brown is currently based in San Diego, California, where he mainly creates works with acrylics on canvas, as well as some occasional woodworking. He was inspired by his father, also an artist, and felt encouraged to pursue his own artistic career as he studied at the Academy of Art, San Francisco. He hopes to inspire all generations with his art, which he creates from his personal encounters and struggles, encouraging the viewer to relate to these shared experiences.
Thinkspace Projects is thrilled to present Caroline Weaver's solo show, 'A Gummy Wormhole In The Sugar Dimension'. Filling Gallery II, the self-taught oil painter presents a collection of work that brings viewers into a new state, surpassing nostalgia in pursuit of what the artist deems "Time Dilation Meditation from a made-up religion for Fatalists."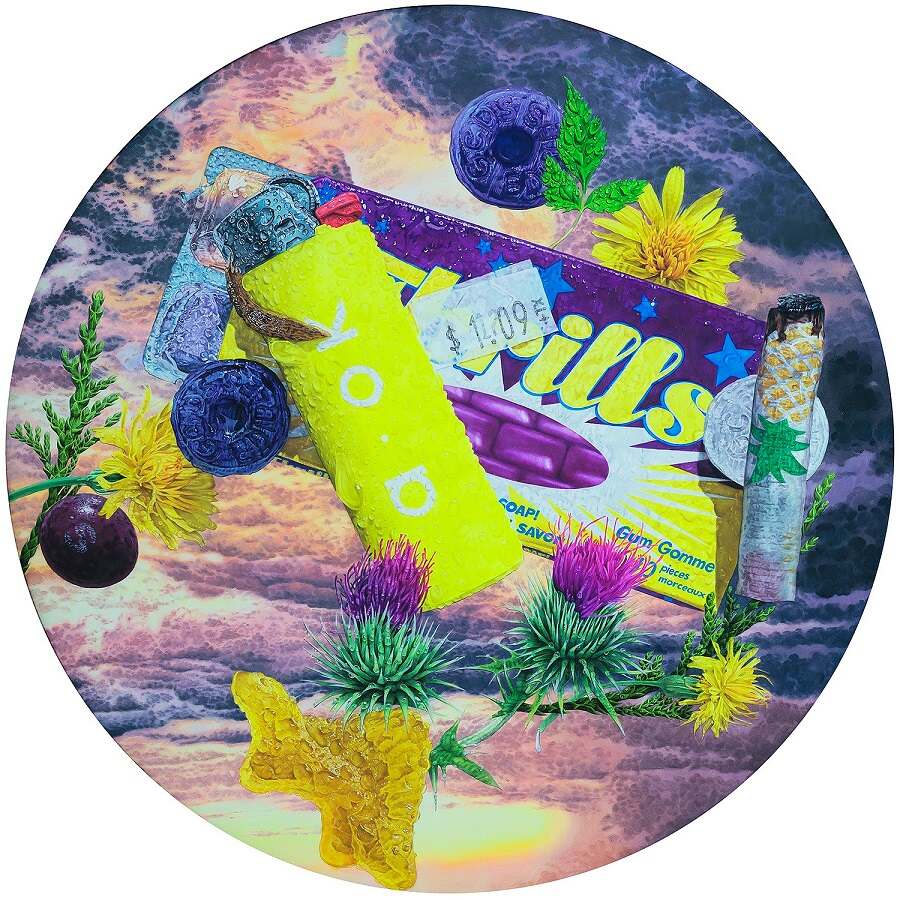 Ushering viewers in, Weaver offers an invitation, explaining:
Your eyes land on a tossed wrapper, the stars align and you're down the wormhole. Back in time, where 20 bucks lasted all night and proximity to your crush was life and death.
With this collection she continues her color-fueled attempt to analyze our arcs of actuality, working to expand her view of the world through multiple disciplines and continued exploration.
About //
Caroline Weaver is a self taught oil painter that has been working in and around the Americas for the past decade. Exhibiting in cities and spots along the way such as Portland, Calgary, San Luis Potosi, San Francisco, Vancouver, Montreal and Baja. Countries, regions, cities, towns, neighbourhoods all taking turns to colour her work. Currently residing on the Sunshine Coast, she is attempting to analyze our arcs of actuality and working to expand her view of the forest floor through multiple disciplines.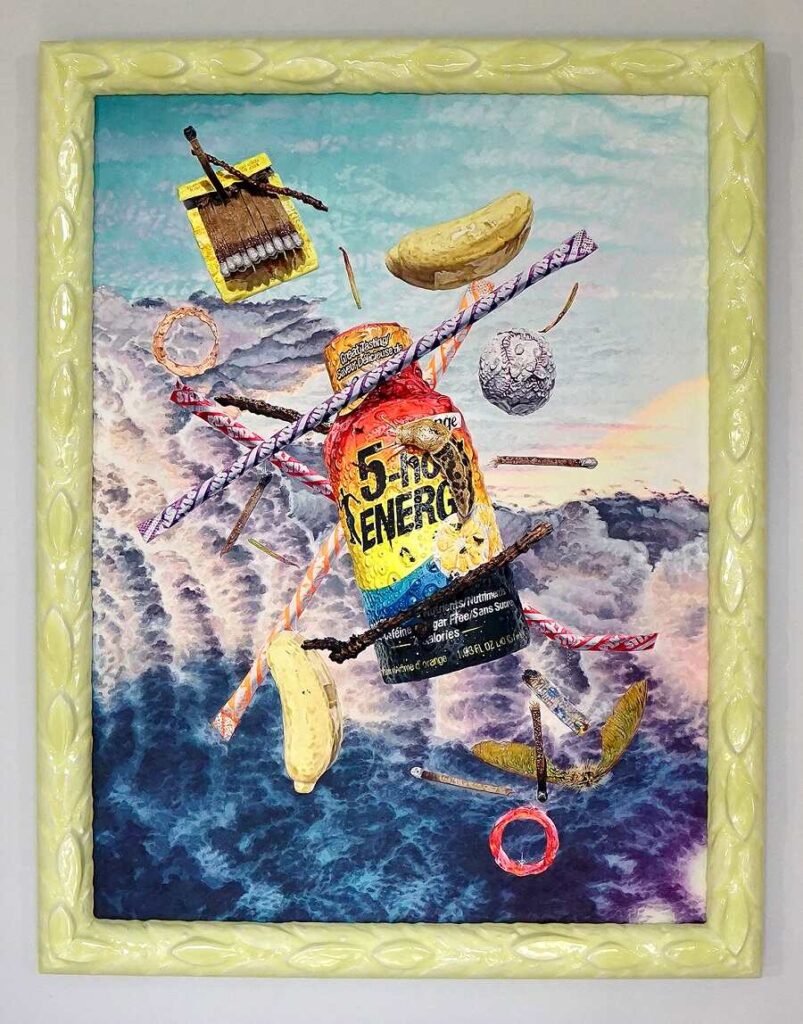 Thinkspace Projects is honored to present Delisha's 'Sweet Dreams & Beautiful Nightmares', lining the walls of Gallery III. Focusing on the "BEAUTIFUL MONSTER," Delisha creates a series of child-like perspectives and narratives. Pulling influence from Bill Watterson's comics and Dr. Seuss, Delisha explores children's dreams and nightmares, their potential, and their sadness. Seeing kids as "little people sorting out their emotions," she is able to convey their experiences in a breathtaking way, evoking imagination in all of her viewers.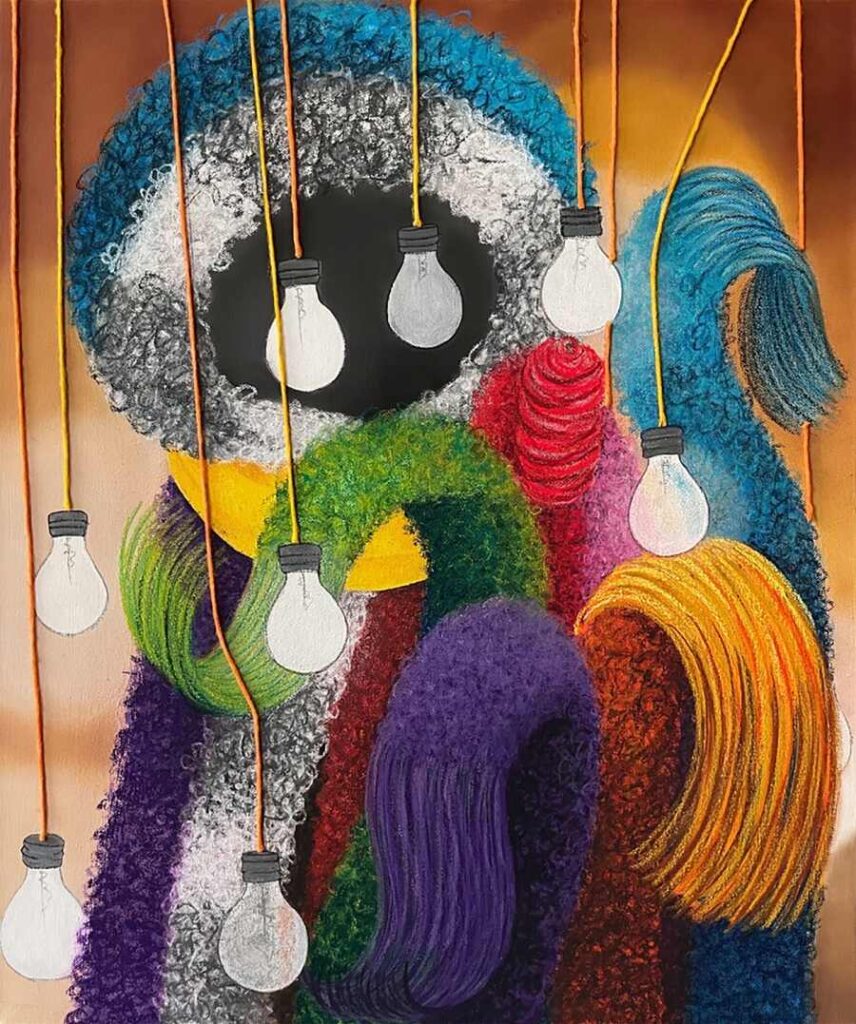 In this particular body of work, "The "BEAUTIFUL MONSTER" acts as a security blanket to help us navigate life's problems and tune out the harshness of the world. It's easier to tune out the judgment, the abuse, the neglect, and doubt while wrapped in the comfort of scarves. A BEAUTIFUL MONSTER manifests from a cold world, and is also a reminder to embrace fear, because you may find comfort in uncovering what's really there."
About //
Delisha currently resides on the Westside of Chicago where she creates paintings of child-like perspectives and narratives. Inspired by Bill Watterson's comics, and the late great Dr. Seuss, Delisha definitely does it for the kids. She speaks of their dreams and nightmares, their potential and their sadness, and would rather view them as "little people sorting out their emotions", and not just as "children". Her imagery of children and toys speaks of those experiences hidden in the adult psyche in detail; evoking imagination in us all.
Thinkspace Projects is thrilled to bring the community Willem Hoeffnagel's 'Similarities', presented in collaboration with League OTO. The painter, born in the Netherlands, brings his lifelong enthusiasm for art, depicting recognizable figures that he has been portraying for more than a decade. Using these figures as placeholders, he is able to craft understandable scenes that are not heavily influenced by the subject's identity. 
In 'Similarities', he draws inspiration from the movements of others, gazing at strangers and those he knows as they run around his town. He leans into his personal reactions and feelings, using them to fuel the figures he is known for.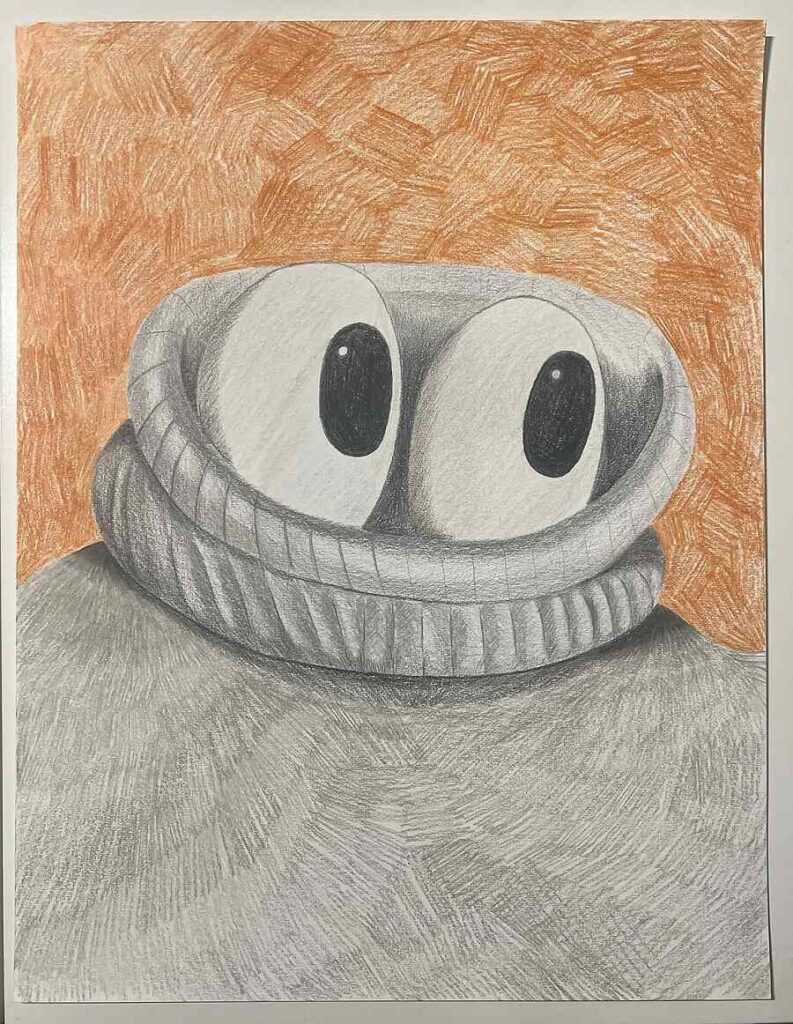 The figures are all seen in different states; some calm, some mid movement. It's subjects like that who most move me in paintings I enjoy myself. It suits my personality, I don't search for more meaning in my works, I look for similarity between the figures and me, or us. For my viewers to see themselves and their everyday lives in my work.
About //
Willem Hoeffnagel is a painter from the Netherlands. Born in 1995 in Arnhem, he has always been interested in drawing and painting from an early age. After leaving a bachelor in entrepreneurship in Amsterdam, Willem enrolled in ArtEZ Zwolle to study illustration design. During that time he focused on his personal style while also experimenting with new techniques and ideas.
However, Illustration didn't end up being his strong point and he left in year 3 out of 4 but working on his art everyday helped with developing as an artist in general. Soon after that he started to work on his painting full time, to grow in the medium he loves the most.
The recognizable figures that feature in Willem's work have been close to him for more than a decade. Using the figures as a placeholder for a person, whether himself or someone else, it allows him to portray a scene or part of a small story to the viewer without putting to much attention to who it's meant to be.
Thinkspace Projects Social Media Accounts