If you're wondering what to do this weekend, feed your creative wanderlust and join Thinkspace Projects as they honor new solo exhibitions by Robert Moore, Marissa Reyes, and Roja. Plus you don't want to miss their group show F CANCER – that graciously donates 25% of each sale to help benefit the American Cancer Society patient support and advocacy.
From the interwoven details of embroidery to intense mixed media textures and all the depth of characters and art narratives there within, each collection invites us to look farther than sight – and deeper into imagination and intuition.
Thinkspace Projects also offers a full schedule of events, interviews, and much more to keep you and your creative needs fully immersed and satisfied – so be sure to follow their blog Sour Harvest to stay updated on all the artsy things you love! If you're looking to add to your own collection of art, please take a moment and visit their online store to view all available inventory.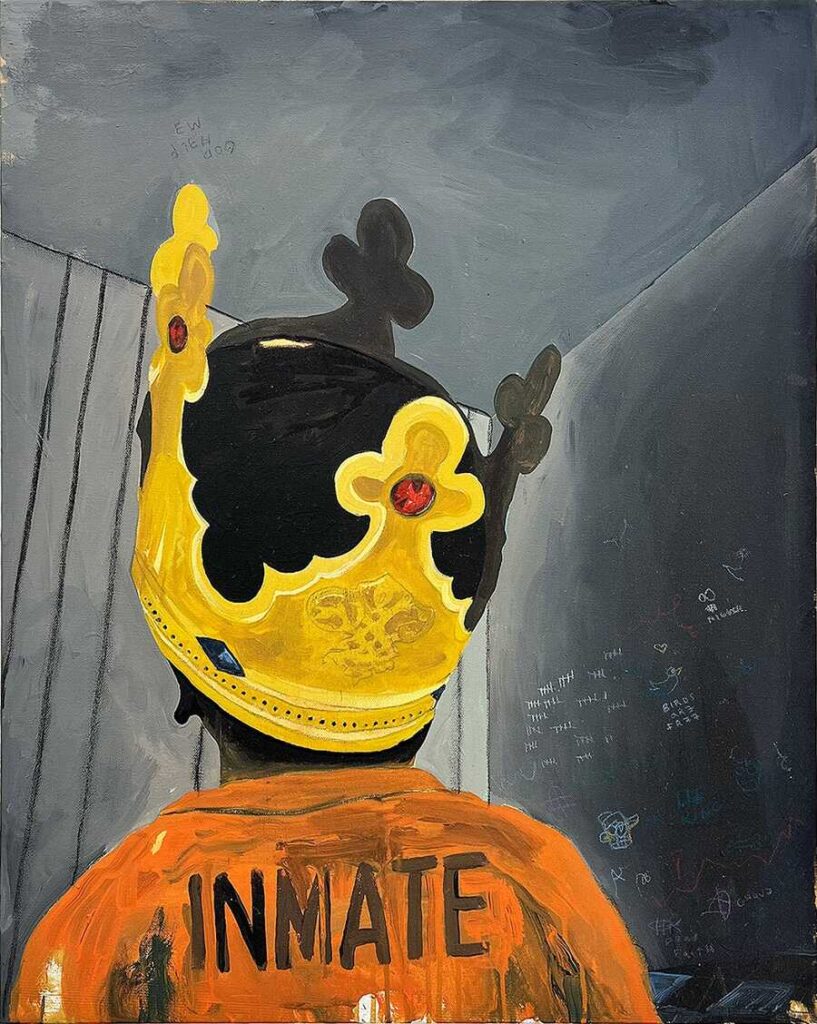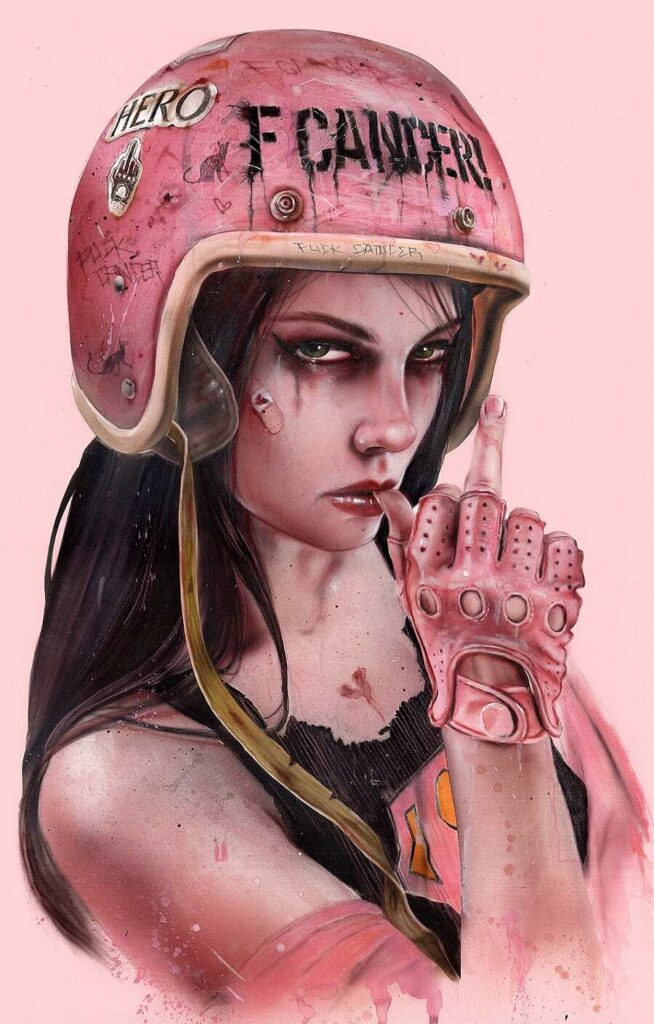 ---
Thinkspace Projects Presents
Robert Moore | Marissa Reyes | Roja
+
F Cancer
Opening Reception: Saturday, March 4, 2023 | 6-10pm
Exhibition Dates: March 4, 2023 – March 25, 2023
The opening reception celebration features DJs Venice Beats, an open bar, free drinks from Liquid Death, 'Courtyard Sessions' featuring live painting from Quiralta + a mini artist mart curated by GoopMassta, grub from The Roll 'N Bun crew, and Video Projections from the Digital Debris team.
Thinkspace Projects
4217 W. Jefferson Blvd. | Los Angeles, CA 90016
#310.558.3375 | Tues. – Sat. Noon to 6PM
thinkspaceprojects.com
For all inquiries please contact the gallery via email at [email protected]
Search their hashtags: #thinkspaceprojects #thinkspacegallery #thinkspacefamily
About the Gallery //
Thinkspace Projects was founded in 2005; now in LA's burgeoning West Adams District, the gallery has garnered an international reputation as one of the most active and productive exponents of the New Contemporary Art Movement. Maintaining its founding commitment to the promotion and support of its artists, Thinkspace has steadily expanded its roster and diversified its projects, creating collaborative and institutional opportunities all over the world. Founded in the spirit of forging recognition for young, emerging, and lesser-known talents, the gallery is now home to artists from all over the world, ranging from the emerging, mid-career, and established.
The New Contemporary Art Movement, not unlike its earlier 20th Century counterparts like Surrealism, Dada, or Fauvism, ultimately materialized in search of new forms, content, and expressions that cited rather than disavowed the individual and the social. The earliest incarnations of the Movement, refusing the paradigmatic disinterest of "Art" as an inaccessible garrison of 'high culture', championed figuration, surrealism, representation, pop culture, and the subcultural.
By incorporating the 'lowbrow,' accessible, and even profane, an exciting and irreverent art movement grew in defiance of the mandated renunciations of "high" art. Emerging on the West Coast in the 90's partly as a response to the rabid 'conceptual-turn' then championed on the East Coasts, the Movement steadily created its own platforms, publications, and spaces for the dissemination of its imagery and ideas.
---
FREE show poster to the first 150 people through the door (shared above)
Thinkspace Projects is honored to present b. Robert Moore's inaugural solo show Out the Mud: A Black American Rite Of Passage. Self-taught and multidisciplinary artist, Moore, uses art as a means to process both the personal and the societal. He provides the perspective that a quick glance may not. Noticing that, like many humans and human experiences the exterior is merely a facade that does not dive into the true interior, the influences and experiences that impact them and thus human nature typically has a subjective stance.
Robert attempts to strip away those subjective "soft" assumptions of narrative, instead, calling them out directly. That is the goal in his work, to conflict and provoke thought of narrative of the African and African American diaspora as well as social and civil experiences of underrepresented people and narratives. A true representation of his experiences through a collective community lens, Moore maintains that art should be felt, not just seen.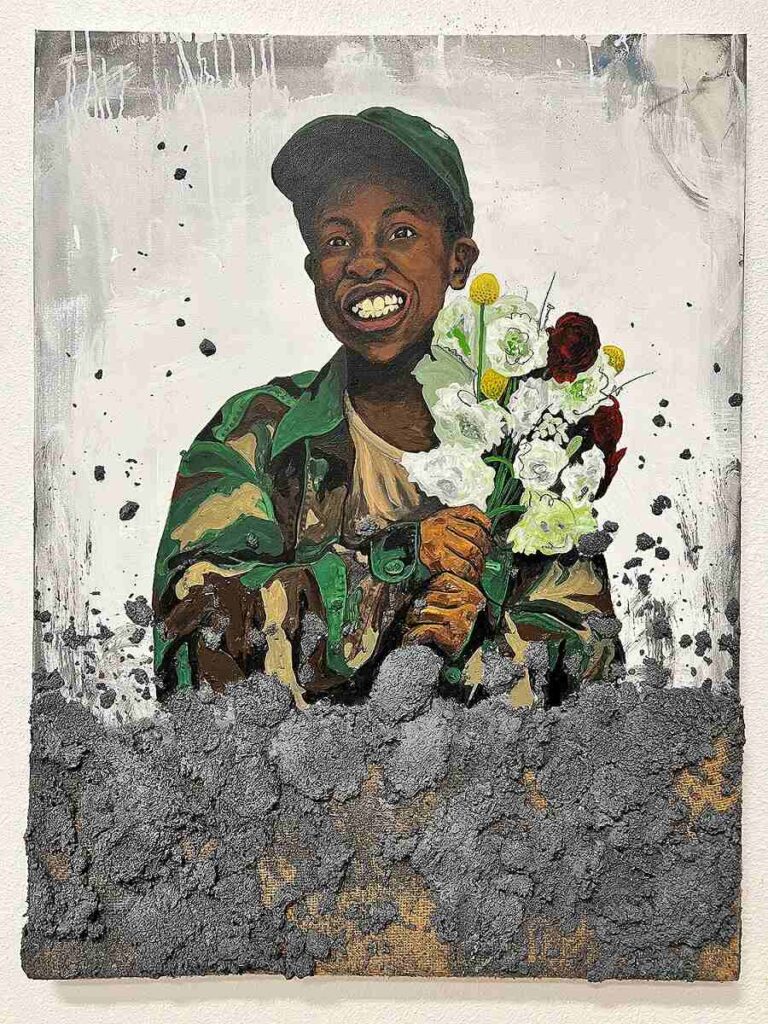 For this debut solo exhibition, b. Robert Moore, lays out his experience as a Black American, in the perspective of a linear 'Rite of Passage', as his experiences and those of the Black community in America.
In describing this body of work, Moore says, "For many Black Americans, we have no direct understanding of our traditional African tribes rite of passage. Our only Rite Of Passage is what we have inherited by being born descendants of African slaves here in America. For many, birth and childhood are traumatic, coming of age is a form of warfare (if we even survive). We are conditioned to not understand marital structure, we experience religious confusion through manipulation, death…. and more.
With the hope that our coming of Age, our Rite of Passage, is to make it past the age of 25…. If we do, some of us may even thrive. We may even find a smile. We may recreate. We may be the rose that grew from concrete. Out The Mud."
Artist Bio //
b. Robert Moore (b.1983) Des Moines, Iowa | Lakewood, California. Robert, a multidisciplinary contemporary artist started painting to counter drug addiction and alcoholism among mental and emotional health outlets. A self taught folk artist, Robert's mastery is infant but seasoned and continues to be a focus of his practice. Mastery of his passion.
To Robert, he is constantly in pursuit of happiness, which in his current state is defined by fulfillment + purpose. He finds purpose in connecting narrative and opening doors for connection, relation, healing, discussion. From up-cycled sculpture to abstract portrait and urban neo-expressionism, Robert has defined his genre or style as "narrative". He is purposeful with every word, brushstroke and connection to the work with contention if intentionally or accidental occurrences influenced the work.
Thinkspace Projects is honored to present the debut solo exhibition Fighting Fickle Feelings For You from Marissa Reyes this March. In her new body of work, Reyes examines representations of the female body and to articulate sites of agency and resistance to surveillance and shame. Utilizing a visual culture of psychosexuality and psychological intimacy, she interrogates ways in which depictions of the female nude can be removed from historical regimes and systemic lenses of oppression and hyper-sexualization. Her self-portraits provide a safe space for the female body to experience personal and private narratives of pain, desire, doubt, and fear.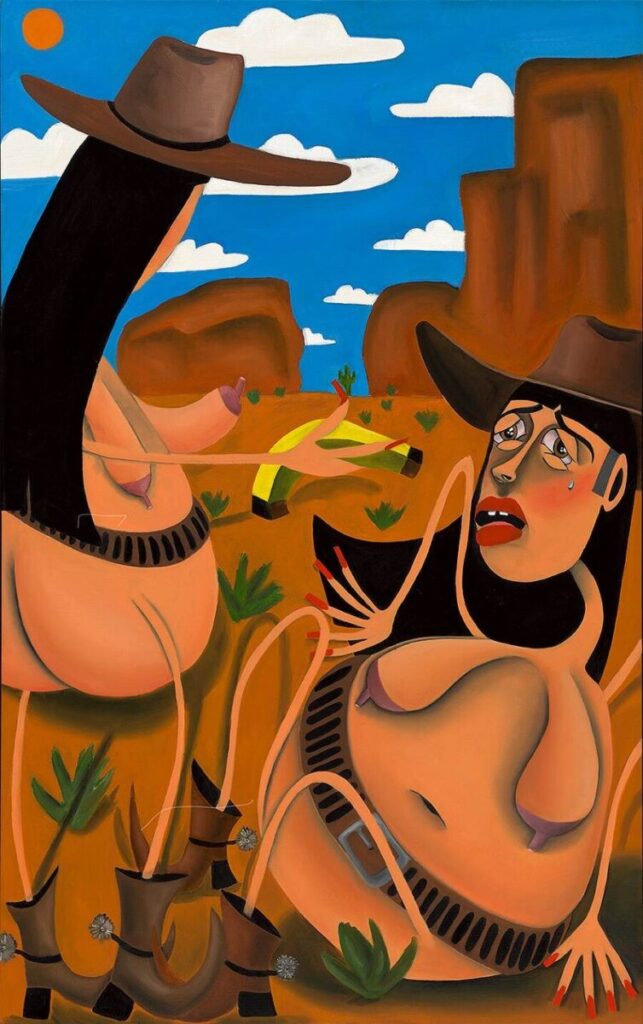 Show Statement //
Most women remember that moment in grade school: you're sitting at a lunch table, about to enjoy a banana, when suddenly a group of boys burst into laughter. You turn to see what they're laughing at only to realize it's you. They're making phallic jokes, and you sit there confused and embarrassed and not understanding why.
Having been objectified at a very early age has altered the way I view men and also myself. In this new body of work, I explore sexism, the female self, and the varied emotions that encompass romantic relationships. I use the image of the banana as a prop that's part of a running "phallic" joke. I've taken away a man's identity and reduced them down to the yellow fruit they see themselves as.
I use self-portraiture to convey the emotional conversations women have with themselves about the choices they make in their relationships with men. In this way, I hope to provide the male gaze an insightful look at intimate moments of pain they've caused and I hope to provide a safe space for women to see themselves as more than an object.
My inner landscape is like the Wild West—lawless and violent, and with a touch of humor that, like the phallic jokes, I still don't quite understand.
Artist Bio //
Marissa Reyes (b.1991) is an oil painter who lives and works in San Bernardino, California. She holds a BA in Studio Art from The University of La Verne, followed by an MFA from Claremont Graduate University. The artist's solo and group exhibitions include Humorous Hubris (2022), at East Gallery of Claremont Graduate University and 1° of Separation (2022), at Franchise in Los Angeles. Reyes' most recent exhibitions include Raiz (2023), with Thinkspace Gallery and Tlaloc Studios at the Brand Library & Art Center in Glendale and Sunset Unlimited Curated by Devin Troy Strother (2023), at Intersect Palm Springs Art and Design Fair with The Pit LA in Palm Springs.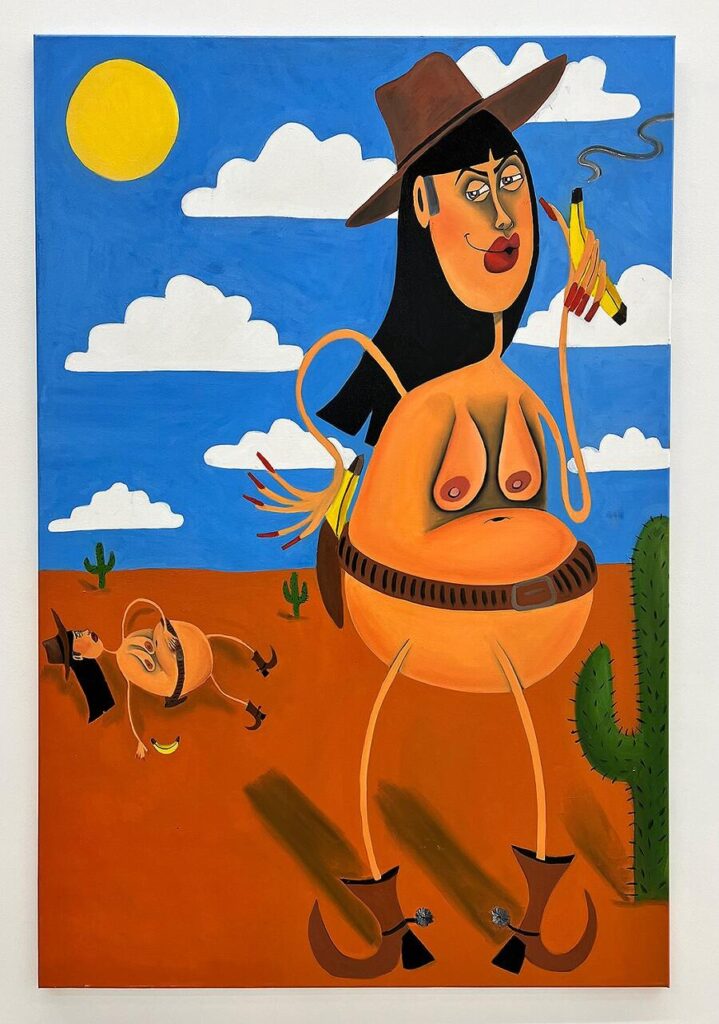 Show Statement //
Times is organized around damage. Moves across, an undaunted predator. An animal eating from our heart, and against which we react with nostalgia or with the burning gesture of revenge. But here there is no yearning. There is fury, there is rage, there is nastiness. And the alternative – both its poignancy and its affliction – that the work seems to suggest, is facing the annihilation of time, self-destruction; facing its nightmare, hallucination.
If the apocalypse, a recurring theme in Roja's work, stems from revelation, perhaps we should wonder if what that brings to light is not the bad conscience of our own society. Its infected beauty, its aberration. The <<distorting mirror>> in which we do not tolerate recognizing ourselves.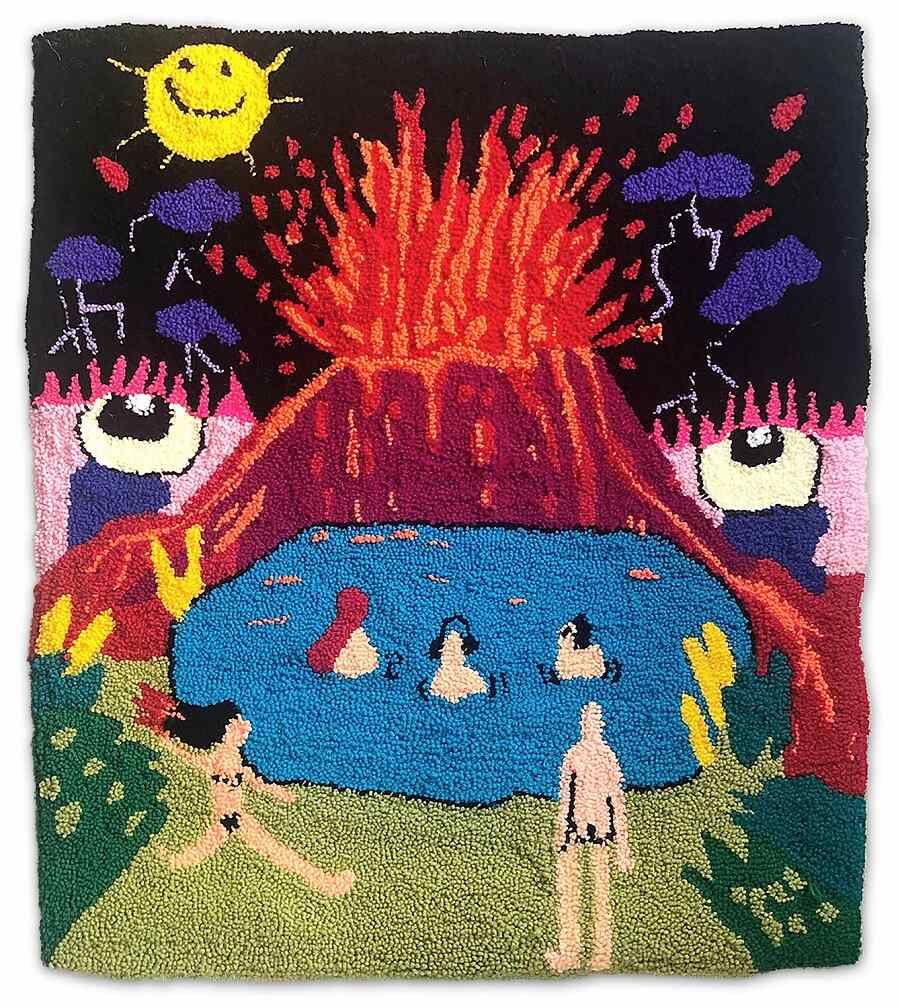 Artist Bio //
Roja was born in 1987, Comodoro Rivadavia, Chubut in Argentina where she studied plastic arts at the UNLP with orientation to ceramics and engraving. Her studies also included make-up and costume creation at the theater school of La Plata. Roja also attended the special effects workshop at FX (School of Special Effects) and studied Art Direction at SICA.
Recently her focus has shifted to textile based work after she attended a series of embroidery courses at the Border Workshop with Florencia Russi and at TAE (Escuela del Teatro Argentino), among others.
Enjoy a selection of F CANCER works
25% of each sale to be donated to the American Cancer Society
Our guiding light and gallery co-founder Shawn Hosner was recently diagnosed with Stage 4 Breast Cancer and it has tossed our entire world upside down and into the air. She's lovingly referred to as "gallery mom" and she means so much, to so many around the world.
Our fight has just begun and we want to be sure that every member of our extended family and all of our supporters around the world know of her fight and are sharing their good energy and prayers for her. We want to use her fight as a vehicle to also help others that are facing this horrible disease head on and fighting for their lives.
All of us at the gallery have experienced the loss of friends and close loved ones over the years due to this dreaded disease and now that it has entered our home and is staring us directly in the face, we aim to do all we can to help spread awareness on early detection and what you can do to avoid this nightmare entering your life. F cancer!!!
Thinkspace Projects Social Media Accounts