Thank you & Acknowledgements
Once again, we would like to thank all of the artists that entered, sharing their work and their artistic passion with us. It was such a pleasure to immerse myself in the work of so many creatives from all corners of the globe and read their inspirational stories.
As Beautiful Bizarre Magazine's Editor-in-Chief I have the pleasure and honour of curating each issue of the magazine and our yearly exhibitions. The many wonderful and talented Art Prize entries we received continue to give me a plethora of new ideas and choices to pursue in future. So thank you again for your interest in the Beautiful Bizarre Art Prize, I very much hope to see how your work has grown and developed in next year's Prize.
I would also like to sincerely thank the 2022 Jury Panel, particularly the Traditional Art Category Judge Martin Wittfooth, who gave his time and expertise to the panel. Additionally I warmly thank the other Category Judges: Joan Coderch and Javier Malavia of CODERCH & MALAVIA (Sculpture jurors), Bella Kotak [1st Prize winner of the Photography award 2021] (Photography juror), and Dan dos Santos (Digital Art juror), as well as the Directors of Modern Eden Gallery, Kim Larson and Bradley Platz, and Founder of Quirky Fox, Vicki Fox.
I would also like to thank our major partners: INPRNT, RAYMAR, Yasha Young Projects, iCanvas and ArtStation; the Beautiful Bizarre team for their dedication and hard work on behalf of the prize and winners all-year round, and of course to my partner, Beautiful Bizarre Magazine's Co-Founder Richard Purssey. The judging process was extremely difficult with an incredible amount noteworthy entries, so thank you again!
Our sincere thanks to this year's Traditional Art Award sponsors listed below. It is through their generosity that the Traditional Art Award Winners will be able to enrich their practice.
RAYMAR Traditional Art Award
The RAYMAR Traditional Art Award, 1st prize winner will receive:
$3,000 cash, generously donated by RAYMAR, creators of the finest panels! Panels are their passion. They craft their panels with the world's finest materials to serve as the foundation for your artwork.
$1,500 cash, generously donated by SmArt School, providing superior online art mentorships since 2011, where you learn from professional artists.
$1,500 cash, generously donated by Rosemary Brushes, the finest quality handmade Artists' Brushes.
A coupon to enjoy Linktree PRO for free for 12 months.
Receive a beautiful, specially commissioned glass art award trophy.
The opportunity to exhibit in the prestigious Beautiful Bizarre Magazine exhibition at Modern Eden Gallery, in San Francisco, CA USA, alongside 80+ of the world's best contemporary representational artists.
Exposure to a successful commercial gallery's collector base with the opportunity to sell their work.
3 month social media advertising package (Beautiful Bizarre Magazine: 1 million+ followers across all social platforms).
Exclusive in-depth interview published on the Beautiful Bizarre Art Prize and Beautiful Bizarre Magazine websites + shared on social media.
A year's worth of inspiration – a print subscription to Beautiful Bizarre Magazine.
+ most importantly, receive worldwide exposure!
2nd and 3rd prize winners will receive:
Congratulations to the 2022 Beautiful Bizarre Art Prize RAYMAR Traditional Art Award Winners: Hannah Flowers, Kremena Chipilova, and Ron Hicks!
3rd Prize Winner: Hannah Flowers
3rd Prize Winner
Hannah Flowers
Born: Australia. Currently resides: Scotland.
"Devouring of the Odalisque", Oil on wood panel, 50″ x 70″
Hannah Flowers is a self taught artist from Tasmania, Australia, currently residing in Scotland, UK. She began her artistic career as a tattoo artist and is well known in this field. In recent years she has turned her attention to painting, to be able to create work of a more personal nature. She combines the design skills learned from many years of tattooing with a love of the unique and subtle textures and colours that oil paint can achieve. She is currently exploring the push and pull between the grotesque and the beautiful within her work.
"Devouring of the Odalisque": As the hunter's daughter grew rich and succulent on the flesh of her fellow forest dwellers, she scarcely suspected her slothfully tenderized luck. Now in the forest's fortune, she passes back those wantonly pilfered nutrients; returning them to the blissful ignorance of life's humble embrace.
2nd Prize Winner: Kremena Chipilova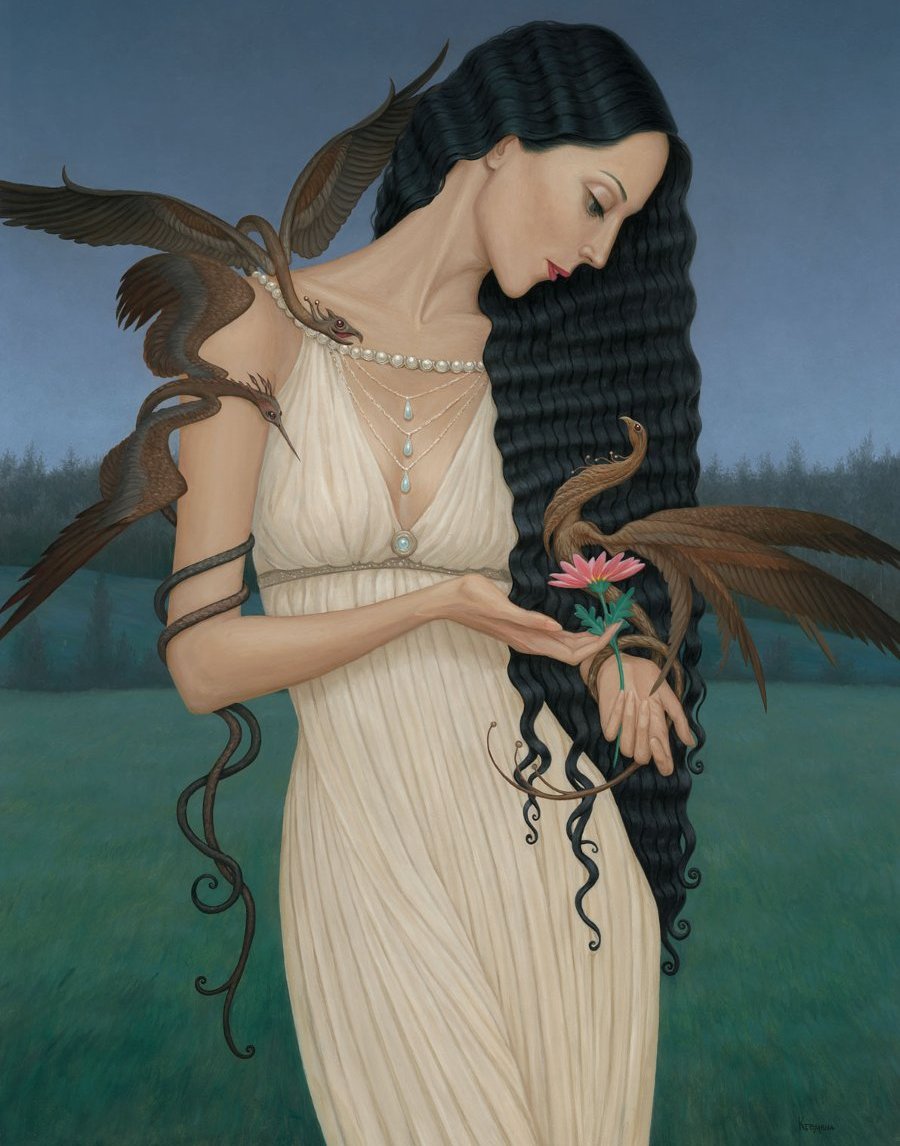 2nd Prize Winner
Kremena Chipilova
Born: Bulgaria. Currently resides: Finland.
"Her Shadows Caress Me", Oil on panel, 40cm x 30cm
Kremena Chipilova is an artist who paints in oils and works in the areas of fantasy and magic realism. In her art, she likes to include the promise of the supernatural, the encounter of something that is unknown, that attracts and maybe scares us. Sometimes she wants to convey a strange feeling of disquiet. She draws inspiration and ideas from a variety of sources – from the delicate beauty and mystery found in nature, to the fairy and folk tales, myths and legends of mankind. The exploration of these themes in literature captures her imagination and, combined with her personal experiences, evokes feelings that she wants to put in her paintings.
"Her Shadows Caress Me": Her Shadows Caress Me is a painting that can be interpreted in many ways and I prefer that people see it with their own eyes. The main goal is to evoke an intimate, serene moment that has been a long time coming; or a memory, shadow of one.
1st Prize Winner: Ron Hicks
1st Prize Winner
Ron Hicks
Born and currently resides: USA.
"Amber Eve", Oil on birch panel, 48″ x 36″
Ron Hicks' career began as a representational artist with a traditional approach that closely resembled the style of the 19th Century masters. His current body of work is a blend of several disciplines, marrying abstraction with realism, drawing on experiences and emotions to galvanize his thoughts, then transferring the collection of these to his substrate. Hicks uses texture, abstract passages and emotive movements to strike an emotional response and allow the viewer to derive at his or her own inference. When asked about his current body of work Hicks says, "We have to ask ourselves, 'What do we glean when we look through a metaphorical lens? And, what is perceived of us through the lenses of others? Does a lens hide or enhance? Do we arrive at the same conclusion and have we processed the same information equally?' If the only lens you're looking through is obscured, then is that the actual truth… is it really YOUR truth?"
"Amber Eve": How do we shield ourselves while yet allowing ourselves to be vulnerable? Can these two things exist in the same space? Vulnerability requires one to take emotional risks — to uncover, so to speak. Life has an interesting way of creating defense mechanisms which become our truths.
The Beautiful Bizarre Art Prize is administered by Australian based, international contemporary art magazine, Beautiful Bizarre Magazine.
The 2022 Beautiful Bizarre Art Prize