With artistic complexities that silhouette each narrative, and a creative voice that connects us to his muse, Roel Jovellanos expresses his imagination and connects it to ours as if reading pages from a book painted on panel. We soak into it, relish and wander, and learn the moves of each female protagonist as they shapeshift through their lives. We watch with curiosity, eager to learn where the night takes them.
Join Distinction Gallery this weekend as they proudly present the solo exhibition of long term ArtHatch artist Roel Jovellanos, "At Night".
The exhibition will include figurative paintings depicting women at night in precarious situations. The emotions of the women strongly come through in this new series of intriguing paintings.

Distinction Gallery Press Release
Opening Reception: Saturday, September 10, 2022 | 6-10 pm
Exhibition Dates: September 10, 2022 – October 1, 2022
The artist will be present and there will be live music and drinks available for sale from Last Spot by Hidden Hive
Distinction Gallery
317 E Grand Ave, Suite A, Escondido, CA 92025
Ph. 760.707.2770
View all inventory on their website!
For press inquiries and purchase availability, please contact the gallery at [email protected]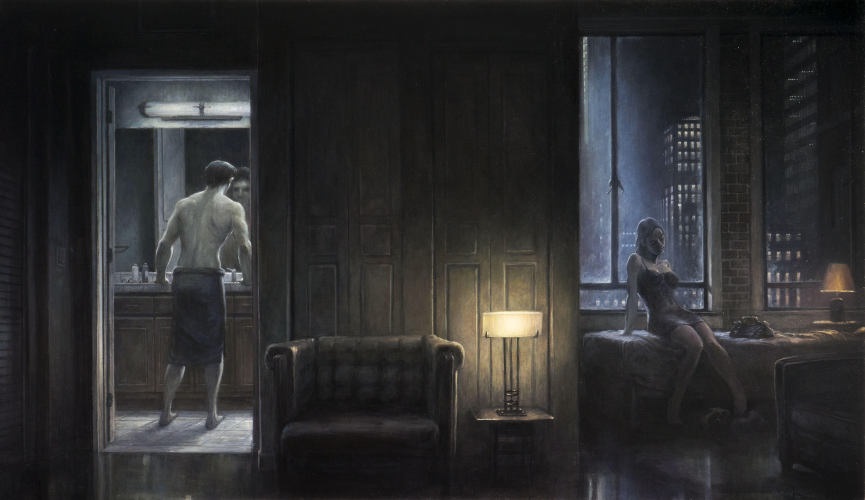 About the Artist //
Roel's art focusses on various aspects of the human condition expressed through visual narratives and subtext. He uses cinematic framing, sequences, and multiple points of focus to fully capture the theme of a painting. His background includes a long stint in the video game industry where he worked as a concept artist and 3D modeler. He left all that behind to slow it down, to create meaningful and lasting work in an age where attention can be fickle and art disposable.

Roel earned his BFA in illustration from Art Center College of Design in Pasadena. He was born in Chicago, raised in Southern California, and now resides in Phoenix.
About the Gallery //
Distinction Gallery was created in 2004 to give beginning and established collectors a venue to purchase high-quality, cutting edge artwork. Distinction has hosted over 120 exhibitions since its inception featuring emerging, mid-career and veteran professional artists. The primary genres forwarded at Distinction are Contemporary Realism, Surrealism and Urban art with a focus on the figure. Our primary media focus is original oil and acrylic paintings; however, we occasionally display drawings and mixed media. Distinction's artwork is available for purchase online to clients around the world, and most of our artists are available for commissions. Please feel free to contact us with questions.
In order to further expand our offerings to our community, we converted part of our location to ArtHatch, a non profit organization. Distinction donates a generous amount to ArtHatch annually. We host opening receptions on the Second Saturday of every month featuring open studios, Stone Beer, BK Cellars Wine, live music from San Diego and Los Angeles musicians, and plenty of engaging artwork.
ArtHatch is a 7,000 square foot building which houses Distinction Gallery: exhibitions changing monthly, "The Alley", featuring 15 local artist, the teen room featuring artwork by 15+ teen artists, 16 artist studios, ranging in size from 150 to 500 sq ft, ArtHatch Escape Rooms, and Last Spot Art Bar.
Distinction Gallery Social Media Accounts
Website | Facebook | Twitter | Instagram
Roel Jovellanos Social Media Accounts