Issue 38 of Beautiful Bizarre Magazine, with Franz Szony's magical photograph 'The Tightrope Girl', on the cover, featuring Dita von Teese and inspired by Marc Davis, is on sale now! Contact one of our Stockists or Shop Online, but don't miss this special Issue.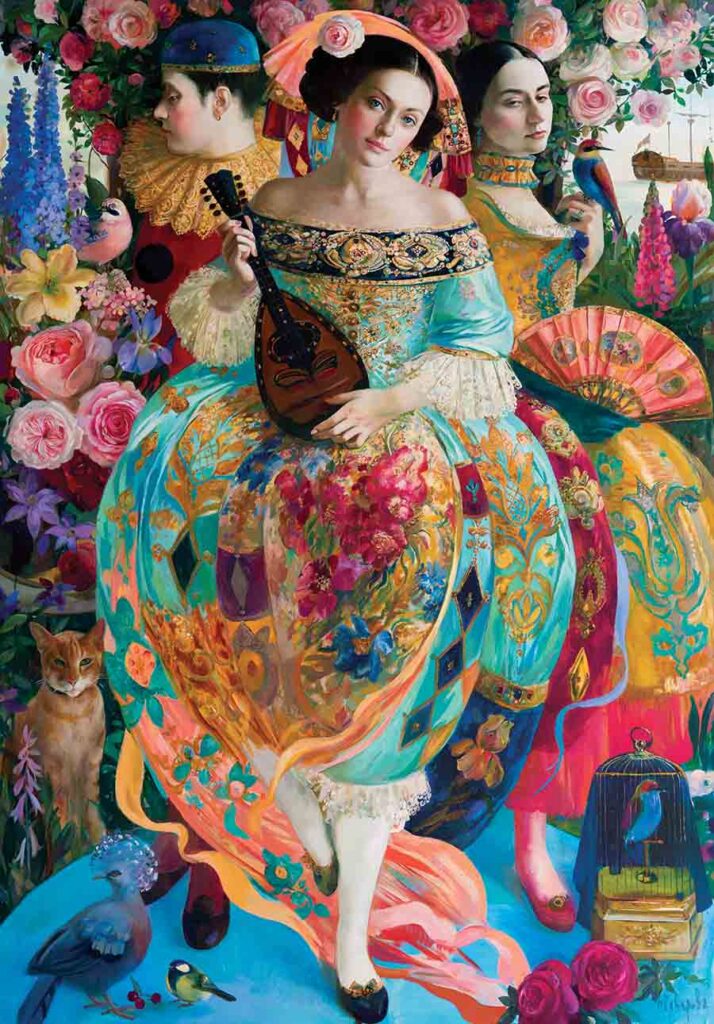 Inside this Issue, we dive into the dreamy work of Olga Suvorova whose boundless imagination creates elaborate worlds full of beautiful flowers, exotic birds and charming animals. In the Pre-Raphaelites / theatrical painting style Olga brings modern narratives to these traditional styles.
We also learn about the Mitch Griffiths' hyperrealistic visionary style as he explores themes that are at the very heart of today's society – technology, polarisation, nationalism, consumerism and wastefulness, social isolation, addiction (to both substance and social media), conflict, the environment – in a way that is both visually and emotionally arresting.
Cover artist Franz Szony is, all by himself, a force of intrigue and enchantment, but his work also sparkles with his magical cast of characters – celebrity or otherwise – who all share a common thread of charm and unapologetic, almost bombastic, personality. Akin to a ringmaster, curating spectacle and wonder. But that does not mean his work, behind-the-lens, is mechanical or involves a mere pancake of blush, a tightened corset, a click of the shutter. It is a much more nuanced process of unrestrained expression. His photographic artworks involve a state of engrossment and evolution, constant growth that seems tireless but perilously exciting.
We speak to Chie Yoshii and immerse our artistic desires within her enigmatic odes to beauty, nature, and the human experience. To fully appreciate the complexity and depth of her weighty narratives, we must be open to transcendental truths that are handed down through the ages.
Growth comes with experimentation and the bravery to push boundaries. In this Issue's Artist + Artist conversation, we learn just that and discover artist couple Jason Mitchell and Stacey Ransom, better known collectively as Ransom & Mitchell, and how this collaboration changed their lives. Both artists, as independent creators and an artistic duo, are genuine stars shining brightly in an often-defeatist world. Now more than ever we should let ourselves be influenced by Stacey and Jason's approach.
We also go behind the scenes and behind the lens with 2021 Beautiful Bizarre Art Prize, Photography Award 1st Prize Winner, Bella Kotak, as we learn firsthand about her Path To Creation. In this series, we gain more than just a special insight into Bella's creative process. We get a glance behind the veil to see how her "artist spirit" began to heal. Muses can be all around us or found in the unlikeliest of places, and learning about Bella Kotak's process is as inspirational as it is beautiful.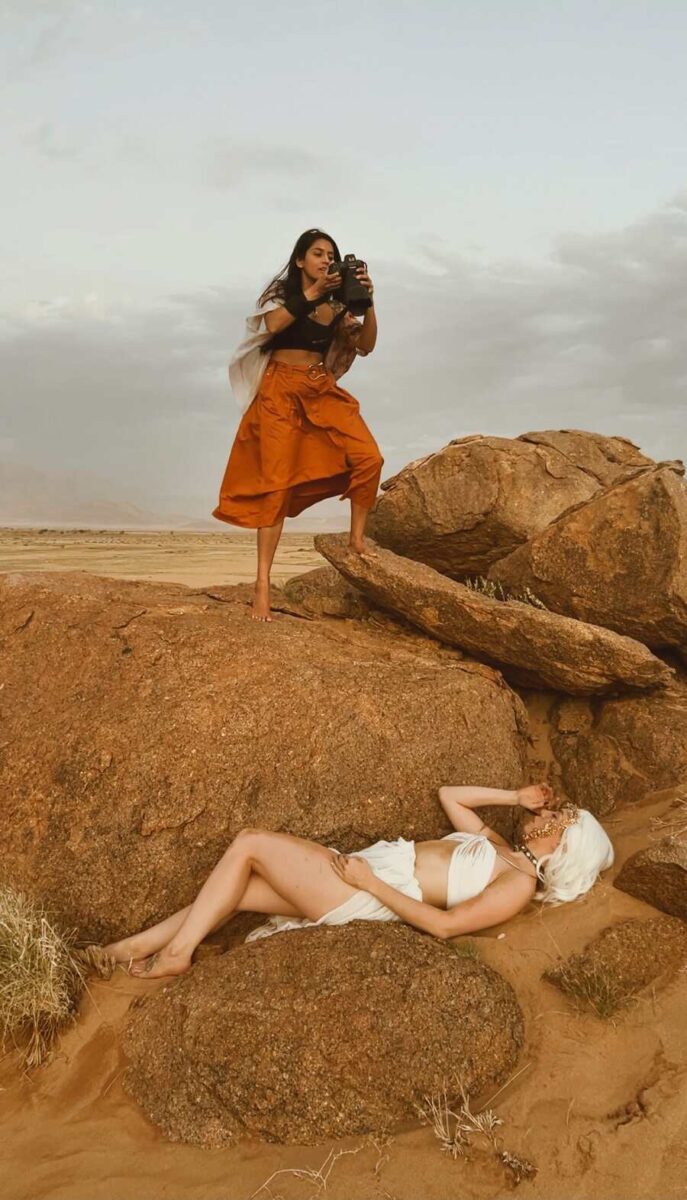 Next we delve into Agnieszka Nienartowicz's artistic realm, and discover the secrets that lie behind her subjects' backs, underneath their dresses, inked and ingrained into their skin like tattoos. The way Agnieszka paints resembles meeting a stranger and having the desire to peel back the layers of their stories and personalities. The women in her artworks exude grace and elegance with their physique and posture while hiding the fact that they treasure secrets only the fortunate ones can uncover.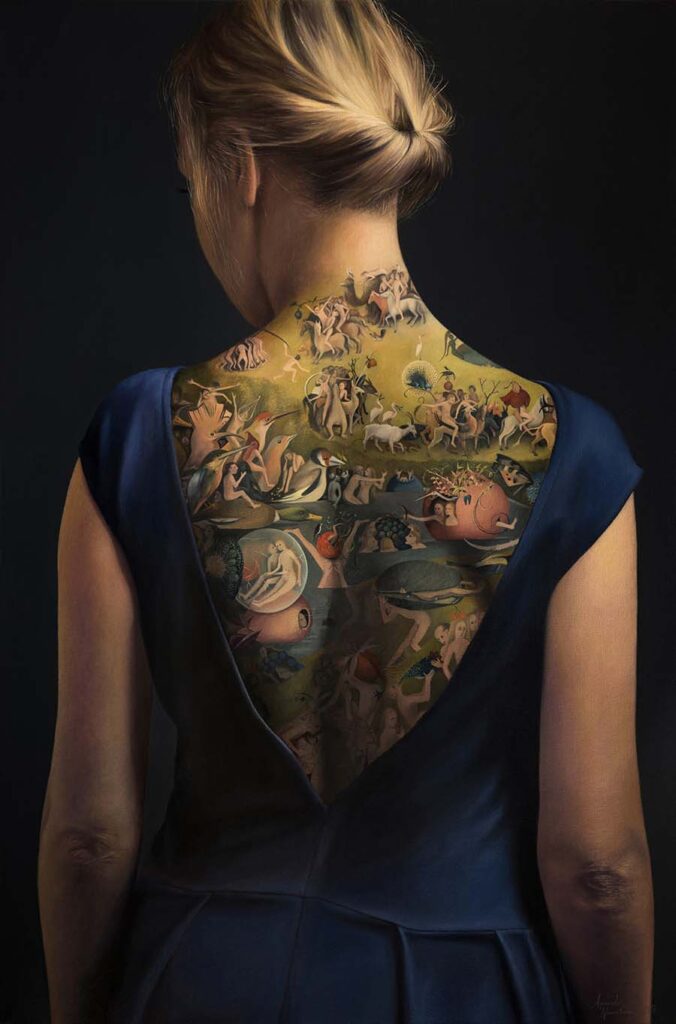 We also look at Rogan Brown's many intricate layers and paper complexities. In curious ways, Rogan is a cellular explorer, clearing our paths to the source of life. In a sense, he offers a new approach to ecological art by using recyclable materials to show us what is underneath our skins or our soil, in our water or in space. He also seeks to make us question humankind's harmful practices. There are true ecological preoccupations in his desire to sculpt coral-like sculptures from paper.
We are quite literally over the moon, to learn what Dr. Samuel Peralta, Founder of the Lunar Codex, and Alice Peralta, partner at the Windrift Collection, would like to add to their personal collection, in this Issue's Curator's Wishlist.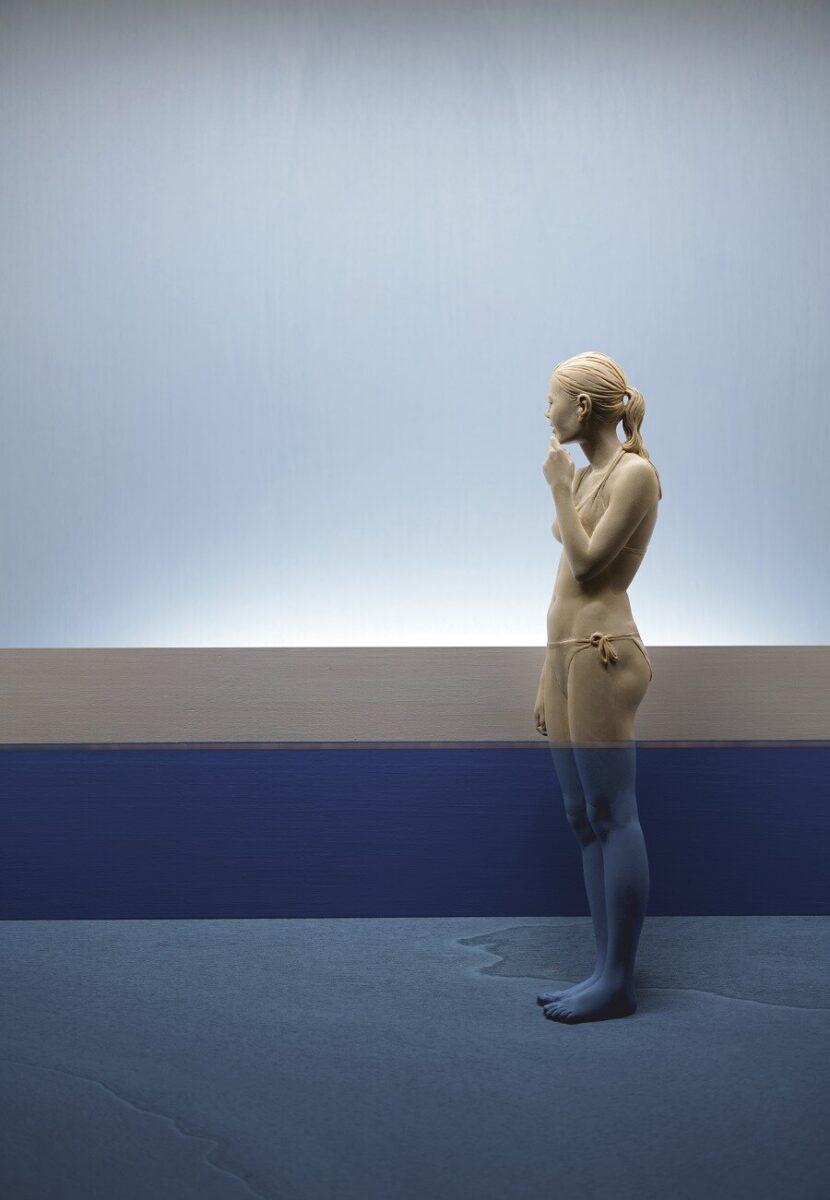 Next we are welcomed into Elisa Anfuso's universe. The Italian artist paints symbolic portraits where, at the centre, feminine figures emote fiercely and interact with the elements surrounding them. Symbolism and dreams are recurring themes in Elisa's paintings. They are materialised by elements from nature such as birds, tree bark, lakes, flowers, forests, or plants, or man-made elements such as cakes, oversized lollipops, threads, cages, or cloth.
Travel further into Issue 38 and the dark surreal universe of Randy Ortiz. The dark pieces he portrays often come from an internalised agony and reflect a rather epic battle to bring some hope to others. Randy brings these 'darker topics' to the public as a way of encouraging his audience to discuss mental health issues in a more open way. The gamut of human emotion should be an open book rather than a stigmatised demon lurking in the shadows of society. Beautifully articulated skulls and images of mortality seep through his pieces as if whispering dark secrets to his audience.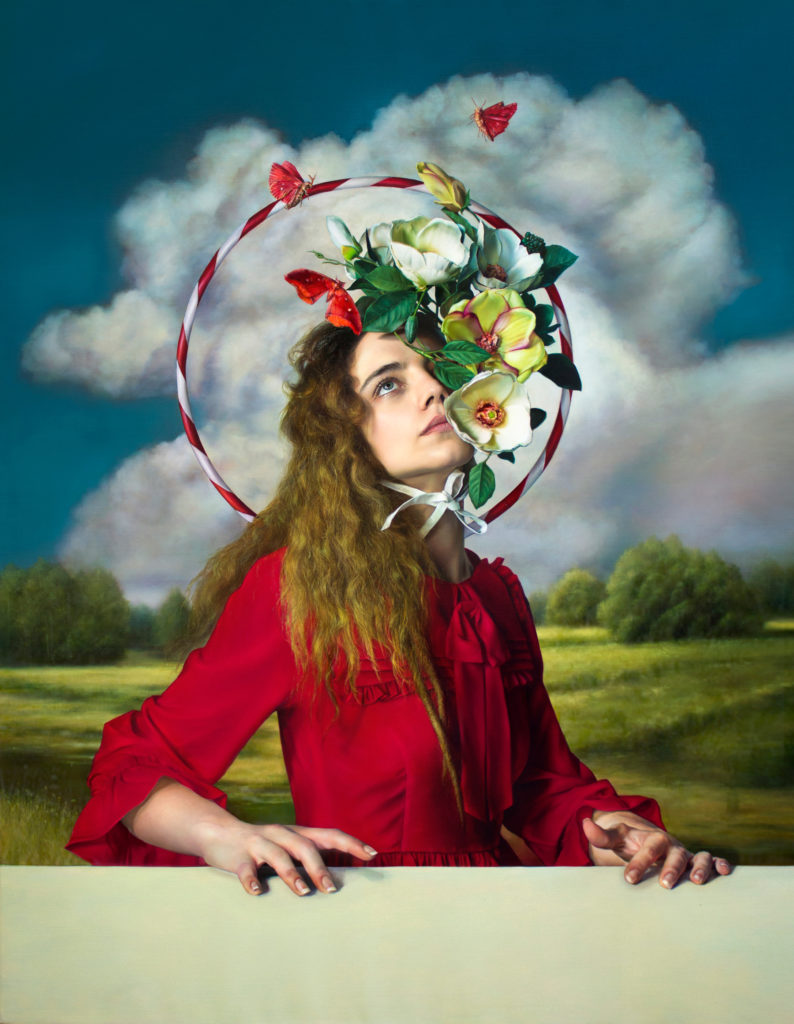 As well, in this Issue of Beautiful Bizarre Magazine, let us introduce you to Telmo Miel, two urban artists dedicated to taking our "minds off worries, for a moment ever so brief." The Dutch duo Telmo Pieper and Miel Krutzmann, self-proclaimed "surrealists on wall and canvas", strive for connections and balance in their creative practice, a quality that is visible both technically and conceptually.
Vibrant compositions pop as if they were digital pieces with the intensity digitally-enhanced, yet they are entirely traditional oil paintings. In Allison Reimold's first feature interview, we learn about the many painted elements that are masked by an aesthetic which would otherwise pass for the classically beautiful – physical attractiveness, romantic skies and exquisite landscapes.
We also thoroughly enjoy José López Vergara's stunning vision that is quite focused on stripping away the extraneous aspects of a visual composition in favour of elevating that which is most aesthetically impactful. Just as individual pieces of art require careful contemplation to fully manifest, identifying one's creative voice can also be an ongoing work in progress.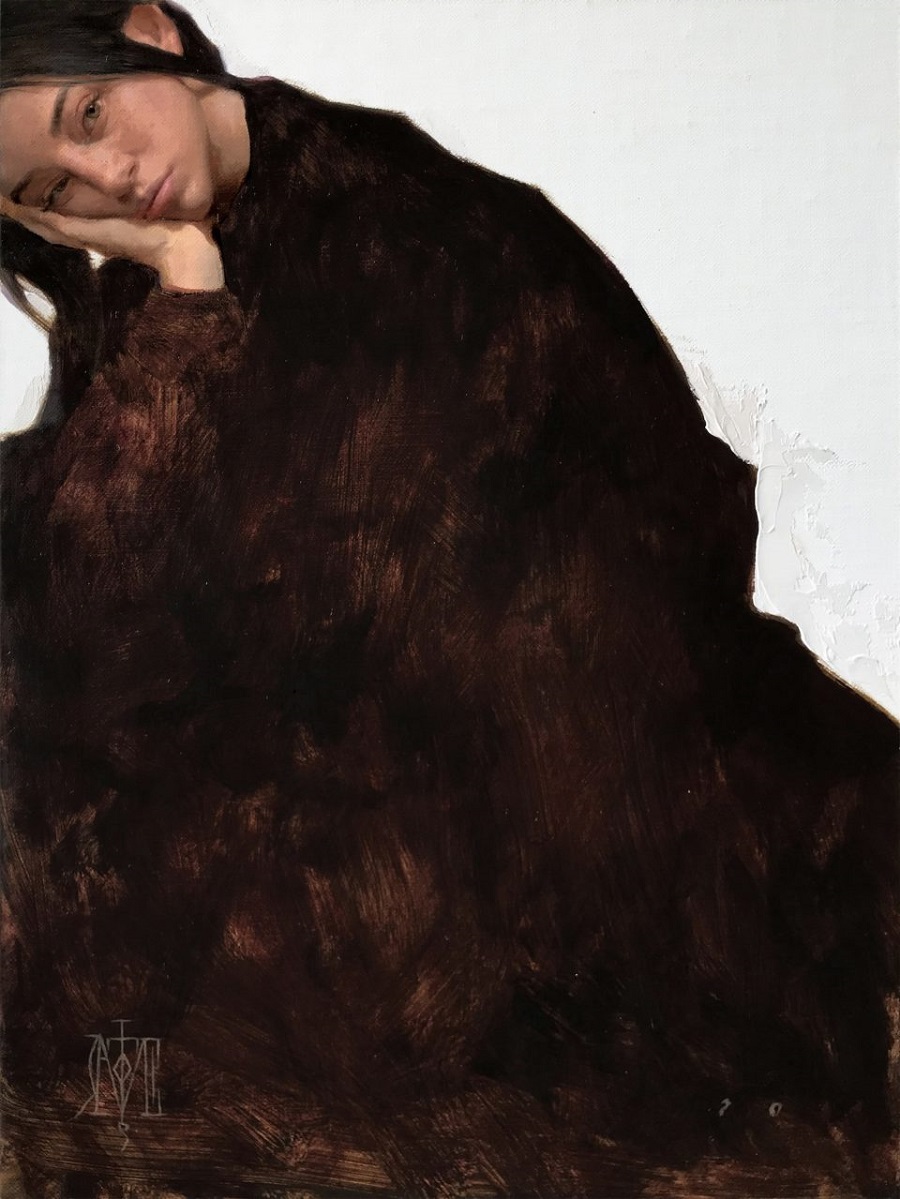 As well we plunge our imaginations into the captivating paintings of Jon Ching in this Issue's Lookbook editorial.
In our Snapshot series, we ask six artists: Luis E. Toledo del Rio, Ema Shin, Yayu, Tina Yu, Kseniia Boko and Robert Duxbury the same quick questions:
What type of art do you create and what motivates you to make it?
What is your biggest pain point as an artist?
Tell us about an important life moment that influenced the direction of your work.
How has social media changed your practice?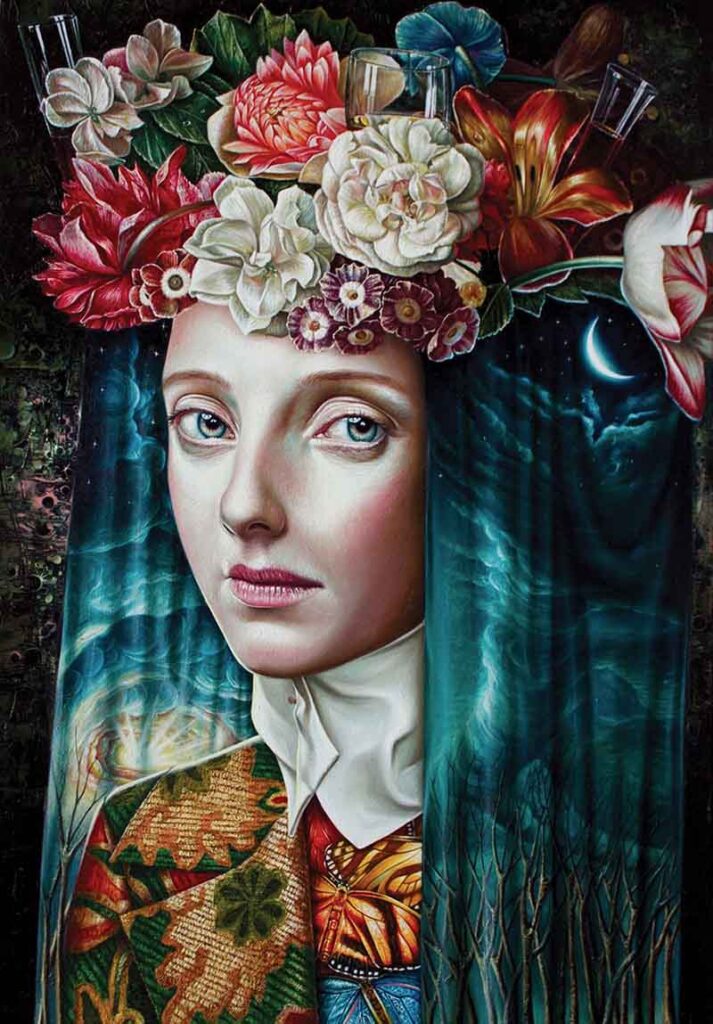 In her Letter from the Editor, our Editor-in-Chief, Danijela Krha Purssey reveals our plans for the September 2023 issue of Beautiful Bizarre Magazine! Queer artists this ones for you… more details on this soon.
We also highlight more of the artisan fashion designers that have caught the eye of our Deputy Editor and Editor-in-Chief, in this Issue's Some of our Favourite Things editorial.
And last but not least, enjoy a collection of the amazing hash tagged #beautifulbizarre artwork from our social media community of over 1 million followers!
All this inside Issue 38 // September 2022, which showcases some of the best and most inspiring emerging and mid-career artists of our time.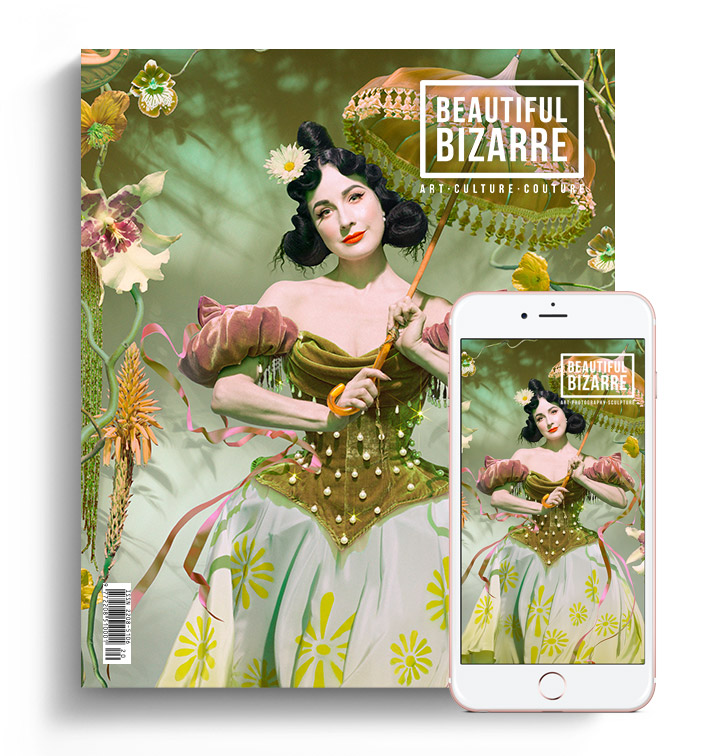 Visit our online store and enjoy Beautiful Bizarre Magazine Issue 38.