If you're looking for inspiration, you've certainly come to the right place. Like a cozy cup of tea filling you with creative juices, the fable and wonder of Haven Gallery's new exhibition lineup leave us ever more curious. Turn the pages of these artistic narratives and travel further into the fantastic depths of imagination and dreamlike reminiscing – where every corridor leads to adventure.
Through visionary expression, each artist tells a story…and in a realm of make believe, nothing is ever impossible. Discover with us the solo exhibitions of Raúl Guerra, Tales, Kimera Wachna, Light and Shadow, and Benz and Chang, Make Believe. Plus you won't want to miss the Hans Christian Andersen Group Show with exhibiting artists Ronald Companoca, Dewi Plass, Flor Padilla, Marta Wit, Forest Rogers, Phoenix Chan, Jessica Mulholland, Valerie Savarie, Paige Carpenter, Lori Nelson, Katie Gamb, Laverinne, Valéry VECU-Quitard, Yusei Abe, Himena Kokufuta, Hitomi Aoki, Alfred Liu, John Lally, Jeff Echevarria, Steeven Salvat, Sarah Joncas, Krissta Passanante, Kaori Ogawa, Zoe Chigi and Kei J. Constantinov.
Can't make the show? You can view each of these beautiful collections in their entirety and all available inventory by visiting Haven Gallery's website!
Raúl Guerra |  Kimera Wachna | Benz and Chang
+
Hans Christian Andersen Group Show
Opening Reception: Saturday, August 20, 2022
Exhibition Dates: August 20 – September 18, 2022
Haven Gallery
50 Main St., Northport, NY 11768 | ph. (631) 757-0500
To inquire, please contact Erica via email info@havengallery.com
About the Gallery //
Haven Gallery is run by Erica Berkowitz and Joseph Weinreb. The gallery first opened in 2015 in the Carriage House of historic Northport, NY. Within two years, the gallery doubled in size and expanded into the entire Carriage House building. Through their successful in-house exhibitions and presentations at art fairs both domestic and international, Haven opened a secondary location at 90 Main St., in 2020, during the height of the Covid pandemic. It was at that point, that Erica and Joseph knew it was time to find a permanent location for their artists. In January of 2022, they bought the building at 50 Main st., and opened its doors as Haven Gallery's perennial home.
Haven Gallery's focus is on exhibiting emotionally, intellectually and imaginatively driven, representational artwork that connects the audience and artist with universal axioms and passions. We work with both emerging and established artists who transcend their medium and subjects by exploring the world around them as well as the one within themselves.
---
Haven Gallery is honored to present Spain based artist Raúl Guerra, for his third solo exhibition, "Tales" at the gallery. "Tales" is a collection of seven works that depict well known characters from folklore and fairytales in the artists quintessential style. Mermaids, goblins and recognizable characters such as Pinocchio (Italy), Medusa (Ancient Greece), the Queen of Hearts (England) and Kaguya-Hime (Japan), unite stories and dramatic personae from their worldly origins. Despite their supernatural details and cultural genesis, each narrative resonates and universally teaches children and adults alike, making their visages and accounts unforgettable.
Guerra's imagery is a refuge of childhood dreams and memoirs where one can find shelter and comfort from the complexities and shadows of a mature reality. His sitters are a culmination of emotions and experiences, gazing out of their beautiful landscapes as they evoke feelings of happiness, safety and protection. They are symbols of our pasts and the beautiful echoes of it that live within the hearts and memories of all of us. Guerra creatively portrays this nostalgia within the context of mythology and fairytales, using the powerful and universal force of storytelling to strengthen and expand his connections further.
Each youthful character patiently waits for that bridge to reconnect us to these places and times where we've previously lived, felt and grown, to become who we are today. For we would not be just that without the world as seen through our younger eyes and experiences. Guerra's work strengthens this link of the heart and celebrates its many emotions and labyrinths that make each and everyone of us the unique beings we've become and will continue to be.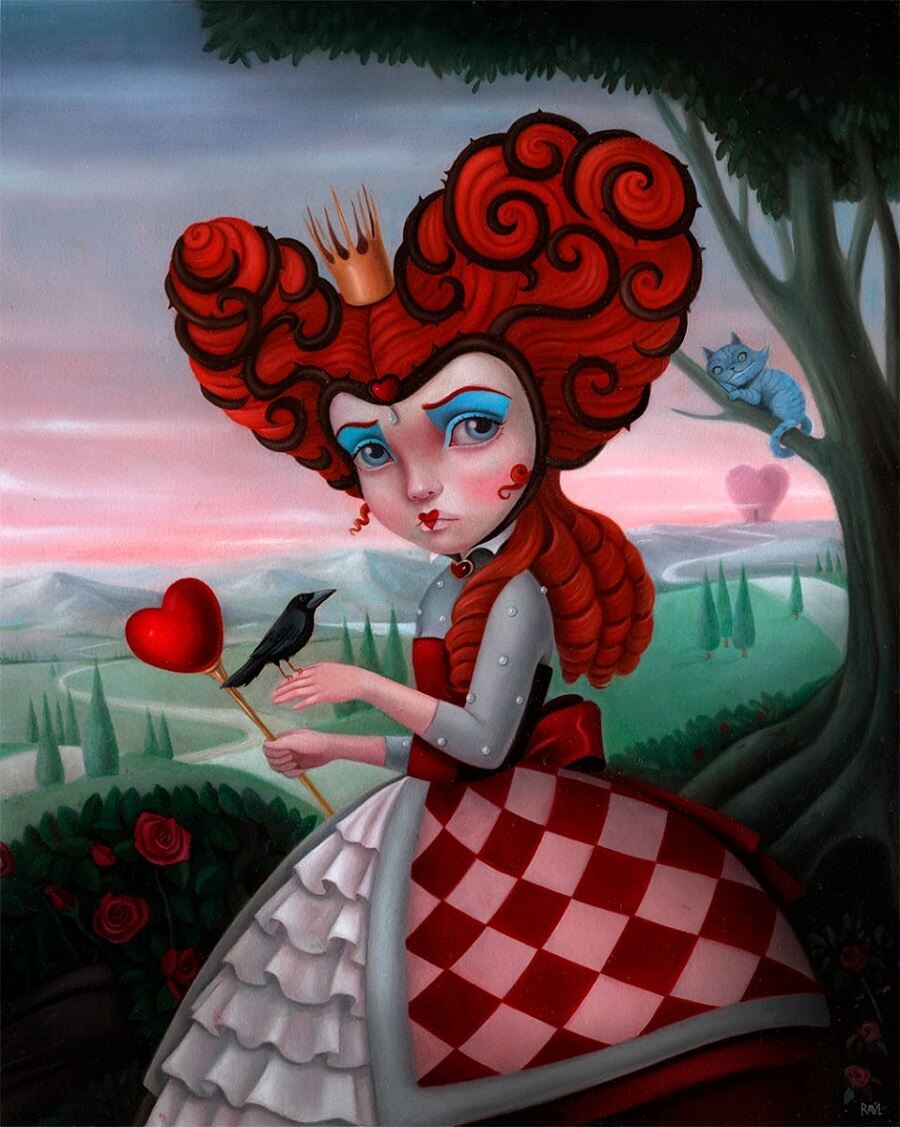 Haven Gallery is honored to present Washington based artist Kimera Wachna, for her second solo exhibition, "Light and Shadow" at the gallery. "Light and Shadow" features twelve acrylic paintings that capture mystical scenes of animal mischief, magic and meanderings within the landscape. Ethereal palettes combine pastel and earth tones with empyrean beams of light, setting an otherworldly tone manifesting fairytale-esque moods and narratives. Animals and fungi appear at gargantuan scales, in spirit and temporal forms, exploring themes of transformation and rebirth. Wachna's paintings are nostalgic and enchanting, offering imaginative moments that chronicle universal tenets and motifs, in marvelous manners, ultimately reminding us to see the magic and grace in all that was, is and will be.
About the Artist //
Kimera Wachna started working under the name Gracemere Woods as an homage to her childhood in New York, where she was raised near a forest "full of dark magical nooks, streams of sparkling light through the trees, hidden burrows in plain sight," and, of course, all manner of wildlife. To this day, this enchanted place is her biggest inspiration.
"The creatures and realms in my work depict a semblance of childlike wonder and storytelling," she says, "juxtaposed with deeper and often darker themes of life, death, and rebirth."
The canvases she most often chooses to paint on are pieces of discarded wood, as well as wood foraged from free fallen branches. Using them is her way of "continuing the life cycle of age-old trees," she says. "A revival of sorts." Though she's most drawn to owls, all beasts are magical to Wachna. They "remind us of how to connect back to ourselves, the parts that are hidden or long forgotten," she explains. And the forest and its creatures continue to provide an endless source of magic and inspiration. "There are stories at every corner," she says, "wanting, waiting to be told."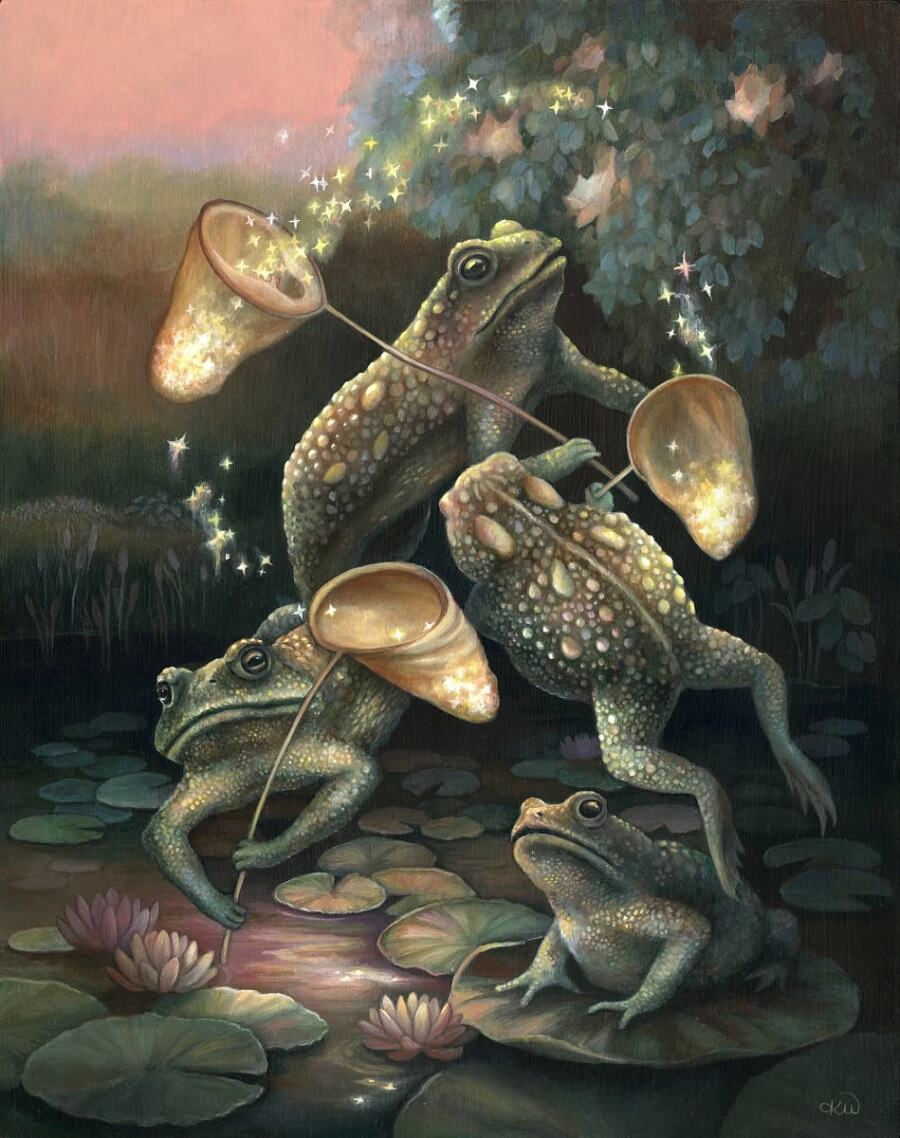 Haven Gallery is honored to present watercolorist Benz and Chang for his solo exhibition, "Make Believe" at the gallery. "Make Believe" is a collection of nine paintings that merge the living with the spiritual world through antique palettes, photography techniques and playful narratives. Highly inspired by Victorian photography trends and vintage imagery, Benz and Chang paints spiritual figures cohorting with the living, merging the planes of life and death.
Artist Statement //
Benz and Chang believe that the arts make the world a better place through shared experience and mutual understanding. The Benz and Chang paintings are "fake vintage photos" rendered with watercolor and/or walnut ink. They are dreamlike and figurative. Most of the paintings appear to be photos from the early 20th century, and they reward a second or third look with details that can be easy to miss. Figures appear with twins, crowns, wings, ghost limbs, halos, odd lights and shadows. Using this imagery, Benz and Chang explore transformative life experiences such as facing fear, making life-changing decisions, grieving losses, having mystical experiences, or confronting mortality.
Says Benz, "I see myself as a channel. My job is to align myself with a larger creative impulse, and also with the painting itself. I must add that I rarely do this perfectly. During the various steps of making a painting, I will "see" something that belongs in the painting, and so I will add it. If the decision-making process breaks down, I consult a Magic 8-Ball for direction. The resulting paintings are dreamlike."
Benz began having experiences with spirits and hauntings at an early age. These experiences have continued throughout his life. They have fueled his interest in dreams, ghosts, and clairvoyance from all angles, including the fictional, real, fraudulent, or imagined. Benz grew up in the American Southwest, and now enjoys living in the (haunted) Pacific Northwest. He has an extensive collection of odd photos from the early 20th century. Benz has a Bachelor of Fine Arts degree from the University of Colorado in Boulder. Chang is a fictional photography studio partner to Benz. He is a stuffed cat of the stuffed animal variety (not the taxidermy variety). Chang supplies the dark.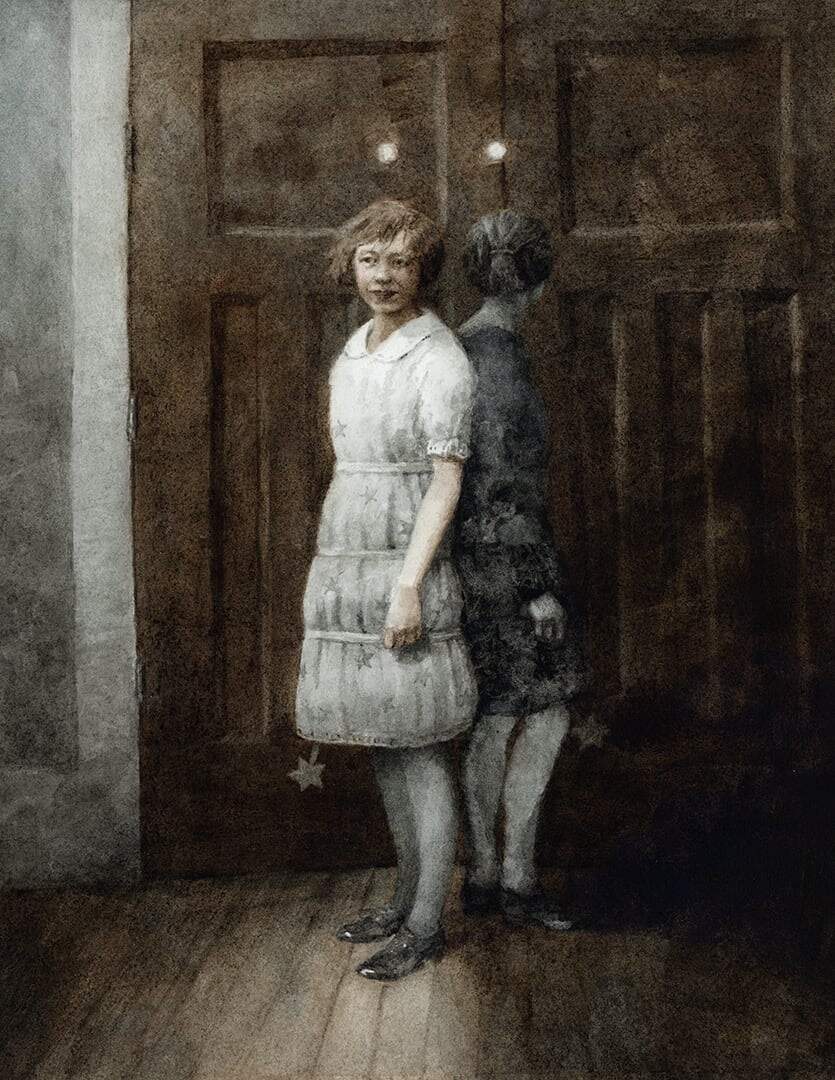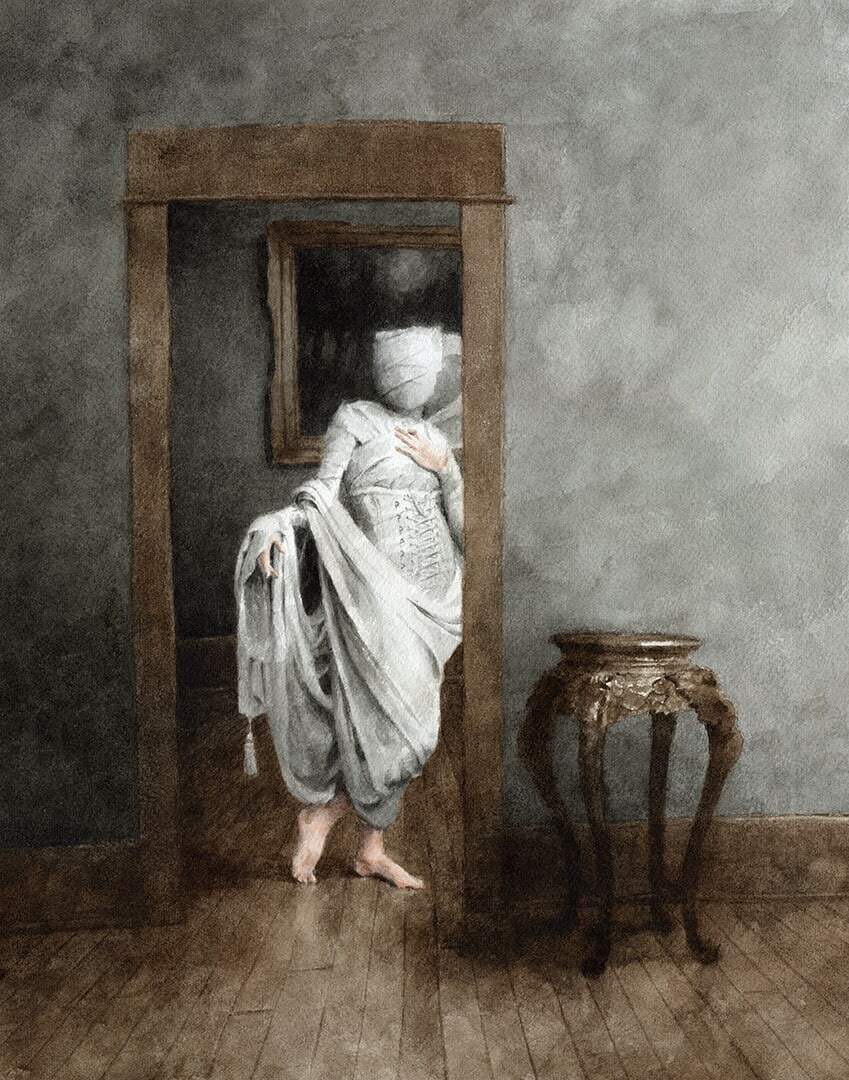 Haven Gallery is excited to present a group exhibition entitled "Hans Christian Andersen". "Hans Christian Andersen" is a visual interpretation of the stories, characters and aesthetics of the Danish author's fairy tales.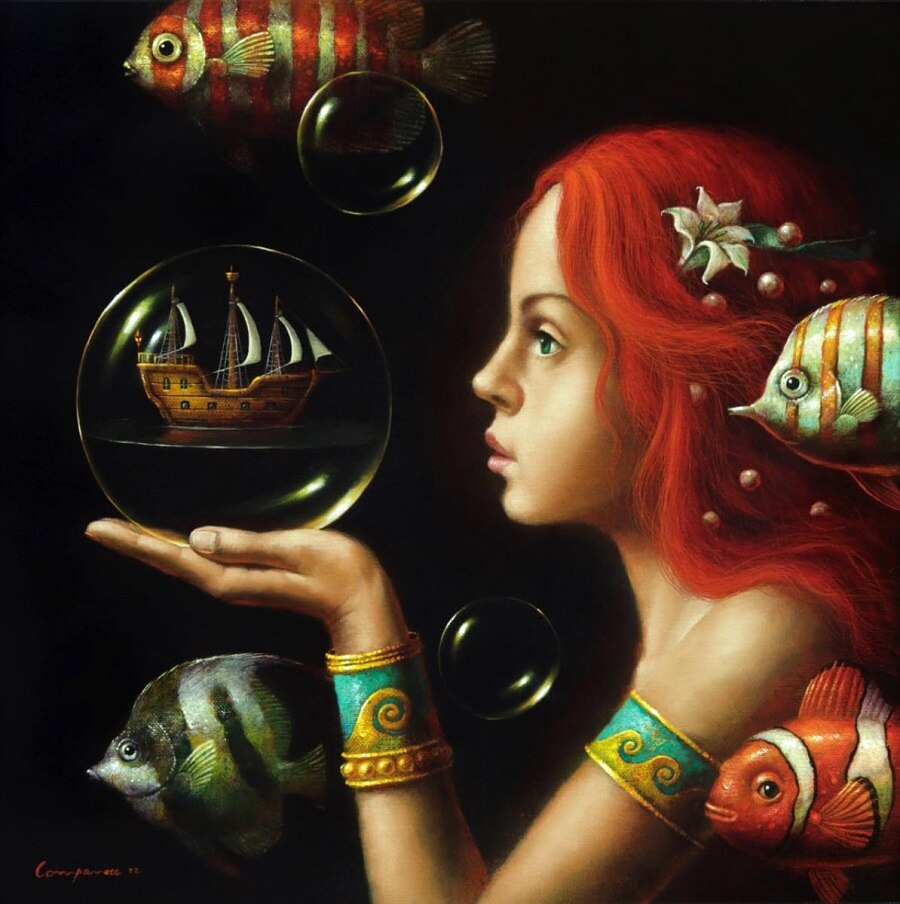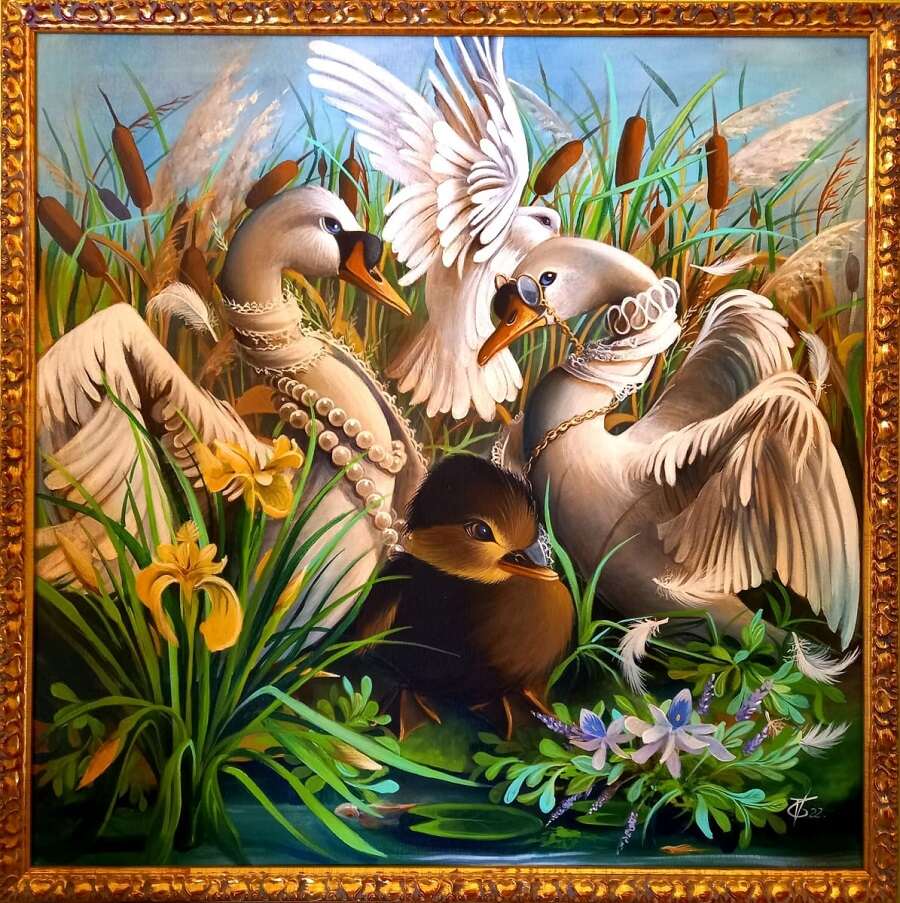 Haven Gallery Social Media Accounts