Being creative is great, but those in the business of creating often go the extra mile to produce work that triggers a transcendental experience. While traversing innovative new territory is a key aspect of that journey, we sometimes forget that adhering to a set of fail-safe rules is just as important for artistic alchemy. Culinary professionals, for example, always bear in mind basic flavor science and the sensory experience that can be delivered to the taste buds when salty, sour, bitter, sweet, fat, and umami components are strategically integrated. In a similar fashion, multi-disciplinary artists like Jessica Dalva understand that a certain level of restraint must be employed while adorning their three dimensional sculptures so they can land on the most aesthetically alluring combination of matte, shimmering, metallic and texturally dynamic elements.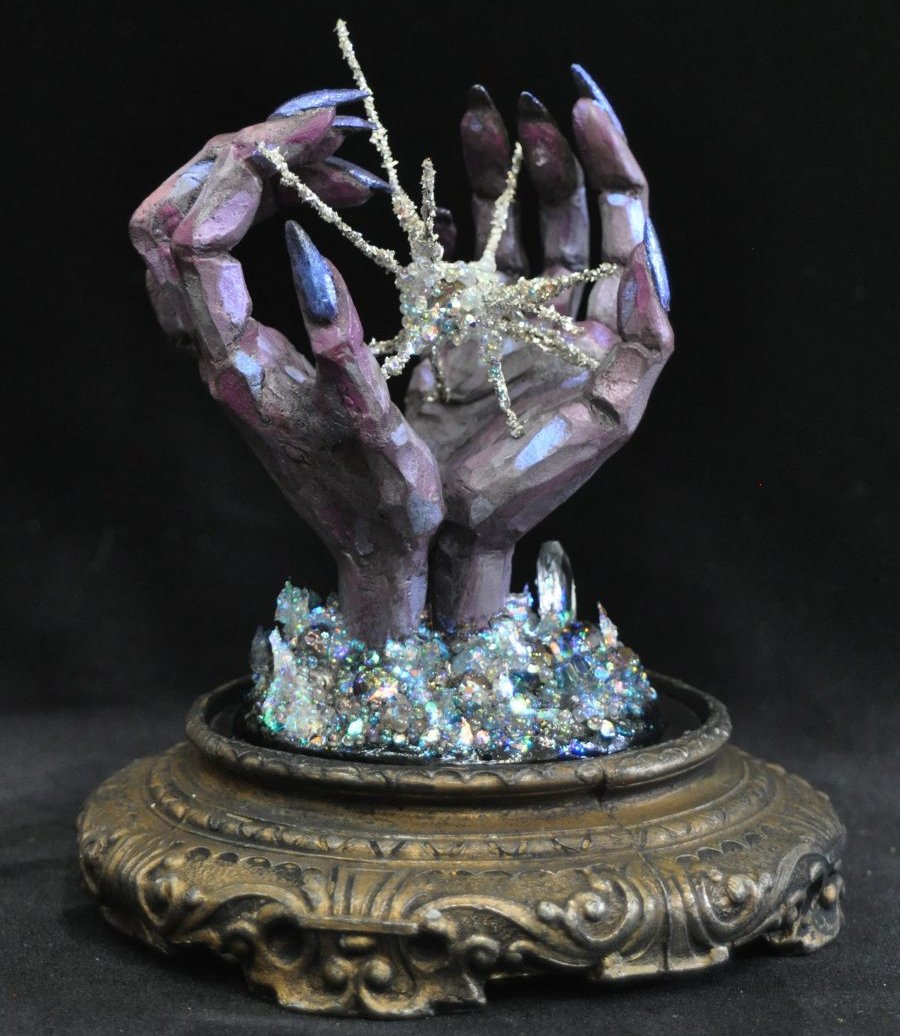 As is evident in the California-based artist's latest array of figurative works, all of which are featured in her Arch Enemy Arts solo show, "Soft" – on view from Friday, August 19, 2022 to Sunday, September 4, 2022 – her ability to temper those flourishes doesn't compromise the visual satisfaction that she delivers to the beholder. Experimentation is alive and well in Jessica Dalva's patchworked, multi-dimensional imaginings which were inspired by that feeling that we've all had at one point or another while gazing through a window. Even if time seems to stand still when we're stuck inside – as was certainly the case for the vast majority of us during multiple COVID-19 lockdowns – life in general (plant life! work life! domestic life!) always has a way of chugging along.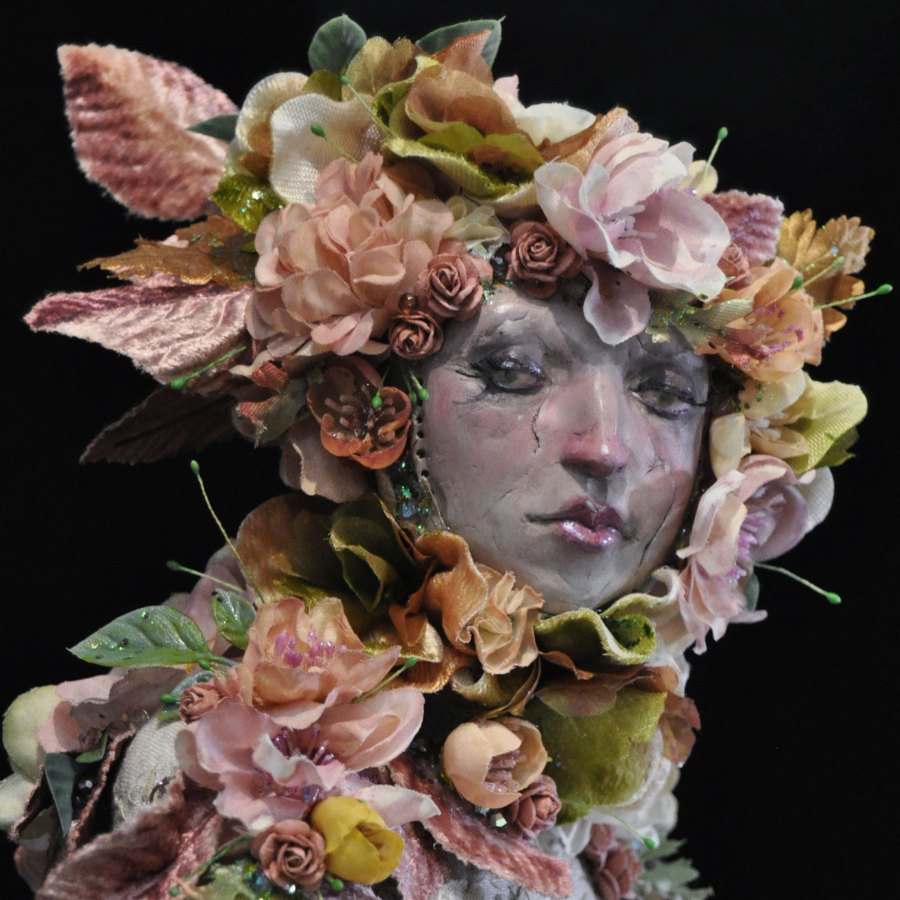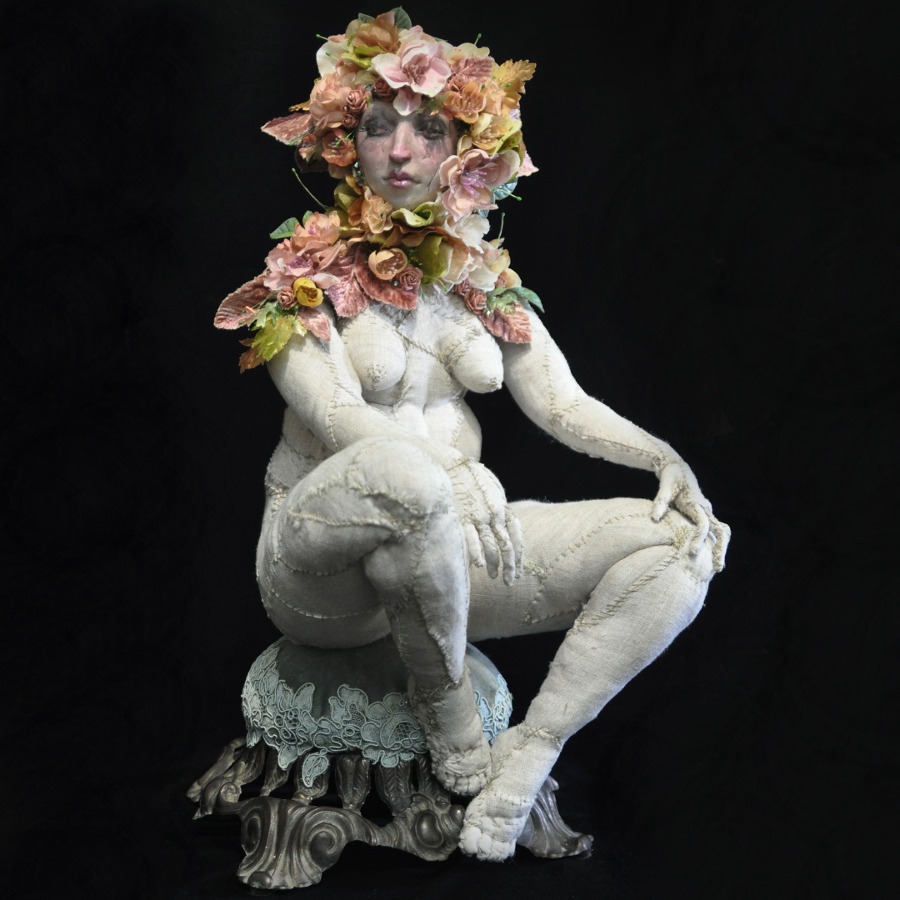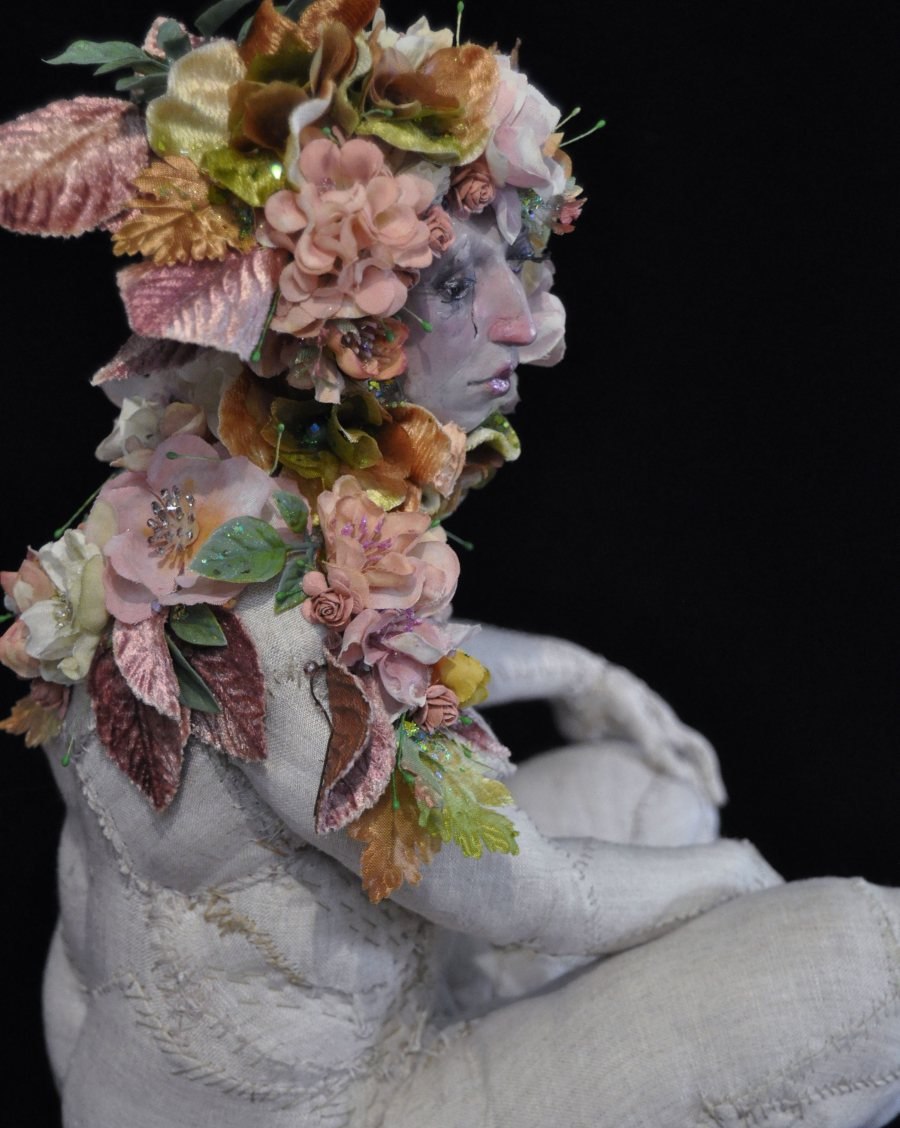 There is much to study, marvel, and admire in Jessica Dalva's exhibition, which conveys the type of softer emotional headspace that the artist believes we are all craving following far too many years of global stress. Though fans will still see the occasional creepy ladies wandering around in her strange, sparkly worlds, the 35-year-old multidisciplinary creative dared to take a detour from the sculptural aesthetic that – for the better part of 13 years – has been a consistent part of her artistic output. That risk paid off with "Soft", a realistically sculpted, appealingly curvaceous nude textile figure crowned with a coral-toned botanical headdress that could easily be considered the cornerstone of her Arch Enemy Arts collection. Though Jessica confesses that it was rather challenging to bring such an ambitious vision to life, she's pleased enough with the outcome that it may very well open up an exciting new direction in her sculptural practice, one that we will happily share with our fellow art lovers in the months ahead.
Interested in requesting a preview link for Jessica Dalva's show, which will be released on Thursday, August 18th at 2pm Eastern Standard Time Zone (USA)? Then please send an e-mail to [email protected] with JESSICA DALVA in the subject line.
Jessica Dalva, "Soft"
Release Date: Friday, August 19, 2022 | 12:00 pm Eastern Standard Time
*No Opening Reception*
Exhibition Dates: Friday, August 19, 2022 to Sunday, September 4, 2022
Arch Enemy Arts
109 Arch Street | Philadelphia, PA 19106 | (215) 717-7774
Monday to Friday, 10 am to 4 pm | Saturday and Sunday, 11 am to 5 pm
For sales or private viewing appointments, please email [email protected]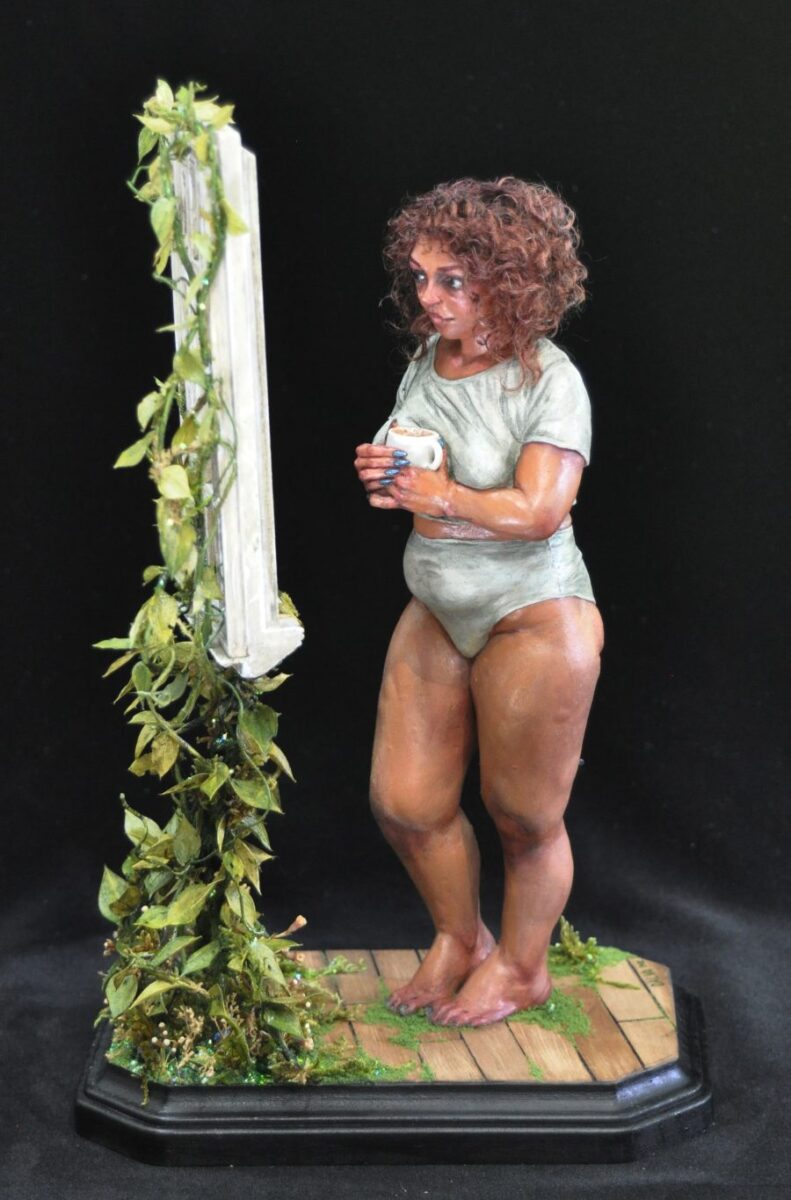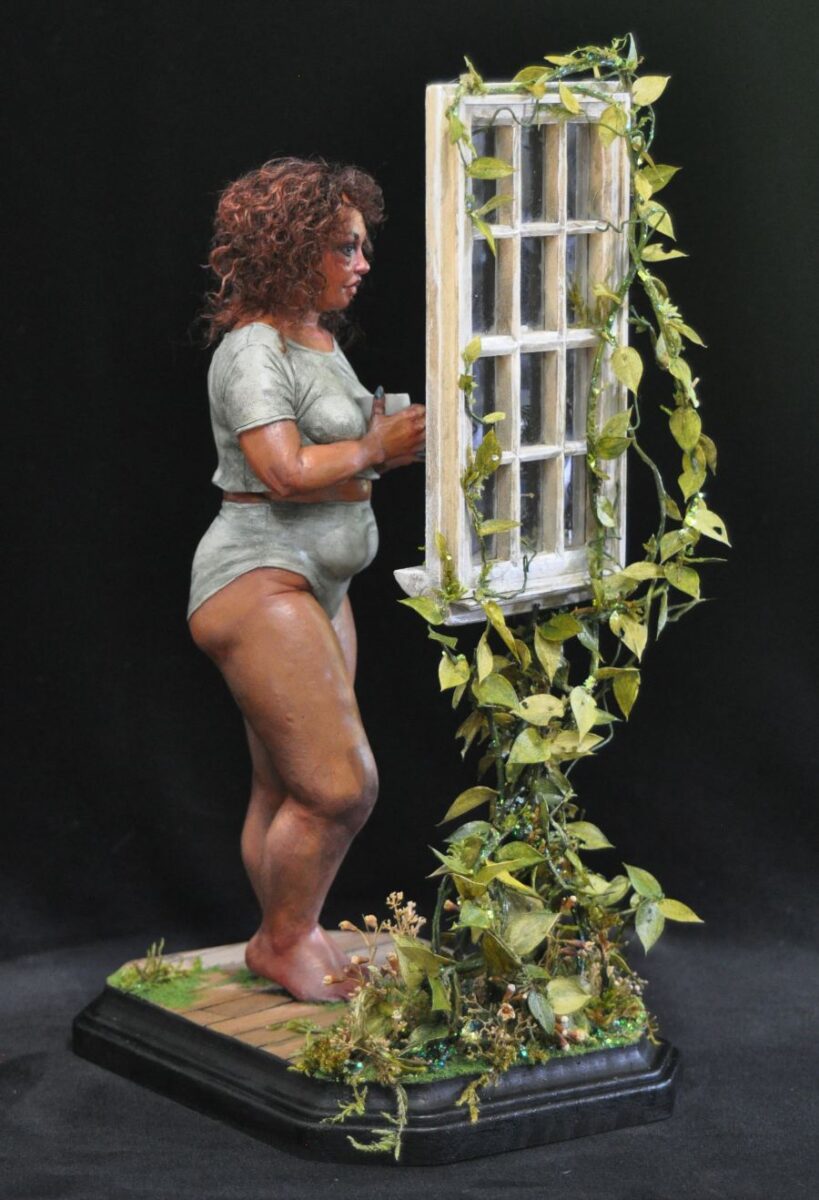 About The Artist //
Being raised in an environment where the 'act of creating' was as instinctual as blinking, Jessica Dalva was bound to tread the path of an artist. Her parents Robert and Marcia supported her inclination for creative expression, which is why all DIY pursuits – including fashioning ornamental baubles, homemade dolls, drawing and painting – were heartily encouraged. Her mother's many decades of experience in woodworking and clay sculpture is partially the reason why Jessica acquired so much foundational knowledge in the three dimensional art form that to this day continues to be such a prominent aspect of her creative output. The Oakland, California-based artist's ability to deftly oscillate between various unique mediums such as illustration, theatrical stage design, costume sewing, stop motion animation and puppetry makes her the epitome of an artist's artist. Surely it's no surprise that she's been a Beautiful Bizarre Magazine Art Prize finalist quite a few times throughout the years, and did indeed take home a 2nd place award in 2019 for her three dimensional mixed media sculpture, "As Dusk Would Fall".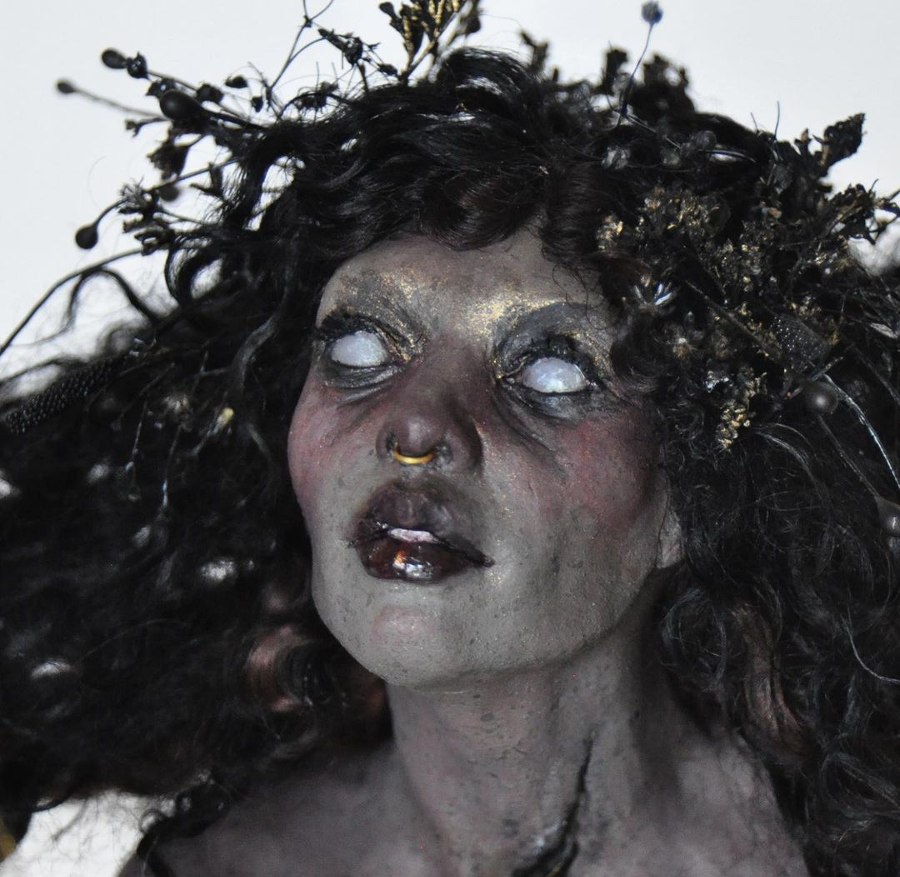 With respect to the Otis College of Art and Design graduate's figurative mixed media sculptures, they're often constructed with Super Sculpey polymer clay and then augmented with the myriad textural tidbits that she happily reserves for rainy (creative) days – things like vintage fabrics, reclaimed metal bases, faux botanical accents, wire, beads, and crystals. Jessica Dalva's downcast, occasionally cloudy-eyed muses generally don't adhere to the stereotypical notion of what patriarchal society deems is the classical (and oftentimes wildly impossible) idea of feminine beauty, and oh what a relief it is! The 35-year-old's fully representative, slightly surrealistic figures are refreshingly authentic and absolutely relatable, presenting an anti-cookie cutter perspective of real, diverse beauty that is anything but skin deep. Furthermore, as slightly unsettling and – at times – downright spooky as Jessica's narratives may appear, her self described three dimensional illustrations seem to document the perennial collective feminine consciousness in a way that amusingly enough is not nearly as strange as real life.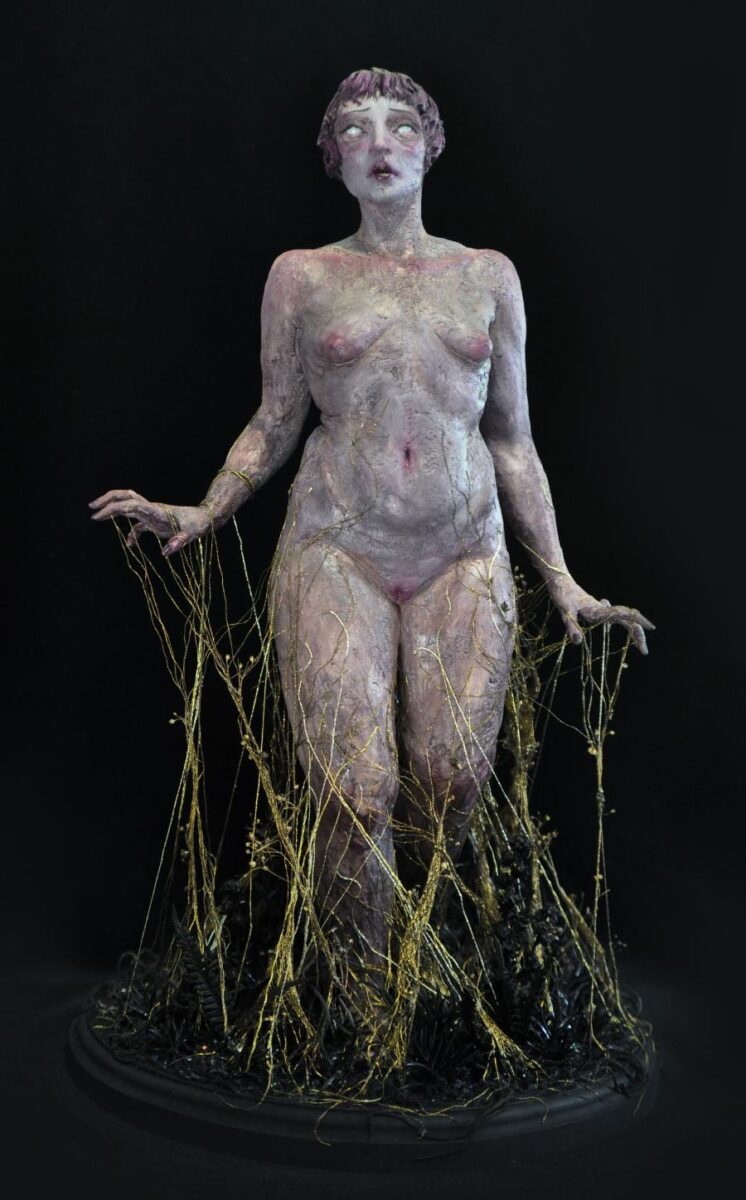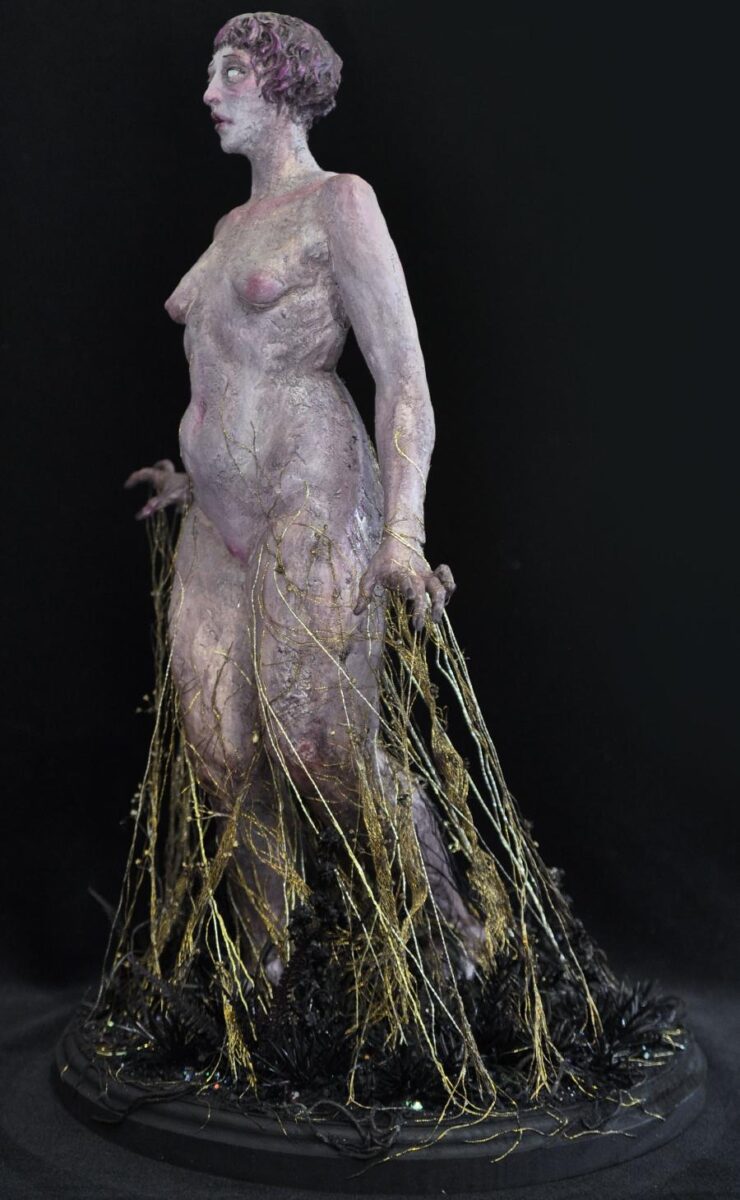 About the Gallery //
Arch Enemy Arts was founded in 2012 and quickly established itself as Philadelphia, Pennsylvania's freshest new venue dedicated to exhibiting emerging and established stateside and international artists. Located in Philly's Old City District, the now decade old establishment showcases various types of edgy new contemporary art in a wide range of mediums including figurative, illustrative, dark surrealism, photorealism, macabre, narrative, pop surrealism, lowbrow, and urban. Arch Enemy Arts was chosen as the best exhibiting space in Philadelphia Magazine's "Best of Philly"™ 40th Anniversary issue, as well as the "Best Art Gallery in Philadelphia" on Philly HotList in 2012 and 2013.
Jessica Dalva Social Media Accounts
Website | Instagram | Facebook
Arch Enemy Arts Social Media Accounts