Thinkspace Projects is kicking off the month of August with a visual feast for your artistic soul to feed on. Irresistibly nourishing, this weekend they invite you to join them as they honour the creative passions of The Perez Bros., Nicola Caredda, Dredske, Aof Smith, and Adam Caldwell. Deep dive into all five exhibitions and let yourself wander until inspiration finds you. Explore each collection with eager eyes, listen to the narrative, and focus on the fantastic experience. Art is a journey – let it take you there.
With detailed composition and arresting technique, the variety of styles and interpretations heightens our appreciation as each artist expresses themselves extraordinarily. Join them in celebration of each new collection. And if you still need more, Thinkspace Projects offers a full schedule of events, interviews and inspritation…so be sure to follow their blog Sour Harvest to stay updated on all the artsy things you love! If you're hoping to add to your collection of art, take a moment and visit their online store to view all available inventory.
---
The Perez Bros. | Nicola Caredda | Dredske | Aof Smith | Adam Caldwell
Opening Reception: Saturday, August 6, 2022 | 6-10pm
With DJ, refreshments, live painting, video projections and more
Exhibition Dates: August 6 – August 27, 2022
Thinkspace Projects
4217 W. Jefferson Blvd. | Los Angeles, CA 90016
#310.558.3375 | Tues. – Sat. Noon to 6PM
thinkspaceprojects.com
For all inquiries please contact the gallery via email at [email protected]
Search their hashtags: #thinkspaceprojects #thinkspacegallery #thinkspacefamily
About the Gallery //
Thinkspace was founded in 2005; now in LA's thriving West Adams District, the gallery has garnered an international reputation as one of the most active and productive exponents of the New Contemporary Art Movement. Maintaining its founding commitment to the promotion and support of its artists, Thinkspace has steadily expanded its roster and diversified its projects, creating collaborative and institutional opportunities all over the world. Founded in the spirit of forging recognition for young, emerging, and lesser-known talents, the gallery is now home to artists from all over the world, ranging from the emerging, mid-career, and established.
---
Southern California is indisputably a hub of culture. With so many influences and interests it can be difficult to encapsulate, but The Perez Brothers have mastered just that. It is their understanding of LA, particularly the lowrider culture, that has generated such buzz and drawn fans into their world, eagerly awaiting more. A perfect example of collaboration down to the creation of the work itself, the identical twin brothers paint side by side, embodying the carefree spirit of the city while honing in on shocking emotional depth. With so much commitment to the city and such an understanding of its cultural history, it makes perfect sense that Thinkspace and The Perez Brothers would come together once again, two LA mainstays working together to leave an imprint on the cityscape.
This show, which is the third solo show for The Perez Brothers and the second with the gallery, is deeply rooted in their shared heritage–Los Angeles, but there is also a deeper connection as both the gallery and the artists have long demonstrated their commitment to integrating lowbrow interest and more refined techniques for a beautiful and engaging juxtaposition.
One of us paints all the details of the people in the image and then the other one paints all the details of the cars, including the chrome on the wheels. We tag team all of it. Sometimes we do half and half, and then we realized our styles would be better combined so there's pieces of each of us in all of the art.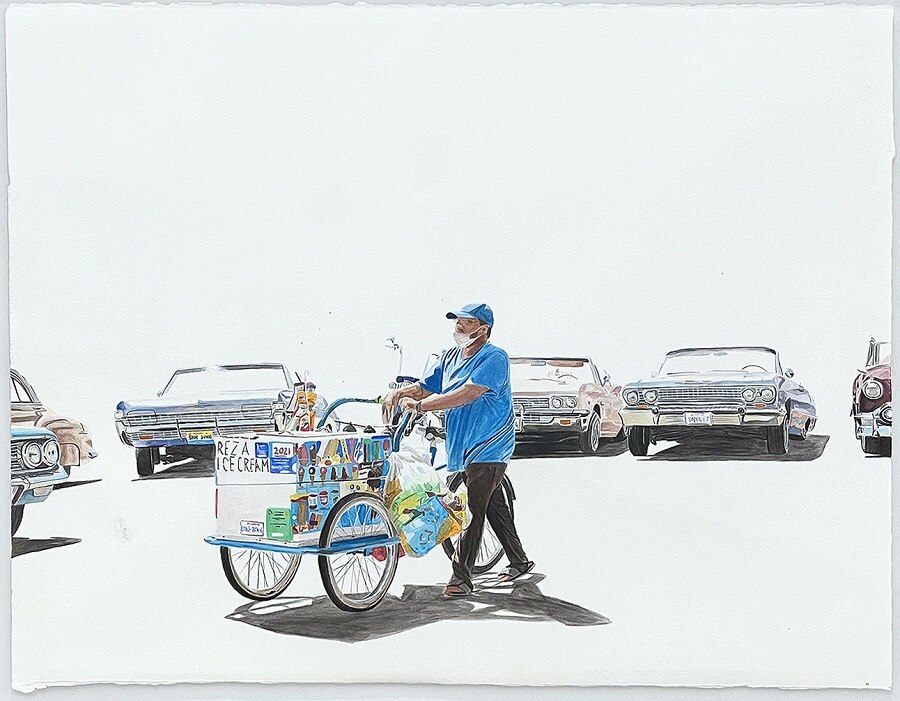 Community is an incredibly important part of this body of work, which is quite fitting for such a community-driven gallery. In each one of the new works, "the people are the most important part of the piece. They make the image." This commitment is apparent, with the subjects effortless evoking emotion and provoking human connection
The resulting show is a love letter to SoCal–the people, the weather, the whole vibe. With 6 works on canvas and 7 works on paper, the display is varied but the sentiment is constant.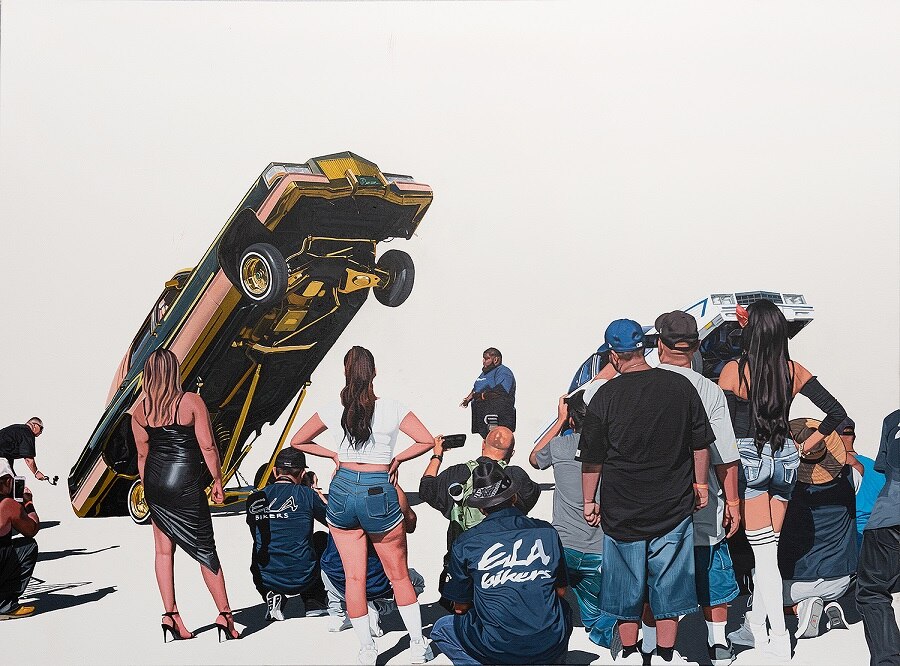 NICOLA CAREDDA
Don't Trust Anyone Over 30 (Gallery II)
Italian artist Nicola Caredda presents Don't Trust Anyone Over 30, the U.S. solo debut from the artist. This show comes on the heels of years of successful group shows with the gallery, taking their professional relationship to a new level. In Gallery II, Caredda creates a free world where anything can happen, a new dimension in which everyone can choose their own direction even if it may be wrong or even lead to self-destruction.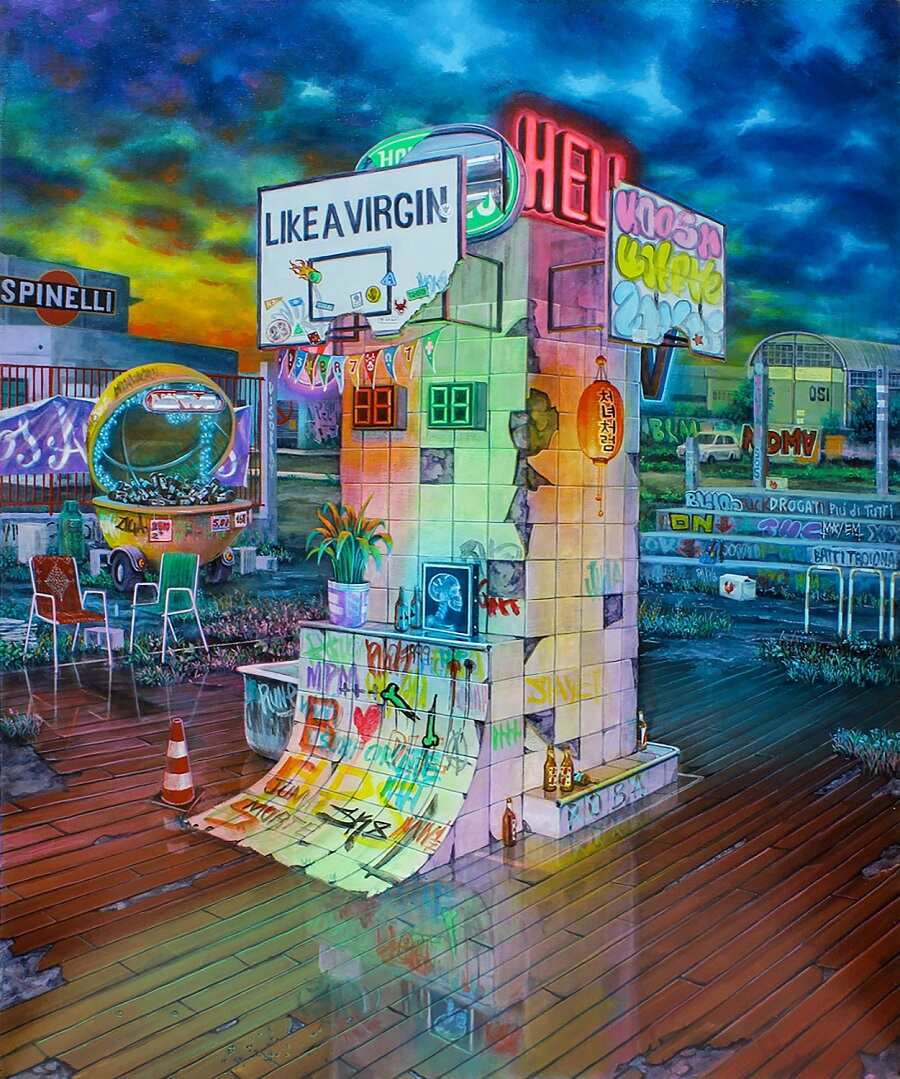 Where adults see danger and leave warning signs, Caredda sees freedom in its truest form, portraying possibility and fulfillment. Caredda's works are a commentary on the restrictions of adult life, bringing viewers into a layered and complex place.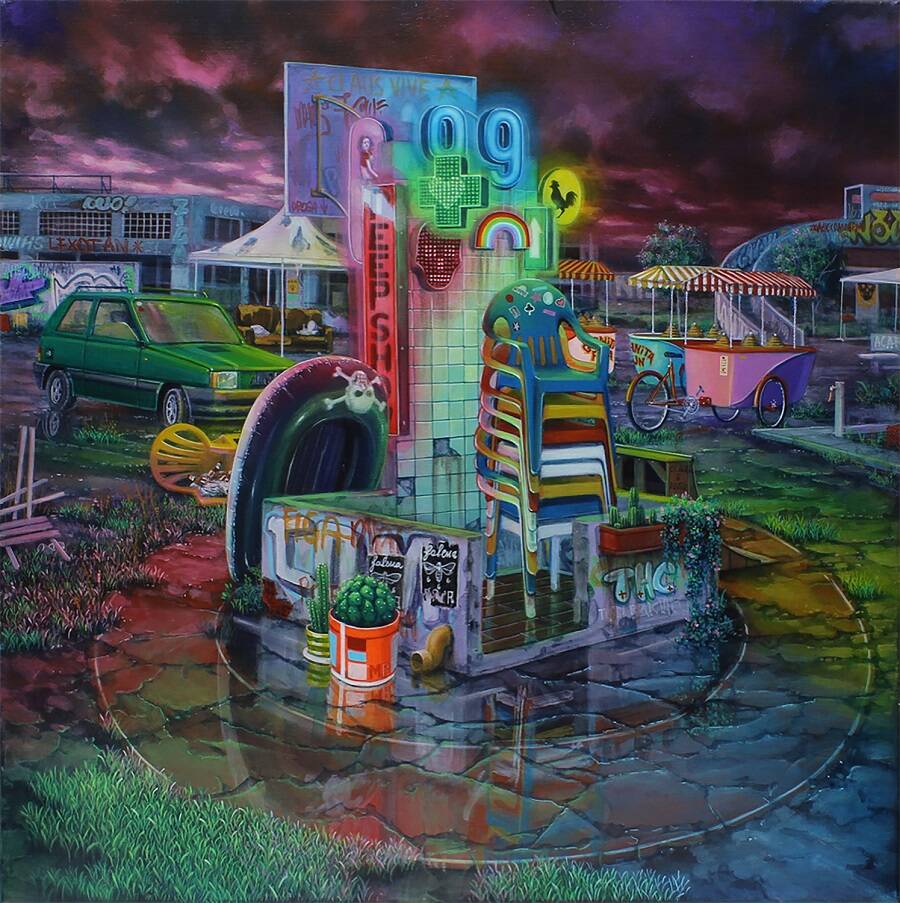 DREDSKE
Grind (Gallery III)
Chicago-based artist Dredske makes his west coast solo debut with Grind. Offering people a window into the daily life of an artist from the paraphernalia to the people, Dredske creates a nuanced portrait of an entire lifestyle.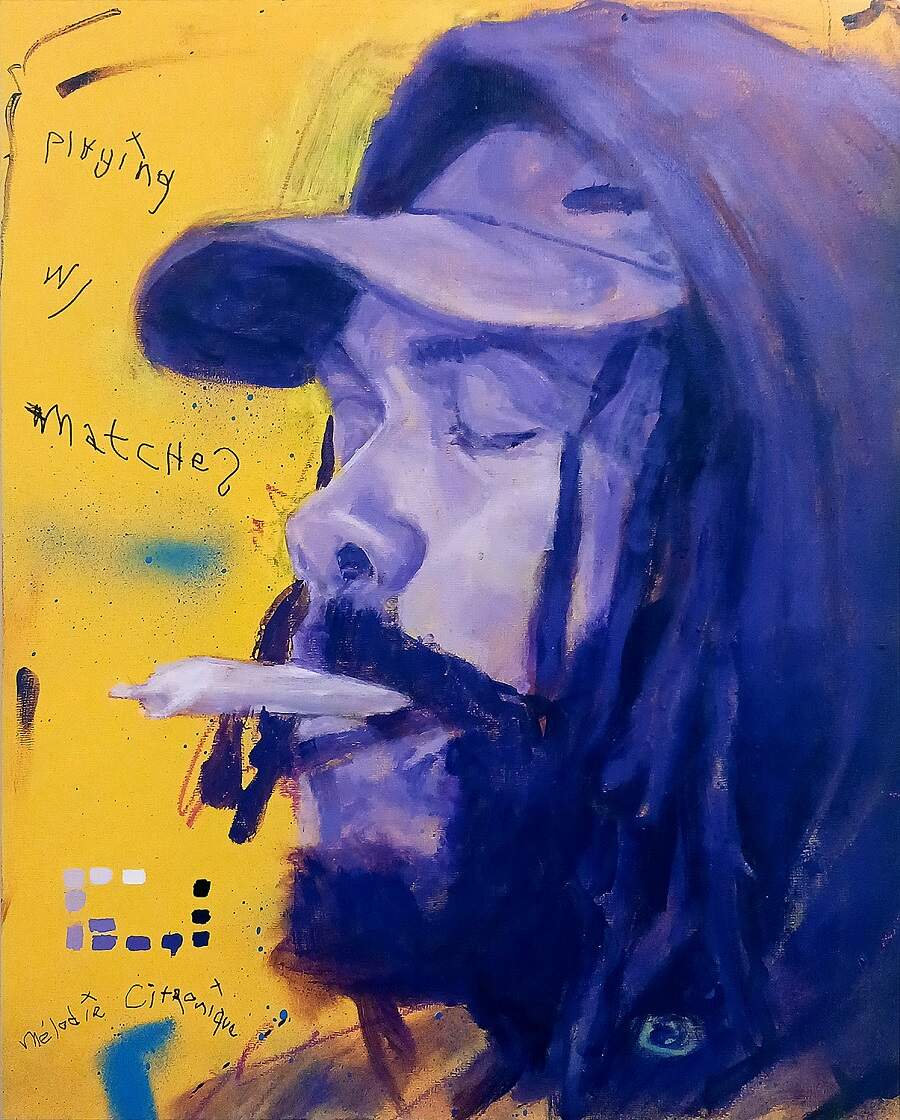 It is deeply personal, representing what he himself does daily, while managing to be incredibly relatable as well. With familiar objects and scenes, viewers are able to draw a connection between their own existence and the artist's. This is a new direction for Dredske, who has previously focused on subjects outside of his own personal life, offering a more intimate understanding.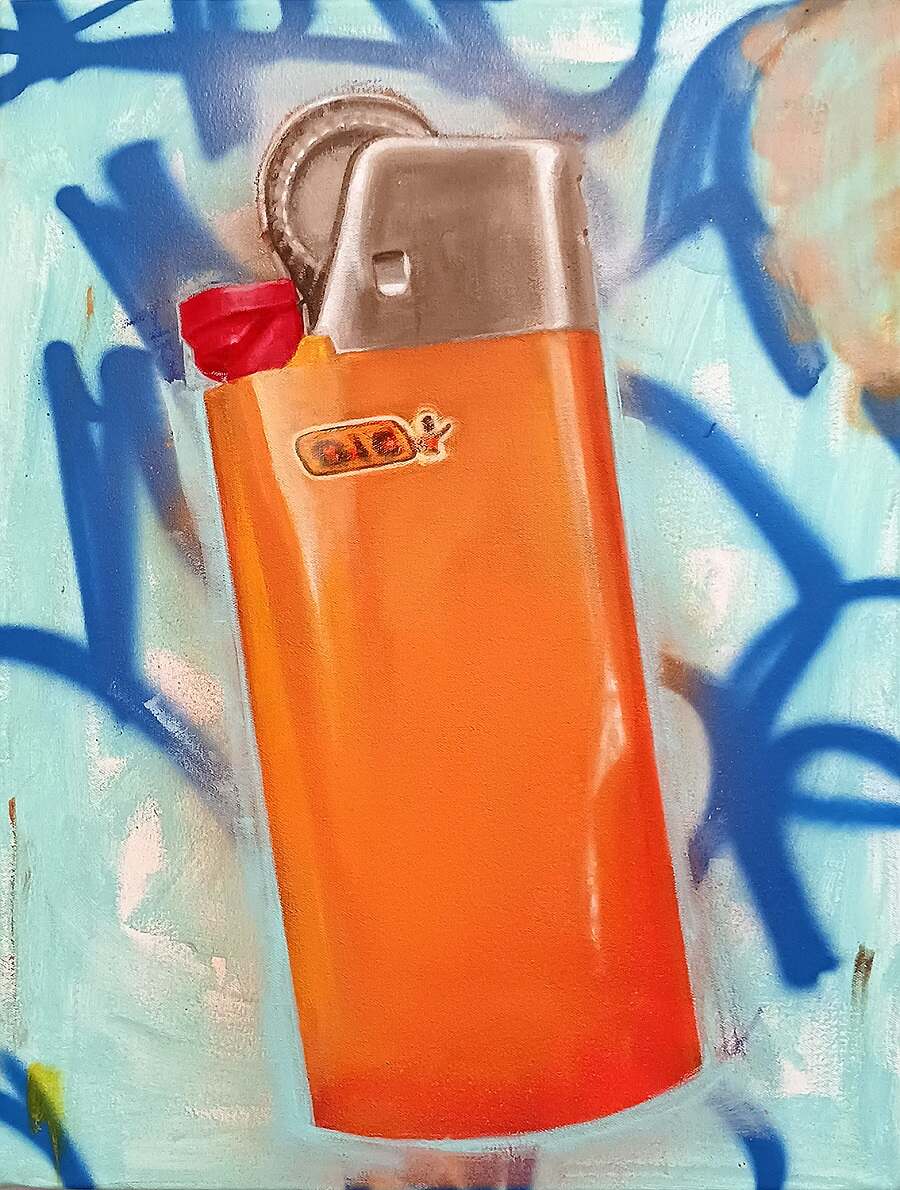 AOF SMITH
Irrepressible Summer Melody (Gallery IV)
Irrepressible Summer Memory from Aof Smith takes over Gallery IV, presenting his U.S. solo debut. The Thai contemporary artist expresses his perception and imagination through the limitless possibilities of Pop-surrealism. With loveable characters that create whimsical scenarios and dynamics, Smith balances an innate dark humor with lighter, brighter elements.
Longtime Thinkspace family member Adam Caldwell brings Frontal to the viewing room, evoking the tensions between mind and body, self and other, past and present in 15 striking new mixed media portraits on canvas.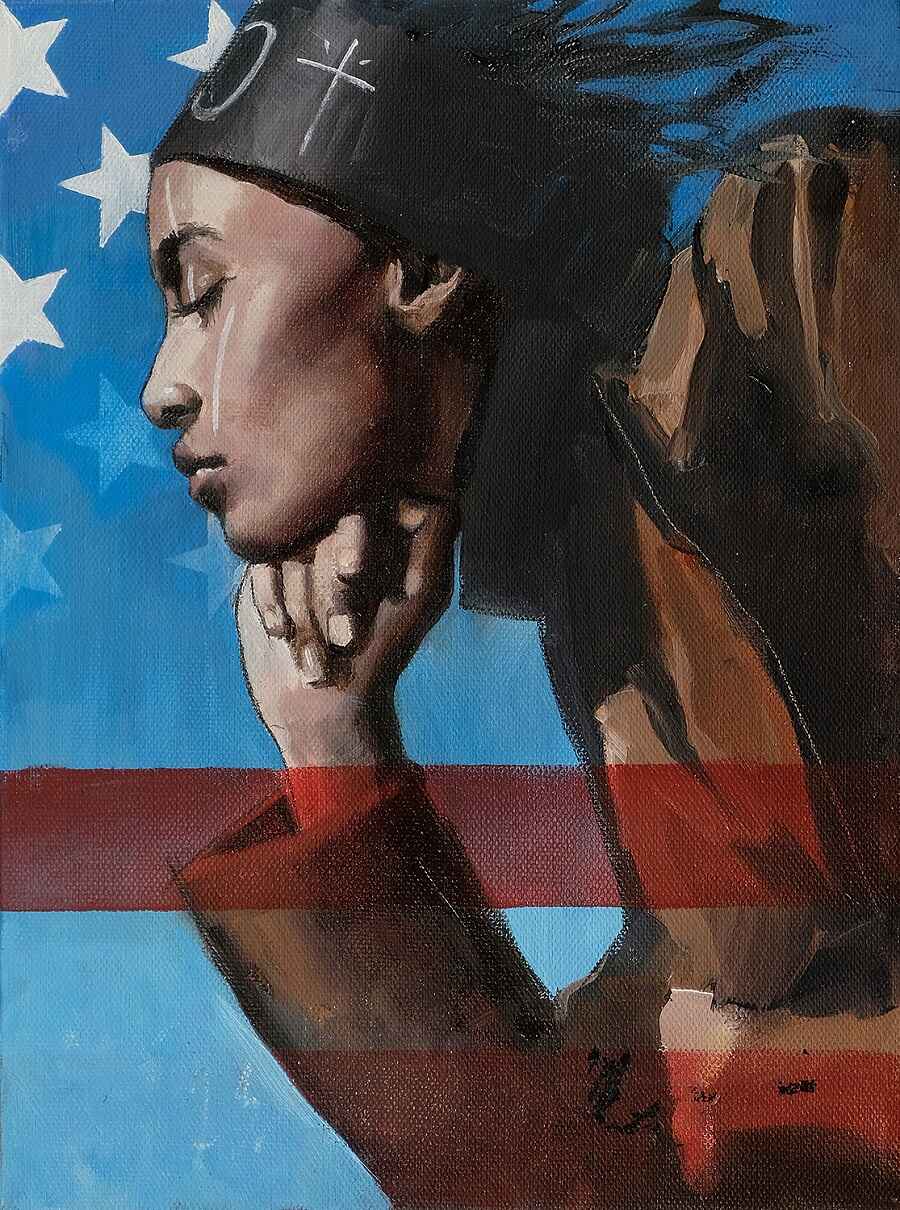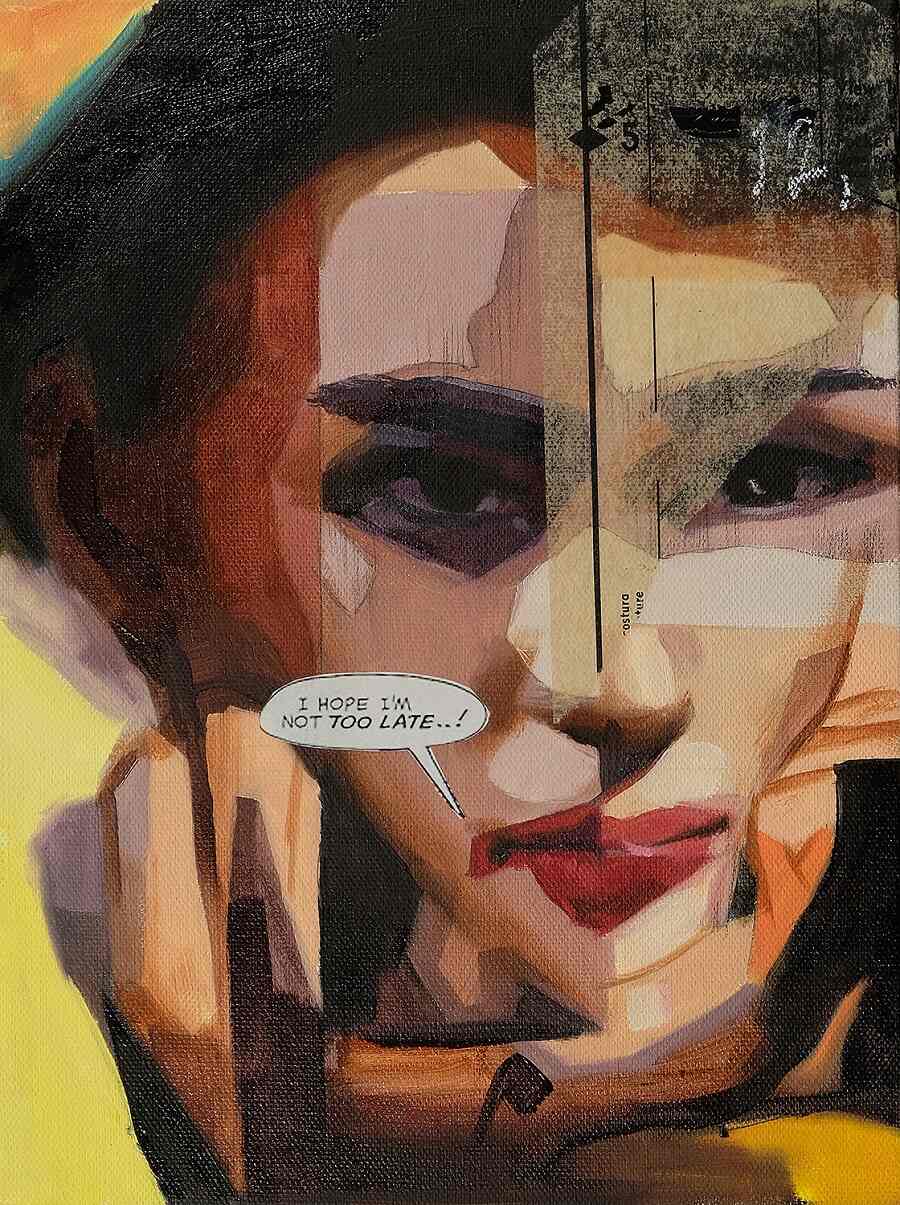 Thinkspace Projects Social Media Accounts