Instantly recognized as one of the UK's most prolific Urban Contemporary artists, London-born artist D*Face (Dean Stockton) brings his signature style across the waters and into Downtown Los Angeles' very own Corey Helford Gallery.
His works have earned him worldwide admiration, clicking with those who appreciate his self-described 'aPOPcalyptic' style. With a slight tongue-in cheek approach, D*Face brings a new level of thought and social commentary as he re-appropriates media from decades of materialistic over-consumption. Old advertising campaigns, comic books, and even on-screen romances are not safe. Twisting well-known visual tropes, D*Face rebirths them with cleaner lines and his moniker use of vibrant, pop-art colours. Yet most importantly, he brings his darkly humoured criticism on consumerism to the forefront. Overall, there's something extremely satisfying in the juxtaposition caused from his clean, pop art-esque images triggering deeper thought, and even self-introspection, about many of society's habits and expectations.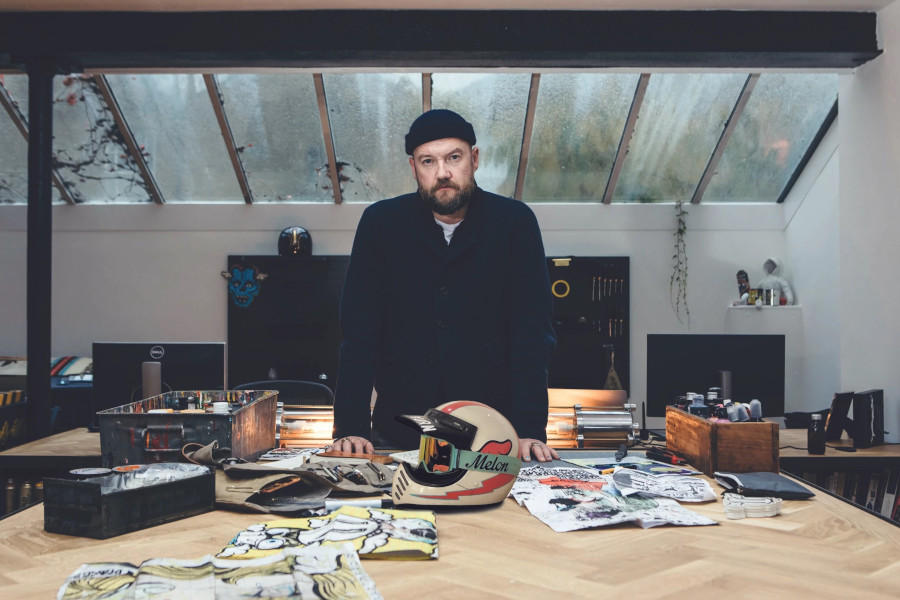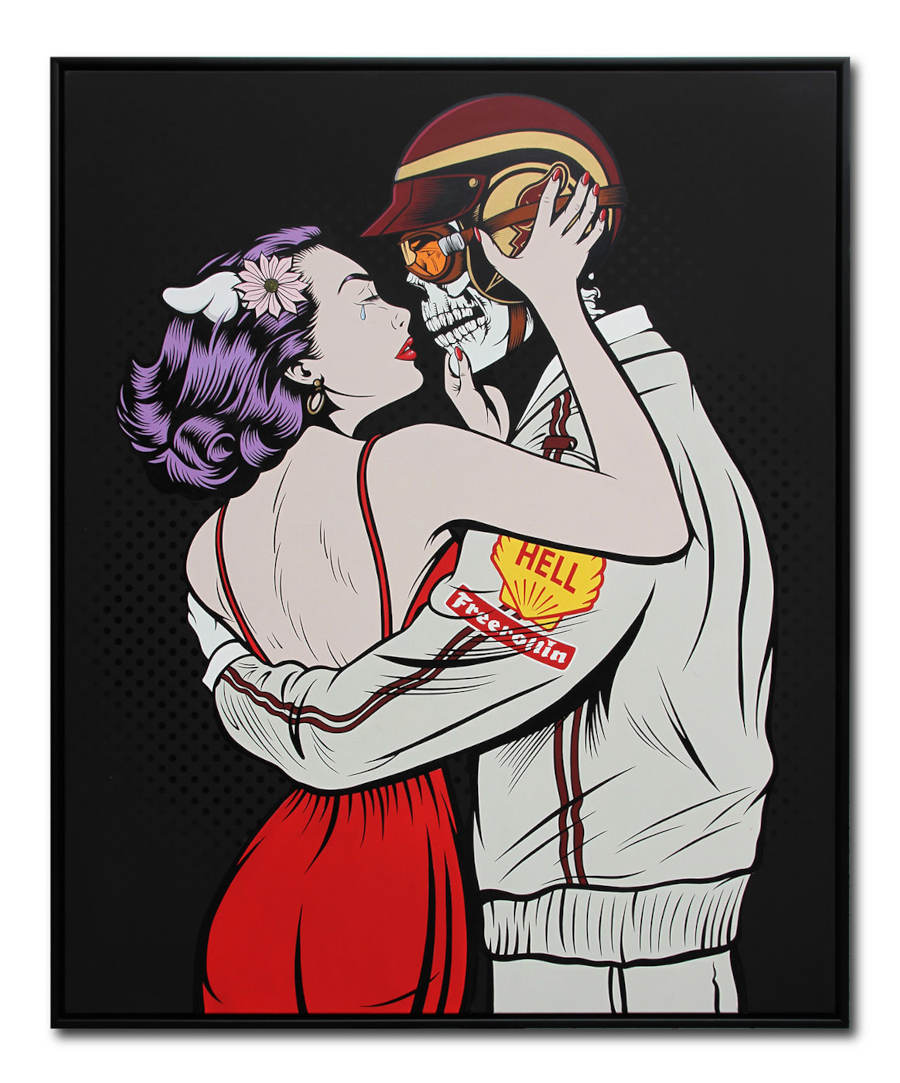 By subverting the images and icons of the everyday, the artist encourages the eye of the beholder not just to 'see' but to carefully consider that which they may otherwise take for granted.

D*Face's work acts as a necessary wake up call to overly conspicuous society of the 21st century.
His latest solo show, "Painting Over the Cracks", is his long-awaited return to exhibiting solo in the US. The show's title is a playful reinterpretation of the original expression (to paper over the cracks). "If you haven't heard the expression before," D*Face shares, "it essentially refers to the act of ignoring or hiding an issue in both the literal and metaphorical sense. It's putting on a brave face and pretending that "the issue" doesn't really exist.
"After living through an unprecedented, historical moment in time that saw us globally locked down as a result of the pandemic, I think we've witnessed our fair share of "cracks" appearing across society and culture alike, some fresh, some older, and some deeper than before. In many of these cases it felt like the approach was to apply a big dollop of metaphorical paint to cover them up, only for the cracks to reappear slightly worse further down the line. This show and body of work is a collection of my own personal observations and feelings from the last couple of years."
D*Face: Painting Over the Cracks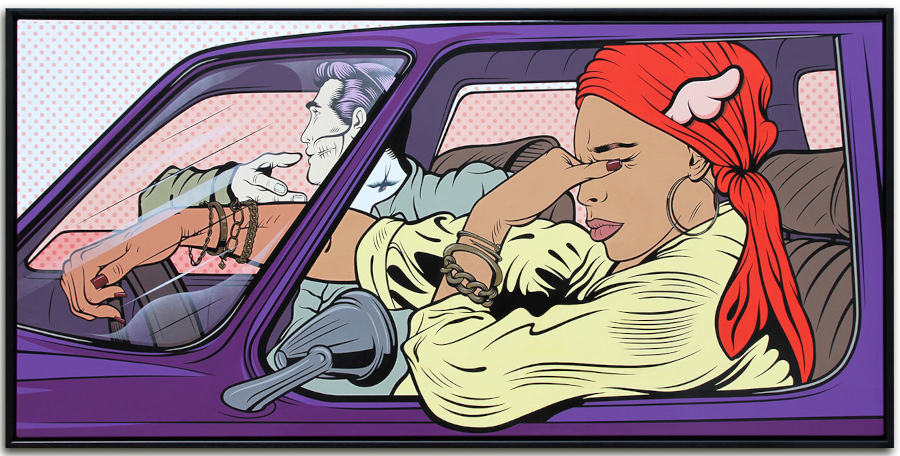 Opening Reception: August 6, 2022 | 7:00 pm – 10:00 pm
Exhibitions Dates: August 6 – September 10, 2022
Corey Helford Gallery
Main Gallery + Gallery 2, 571 S Anderson St (Enter on Willow St)
Los Angeles, CA 90033
(310) 287-2340
https://coreyhelfordgallery.com
Visiting Hours: Thursday-Saturday, 12:00 pm – 6:00 pm
For inquiries, contact the gallery via [email protected]
Painting Over the Cracks will exhibit across both the Main Gallery and Space 2 within Corey Helford Gallery. Interestingly, D*Face has curated the spaces into two very different experiences.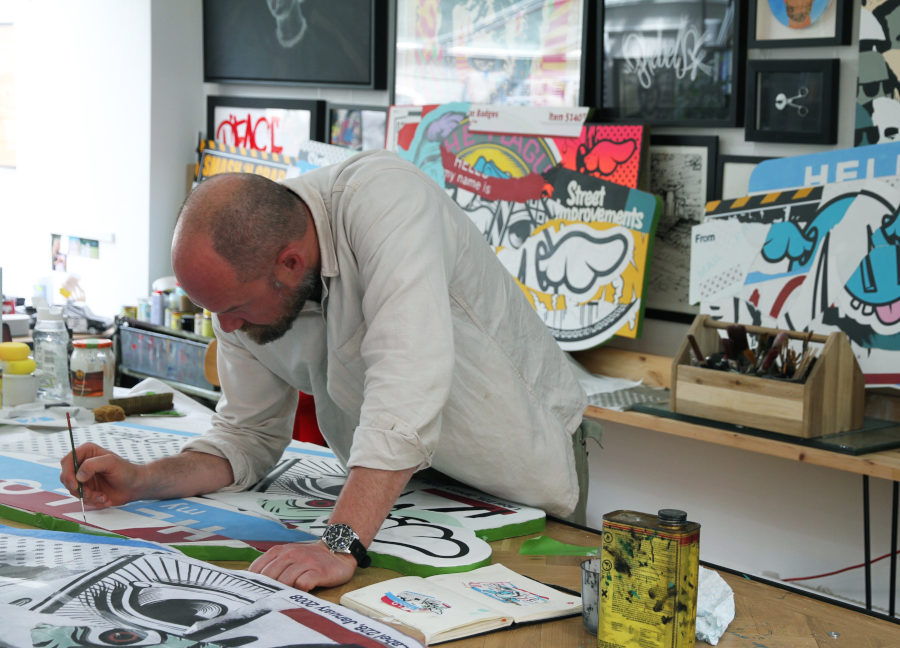 Space One at Corey Helford Gallery
Space One will hold a mirror to recent events in regard to the act of protesting, a basic human right which D*Face feels is under immediate and alarming threat. "Groups that face discrimination or marginalization are often at the heart of protest and are therefore most targeted by this repression and mis-representation. The collective fear of not being heard by the powers that be seems to have grown exponentially. I want to dedicate a space to this cause, as it feels to me to be one of the biggest challenges of the pandemic-era. [It is] something that deserved its own voice within the show."
While visiting, viewers may experience sensations of claustrophobia, both physical and mental, as D*Face curates a space exploring the action of protesting in the modern day. But the exhibit also aims to encourage deeper thought into identity: the "us" vs "them" of protestors and police. "I've often thought about how if you take away the signs, the shields, and the batons, you're left with no more than a crowd of people, un-divided by their uniform and perceived duty. How many of those people share the same opinions, the same outlook on life? It's hard to say with a riot proof helmet on your head or with your face held against the bonnet of a police car." He muses.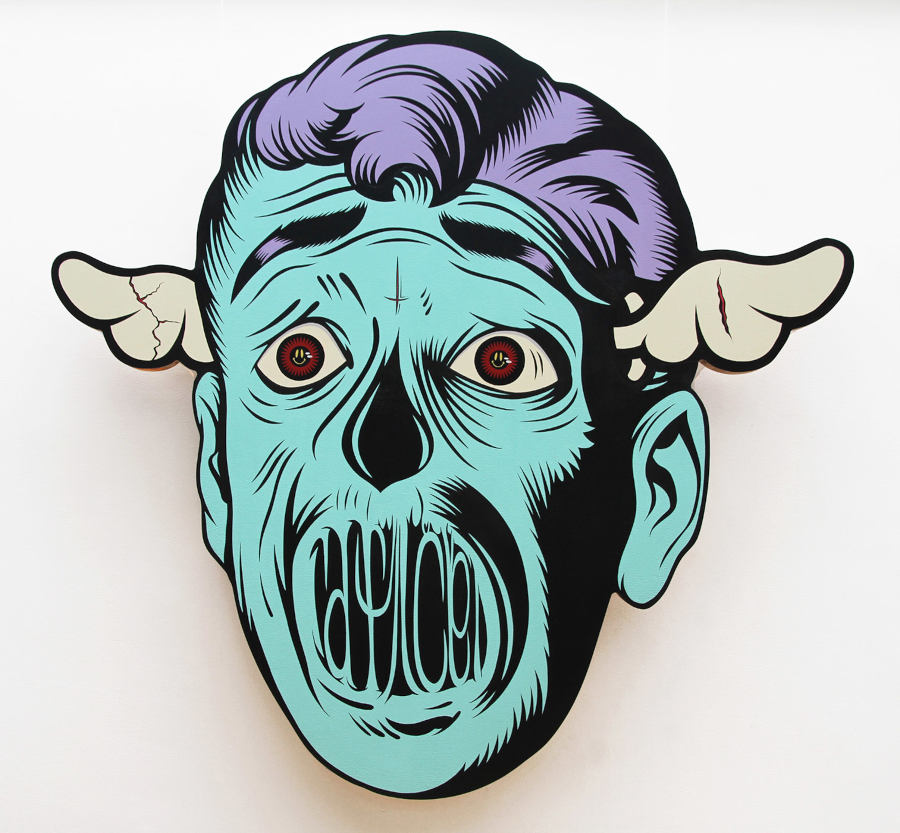 Space Two at Corey Helford Gallery
Space Two will be dedicated to relationships, exploring all connotations of the word. In response to the pandemic, D*Face has created a series of artworks delving into how our memories and experiences, our connections with others and even things, has changed over the past two years.
"Whether by choice or necessity, the act of seeing our loved ones through the lens of a camera phone, instead of face-to-face, has become second nature to many. […] Through the likes of FaceTime and Zoom, it has fast become a world full of visual stimulation. Gradually lacking physical interaction, as it ebbs away, fading like a fond memory. When left to our own devices on the other hand (pun intended), we seem to have slipped further down the rabbit hole of nostalgia. We seek the comfort of the familiar, far away from pandemic pandemonium.
In both cases, it seems as if we've traded a grasp of reality in favour of straight forward simplicity. We choose to look at what our screens show us rather than to look up at the big-bad post-lockdown world in which we find ourselves.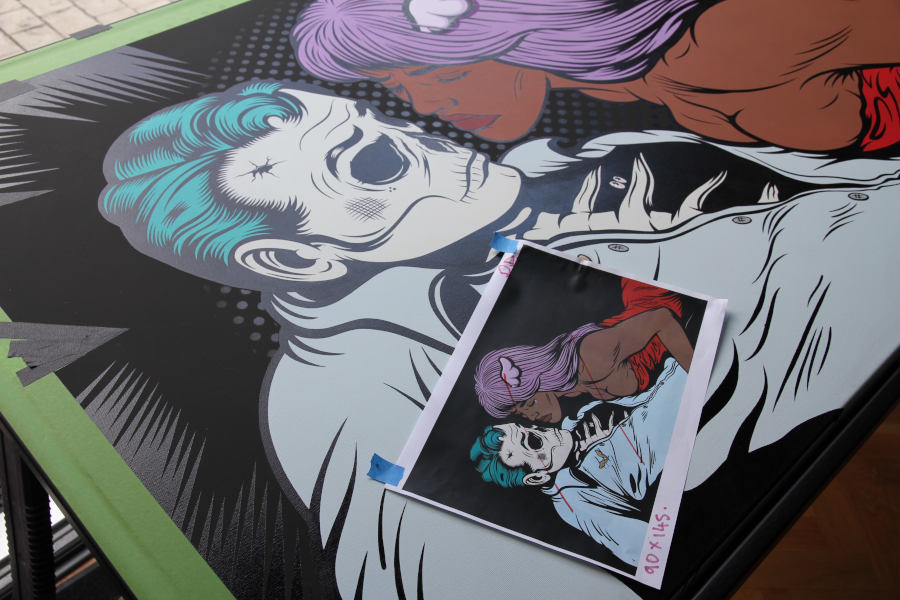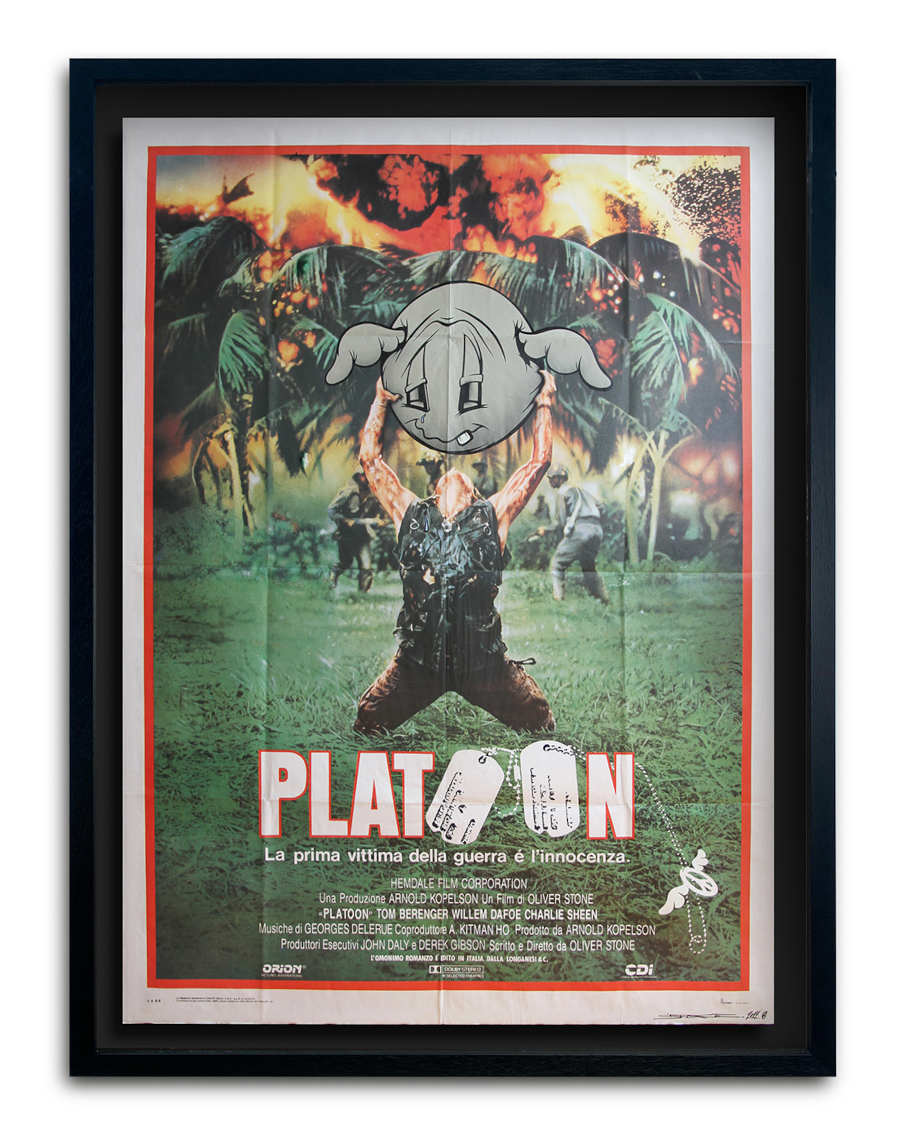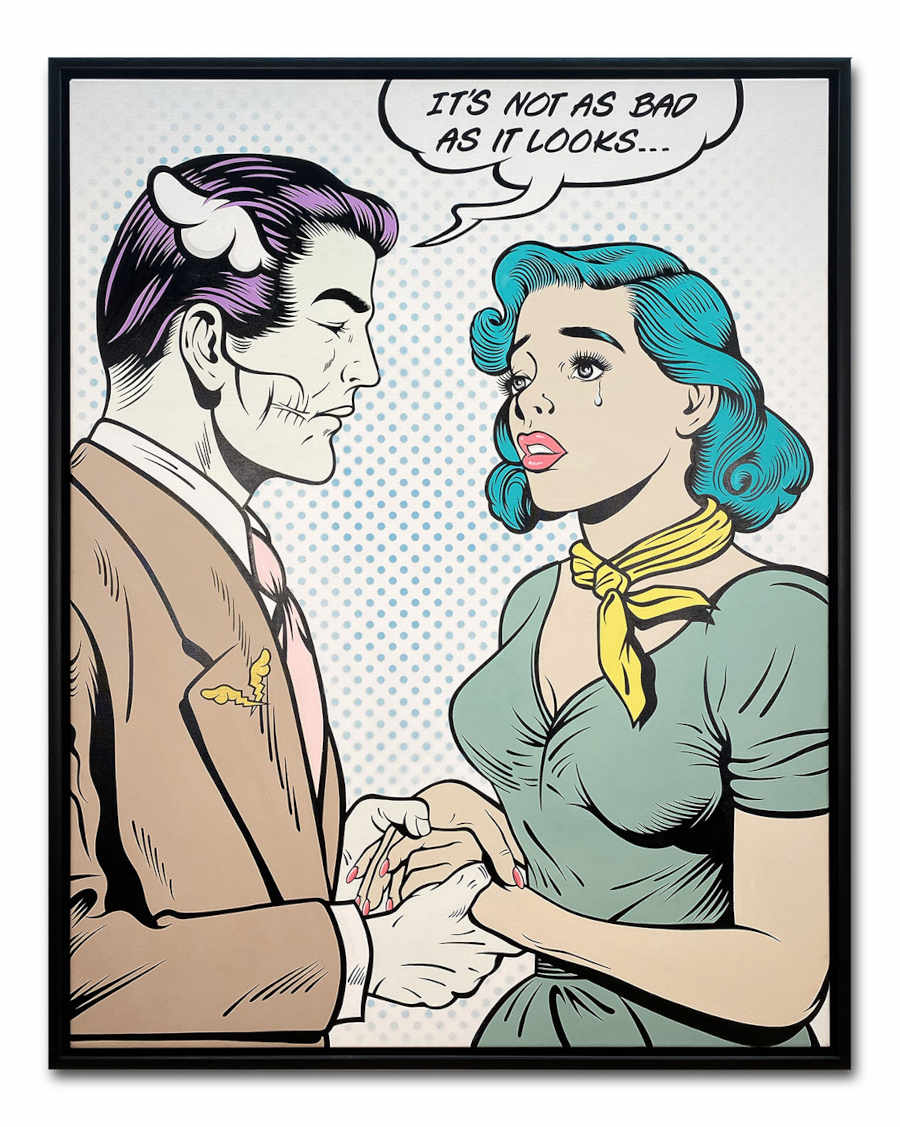 D*Face bio [from press release]
Born and raised in London, his childhood interests of graffiti, California skate culture, and punk aesthetic were well nurtured from an early age. Having come across the likes of Jim Phillips and Vernon Courtlandt Johnson amidst the pages of Thrasher Magazine, he was initially inspired to follow a path of graphic design and illustration, before eventually taking a more freelance approach to his art. After learning to screen print his own stickers, he took the public domain of the street as his canvas, blending art, design, and graffiti in a manner that pre-dated the emergence of street art as it is known today. It was in this newly found outlet that D*Face quickly gained attention from others, mainly for the clean, vivid nature of his designs that quickly spread across the city.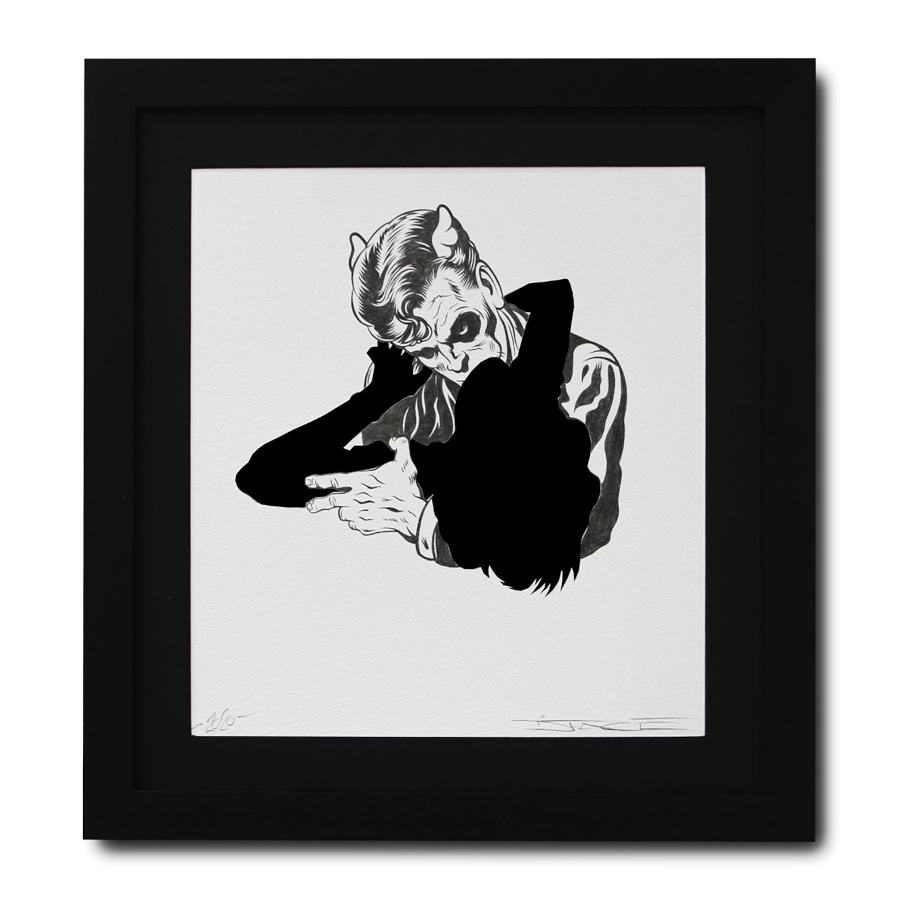 Even today, D*Face continues to approach his work with the same anarchic energy that drove his career from the outset. His murals can be found across the globe and his subversive-pop style and iconic D*Dog logo have become an inseparable part British Urban art and it's ever-expanding medium.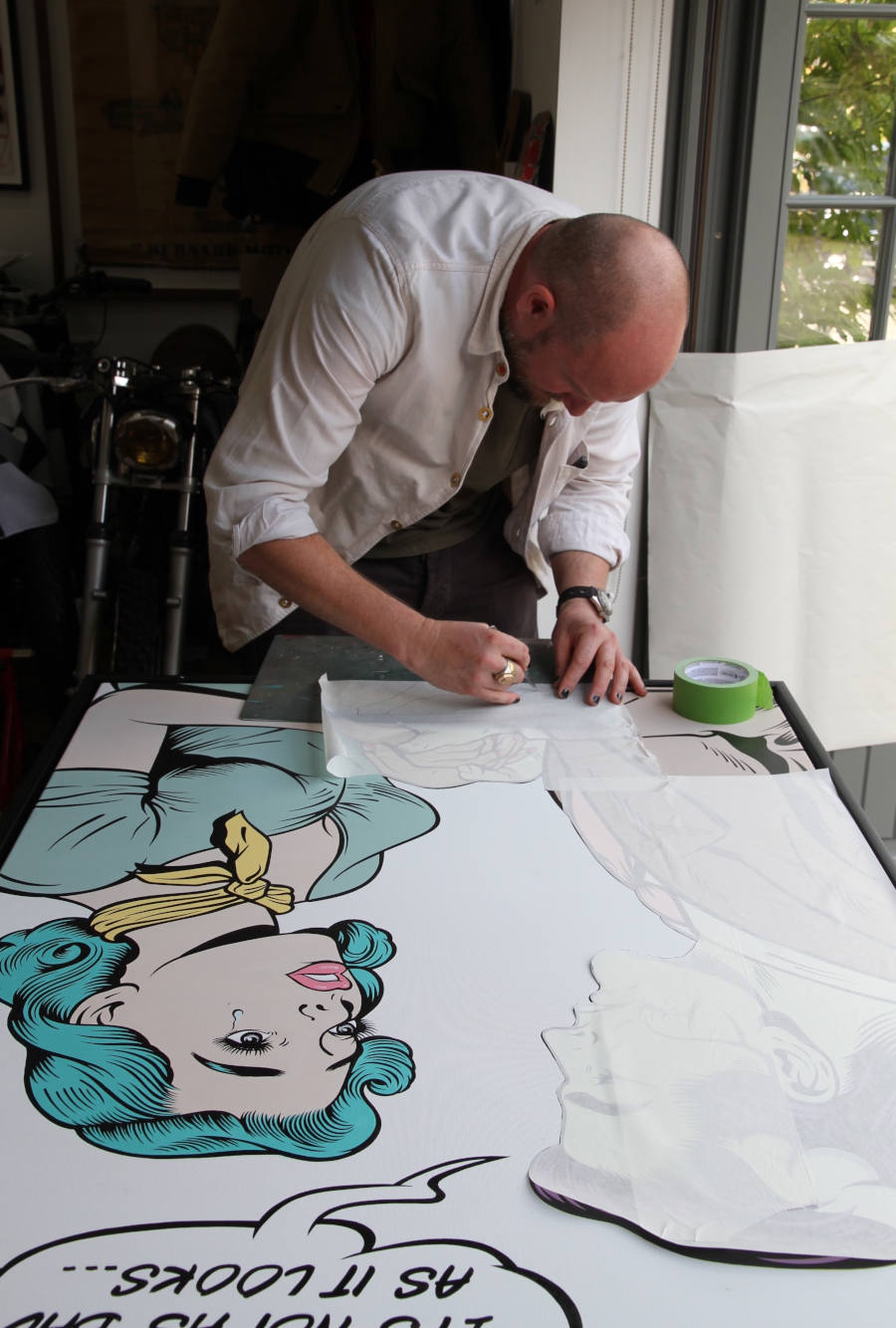 D*Face Social Media Accounts
Corey Helford Social Media Accounts